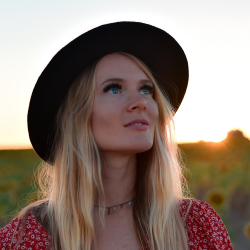 Latest posts by Haley Parker
(see all)
I have always been a bit timid about using the color purple on my nails because I am a pale redhead with pink skin tones. Lavender is a color that I've been increasingly seeing this year, so I figured I would try with an ombre to test it out. It turns out that lavender works pretty well with my complexion, and I plan to do more with it. If you've been interested in trying this trendy color, here are a few purple ombre nails inspiration and ideas for you to try yourself.
Purple is one of the hottest colors in the fashion world this year, from hair color to swimsuits to nails. It only makes sense to dress up a nail design that has been popular for the past fifteen years, like an ombre with such a trendy color. There are many different tones and styles of purple ombre nails that can work for anyone and everyone. Keep on scrolling to see just how many options you have.
Purple Ombre Nails Inspiration Up Front
Purple Ombre to Nude
Purple Ombre to a Second Color
Purple Glitter Ombre
Gradient Purple Ombre
Designed Purple Ombre
Marble Purple Ombre
Inverted Purple Ombre
Matte Purple Ombre
What Are Ombre Nails?
Ombre means when one shade of color gradually fades into another. In terms of nails, one color of polish or glitter is faded into another polish color or glitter. There are many different ways to ombre nails, as you will see below, but typically a color is faded from the tip of your nail to a natural color at the base.
The first ombre look was seen in the early 2000s as a hair color trend. Since then, it has grown into other parts of the art world, from nails to makeup to cakes. You will still see the ombre trend thriving today throughout different fashion divisions.
Selection Criteria for Purple Ombre Nails
Trendy
Ombre is one of those things that have outlasted the test of time, and it has changed technique and style but has remained popular. Purple, especially lavender shades of purple, is also a trendy shade this year. You can be sure that these ideas are stylish with these two components.
Can Be Done At Home
Although ombre looks like a complex technique to achieve, it is relatively easy with the right tools and knowledge. All of the purple ombre inspiration and ideas listed below can be done by yourself at home, and you can find an exact how-to in the section below, "How to Ombre Your Nails."
Can Be Worn By Anyone
Purple is a very versatile color because there are so many shades. There are cool and warm shades and light and dark shades of purple. This means that purple can be worn by anyone depending on the shade of purple you go with.
Shades of Purple Ombre Nails Inspiration
Purple is a mixture of two primary colors, red and blue. Depending on how much of each color you mix into purple, it will change its tone. You can also tweak the lightness and darkness of purple to create even more shades. There are many different shades of purple, but these are some of the most popular.
True Purple
A true purple is an equal mixture of red and blue, and it is a cool tone that can be lighter or darker. This color of purple tends to look good on darker, cool skin tones, and it also won't look bad with people who have lighter, warmer skin tones but will stand out more than other purple colors.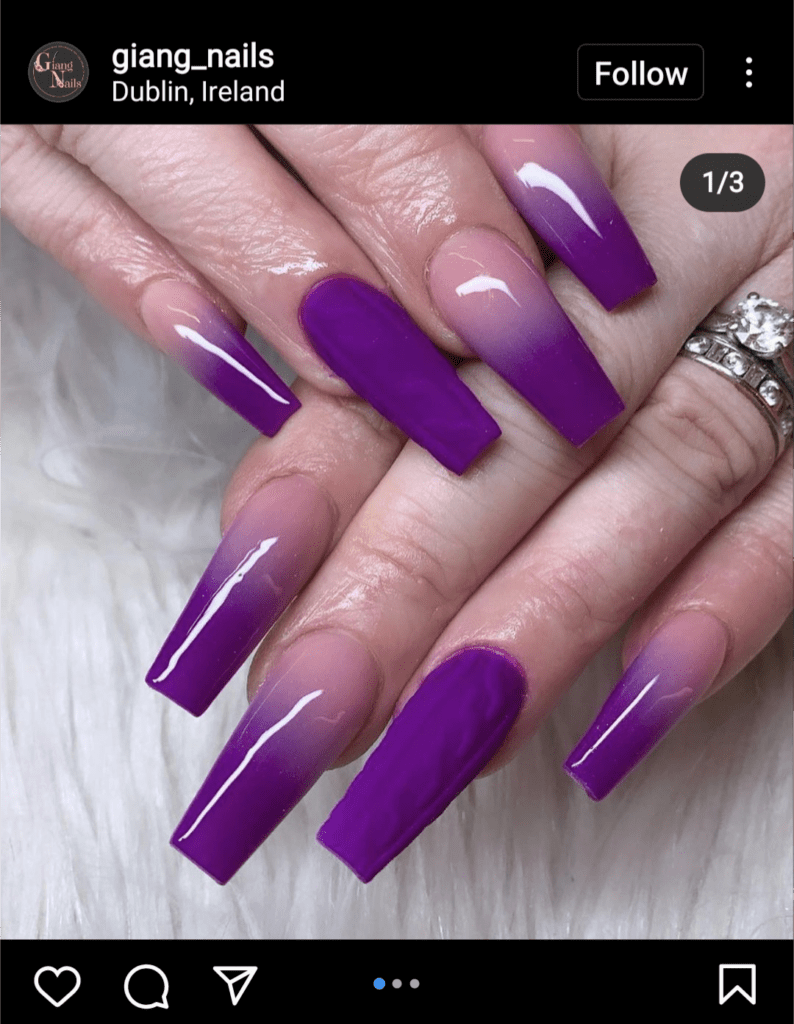 Indigo Purple
Indigo purple has more of a blue undertone to it, and it also tends to be on the darker side of purple. If you want a purple color that does not stand out as much, this color is excellent for those with darker, cool skin tones. You could also wear this color on lighter skin tones for a more striking look, but I would not wear it with a warm skin tone.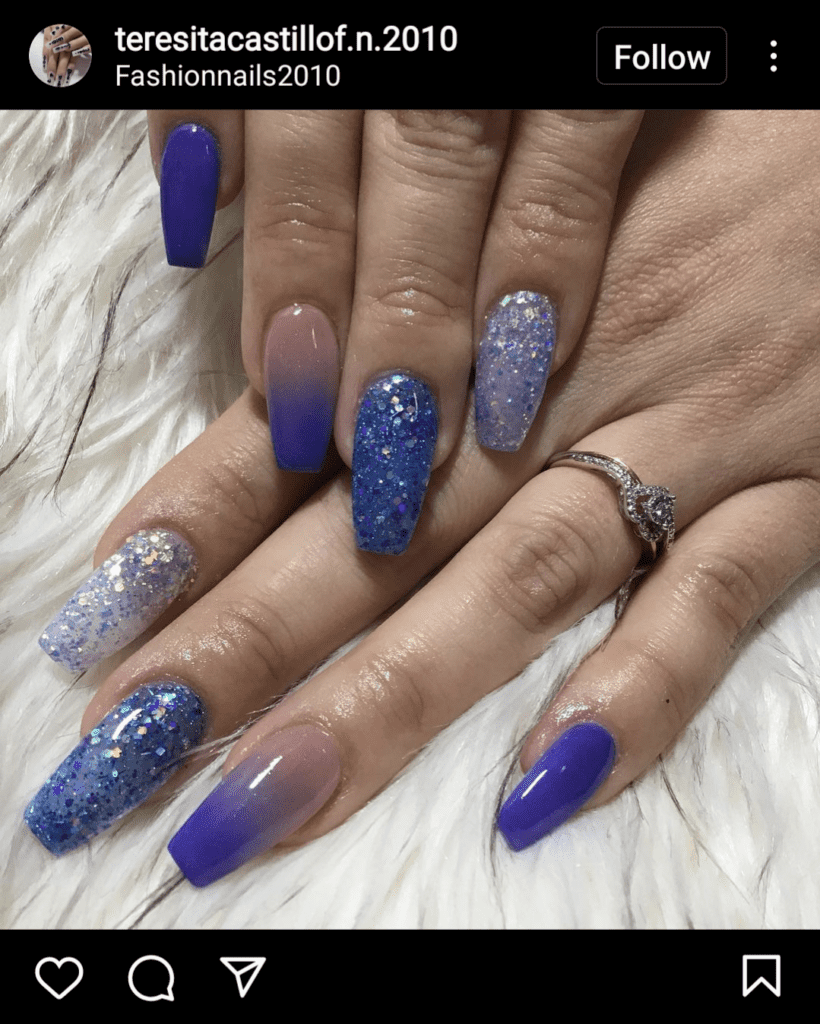 Maroon Purple
Maroon purple has a bit more red than blue, and it's what you see when you think of a wine color or a grape color. With it being more on the darker side of purple, it blends with darker, warm skin tones. This color also looks good on lighter, warm skin tones if you look for a purple that stands out.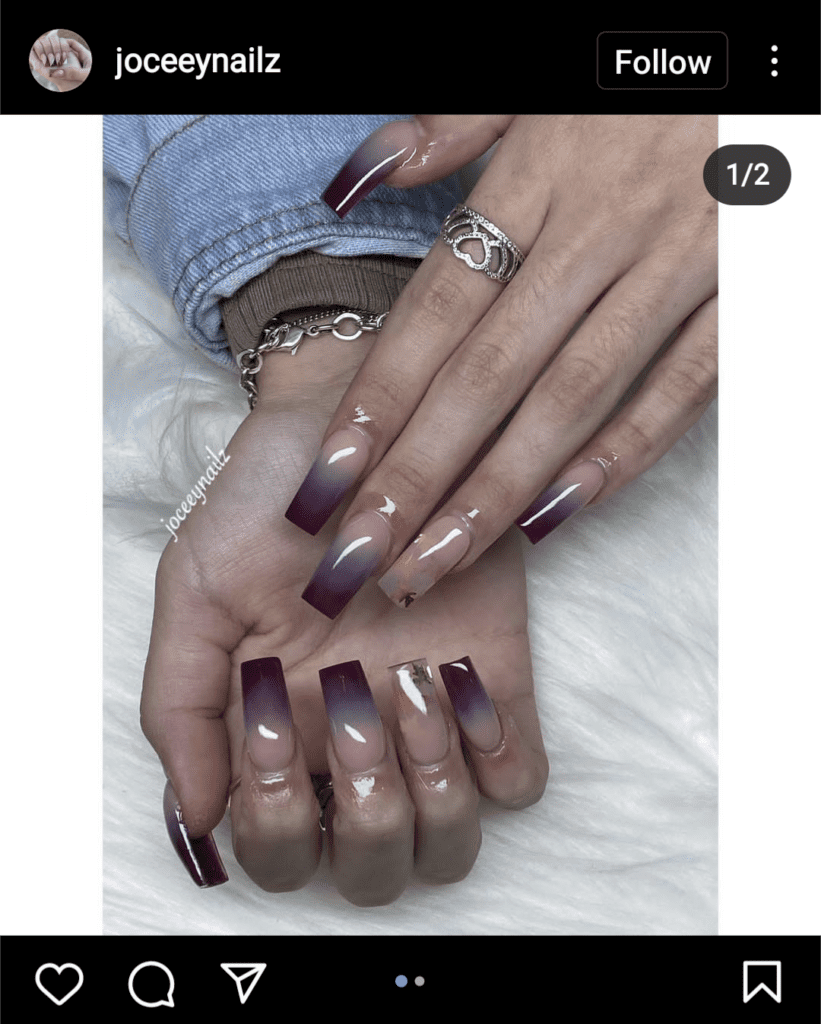 Lavender Purple
Lavender purple is another color that leans more toward the blue side of purple but tends to be a lighter shade. You could even say that lavender is a pastel color. This shade of purple is best for those with a lighter, cool complexion but can also be worn by those with a warm complexion if you want your nails to stand out.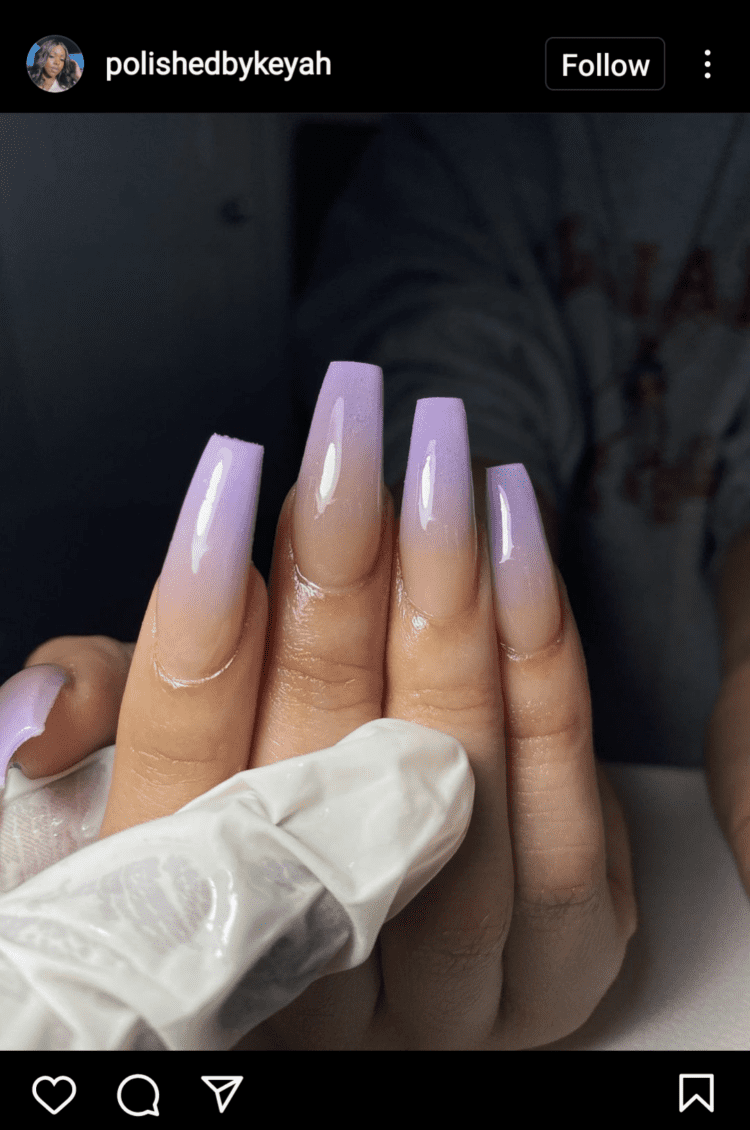 Magenta Purple
Magenta purple can almost look pink sometimes, depending on how vibrant or pastel you go with it. This means that it is a warmer, light shade of purple. Magenta looks best on those with warmer skin tones but should probably be worn by those with a bit of depth in their skin tone.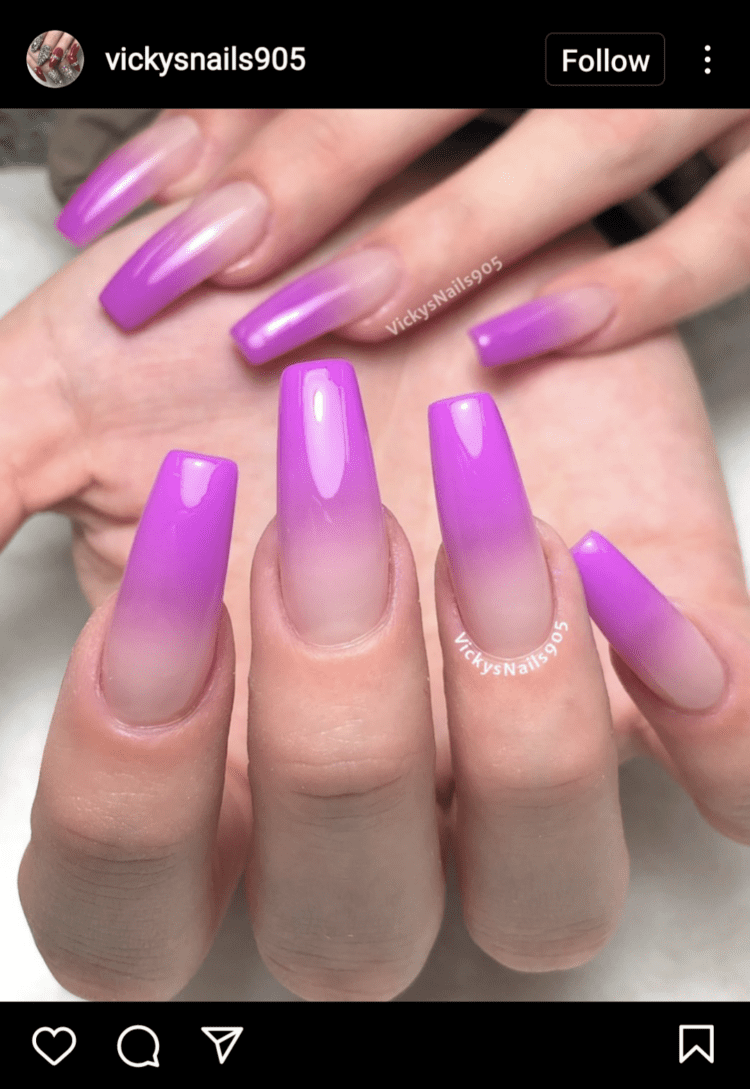 Purple Ombre Nails Inspiration and Ideas
Now that we have discussed the different shades of purple you can choose to do your purple ombre nails with, here are some purple ombre nails inspiration and ideas for design.
Purple Ombre to Nude
This is the most popular way to do purple ombre nails. People love a purple ombre into a nude because you don't notice the grow out as much between your manicure appointments, and it's almost like the modern take on a french manicure. You can go longer between nail appointments with a purple ombre into the nude color without anyone noticing.
You first want to choose the shade of purple you are going with, rather that is lavender, maroon, or true purple. Then choose your nude shade to ombre the purple into, such as Bubble bath by OPI or Wild Nude by Essie. It would help if you also decided how far down the nail you want your purple ombre to go, being slightly at the tip or down most of the nail.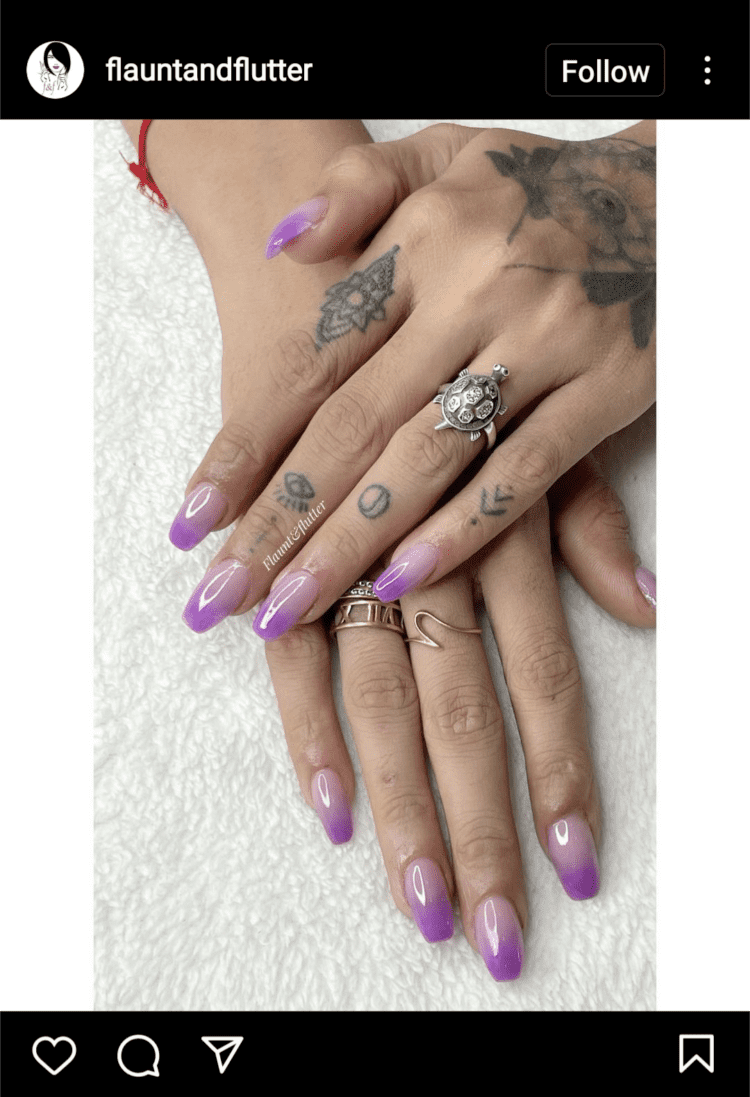 Purple Ombre to a Second Color
You can ombre purple into any other color that you like. Some fun colors to try would be different shades of purple, blue, pink, and gold. You can also do colors representing a holiday or your favorite sports team.
To ombre purple into a second color, you want to start by painting the entire base the lighter color. That could be your chosen purple or the other color. The only color you do not want to do this with is gold since I'm sure you'll be using glitter, and the glitter needs to go on top and fade into the other color.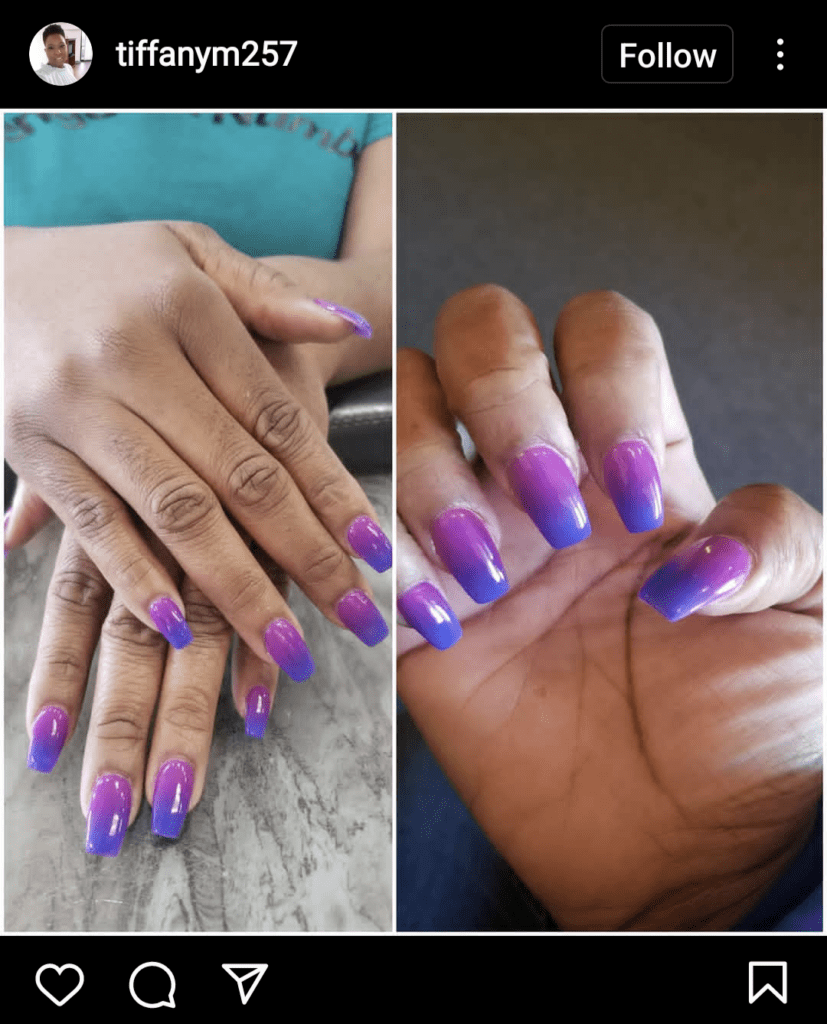 Purple Glitter Ombre
Glitter is a fun way to make your purple ombre design pop even more. Not only that, but it is also the easiest way to ombre nails. You can do a purple glitter, such as China Glaze Pick me up Purple, faded into another color. You can also do a glitter faded into your purple polish, like a purple glitter or another color glitter.
Doing a glitter ombre is different than doing a normal polish ombre. Instead of using a makeup sponge to apply your ombre, you paint the glitter polish on in leveled layers. It would be best to have a glitter polish with a clear base for this look. Paint the glitter polish over your base color in layers at different layers until the tip is opaque with glitter.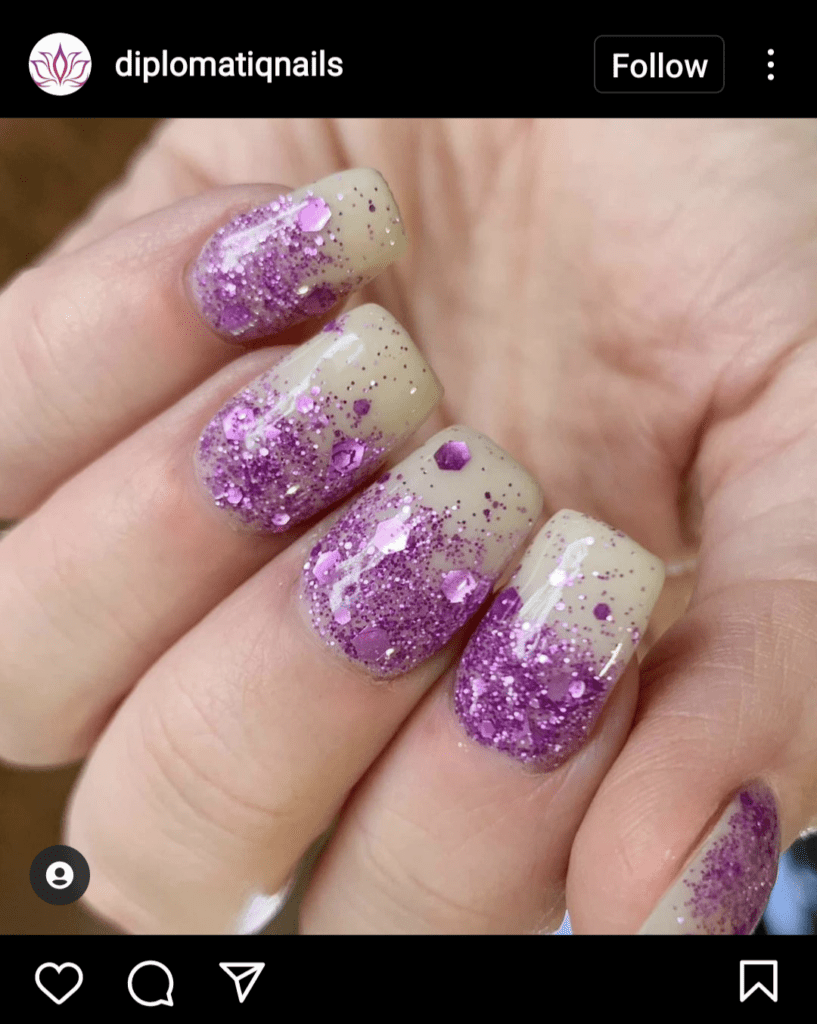 Gradient Purple Ombre
Not only can you fade one color of purple to another on the same nail, but you can also do it from nail to nail. This is a newer method of color blending that can either be done with ombre or by using five different shades of purple. If you don't feel you can do the standard ombre method, this may be the purple ombre nails design for you.
To achieve this look, you will either need five different shades of purple that gradually fade into each other or mix progressively two different shades of purple from nail to nail. For the mixing method, start by pouring some of your light shade into a container, paint one end nail with that color, and then add a drop or two of the darker color and apply that mixture to the next nail. Repeat this process throughout the rest of your hand.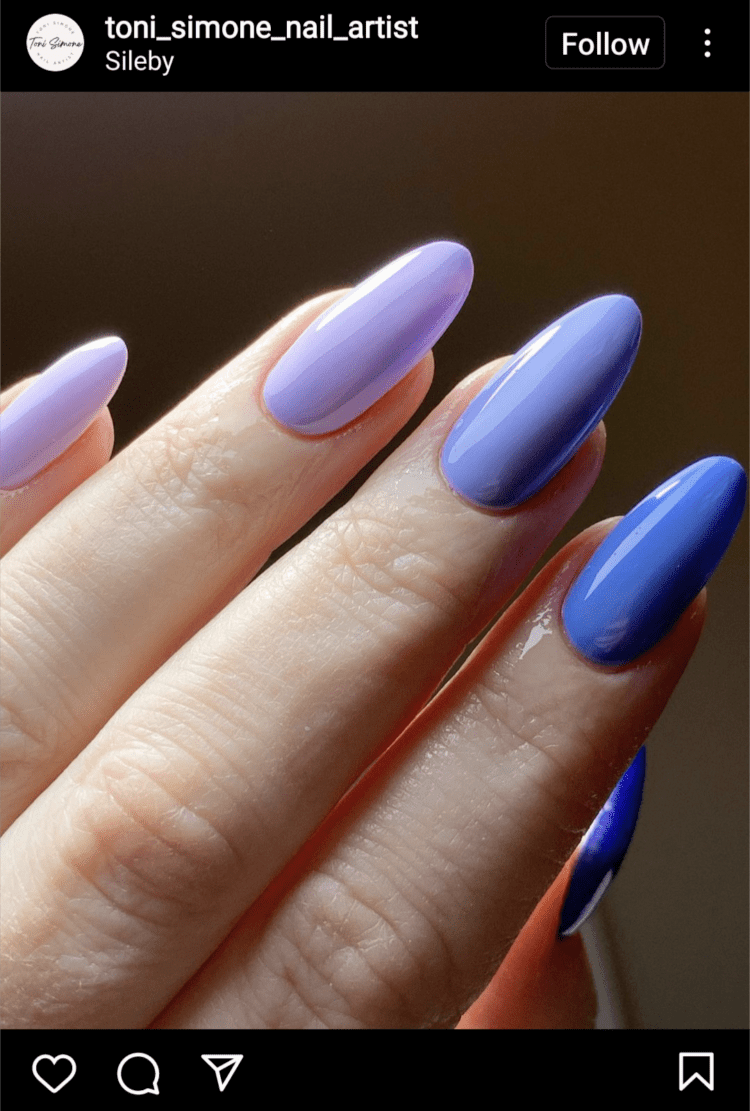 Inverted Purple Ombre
The standard ombre is to have your darker color at the tip of your nail and ombre it into a lighter color at the base. You can also ombre the darker color at the bottom into a softer color at the ends. You can ombre your purple into white, purple into nude, or any other color on the ends.
Instead of blending the tip into the base color, you mix the base into the tip color with this purple ombre. You should still start by painting your entire nail with a lighter color and then paint your purple at the base and blend it up into the tip.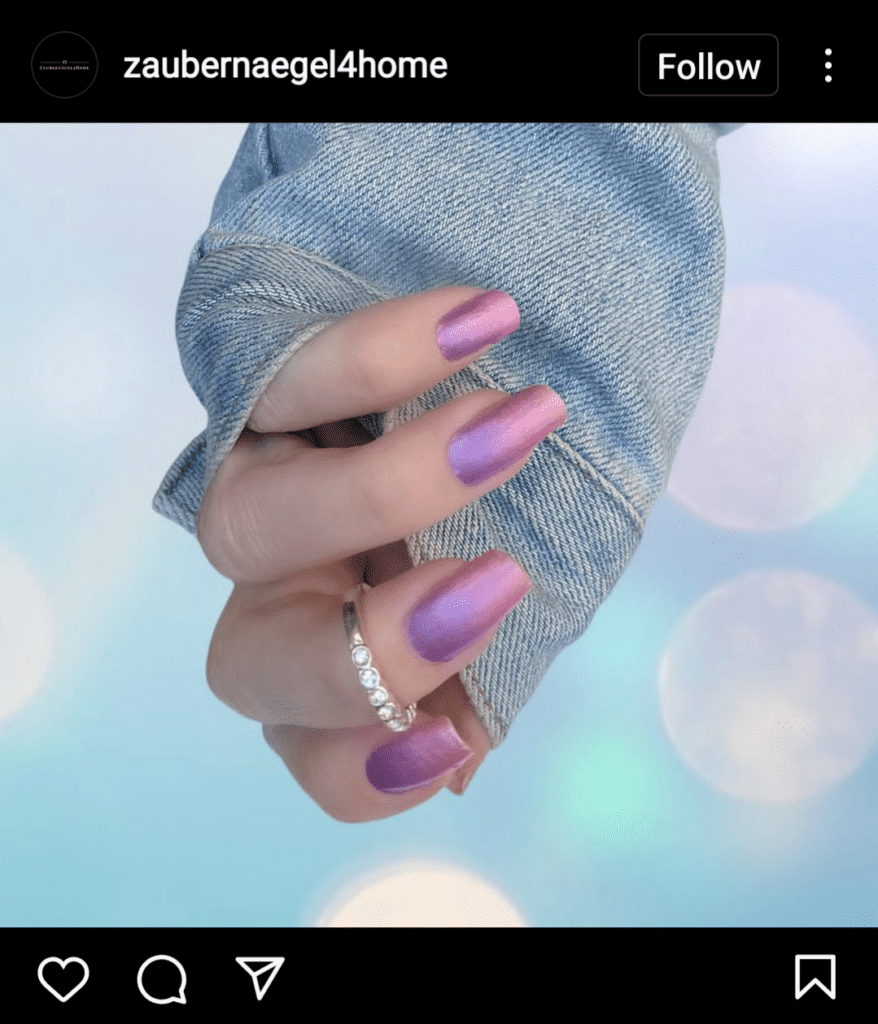 Vertical Purple Ombre
Ombre is usually done horizontally to the nail, but you can also make it vertical, going along the length of your nail. This is a great way to merge one color into another color on the next nail. You can divide your hand in half with two different colors or change colors from nail to nail.
You do a vertical ombre the same way you do a normal ombre, except you turn it 90 degrees. Paint your entire nail the lighter color, and then start dabbing on your ombre color, starting at the outer edge of your nail. You can then paint your next nail with that ombre color.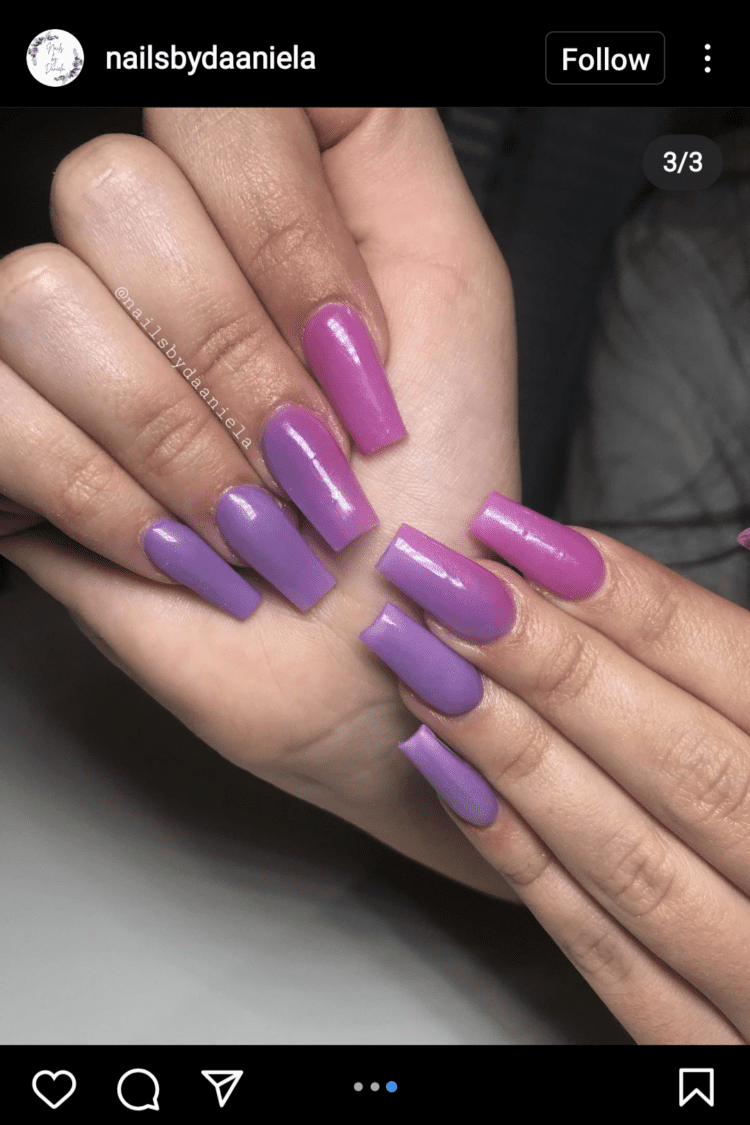 Designed Purple Ombre
This purple ombre design is just like a normal ombre, except it has a design over the top of it. Some fun designs that you could try with a purple ombre are a sunset sky with clouds, purple butterflies, floral, and geometric lines. These designs are enjoyable for spring and summertime but can even be brought into winter with snowflakes and glitter.
You will need a few things to do your purple ombre with designs. It is good to start with a nail art brush set, makeup sponges, liquid latex, and dotting tools. From there, you need your imagination. Try nail stickers or a nail stamping tool if you feel like freehanding designs are too much for you.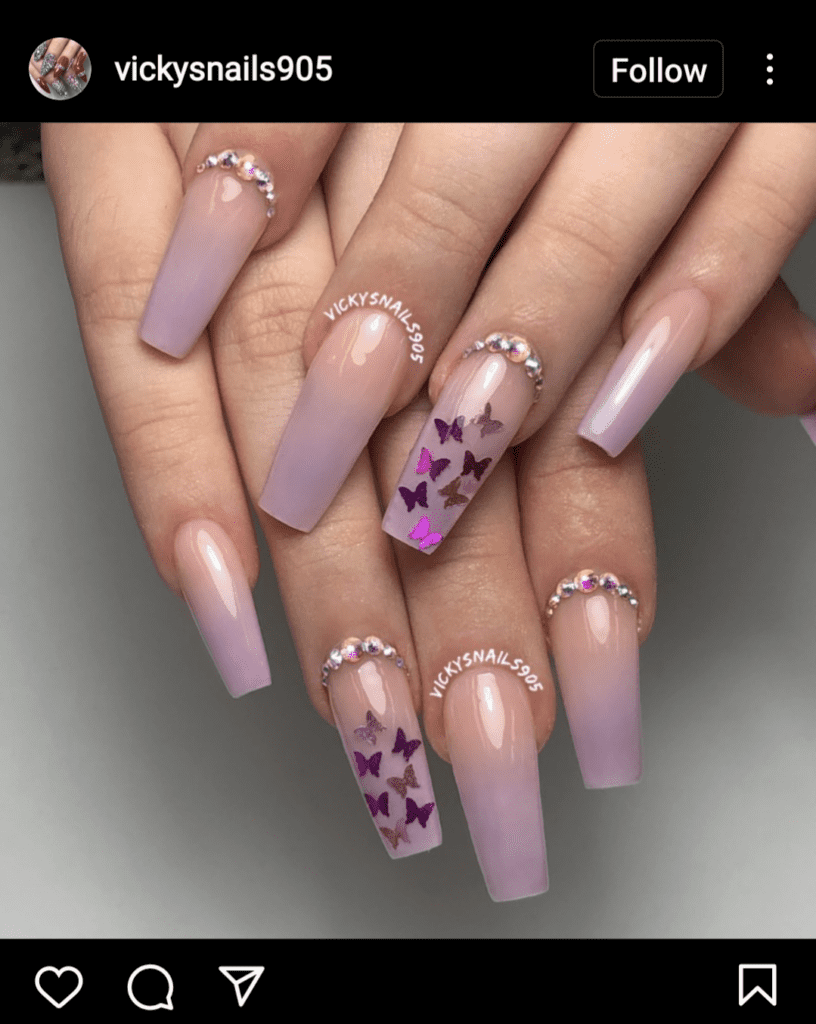 Marble Purple Ombre
The marbled design is a texture you see everywhere right now, from accessories to nail design. You can do the marbled design with any color, including purple. You can make the tip of your nail marble and ombre it into a nude, white, or another color found in the marble design.
To achieve this look at home, you first want to start with your marble design. You can either use the paint-on method, the water method, or a nail stamp to create the marbling. To ombre the marble into your base color, you will do your ombre from the base up into the marble design.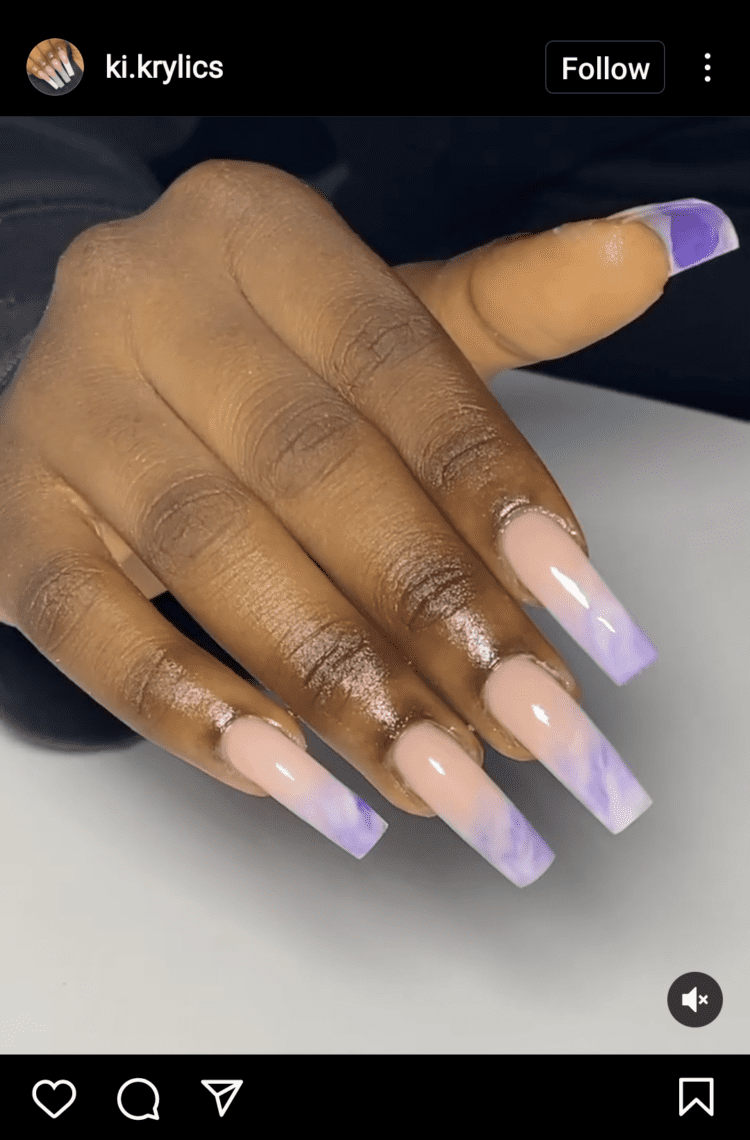 Matte Purple Ombre
Instead of finishing your ombre design off with a glossy topcoat, you can finish it with a matte topcoat. This look gives you more of a punk, edgy style, and it also makes the color look darker and sucks in the light rather than reflecting it. Some good matter topcoats to try are OPI Matte Finish, Salley Hansen Big Matte, and Essie Matte About You.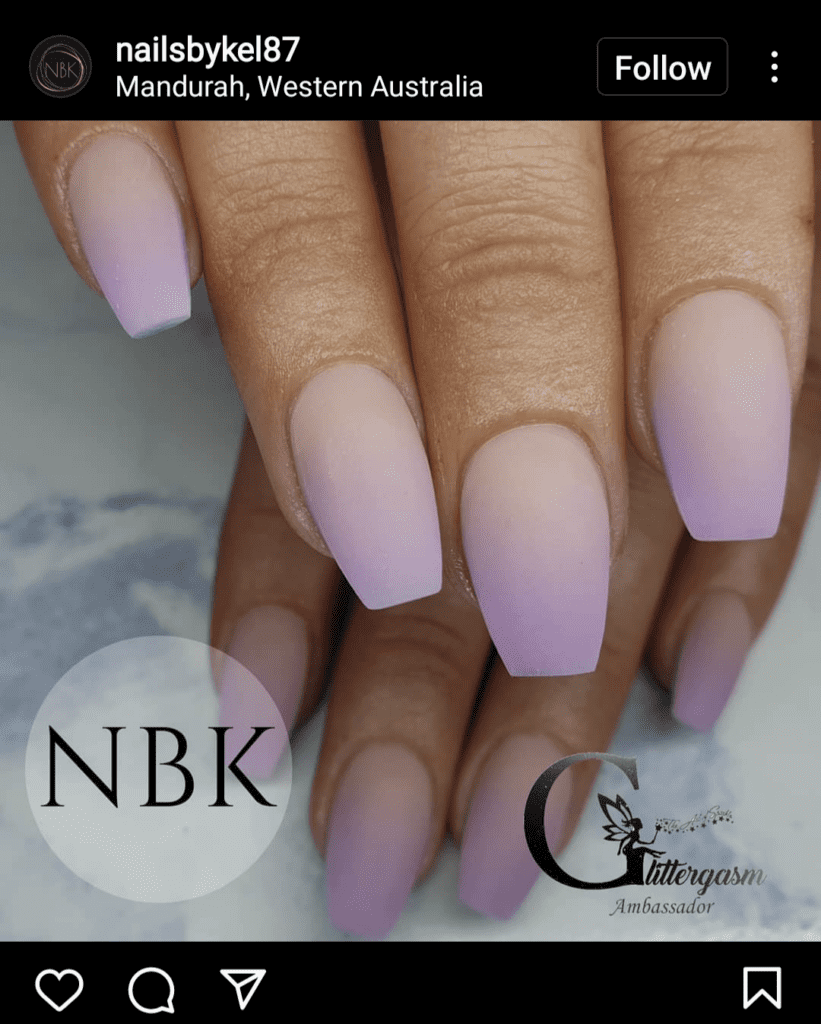 How to Ombre Your Nails
What's Needed:
Your chosen colors
Start your purple ombre nails by painting the entire nail with a nude or the lighter chosen color. Once that color is completely dry, surround your nail with liquid latex to keep your skin protected from nail polish that will go outside the nail. Next, paint your purple polish color(or the darker color) onto the makeup sponge and start dapping it onto the tip of your nail, moving the makeup sponge down towards the base of your nail.
Paint another layer of polish onto the makeup sponge and repeat the dabbing procedure, focusing it at the tip of your nail and moving it down the nail only to blend the colors. Continue dabbing more layers of polish onto the nail until the end is opaque in color. Finish off the purple ombre with your chosen topcoat.
FAQs
Question: What are Ombre Nails?
Answer: Ombre nails are when one nail polish color is faded into another color throughout the nail. There are many different ways to ombre your nails, including using two or more colors, glitter ombre, vertical ombre, etc. The most popular ombre type for nails is to ombre one color into a nude base.
Question: Does Purple go With my Skin Tone?
Answer: There are multiple shades of purple, including warm hues and cool shades. This means that there is most likely a shade of purple that will go with your skin tone. Cooler skin tones should use a cool purple, and warm skin tones should use a warmer purple.
Question: Can you get Purple Ombre Gel Nails?
Answer: You can ombre nails with gel. It is done the same way that you would with regular polish. Some people like to paint the nail white first and then paint the two colors on the makeup sponge next to each other rather than dabbing one color onto another color. Make sure to cure each layer of gel polish between procedures.
Question: Can Ombre be Done on Short Nails?
Answer: Yes! You do not need a lot of space to ombre two colors together, and your ombre may be half of the nail rather than just on the tip. I would not recommend trying to ombre more than two or three colors on short nails, though.
Question: What Colors go With Purple?
Answer: Purple is a mixture of red and blue, so this color can coordinate well with either of those two colors. Yellow or gold is complementary to purple, so you can pair those two colors to create some contrast. You can also match a purple with another shade of purple.
Should You Try Purple Ombre Nails?
I don't think the ombre trend is going away anytime soon. It has been everywhere in fashion for the past ten or fifteen years and hasn't seemed to slow down. Purple is also one of those transformative colors that anyone can wear if the right shade is chosen. If you add the right shade of purple in with an ombre design, you will have a trendy design that anyone can pull off. In short, yes, you should try purple ombre nails. Personally, glitter purple ombre nails are always a safe go-to for me!
Continue reading:
Ombre Nails Inspiration and Ideas
Summer Ombre Nails Inspiration and Ideas
Glitter Ombre Nails Inspiration and Ideas