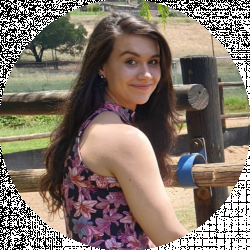 Latest posts by Christine Kent
(see all)
You have reached week 3 of your current nail set. Your nails are all grown out, and you are now left with a nasty gap that all of us despise. You can't go another week with this set and decide that it's time for a new nail look. If you are in a pickle and have no idea what nail color or design to go for, don't worry; I got you! Today I present you with light blue nail inspiration and ideas that will turn your dull, outgrown nails into princess-like nails, and don't worry, your nail look won't disappear after 12am.    
Light blue nails have always been a nail color that I absolutely adore. Especially when it is paired with white. It just appears clean, classy, and stylish. And I can match most of my outfits with a light blue nail set.
Since I was a little girl, I have loved getting my nails done. My mom would do her nails and would then do mine. Ironically her favorite color on her nails and toes was blue. It was a glittery navy blue. I wanted my own nail polish bottle, and my mom made me a deal that if I stopped biting my nails( gross, I know, but keep in mind that I was four at the time), she would buy me my own blue glitter nail polish.
And so I stopped and got my blue nail polish bottle that is still somewhere in a box packed away that I save for memories. Since that day doing my nails became something I just needed to do, and I enjoyed it even more because this was the time I spent with my mom. Now that I'm all grown up and out of the house, my mum and I will still do each other's nails when I visit her. And I'm still obsessed with it!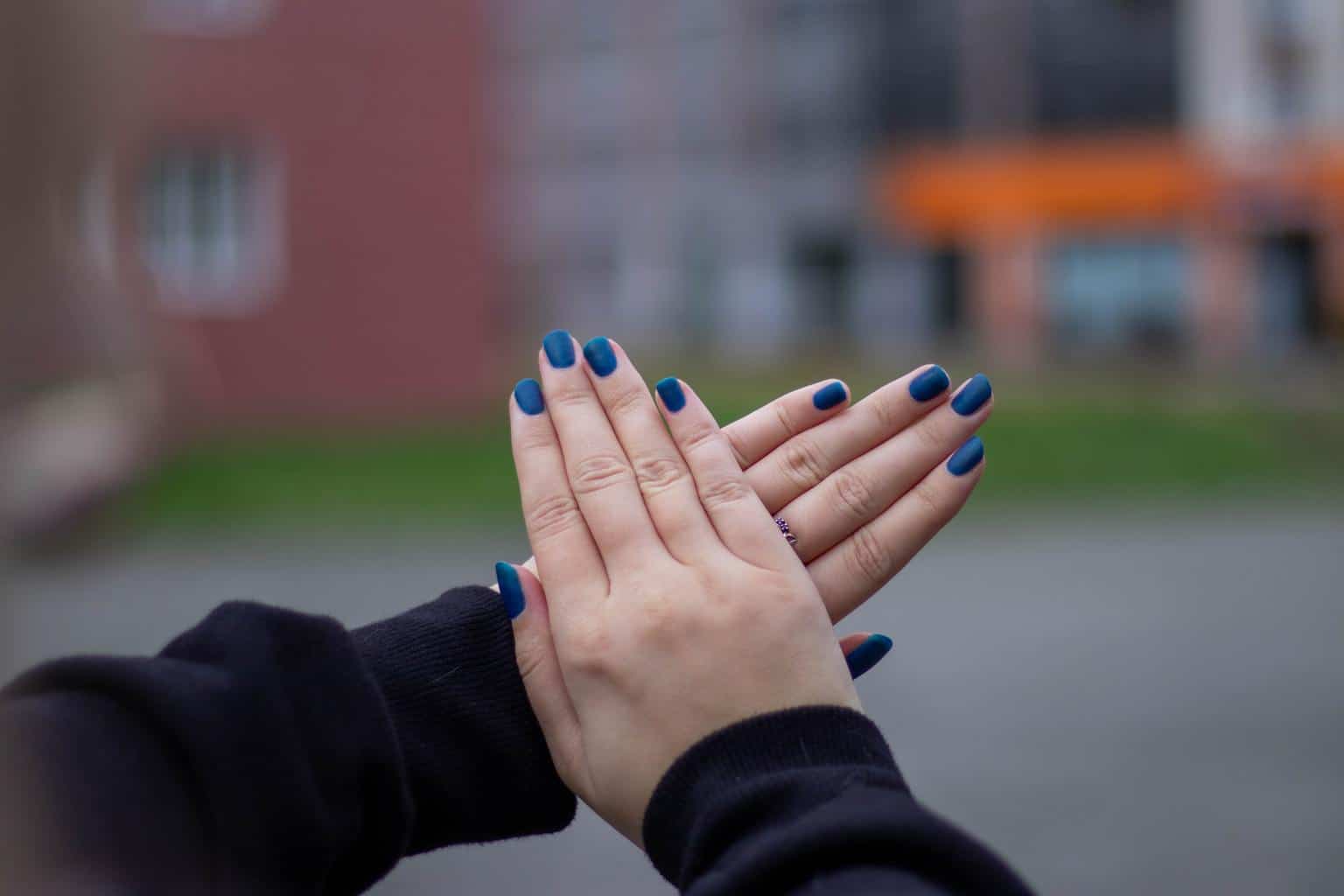 Bottom Line Up Front
Are you in the mood for a new nail look? Have you considered getting your nails done in a light blue color? Not only is it a color that is trendy all year round, but it is a color that will match most of your outfits and look stylish and professional altogether. My favorite light blue nail set is the Minimalist Blue Nail Set, as it is a set that looks great with everything I wear, and I always get compliments on it. Let us have a look at my other top picks:
Top Picks 
Selection Criteria
The nail ideas and inspiration in this article are based on the following criteria:
Sophistication

Classiness

Professionality

Stylishness

Aesthetically pleasing 
This cute and simple light blue nail set will certainly capture everyone's attention. It is ideal for those who like aesthetic things and designs. 
4 of the nails are done with a nude pink that fades into a light blue french tip. While the index finger is covered in a light blue checkered design. The almond shape of the nails gives your fingers a slim appearance.
The great thing about this nail set is that it is not too long, and you can still perform your daily tasks with ease. And because of the light blue color and minimalistic design, it would basically match any formal or casual outfit. 
I love this nail look because even though it is simple, it is suited for many different occasions. Whether you work in an office and need to look professional, attend a wedding, or just looking for an everyday nail look. With this nail look, you can do it all. If you can do gel or acrylic nails, then this light blue checkered nail set will be easy to achieve at home as the nail design is quite simple and can be achieved with some basic skills.
I'm in love with this light blue nail set. It is gorgeous and perfect for a party! The middle finger and little fingernail have an ombre design where a nude pink color fades effortlessly into a pastel blue. The index fingernails are designed with a translucent color and some confetti glitter. And lastly, the ring fingernails are done with a pastel blue base that fades into a translucent colored tip. The nail is then finished with white flower art and a rhinestone forming the flower's pistil. 
The design is truly ideal for those who want something glittery and glamorous but at the same time something subtle. This nail set will go perfectly with some purple bootleg jeans, a light blue crop top, and some black ankle boots with a small white bag. 
I love this nail look as it is so aesthetically pleasing, and if I were to get this nail set, I would be staring at my nails all day long. Unfortunately, this nail look is a bit more complex, and you will need to visit a nail tech to achieve this nail look.
This light blue abstract nail design is absolutely stunning. It is simple yet classy and elegant. The little fingernails are in a light blue color with 2 added rhinestones. The ring fingernails are designed with abstract lines in the color white, nude, and light blue on a nude pink base. The middle fingernails form an abstract french tip with white, nude, light blue lines. And lastly, the index finger is done with a light blue french tip with 5 added rhinestones. 
This nail set is stylish and fancy and perfect for an event. A white, light blue, or nude-colored dress will look amazing with these nails paired with some chunky white heels. 
I love this nail set as it has a soft look and will definitely go with my casual and formal outfits. The only problem I have with the nail look is the length, as it will definitely make my day-to-day activities a bit challenging. But if it was half the length, I would totally go for this set. If you are great at adding details to your nails, this design will be easy to achieve at home. 
This is another french nail set that fits the spring and summer seasons. This gorgeous nail set includes the vines of the ivy plant and some beautiful flower art. This design is simple, chic, and feminine. It is the perfect set to get if you can't decide which shade of blue to go for. Just combine light and dark blue, and you have a nail set that will attract a lot of attention. If you want this set for everyday wear, you might want to opt for a shorter length. Because this length might make tasks a bit challenging. 
The perfect outfit to pair with this nail set would be a gray hoodie dress and some white sneakers. Because this nail set is already over the top, you will want to choose a more neutral-colored outfit. 
I must be totally honest with you guys; I'm not a fan of this nail look as the designs are a bit too much. I would get this nail look if it was just the details on the ring finger. But the ivy plant design on the nails ruins the look for me. Because there are a lot of finer details to this nail look, you will want to go to your nail tech to achieve this nail look.
This light blue ombre nail set gives me Elsa from Frozen vibes. And trust me, you can't let this nail design go. The thumbnails are a nude pink color, while the index finger, middle and ring fingernails are a light blue ombre. It is basically a nude pink that fades into a blue tip to describe that better.
The index fingers also have a little glitter detail on the end of the nail. The middle fingernails have a little sunflower art design close to the nail bed. And lastly, the little fingernails are light blue with some added glitter. It reminds me of the snowflakes in Frozen.
This light blue ombre nail set is the perfect summer vacation nails. It will look great with pastel-colored outfits or white and blue colored beachwear. 
I love this nail look, as it is pretty and subtle, and it will be a set that I would love to wear when one of my friends gets married. But I will definitely have to visit my nail tech as I just know that I will botch this ombre nail look.
This gorgeous nail set still follows the french nail design but with an added twist. The tips of the french nails are light blue with added tiny pearls. A french nail set with added pearls, can it get any better than this? 
The design is made to make the wearer look elegant and chic. Because this look is so out there, you will want to keep your outfit choices plain and simple. 
To me, this nail look is a bit OTT. If the pearls were just added to one or two nails, I would like this look, but it is too much on all the nails. And I just know that I will get irritated and frustrated with the added pearls as it just looks like they would get attached to everything.
If you want this nail look for your next nail set, you would need to visit a nail tech.
This nail design is totally magical, and everyone who sees it will fall in love with it. The index finger is a dark blue, while the middle finger and ring fingers are half dark blue and half light blue with added hand-painted white flowers with a yellow center. The dark blue color compliments the light blue color perfectly. This nail look will make you look elegant and sophisticated. And the hand-painted flowers make it look like you are wearing an expensive art piece on your fingernails.
This nail set looks great paired with white and different shades of blue outfits. And to finish the look, you can add some silver jewelry. I love this nail look as it has a unique look to it, and I haven't seen a nail set like this before. I love the shape of the nails; I would just opt for a shorter length. This nail design is far too complicated for me to achieve at home, so I will definitely visit my nail tech to get this beautiful set. 
There are times when we want fancy nails, but we are not allowed due to our job's dress code. Well, worry no more as I have a nail look that is short and looks fancy, sophisticated, and feminine but, at the same time, won't break the rules.  
The blue gel polish is applied to three nails the thumb, ring, and little fingernails. While the remaining two nails are nude with added golden foil at the cuticles. This nail look will look great with any black, white, or blue formal wear outfit. 
I love everything about this nail look. The shape and length are perfect, and the colors that are used just go together perfectly. The design of this nail set is also minimalistic, making it great to pair with many of my outfits. And what I love the most about this nail look is that it is simple enough for me to achieve at home.
This beautiful nail set will certainly catch your eye if you are into minimalist designs. It doesn't have those fancy accessories, only elegance. This set will go perfectly with your cottage core dresses if you are into those cottage core fantasies.
It is cute and feminine; therefore, it would go well with anyone who likes to wear dresses. This nail set will look perfect for green, white, and blue dresses. 
I love everything about this nail look. And I would love to get this nail set done in the summer and spring season. As I have the cutest summer dresses that will look great with this look. Again I will need to go to my nail tech for this look as the set has too fine detail that will come out as dots instead of flowers if I were to try it.
This is my favorite nail set as it is simple but has a professional look to it. The design is minimalistic and will make you look sophisticated and professional. This will be the perfect nail set if you work in an office or a corporate business.
The thumb, index, and little fingernails are light blue. The middle and ring fingernails are in a nude shade with an added blue line design on the ring finger and a blue dot on the middle finger at the cuticle. Because this look is so simple yet sophisticated, it will match almost any outfit you pair with it. So you can have fun with your outfit choices. This nail look can easily be achieved at home. This is definitely my go-to nail set from now on!
I think this is the cutest nail idea ever! Are you expecting a baby boy? Then this nail set will be a cute idea to reveal your baby's name. Sadly this nail design will only work if your baby boy has a 4 or 5-letter name so that each letter of his name can be displayed on each nail.
The letters can be in big, bold white letters, and if your little boy's name has only 4 letters, you can add a little teddy detail to one of your nails. It is a great nail set to get for a gender reveal party or when you give birth to your precious baby boy. 
I would love to do this when my husband and I have kids one day. I think it is a super cute idea, and I can take pictures of it and put it in my baby book. Because this is going to be a special moment, I will want my nails to look perfect, and that is why I will go to a nail tech to achieve this look.
This nail set is perfect for the spring and summer seasons. If you love looking up at the sky and admiring the clouds, this nail look will be perfect. The nails are a nude pink that fades into a light blue with white cloud details on each nail. This nail set is aesthetically pleasing and is definitely a nail set that is worth taking a photo of. Any pastel-colored outfits will look fab with this nail look. 
I would really like to get this nail set as I love how the pink fades into the blue flawlessly and the added little fluffy cloud details. Even though this nail set looks complicated, it can easily be achieved at home by just painting your nails an ombre and using a little sponge to add the little cloud details. I would love to wear this nail look in the winter season as I think it will look great with my white, grey, pink, blue, and black jerseys.
I couldn't end this nail inspiration and ideas article without adding a light blue nail idea for your toes. Jip now; your toes can match your beautiful light blue nail set. This nail set is simple, shiny, and gives your feet a soft and attractive appearance. Any sandals or high heels will look gorgeous with this set. This is your sign; go get a manicure and pedicure today!
Although I love how this color looks on the toes, I wouldn't personally get it done as I prefer white, red, or silver on my toes. But hey girl, if you like it, go for it. It is also super easy to achieve at home.
Frequently Asked Questions
Question: What Does it Mean When Someone Paints their Nails Light Blue?
Answer: So, if you are on TikTok and have been following the latest trends. You will have seen girls getting their nails done in either blue or white. White nails symbolize you are single, while blue nails indicate that you're taken/ in a relationship. So girls, go and surprise your man or woman and get a blue set of nails. 
Question: Are Light Blue Nails Trendy?
Answer: Absolutely! Light blue nails are trendy all year round. Blue nails can be worn for everyday wear and special events, and people even wear them on the runways. So yes, light blue nails are definitely trendy!
Question: I can't Find Light Blue Nail Polish; What can I do?
Answer: If you have dark blue nail polish, you can add drops of white nail polish and then mix the colors together till you get your desired light blue color. Make sure you use a toothpick or a dark blue nail polish brush so that you don't ruin your white nail polish. 
Tips for the Reader: How to Make My Light Blue Nails Last Longer
We as women always want tips on making our nails last a bit longer, and today I have some great tips for you! Here they are: 
Firstly make sure to regularly clean your nails.

Wear some gloves when you are busy doing your "housewife" duties. This will protect your nails from those nasty chemicals that will cause your nails to lift. 

Moisturize your hands daily.

Give your nails a break after 3 months of regular filling and new sets. This will allow your natural nails to remain strong and help the acrylic or gel last longer once you get it done again. 

Avoid putting pressure on your nails, like opening soda cans or carrying heavy items. 

Conclusion
There are times when we feel blue, but don't let it get to you and instead make it an inspiration. Say, "Ah, I feel blue today; let's go for blue nails this week," something like that. It can be a solution to your stress and sadness.
New nail sets have proven to motivate ladies from all over the world to become productive. Men won't understand how therapeutic it is to get your nails done until they try it themselves. 
So if you have been feeling a little blue the last couple of days, this is a sign from the heavens to get your butt up and get your nails done in a light blue. Book the appointment with your nail tech today or if you are feeling in a creative mood, try these ideas mentioned above!
So keep calm and go do your nails, girl! What was your favorite light blue nail idea mentioned in this article? Let me know in the comments below. I would recommend going for the Minimalist Blue Nail Set if you are looking for a nail set that is stylish but is still professional for work. Have fun, ladies!
Continue reading: 
Navy Blue Nails Inspiration and Ideas
Sky Blue Nails Inspiration and Ideas