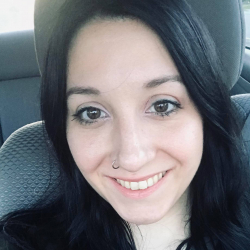 Latest posts by Stephanie Jensen
(see all)
There are so many manicure colors you can choose from, and dark purple is quickly becoming a classic. Dark purple is a shade associated with luxury, royalty, ambition, and power. Dark purple symbolizes many things — for example, it's the color of the highest chakra.
Purple is a color that means a lot to me. My grandma is obsessed with purple. And I mean OBSESSED! She decorates her whole into house with purple and she wears nothing but purple. While I'm not a fan of the soft lilac that my grandma loves, I do love the vampy purple colors. I love dark colors in general, and dark purple is one of my favorites. Because of the versatility, dark purple is also a great nail polish color and one I choose frequently for my manicures.
Are you looking for inspiration for your next dark purple manicure? I will offer some ideas here and will share some of my favorite dark purple manicure looks I found on Instagram!
Bottom line up front: My favorite look is the plum nail polish with glitter. First and foremost, that shade of purple is gorgeous. It's amazing for every season, looks great on everyone, is work-appropriate, and is ideal for casual days as well as formal events. I love the subtle glitter accents. You can alternate with the glitter, the way the model has it, apply glitter on every nail, or do an accent nail. If you prefer going to a salon, you can also show a nail tech this look and they can easily imitate it for you.
My Top Picks
Matte or Glossy?
Most nail polish looks glossy, but you can always add a matte topcoat. Actually, matte nails are a serious trend right now. What's best for your look? If you truly want a grand and elegant look, I suggest adding a matte finish. I personally think matte nails look more serious and are perfect if you're doing a dark purple manicure for a formal event. Be sure to find a matte purple liquid lipstick to match!
Dark Purple Nail Ideas to Try
Are you ready to get a dark purple manicure? Look through these ideas first so you can get the best manicure!
1. Dark Plum Glitter
This dark plum color is absolutely gorgeous. Dark plum is such a versatile color. It's perfect for casual days, formal events, and is usually work-appropriate. I also think dark plum is a great year-round color.
Glitter is a great addition to dark purple nails since this little detail can make your nails stand out. You can always add silver or gold glitter over dark plum.
This look is the perfect example. I love how the model has a full glitter accent nail and the other nail has glitter only on the bottom half. The best part about this look is you can totally achieve this DIY! I would totally do this look the minute Fall begins. Credit: @manis_by_taylor.
2. Dark Purple Capricorn Nails
Is it just me or do I think of the zodiac when the color dark purple comes to mind? Either way, adding your zodiac symbol to your manicure is a fun way to personalize your nail look.
@brillantinanailz is a Capricorn. So am I! That's why I love these astrology nails so much.
I love the different shades of purple going on here. This manicure features a dark purple and royal purple accent nail. The other nails are galaxy nails, absolutely gorgeous!
What are galaxy nails? Galaxy nails are what they sound like — your nail artist will use a variety of colors, designs, and effects to make your nails look like the night sky. Galaxy nails are a massive trend and you'll need dark purple to achieve this look. With the right polishes, you can also do this look DIY.
While I don't like how long these nails are, I think the square shape is pretty.
Want to take the astrology theme to the next level? Add other stylish elements to this look, such as stars. A professional can achieve the best look, but with the right tools and artistry skills, you can do this look DIY. Or, you can find Astrology nail art.
3. Dark Purple Geometric Nails
This look is so cute! Half of the nails are dark purple and the last two nails are light purple in color and feature geometric designs! The nails remind me of a sweater or a school uniform vest — so cute! I definitely suggest going to a professional for this look, since the geometric designs are very intricate and feature a variety of colors. Credit: @itsthevietgirlsnailart.
4. Classic Dark Purple Nails
Who said your dark purple nails have to be fancy? I'm loving this simple yet classic look. Dark purple is such a pretty color and it reigns fine on its own. The color that @shmailshmolish used is more like an eggplant color, which I absolutely love! To get your nails this dark, I recommend using two coats.
5. Dark Purple Valentine's Day Manicure
Who said your Valentine's Day manicure has to be red or pink? This look proves that you can pull off purple Valentine's Day nails! All of the looks are dark purple except for one accent nail, which is nude with a purple glitter heart accent. While this look was definitely done by a professional, you can do it yourself if you find purple heart nail art or if you have good artistry skills. Credit: @darija.nails.zagreb.
6. Black Cherry Dark Purple Nail Polish

No words can describe the beauty of this color! It's a dark purple and develops a sparkly, black cherry sheen in the light. The sparkles are microscopic, so they don't take away from this breathtaking color. This color is by OPI and is called "Black Cherry Chutney." Since it's a popular nail polish brand, nearly anyone can find it. I also love the way @mylacqueredlife shaped her nails. They're short but filed so they're rounded.
7. Fun Dark Purple Nails
If dark purple is too witchy for you and you want something fun, I suggest pulling off this look. The model here has long squared nails, I assume they're acrylic.
All of the nails have dark purple tips except one full purple accent nail and another accent nail that's nude with a leaf design in black and gold. The French tips also have a rhinestone at the bottom of the nail. This is a really cute look for a special event such as a prom. Credit: @ventislavaavv_nails.
8. Dark Purple Nails With a Light Purple Accent Nail

If you're looking for an easy yet extravagant look you can do yourself, take a look at this one as inspiration. This is also a cute look for spring if you're not a fan of pastel colors.
@all_nail_things painted her nails in dark purple except for one accent nail, which is light purple with silver glitter. Accent nails are a fun addition to any manicure and still add a bit of personality. Plus, I think accent nails look great on everyone!
Judging from the description, it looks like the model did the look herself (though she's probably wearing press-on nails). The look is very pretty and you can easily find these colors or similar to pull off this look yourself.
9. Dark Purple Ombre French Tips

Ombre is a color effect where a dark color blends into light color. This is also a great idea if you don't want to do full dark purple nails. Plus, there are so many cute ombre trends that use dark purple, such as ombre French tips!
I think this dark purple ombre as French tips is such a unique look! The top of the nail is dark purple and slowly fades to a royal purple until it gets to the base of the nail, which is nude. The model here has short nails, so you don't need crazy long nails to pull off this look. While you can do an ombre DIY, this ombre is very specific. Unless you have the skill, I suggest going to a professional for this look. Credit: @myubeauty.
10. Dark Purple Nails With a Gold Accent

This is a really cute manicure! All of the nails are dark purple, almost black. But there's one accent nail, it's gold with a cool abstract design.
Dark purple is a color that represents luxury, so what better color to pair with dark purple than gold? No color represents royalty better than gold, and you'll feel like a million bucks with a dark purple and gold manicure. Plus, the gold abstract nail gives this nail look more personality without it being too loud.
The model here got a gel manicure to get this look. But with the right polish, you can definitely do this DIY. Given that you may not be able to find that exact same gold design, you can use a simple gold nail polish instead.
I really like how the model's nails are short and have that cute almond shape. I see crazy long nails all over Instagram, so it's refreshing seeing cute and short nails. Credit: @show.me.your.claws.
11. Dark Purple Nails With Black Details

These are really cute and simple nails you can do yourself! The nails are painted in a lovely plum color and feature black details on one finger.
Sure, dark purple and black look very similar. However, both colors can still stand out when done correctly, such as the model's nails. The polish is painted on in lines running from side to side. They're very lovely and this little detail is easy to do DIY. However, it looks like @thenailbox_bymonni_ got these nails done by a professional.
12. Dark Purple Nails With Nail Art

This is such a unique look! The model has a lovely shade of dark purple with silver glitter nail art. The art is very geometric, with shapes and dots. @faithful_nailz said this is all hand-drawn. However, this looks like it requires serious skill. I suggest finding pre-made nail art or asking a nail tech to do this look for you.
13. Black and Dark Purple French Tips

This is such a great look if you want to rock a dark nail look but don't want to look too gothy! These nails all have French nails except the pinky, which is painted in dark purple. The rest of the nails all have half dark purple and half black French tips. The index finger also has some star detailing in black. Credit: @taylersnails.
14. Dark Purple Nails With a Flower Accent

This is such a great look if you want something creative but not too loud.
These darks are very dark purple, almost black, with a slight shimmer. The ring finger on both hands has a white flower design — it looks like a calla lily.
I can see this being a good look for fall but is also super cute with summer right around the corner. I also love the short nails. Again, I've had enough of this long nail trend. The nails are rounded and so cute. I would definitely go to a professional for this look because the flowers look intricate. Credit: @candynails_by_inesventura.
15. Dark Purple Press-On Nails

If you're looking for dark purple press-on nails, I suggest getting a look like these. While @kyliezpressonz says these are extra-small, these still look pretty long and are very extravagant. Most of the nails are that lovely midnight purple color with various designs. Some have gold moon detailing, others have a bandana print, and I'm also seeing an alligator print. You can buy these nails at the kyliezpressonz Etsy shop.
16. Dark Purple Glitter Nails

I'm in love with this color! The color is a stunning and glittery dark purple. These nails were done professionally and are gel. But if you find a similar color, you can totally get this look DIY. This is a great color if you want to do galaxy nails but don't have the skill to combine the different colors and effects.
I also think this is another great way to wear dark purple nails for the spring season. The nails are also cute; they're short and square, again proving you don't need long nails for a stylish look. Credit: @beautybykate.b.
17. Dark Purple Matte Nails

These nails are gorgeous! I love that dark royal purple color. The nails have a matte finish, which looks absolutely lovely. One nail features a white floral design with silver glitter. While the nails are long, I like this look because of the design. I suggest getting this look done professionally if you want a similar one. Credit: @kraljestvo_nohtov.
18. Matte Dark Purple Nails With a Pink and Gold Accent Nail

I'm in love with that matte dark purple color! I would prefer if the model did all nails in this color, but the pink and gold accent nail is cute. The accent is a pretty magenta color with a gold foil design.
If you want this same look but in a different shade of pink, I suggest trying rose. Both rose and dark purple are on the same spectrum but are different enough for the rose color to stand out more. Rose isn't a flashy color, so it will work if you want a subtle manicure.
Besides, I think this color combination looks more mysterious compared to the original. I also think the gold foil design would look better on rose than magenta.
Credit: @the_nail_affair06.
19. Dark Purple Marble Accent Nails

These nails are amazing! They're all in a beautiful shade of dark purple. One nail is sheer purple in color and features a marble design.
A dark purple marble effect will also look really cool if you want something different. That's because dark purple is such a deep color and will stand out even more when combined with white.
For a look like this, I just suggest using solid colors because glitter and glossy colors will be too loud. For best results, add a matte finishing effect!
These nails look acrylic, but the nails are medium in length. I suggest getting this look done by a professional. Credit: @sammiess_nails.
20. Dark Purple Effect Nails

These nails are absolutely magnetic! They're black with a dark purple design. I'm not exactly sure what this effect is. It kind of looks like a flower and maybe a little bit of galaxy thrown in there. Either way, it looks really cool! I think this look was done professionally and that's what I suggest for anyone who wants to replicate this look. Credit: @biosculpturegelnails_byhelen.
21. Dark Purple Jewel Toenails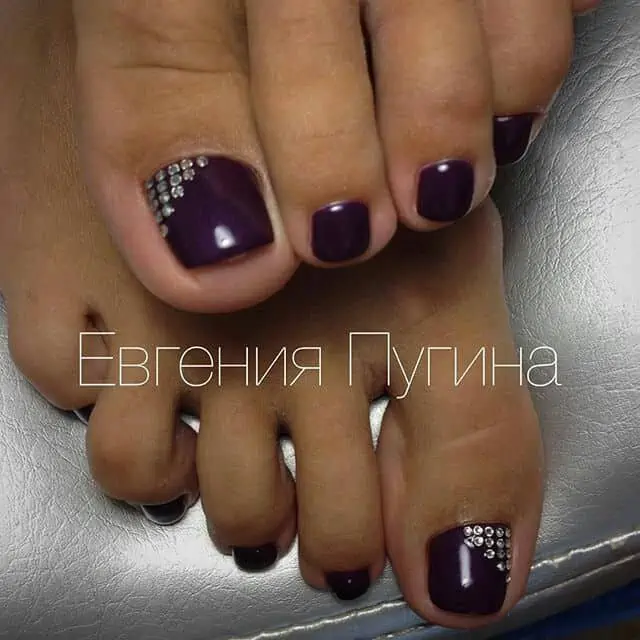 Who said your dark purple nails need to be your fingernails? I love painting my toenails and there are so many cute looks you can do! This one is a perfect example. The toenails are painted in a lovely dark purple and the big toe has a neat jewel accent.
Adding charms and jewels to your manicure will do more than make your manicure sparkle — this little detail will really accentuate your manicure. The jewels will stand out even more on dark purple nails.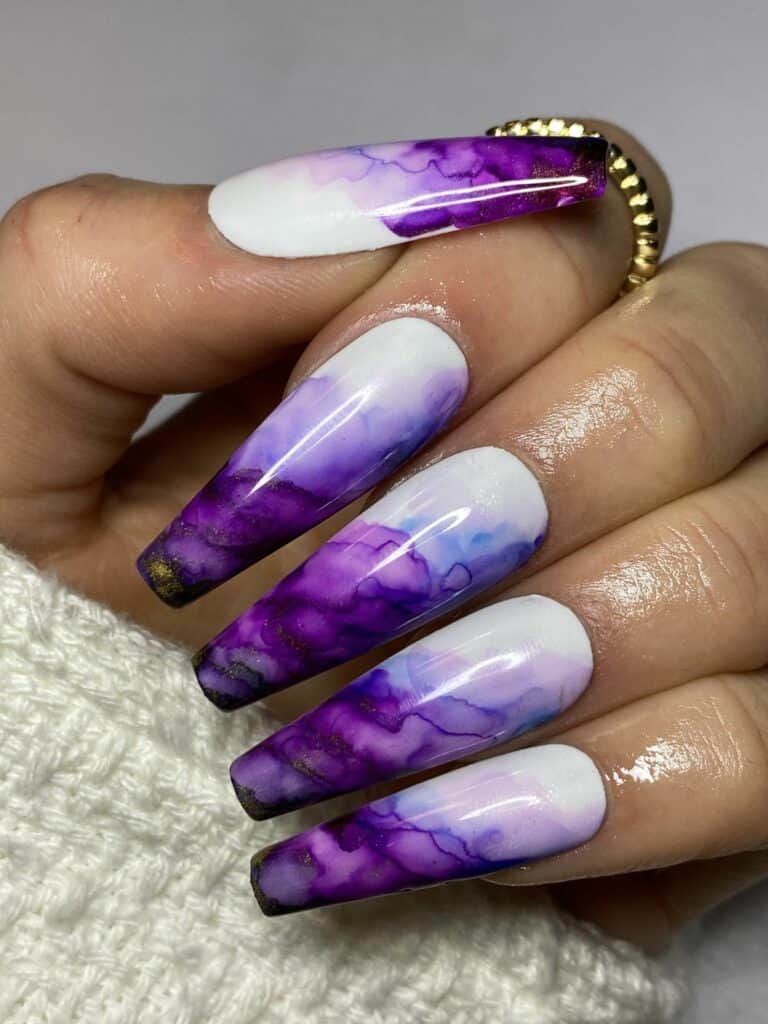 If you don't want to go too far with the witchy look, throw some white in your manicure. The white will balance the dark purple for a stunning effect.
These nails are the perfect example! The model has long, coffin-shaped acrylic nails. At the tip is dark purple and it slowly turns to white at the bottom.
As you can see, dark purple and white is an eye-popping color combination that works perfectly for your next manicure. But there are other limitless design options you can achieve with this color combination. I love how this ombre has a marble design, but I think this is optional.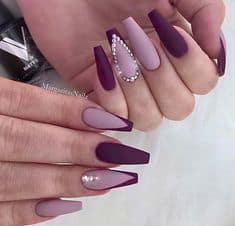 FAQs
Question: Does Purple Nail Polish Symbolize Anything?
Answer: I just found out that wearing purple nail polish supports survivors of domestic violence! Specifically, leaving only your ring finger dark purple helps spread awareness.
Question: Will Dark Purple Nail Polish be Accepted in the Workplace?
Answer: That depends on your workplace. To be safe, I wouldn't get dark purple nail polish. Here are some nail polish colors that are commonly accepted in workplaces with a strict uniform:
Nude
Red
Burgundy
Gray
French tips
White
Question: Is Dark Purple or Black a Better Nail Polish Color?
Answer: First, let's look at black nails and what they symbolize. Black is a color that represents assertiveness and authority. In short, anyone who paints their nails black will want to be noticed. They may also enjoy a darker style and aren't afraid to break boundaries. So, will dark purple or black work better for you? While dark purple is still not the best color in the workplace, it will be accepted more than black. Otherwise, the choice is up to you!
Question: What Nail Shape Looks Best with Dark Purple Nails?
Answer: I could be biased but I love coffin nails. Coffin nails have such a unique shape. Since dark purple is a muted color, the deep shade with the eye-catching shape balances the manicure out.
Question: What is the Best Season for Dark Purple Nails?
Answer: I say fall, specifically during the Halloween season! Dark purple is consistent with the spooky season but is also different than the typical burgundy and brown we see. Dark purple is also a great color for year-round wear, especially if you're looking for an alternative to black. If you want to make your autumn nails more interesting, you can add charms or jewels.
Question: What are Some Alternative Shades to Dark Purple?
Answer: I recommend royal purple and amethyst.
Royal purple: Royal purple is a mix of blue and magenta. As you can expect, this shade of purple will make you feel like royalty. I also think royal purple is the truest shade of purple. The good thing about a royal purple manicure is that nearly every major nail polish company will find a similar color in this shade. Unlike dark purple, this color looks great all year — and especially as a winter color!
Amethyst: Amethyst is a serious purple trend right now. Amethyst is a little redder than other purple colors. While amethyst is usually brighter, like the stone, you can find darker amethyst color variations. Plus, I think amethyst looks beautiful when adding a glitter design. You can find amethyst polish anywhere. If you can't find it, ask your nail technician to achieve this look.
Bottom Line
Dark purple is a timeless nail polish color. This is a color that looks good on everyone. It's also very flexible; you can combine dark purple with different colors and can add cool designs.
Out of all of these looks, the dark plum and glitter look is my absolute favorite. I think plum is such a great color for the entire year and it looks amazing on everyone. You can easily do this look at home — nearly every major nail polish brand sells this color.
I tend to see crazy nail designs on Instagram and Pinterest, so I'm more of a minimalist fan when it comes to nails. But if that plum color is too boring for you, then you can add some glitter polish to take it up a notch, just like what the model did. I think the model used pink glitter, but silver glitter will also look really chic.
There are so many amazing looks you can do with dark purple nail polish. I hope I offered you some inspiration for your next manicure!
Continue reading:
Dark Green Nails Inspiration and Ideas: Nail Ideas that Will Add Some Color to your Life
Pink French Tip Nail Inspirations and Ideas: A Guide to Awe-Worthy Nails
Purple Ombre Nails Inspiration and Ideas: Concepts to Check Out Before Your Next Salon Visit