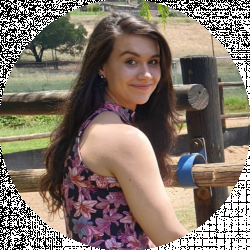 Latest posts by Christine Kent
(see all)
Green, a mixture of yellow and blue, is often considered a "tranquil, natural, eye-catching, and refreshing" color. Color psychology associates it with money, peace, good luck, environmental awareness, and a bright future. Wearing green creates the idea of wellness and calmness, and I love adding green when it comes to my nails.
My eyesight is weak, and my eyes being a student of literature, are often prone to fatigue. My doctor suggested more use of green colors, from green plants and green vegetables to wearing green, as it helps to relieve fatigue and bring comfort. For many years I have had this routine. That's why guys trust me that I will bring some crazy dark green nails inspiration and ideas for you.
Bottomline Up Front
The color green symbolizes growth, prosperity, and nature in all its splendor and glory. Shifting its tint, shade, and saturation can change what green means. So, why not implement the exact shade of green as per its vibe on our nails. After it, you can look at your nails every day and feel fresh, calm, and happy.
Pine Green Nails are my all-time favorite. Just look at them, how perfect, elegant, and classy they are. So, let's crackdown on some other nail ideas for your broader view.
My Top Picks
Selection Criteria
These beautiful dark green nails are picked in accordance with the following criteria:
Nails that are super easy to create without any nail expert

Graceful and sophisticated nails for everyday routine.

Nails that are trendy this season for any party or outing.

Nails that easily fit any outfit or theme.

I really love the idea of painting short nails a two-tone color and using the color green is just the icing on the cake. Are you facing trouble in doing your daily chores with long nails? Then this dark green nail idea is for you. Now you can still do your daily tasks while rocking these two-tone short nails.
These dark green two-tone nails are super cute. Who doesn't want to look at their nails and have their nails smiling back at them? The index, ring, and little fingernails are checkered print with dark green and light green. While the middle finger is a dark green, and it has a smiley painted on it in a lighter green. I love this nail set because it is easy to maintain and will go with most of your outfits. And the best part is that you can achieve this nail look at home.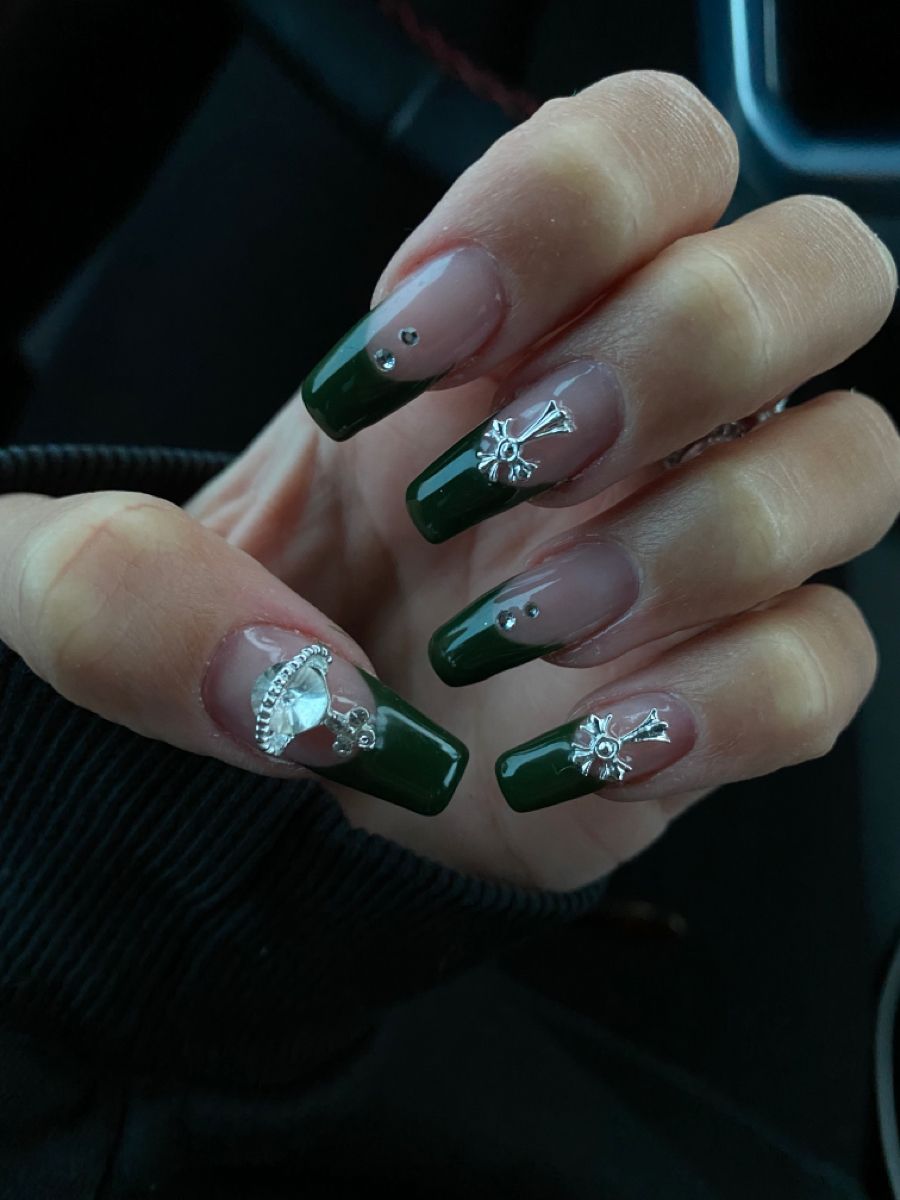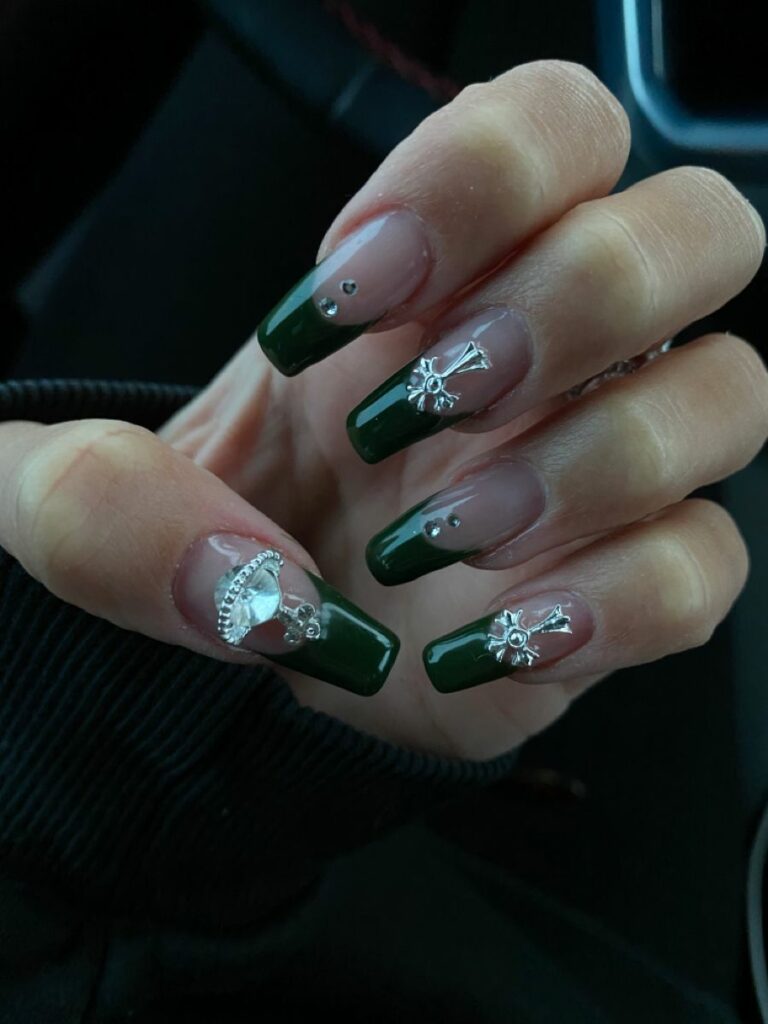 French nails radiate elegance and class and will never go out of trend. French green tips with floral gems remind me of the tranquil aura of nature. But I am not a die-heart fan of french nails with gems on them. Because one of the gems always falls off within the first two weeks of getting the set, it ruins your nail look. To achieve this dark green nail look, I will have to visit my nail tech. This isn't a set that I want to wear for my everyday nail look, but I would love to get this set for a family gathering/ party to impress my rude family members and show that I'm professional and have my life together.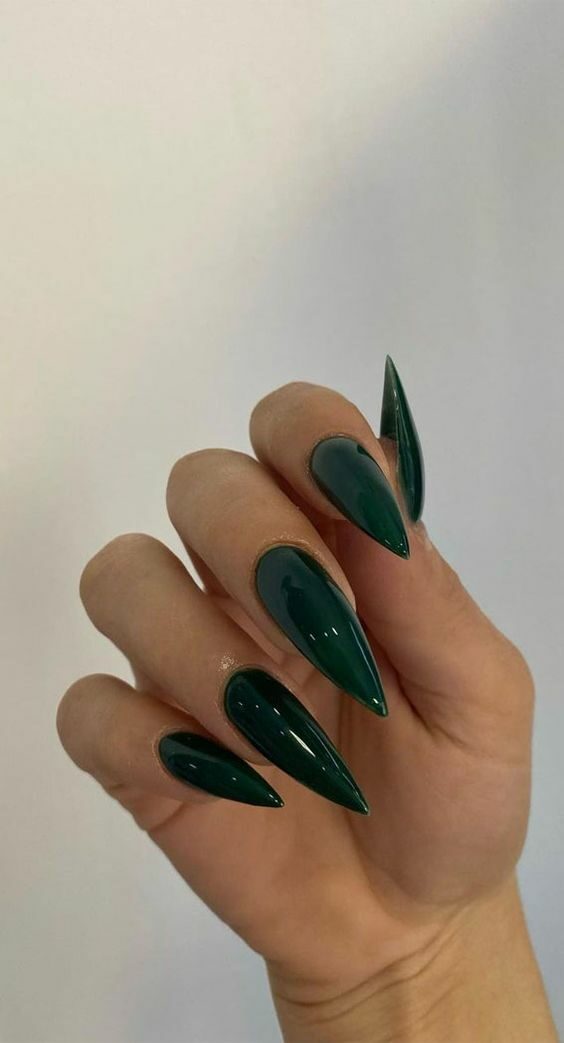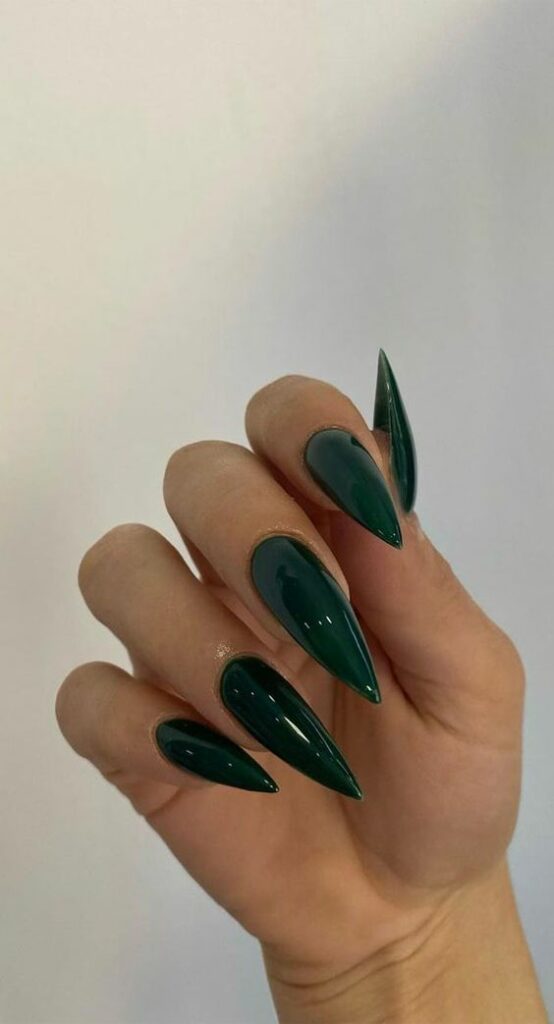 OMG! I just love green stiletto nails more than anything, their vibes, appearance, look, class, and whatnot. Whenever I want a manicure that is beyond my imagination or out of the world, this is what I mean. Green Stiletto nails are a deadly combination and will definitely bring you into a group discussion. I love this plain dark green stiletto set, but you can always spice it up by adding some stickers or rhinestones to achieve a more vibrant look. Because I'm not great at creating the stiletto shape, I'm definitely heading to my nail tech for this nail set.

I am totally obsessed with cow print nails! I would love to get this nail idea for my vacation nails as this set will suit my crop tops and loose-fitting jeans, specifically my mom jeans. Just look at this set; it is mooo-tiful! Yes, it is a word I just created, and it means beauty on another level.
All I have to do to create this beautiful nail set is to start with a white base, then paint squiggly shapes in dark green with the help of a nail brush. If you are a beginner, then you will need a nail expert; otherwise, it is easy to create at home.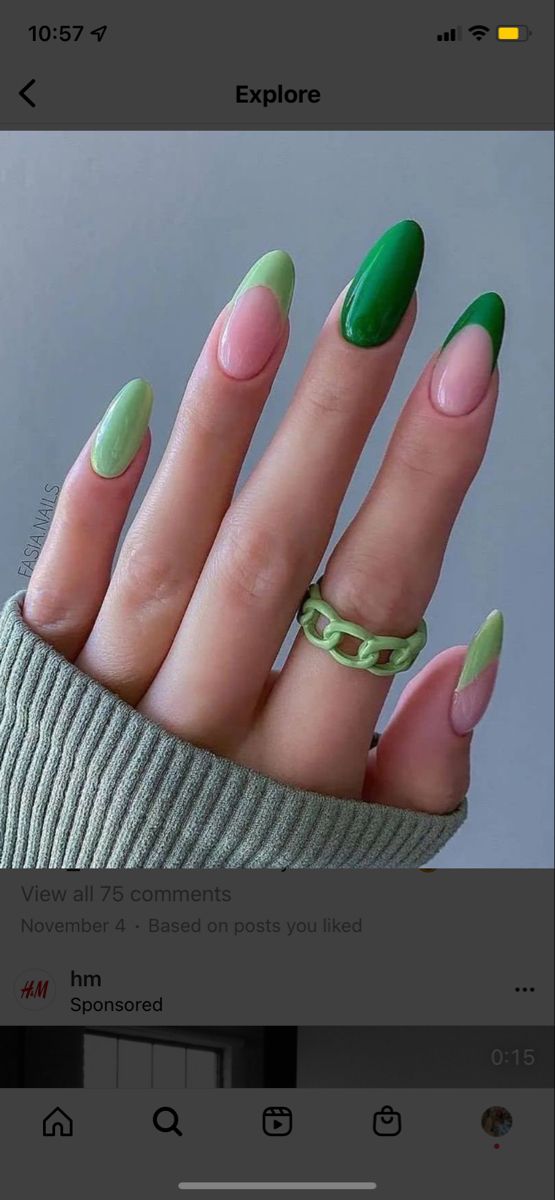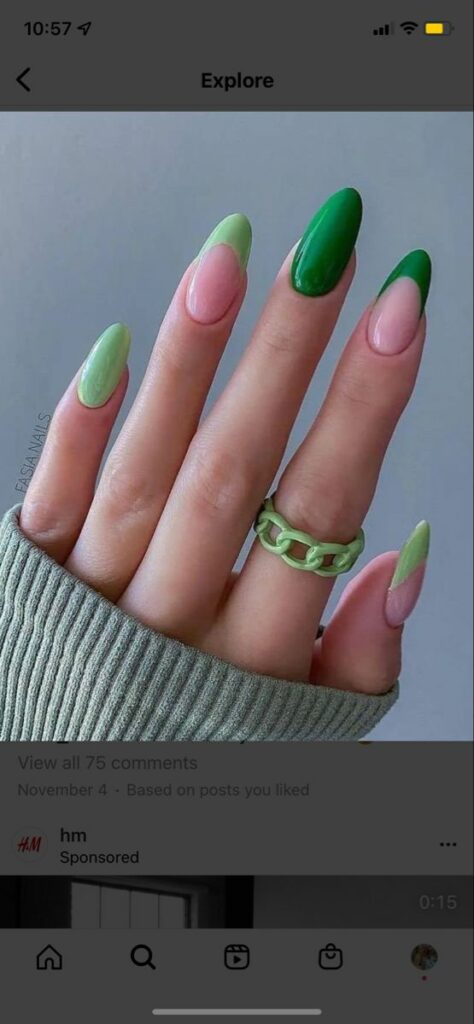 Sometimes I want all the vibes of green associated with its shades. Then, I go for multi-shade nail sets. I just started painting different shades, which I like, on every nail and enjoy all essence and association of green. As olive green symbolizes humanity, forest green represents growth and freshness, and so on. This nail set is fun because the color of each nail symbolizes something else, and every day when I look at them, I remember the meaning behind them. It is also the easiest yet most fascinating set for casual meetings. Trust me; your friends will definitely be green with jealousy when you get this nail set.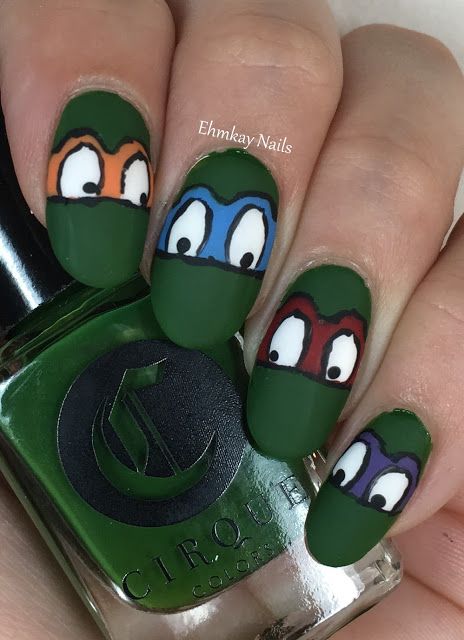 When I was a teenager, I found everything attractive without bothering about how it looked. Aah! Those were the days; crazy, pleasing, and full of enjoyment. At that time, I tried ninja turtle nails. It was very similar to this set and also had each of the characters in their colors on each nail. But now, as an adult, I won't go for this nail look as it will look a bit childish and immature when I wear my formal wear. If you want this nail look, go for it. We should try crazy things at least once in life. But for now, I'm okay to stick to my dark green french or stiletto nail looks.
If you want a perfect representation of the ninja turtles on your nails, you need to head to your nail tech for this nail look.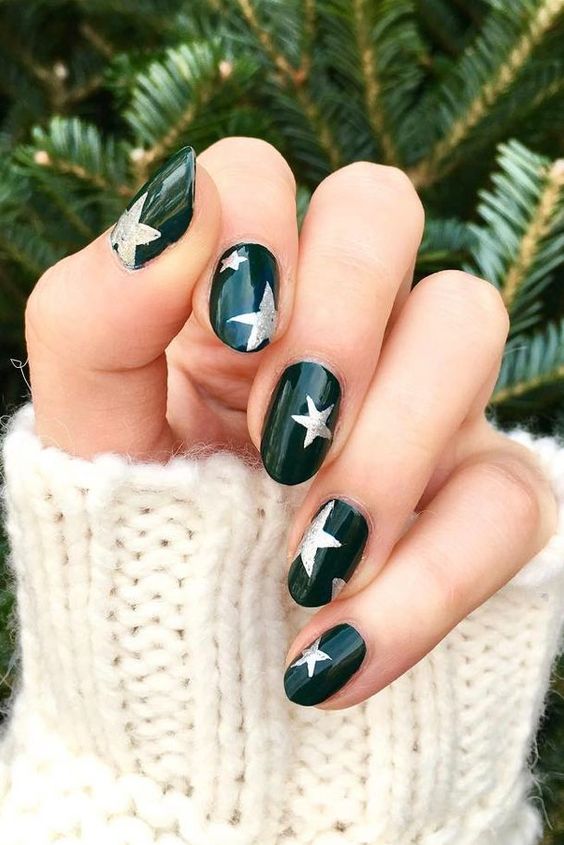 Stars are always trending in the fashion industry, and this fir green star nail is no exception. The thing that I loved about this nail set is the comfort that they bring. You can opt for it for any occasion, whether it's for a party, date night, night out with friends, or even Christmas. They can always give you fresh, balanced, and peaceful vibes. The silver stars will also remind you that you are doing a great job every day you look at your nails. If you have a stencil to create the little stars or are good at painting them freehand, this look will be easy for you to achieve at home. I think grey or white drop shoulder cardigans with skinny blue jeans and black knee-high boots will look gorg with this dark green nail set.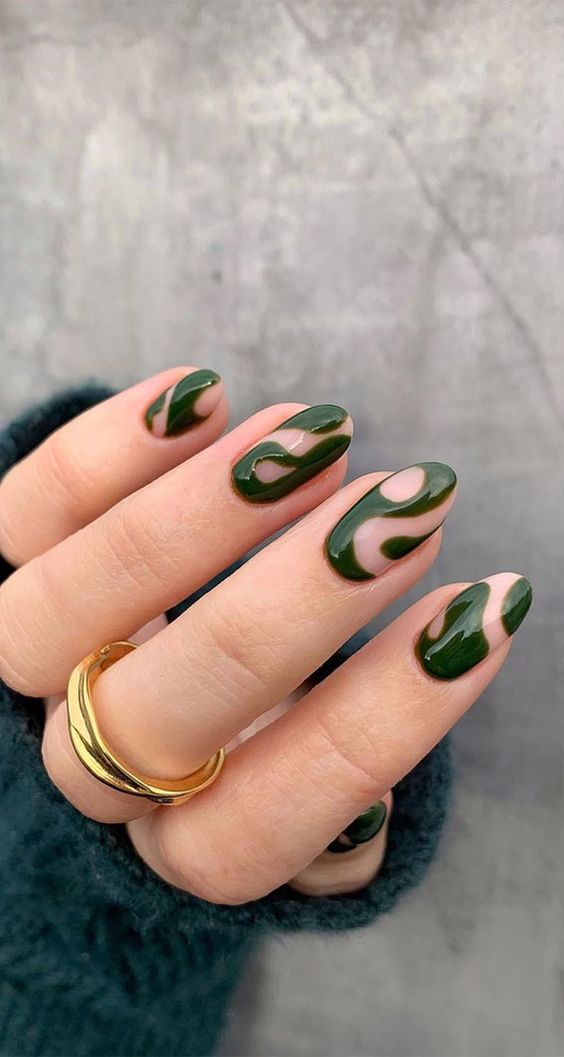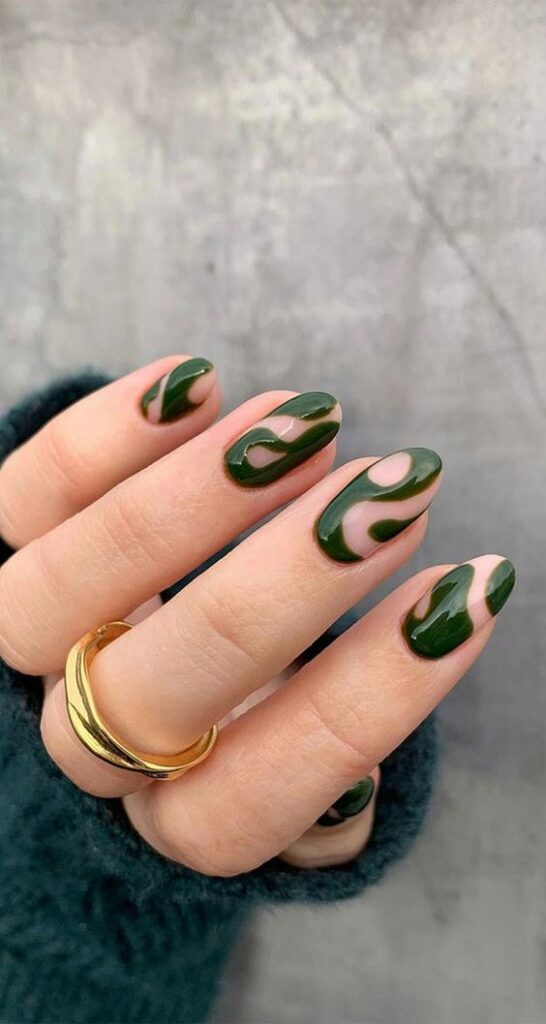 How can a look that is so simple be so beautiful? I am so obsessed with swirl nails, especially dark green swirls! I have created swirls on almond, french, and stiletto nails.
Start with the nude color base; once dry, create a green swirl, and then apply a top coat to give it that elegant look. Keep in mind that the swirls don't have to be perfect. They are meant to be skew and squiggly. You don't need an expert; you can easily achieve this look at home. This dark green nail set looks perfect paired with neutrals, greens, and grey jerseys in the winter season. I can easily wear this nail look to a meeting and go for dinner and drinks with my husband afterward. They are a two-in-one occasion nail set, and that is what I love about them!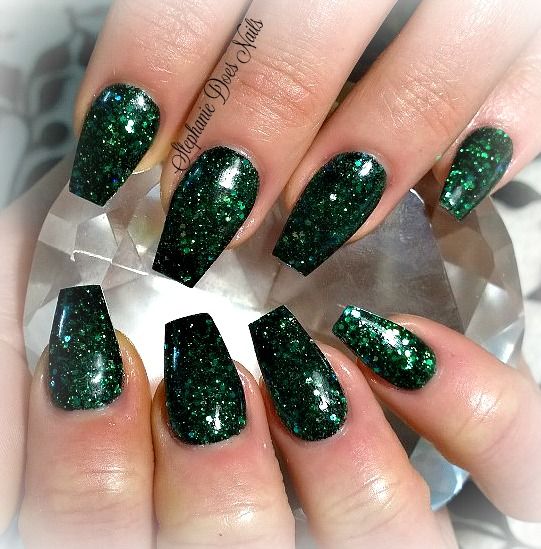 How can a girl say no to glitters, especially when it comes to green nails? I imagine myself opting for this nail idea whenever I want a manicure that will catch the party's attention but will still look elegant at the same time. Or if I just want to feel like Ariel of the Little Mermaid and have glittery green nails for two weeks. No, I'm not saying this is what Ariel's nail's looked like, but I imagine this is a nail set that she would wear.
This nail set also screams Christmas, don't you agree? It reminds me of the Christmas tree decorated with glittery ornaments. Absolutely gorgeous! Green, black, white, and red-colored outfits will look gorgeous with this nail look. And this set is easy to achieve at home. So if all the nail salons are booked, and you desperately need a new set for the Christmas party by the end of the year, this is the nail set to go for!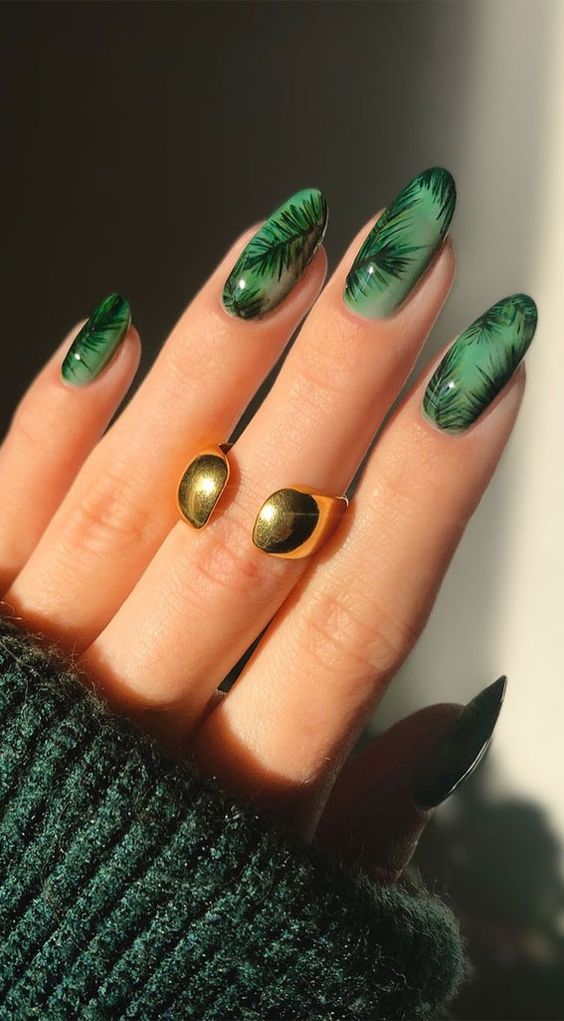 The pine plant represents the message of steadfastness, good fortune, and a bright future. So, why can't I add this message to my life by creating some pine art on my nails? I really recommend this set to you guys because we literally need some positive vibes to tackle this hurried life. Right? But, this nail look is difficult to create without a nail expert. Trust me; once you get this gorgeous nail set, you will definitely feel its vibes around you. However, I love it not only for its vibes but because it looks so elegant. 
Definitely my favorite dark green nail set! I would love to wear this set with some dark-colored jerseys or blazers with some skinny jeans, my ankle boots, and some gold jewelry.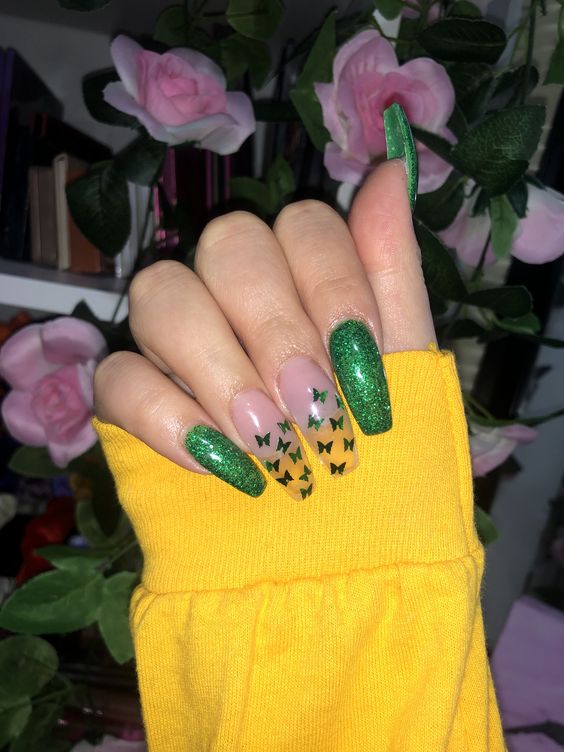 Girls have always been obsessed with butterflies, and why not? Just look at them and how beautiful they are. From childhood to now, butterflies have been part of my wardrobe. So, how can I not include them when it comes to my nails?
The best thing is I don't need any help from my nail tech, as it is easy to achieve at home. I have to apply my clear nail tips with my nail glue, add some dark green butterfly nail stickers to my middle and ring fingernails and apply a top coat to secure those butterflies. And then, apply a shimmering dark green polish to the thumb, index, and little fingernail. And voila, I got gorgeous green butterfly nails. The only thing I would change about this nail look is the length, as it is way too long for me and will definitely make my day-to-day tasks challenging. But when it comes to outfits, I can basically wear anything, so I'm not complaining!

I love this dark green nail set because it is simple but classy. It also, for some reason, reminds me of Fiona From the Shrek movie. I think the dark green with the gold reminds me of her dress. This nail set is easy to achieve as you paint all your nails in a dark green shade and then add gold butterfly stickers to the middle and ring fingernails. It is definitely a set that can be worn on multiple occasions as the dark green nails with the added gold butterfly detail is just the perfect combination.

Ladies, you deserve to get a dark green manicure and pedicure. Why? Because you are allowed to treat yourself! And who doesn't like it when their nails and toenails match? It's like wearing matching underwear; nothing can ruin your day because you feel extra confident. And today, I bring you this cute dark green toenail idea that will make your feet appear beautiful and well taken care of. White or gold sandals will look fabulous with this dark green pedicure. And no need to head to the nail salon; this nail look is easy to achieve at home.

I think this dark green nail look is freaking cute! If you are in need of a dark green nail set that is cute and unique, this umbrella nail set has got you covered( Haha, I'm so punny).
The nails are a matte dark green except for the middle fingernail on the one hand. The middle fingernail is in the color white with a gorgeous hand-painted black umbrella with some green and yellow shadows. I love the shape and the length of the nail, as it will be easy for me to maintain. I would love to get this nail set as my everyday nails as I feel I can wear it with my formal wear and look professional, and I can pair it with my casual going-out outfits and still look stylish. With this nail set, I can have the best of both worlds!

Am I the only one that thinks that the ring and little fingernails look like a turtle's shell or a crocodile's skin? This is a very cute and unique nail set that will match most of your outfits. But this isn't a nail set that I would go for as to me; it just doesn't look girly enough. But hey, this doesn't mean you can't rock this nail set.
Black, white, different shades of greens and grey-colored outfits will look very stylish with this nail look. And you can also add some silver jewelry to finish off the look. The only thing that I would say that I like about this nail set is that it is easy to achieve at home. All you have to do is paint your nails with a dark green gel or acrylic, and then with the help of a stencil or some even brushstrokes here and there, you can achieve these turtle shell-looking nails.
Frequently Asked Questions
Question: What Color Goes With Green on Nails?
Answer: Red! As it is always chosen when we talk about contrasting it with green. Red nails look so stylish and elegant and depending on the shade of your green; you can go for wine red, raspberry, or classic red.
Question: Are Green Nails in Style?
Answer: I would be statistical for this answer. As per Pinterest data, searchers for deep forest green nails are more than 244%, and for emerald green, it goes to peak and reaches up to 300% this year. What a trend! So there you can see guys' green nails are definitely in style!
Question: What does it Mean if You Paint Your Nails Green?
Answer: Wearing green, especially with art on your nails, awards you with ever-wanted attraction. It is often considered a color of a bright future, peace, and prosperity. People who wear green nails are usually adventurous and don't mind taking risks. They are people who want to look unique and stand out at the same time. So next time you see someone wearing green nails, go and say hi; I'm sure they will become your new best friend.
Conclusion
And there you have it, girls! We have reached the end of the dark green nails inspiration and ideas. I hope you enjoyed this article and that you have found a nail idea that matches your style and personality. I would definitely recommend going for the pine green nails as they are so attractive and fascinating, and they look amazing when paired with gold jewelry. They also just make your nails appear fresh and beautiful.
What was your favorite dark green nail idea? Let me know in the comments below. So what are you waiting for? Go treat yourself to a gorgeous dark green nail set at your favorite nail salon, or if you want to get creative, try these nail ideas at home. Doing my nails always makes me feel better and gets me in a cheerful mood. Because when all else fails, at least you will have beautiful dark green nails. Make the world jealous with your dark green nails, girls!
Continue reading:
Neon Green Nails Inspiration and Ideas
Green Nails Inspiration and Ideas: 20 Ideas for 2022