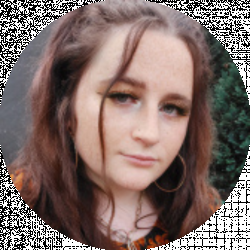 Latest posts by Lou Siday
(see all)
If you can't get long nails because of your lifestyle, short almond nails are a great choice of manicure. Now, I used to love my long acrylics when I worked in bars and clubs. I always felt super fabulous wielding an extra-long fresh mani. But when I began my writing career, I realized that I simply couldn't get away with the nails I was used to. Laptop keyboards plus long acrylics do not go well together.
However, I soon found out that I could get beautiful short almond nails that still make me feel fabulous, but allows me to work with ease. With the almond shape, you can still express yourself and get acrylic tips, however, they are easier to go about your day-to-day business with.
In this article, I will look at some great short almond nail inspiration and ideas that allow you to express your personality via your manicure!
Bottom Line Up Front
The almond nail shape refers to when the nails are wide at the base, but slightly tapered towards the tip. They are then curved at the top of the nails, creating a shape that looks like an almond. They are a great choice if you are looking for a neat and fresh manicure, but don't want anything too pointy.
They are usually used if you are wanting to add a little bit of length to your nails, however, they look super cute short, too!
Simple short almond nails are perfect for a classic and versatile nail look.
Short almond nails with a French tip are a classy and sophisticated design.
Floral short almond nails are great to celebrate the spring and summer months.
Abstract short almond nails are really trendy right now, with nail artists creating interesting and unique designs.
Going short doesn't mean sacrificing any of the glam of a manicure! There are so many bold and striking short almond nails to choose from.
Long Vs Short Almond Nails
If you are new to manicures, you may be tempted to go long and dramatic. Like a kid in a candy store, I definitely used to go extra long and extra wild when I first started getting my nails done. However, you have to think about your lifestyle and what you are used to!
Short almond nails are a great choice for those getting a manicure for the first time, or if you have a lifestyle that requires short nails.
Selection Criteria
When picking what short almond nails to include on this list, I made sure I picked manicures that were done by the best nail artists out there. All designs are done to the highest standards, by very talented nail techs from around the world!
I wanted to include short almond nails that can be recreated at home, for those of us who like to do DIY manicures. However, I did want to include some more complex designs to showcase what we can actually do with short almond nails! There are so many cool designs to choose from, so I included my favorite floral and abstract short almond nail ideas.
Simple Short Almond Nails
Let's kick things off with some simple short almond nails. These are perfect if you are looking for a versatile manicure that you can wear to a range of events and occasions.
Natural Short Almond Nails

These short almond nails are super cute, using a natural gel color. Opting for a more natural color is a great choice for almond nails, as they tend to go with whatever outfit or look you are going for! It also means you can hide any imperfections that might be on your nails.
The nail artist has finished the nails off with a super shiny coat, making the nails look healthy and gorgeous.
Ombre Short Almond Nails
The ombre effect refers to when two or more different colors are blended together, creating a gradient across the nails. This short almond manicure uses pink and blue for this ombre effect, creating a subtle yet stunning look.
Green Short Almond Nails
I love green nails at the moment! I keep seeing so many beautiful different shades of green on my social media feeds, but I do have a soft spot for this beautiful dark green shade. It feels really sophisticated, yet adds a pop of color to your look.
The short almond shape really suits the slick look of the color, creating a beautiful simple manicure.
Nude Short Almond Nails

Nudes are totally trending right now, both in the fashion world and the nail world. The simplicity of this stunning pink nude color matched with the short almond shape creates a great manicure, perfect for those wanting something suitable for day-to-day looks.
Short Almond Nails With French Tips
French tips are always in style. This classic nail look refers to when the tips are painted, with the rest of the nails either left natural or painted in a contrasting color.
French tips are great because they look stunning both on short and long nails. Let's look at some short almond nail French tips that are on-trend and sophisticated.
Black Short Almond Nails With a French Tip

I really love these short almond nails that use black for the French tips. The nail artist has then added matching shapes at the base of the nail, creating a sassy, monochrome look.
If you are wanting to recreate these at home, use French nail tape that allows you to create the curve of the French tips neatly. Then, using nail art gel pens, add the curve detailing. Remember to add both a bottom and top coat to make the natural nail look as glossy as possible!
Modern French Short Almond Nails

There are so many cool twists on the traditional French tips trend, and I love the fresh, modern manicure. The nail artist has used three different colors to paint the tips, playing with angles and shapes to create a really interesting design.
I really like how they have mixed the colors up throughout the nails, using the three bold colors in different ways for each tip.
Neon French Short Almond Nails

French tips don't always have to leave the rest of the nail bare! By using two contrasting colors, you can create a bold, fresh look for your manicure.
I love the bright neon colors used for these nails. A great choice if you love the French nail trend, but want to add a whole load of color to your look.
Colorful French Short Almond Nails
I cannot get over how cute this manicure is! The nail artist has used the French tip trend with different colors and shapes, then added a flower design on two of the nails. They have then added a really subtle line of glitter around the bed of the nails.
If you are wanting to recreate this design, get yourself some nail dotting tools. This will allow you to add the flowers to your nails.
Floral Short Almond Nails
Floral nail designs are very popular right now, as many of us love to celebrate the spring and summer months via our manicures. But, just because you are keeping your nails short doesn't mean that you can't get on the trend, too!
Let's look at some stunning floral short almond nail designs.
Tulip Short Almond Nails
These nails look like an old-school watercolor painting, and I am here for it. The artist has hand-painted tulips onto a light blue gel, using subtle colors to create a dreamy and summery look. If you are wanting to get a manicure like this, check out the nail salons around where you live to see if they do hand-painted designs.
Pink Floral Short Almond Nails
I love the colors used in this design! The nail artist has used bright pinks and oranges for the flowers on one hand, then matched the nails on the other hand with a block pink color.
If you want to recreate this manicure, but are not that nail savvy, I would recommend getting your hands on some floral nail art stickers. Nail art stickers can be purchased pretty cheaply, and you can simply glue them onto your nails after applying a bottom coat! They allow you to recreate salon looks at home with ease.
Bold Floral Short Almond Nails
This design is super sophisticated, using a bold red color and big floral designs. By only having the floral designs on four of the nails, the artist has been able to really take the time to create stunning flowery patterns.
Abstract Short Almond Nails
Abstract nails are really popular right now, with so many nail artists creating fresh and unique designs using abstract shapes and colors. They are really fun, and also can be recreated at home!
Art Deco Short Almond Nails
This manicure pays homage to the art deco trend of the 20s, using beautiful shapes and colors to create a really interesting design. It also plays with the negative space trend, leaving parts of the nails without color or design.
The addition of the bold gold gel really takes the manicure to the next level, making the nails pop.
Dotty Short Almond Nails
Dots are a fantastic choice if you are looking to add a bit of intrigue to your manicure, but still want to keep it pretty simple. I love this short almond manicure that uses different shades of blue, mixed with French tips, dots, and block colors.
Oh, and dotty nails are super easy to recreate at home! Grab a nail dotting tool and your favorite colors, and take your time adding dots to your manicures.
Negative Space Short Almond Nails
If you prefer to keep your nails short, you may be hesitant to jump on the negative space trend. Less nail means less room for color, right? So, should we just have all our nails painted?
This manicure proves that negative space works really well with short nails. I love the different shapes and colors used, it feels super playful and interesting!
If you are wanting to recreate these at home, have a play around with different shapes and swirls. Make sure you add both a top and bottom coat to make the nails really shiny.
Swirly Short Almond Nails
These hippy, trippy nails are really stunning, and I love the bold colors used. By playing around with shapes, the nail artist has created a fabulous design that is truly breathtaking.
Bold Short Almond Nails
Keeping your nails short doesn't mean you have to sacrifice any of the boldness of manicures. Let's look at some extra special short almond nails that will make you book your next salon trip straight away!
Mix and Match Short Almond Nails
The mix and match nail trend is thriving right now, and it isn't ignoring us short nail lovers! This manicure is super stunning, and really showcases the talent of the nail artist.
Orb Short Almond Nails
This manicure is pretty different from a lot on the list. The design is really interesting, using shading and bright colors to create an orb effect. It is a really creative manicure, and you can try and recreate this at home using nail art tools that allow you to apply the dots and colors.
Colorful Short Almond Nails
Another amazing mix and match short almond manicure here. The smiley faces are very cute, and I love the mix of colors used in the design. The cow print cut out nail is cool and fresh, taking the negative space trend to the next level.
Galaxy Short Almond Nails
Anything space-themed is a yes from me, and I love this stunning galaxy-themed manicure. The detailing is terrific, using a mix of dark, glittery greens and blues, and gold starry shapes.
Short Almond Nails FAQs
Let's have a look at any questions you might have about short almond nails.
Question: How Short can Almond Nails be?
Answer: Almond nails can be quite short. However, because of the tapering effect of the nail shape, it will need to be a little longer than the quick of your nail.
Question: How can I Shape Short Almond Nails?
Answer: If your natural nails are long, you can create a short almond shape on your nail. By using a nail file, create a tapering effect on your nail and then curve the tip.
Question: Do I Need to get Acrylics for Short Almond Nails?
Answer: If your natural nails are pretty short, you will need to get nail extensions for short almond nails. This will add a little length, allowing the nail tech to create the almond shape.
Question: What Are Your Favorite Short Almond Nails?
Answer: Short almond nails are the perfect choice of manicure for those who need short nails, yet still want to add a bit of glam to their nails. Thankfully, there are so many different designs and trends that are perfect for short almond nails!
I think my favorite design on this list is the tulip short almond nails. They are just so stunning! Which look is your favorite?
Continue reading:
Cute Short Nails Inspiration and Ideas
20 Cute Short Nail Inspiration and Ideas