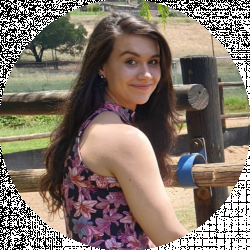 Latest posts by Christine Kent
(see all)
Remember how much fun we had when we used to play in the snow during winter? We all enjoy playing in the chilly snow, even after we've grown up. We have so many fond memories of snowball fights and snowmen. There was a time when I used to craft snow in different styles during my childhood. I would enhance it with colors and decorative items to make it look more beautiful. And now that I'm an adult, I use my snow art designing skills to paint my nails. I thought it would be a cute idea to use my skills to produce some creative winter art on my nails. Especially snowflake nail art! 
Snowflake nails are the perfect option if you're looking for a fun and festive winter nail design! There are lots of different ways to do snowflakes. You can use any color and try out various textures and designs. Are you unsure where to start? I can help you with some of the best Snowflake Nails Inspiration and Ideas to get you started.
Bottom Line Up Front
I discovered some of the most inspiring snowflake nail art, and the Santa Red Snowflake Nail Art is among my favorite. It is super easy to create, and the red shade is all I need to rock the look with sparkly snowflake designs. My other recommendation is the Matte Black Snowflake Nail Art. I love how these two colors combine and make your nails appear classy and elegant. Come on, girls, give your nails a transformation and add some snowflake art. Let us have a look at my other top picks. 
Top Picks
Selection Criteria
I chose these snowflake nail ideas because I wanted a combination of simple but chic nails. Nails that I could create in the comfort of my home, as well as complicated nail designs that are elegant and that I will need my nail tech's help with. These nail ideas mentioned in this article are a bit of both. They are perfect for special occasions, especially in the winter. I chose nail colors that will go with most outfits, but there are also a few attention-grabbing designs that you will have to pair with a more neutral outfit. The variety of options makes it fun, and there is something for everyone, whether you are 17 or 70. So have fun, ladies!

Nail art feels incomplete without having a touch of traditional or classic designs. When it comes to nail art, these timeless designs create one-of-a-kind pieces. Beautiful snowflakes falling from your perfectly shaped nails are too cute to bear. 
The snowflakes can be designed in a variety of colors. The purple, pink, and black snowflake colors blend magically over the white shade and leave you spellbound. Dab your favorite colors on nail stencils to get this art done. You can also use snowflake nail stickers or nail foils of your choice. The art is undoubtedly captivating yet could be challenging to create. Here is the video tutorial that will assist you in making this lovely classic winter look. 
This is definitely a nail design I would go for, as I can pair it with most of my outfits because of the neutral color. I just know I will feel cute and confident and will want to show these babies off. 

Snowflakes fall gently from the sky. They look beautiful with their fascinating reflection of the winter landscape. To make your midwinter nails look beautiful, choose something that matches the icy temperature of the season. The cold winter days are the best time to get this nail art.
This white snowflake design has shimmery glitter on a light purple nail shade. It gives the best description of a galaxy filled with stars. The long square-shaped nails complement the winter art perfectly. The use of gel nails adds to the glistening effect. To make this icy art, follow the simple steps in this tutorial and let the frozen stars fall on you. I know this nail design will look adorable with my white, nude, cream, and black jerseys because the nails have such a snowy look to them. 
Every shade of blue is on my favorite list. I adore this sweet, delicate nail art. It features a gorgeous blue hue combined with glitter to add a touch of glitz to it. Any nail art with this shade, from glistening gold to gleaming glitter, is worth admiring. 
Paint your nails with a blue shade and sprinkle glitter on them. Combine your favorite snowflake art on other fingers with white gel polish and a thin fine brush. Then add a shiny top coat. The design is easy to craft; I prefer to create this look at home. I have discovered this art from this simple tutorial. And I can't wait to get this frosty look for next winter season. 

There are hundreds of different ways to wear the glitter trend. Whether it's about adding just a touch of sparkle to the tips or a bit of shimmer to the cuticles. The pink glittery nails with winter art are one of the best combinations. And it looks utterly fabulous. Achieve this look at home by yourself by following these steps. 
Apply a layer of 

nail gel

 on your nails after laying a pink base coat. Sprinkle 

pink glitter

 over the uncured gel and gently tap to shake off excess glitter. Let it dry. 

For the other fingers, you can draw the snowflake art using decals, stencils, or a fine art brush. 

Apply gel top coat for a better finishing look. 
This glittery nail art is best to achieve if you want some change to the usual winter nail art. 
Add a twist to your snowflake nail art design by incorporating some cute little penguins. These little creatures look so adorable that you want to have them on your nails at least once. This sweet penguin winter nail art can be drawn in various fun and positive ways. One option is to use traditional black and white nail paint. While the other choices comprise decal or stamping nail plates.
If you're a pro, you can easily create this art at home using precise techniques and the right tools. You can also hire a professional artist to do it for you. Stencils can be used to create snowflake designs. This entire winter nail design is fun to make and looks fantastic on your nails. I must say that I'm obsessed with this cute design, as I find penguins so cute. And the penguins paired with the snowflake designs are just perfect!
Plaid has been a phenomenally successful pattern. One of the world's most widely recognized designs, with nearly every color and shade, is known. While it may be known as a hipster dress code, the plaid design is also used in nail art. 
It may appear challenging to create. But if you have the necessary skills or are an expert in the field, it is not as complicated as it seems.
Apply a coat of green nail polish to your nails.

With a darker shade of green, draw two horizontal lines. And then one vertical line over the horizontal lines.

With a thin nail art brush, create black squares where the lines intersect.

Allow it to dry before sealing the design with a clear top coat.
If you're still having trouble, check out this tutorial. Or use a plaid stamping plate to quickly create this festive design. The white snowflakes on this plaid add a touch of elegance to the sophisticated winter look. 
This is not a design I would opt for as it appears a bit tomboyish. But I would definitely go for it if it was in pink or purple color.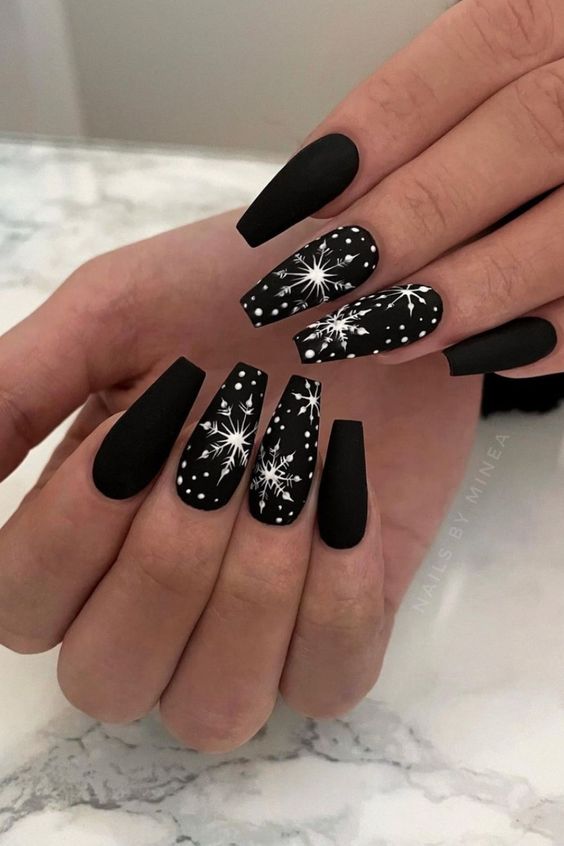 What better way to get into the spirit of the holidays than with these festive nails? This snowflake design for Christmas night will undoubtedly bring you in the mood.
This look has a lot of depth to it, and it has some significant visual effects. The matte black shade is stunning! And the sparkling white snowflakes create the illusion of a star-filled night sky. 
I can easily create this art. All I have to do is draw these lovely snowflakes with white nail polish and a fine nail art brush. This piece of art is an excellent choice for your upcoming Christmas holiday season. And I will definitely opt for this set for this year's Christmas. So please remind me, guys.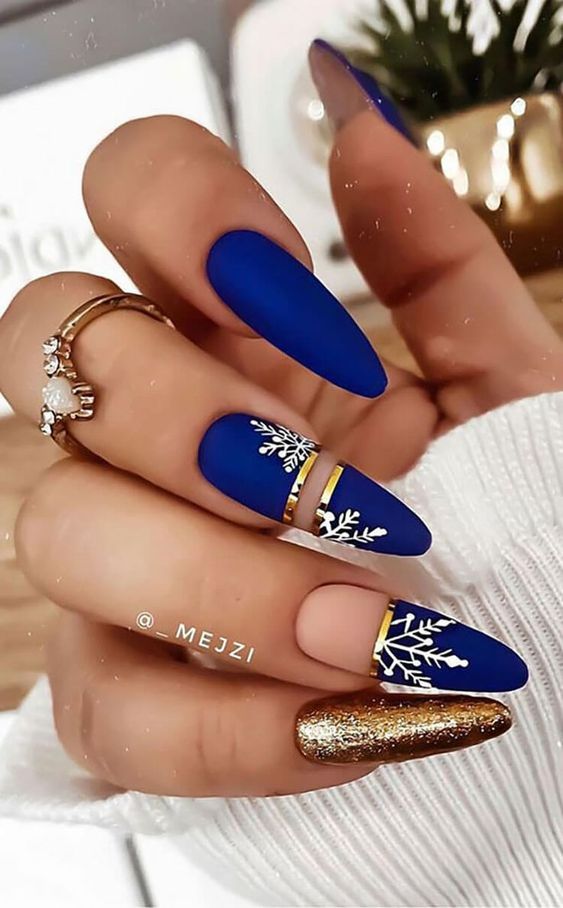 Christmas celebrations or winter enjoyment may be incomplete without a unique royal look. This nail art is the best choice if you don't like traditional nail art designs. And if you want to give your nails a stylishly regal look.
Royal blue is a vibrant, sophisticated color. Gold is a warm hue that brings out the color's vibrancy. And emphasizes royalty's meaning. The French blue tips with snowflake art and the gold stripe at the bottom of the nails look absolutely stunning. I love pairing matte and glitter to create the ultimate killer medley. I know this nail set will look fabulous paired with white, black, red, navy, or gold-colored outfits.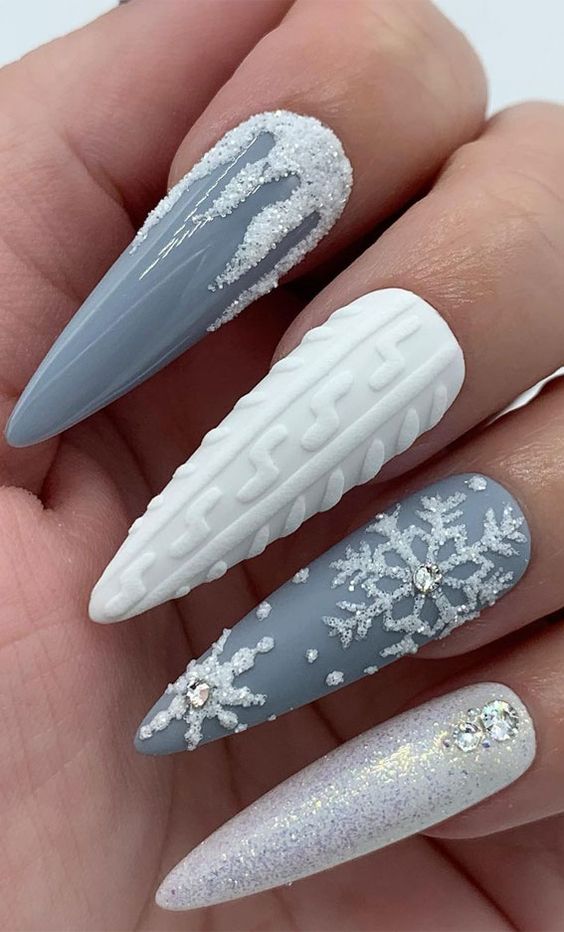 Many people enjoy doing their nails, no matter what the season is. But during winter, it can be amusing to change things up a bit and go with a nail design that celebrates the season.
These icy nails are perfectly reflecting the winter season. This nail art is a mixture of different designs like:
The rhinestones add a gleaming effect, enriching the overall exceptional look. 

A nail that is all dressed up in a cute 

sweater pattern.

 

An ombre sparkly

 snow art

 to complete the winter look. 

A silver nail design

 made with ultra-fine silver glitter dripping in modern style.
It is the most challenging and beautiful nail art I have seen, which might take some time too. Hire a professional artist if you feel you won't be able to do it yourself.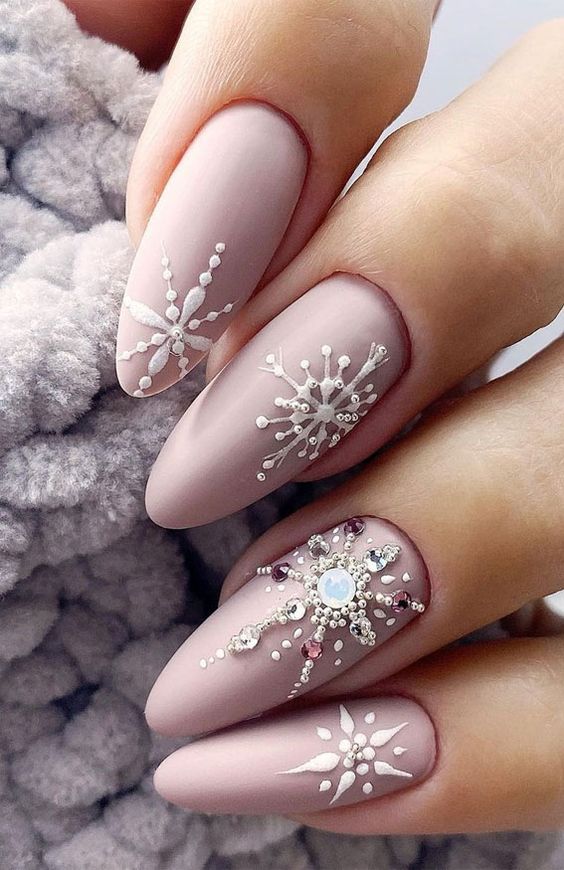 A gorgeous set of nude colors with fun designs to match your personality. Winter Nude Snowflake nails are both elegant and universally flattering. The nude shade is soft and warm in nature, evoking comfort and warmth.
The studs and gleaming rhinestones give this piece a stunning appearance. The art is meticulously created to ensure elusiveness and a welcoming atmosphere.
The snowflake is made by assembling crystals in the correct dimensional order. You can also create snowflakes with glitter on it. This art will be easy to achieve if you know how to use nail art brushes and can create flawless art. I have been practicing to achieve this look by following this tutorial. I would love to wear this set to a wedding or any formal event as this nude color will match any outfit I decide to wear.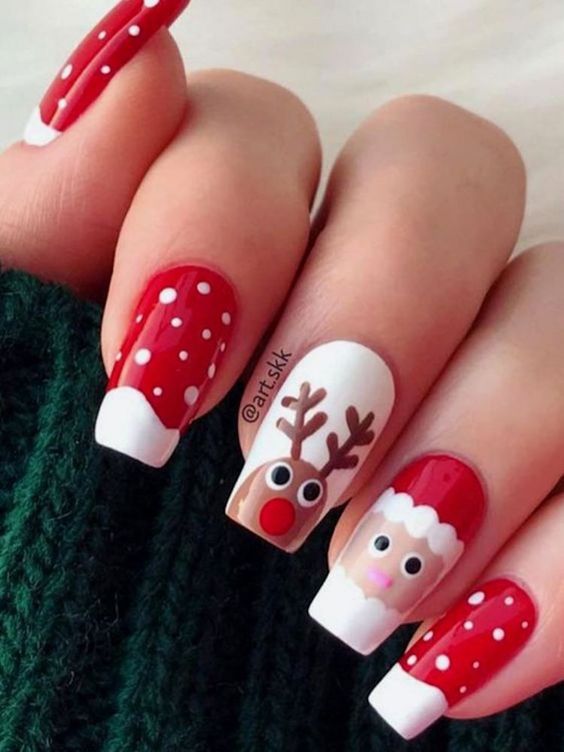 I have an extreme level of lust to paint my nails red. If I had to choose only one nail color for the rest of my life, I would choose red without hesitation. I love the way it looks, and I love how it makes me feel. It's a little bit of relaxation and self-care all rolled into one.
This nail art is the epitome of glitz and glam. A bold, look-at-me color combination that speaks of classiness and affection. The bright red shade displays the atmosphere filled with love. And the white shade of the snowflake art represents joy. 
Apply a red nail color to your nails and use a dotting tool to create your own snowflake designs. A shiny top coat is a must for glossiness. The most fantastic aspect of this art is that I can create it at any time of year. There's no need to wait until Christmas or the winter holidays to get started. So if you have time, start today!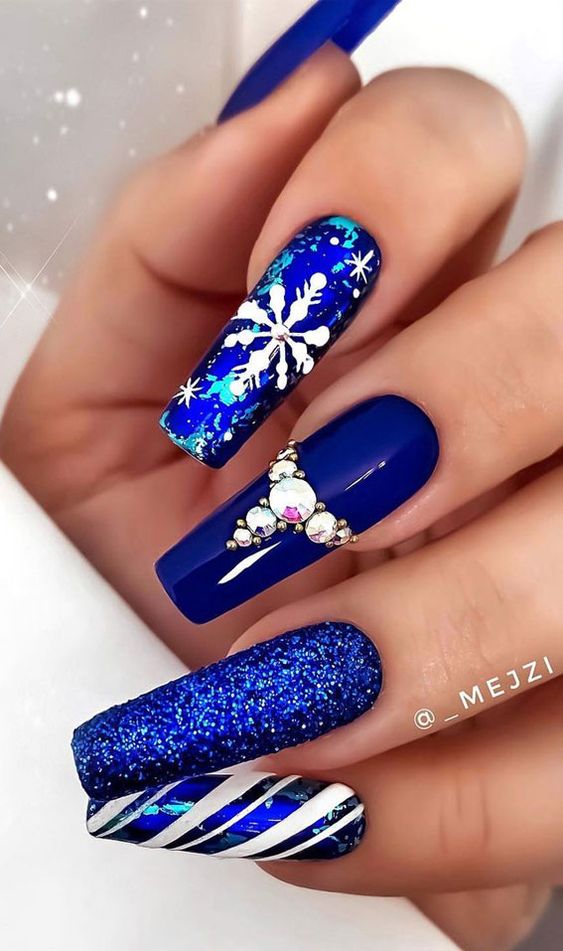 The long square nails with the rhinestone art, glitter shine, and snowflake design are beyond gorgeous. The cobalt blue color reflects the night sky's magic. It encapsulates the season's spirit and makes a solid and dramatic statement.
When paired with the sparkly rhinestones on the other nails. The coalescence of a dreamy snowy background with the center snowflake art looks incredible.   
For 

rhinestone art

, paint your nail with a cobalt blue shade. Apply gel polish or a mixture of acrylic and base coat in the desired area. Then assemble the rhinestones in your favorite format. 

For 

snowflake art

, use a dotting tool to draw it. 

Have some gleaming influence by sprinkling some glitter on blue tint nails.
The struggle of crafting this nail art is worth it. Don't let winter go away without replicating this nail art. Try this multi-art look and outshine. Are you going to try this nail look with me? What are you waiting for, girls?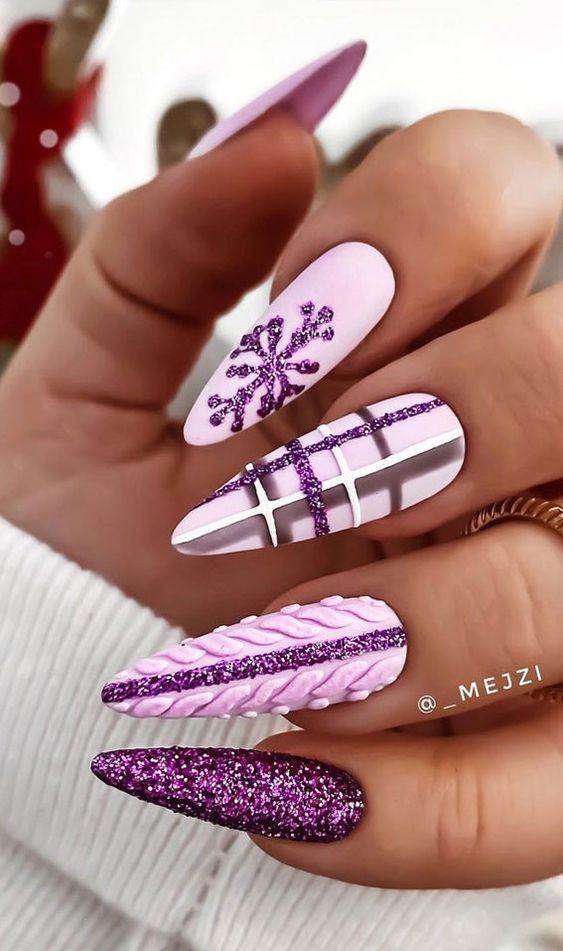 We have seen lots of simple and plain nail looks in every shade. Let's take it further by adding lovely art to these nails. Winter nail art doesn't have to be all white and frosty. Bring some change through your cool nail art. And let the season go upbeat by dipping your nails in purple. To ensure your snowflake nails look more festive. 
We can see a beautifully designed:
For a non-expert, this multi-art will be difficult. To draw such delicate designs with ease, you need a flexible hand. This look can be achieved using the attached video tutorials above, or you can hire a professional to do it for you. I'm definitely heading to my nail tech to achieve this gorgeous nail look. This nail set will definitely make me feel like a princess.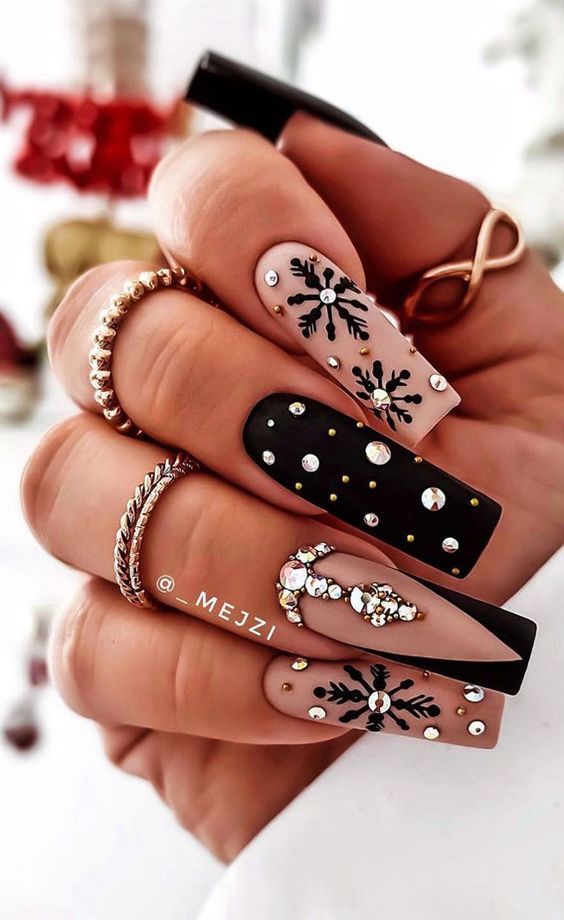 This luxurious and gorgeous nail art is my other favorite look. What I found so admirable in this nail art is the combination of colors. Nude is soft and warm in comparison to black, which is dark and bold. 
The black and nude shades with the rhinestone art look amazing together. I'd love to see this nail art at a winter wedding. Create this beautiful art by following these easy steps:
Apply matte black and nude shades separately on your nails.

Draw a black snowflake design on the bare nail. And secure some rhinestones at the design's midpoint.

Assemble rhinestones in any pattern you want on the black pin.

Instead of painting a straight or curved line along the end of your nail, paint it black with a V shape. And spread the nail gel near the cuticles. Now apply the rhinestones along your cuticle and in a downward line to complement the black french tip.
Coffin nails in matte black and nude are at the pinnacle of divine beauty. And I'm totally in love with this nail set!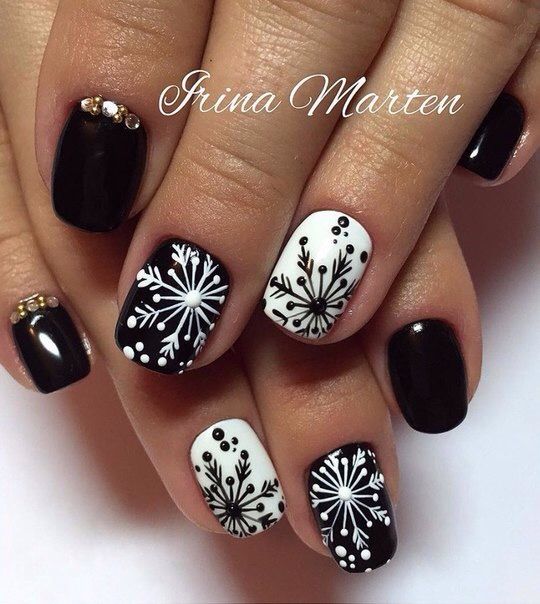 This cute nail art depicts a traditional image of class that can be worn during the holiday season. Regardless of your age or the period in which you live, the combination of white and black will never go out of style.
Top off your white nail shade with a delicate black snowflake scene. And your black nail shade with white. The addition of tiny little rhinestones with the snowflakes adds a wink of attraction. The art looks super cute on short nails and can be easily created whenever you want a simple yet adorable look. I love that these nails are short but still have so much detail. Definitely, a snowflake set that I would opt for everyday wear. 
Frequently Asked Questions
Question: Which is the Best way to Design Snowflake Art?
Answer: It depends on what you decide to use. If you are comfortable or an expert in drawing, go for it; if not, use decals or nail stamps.
Question: Can I Also Design Some Other Art with Snowflakes for Winter?
Answer: Yes, Luckily, there are various other designs that you can draw like Santa Clause, Christmas trees, or jingle bells to go with the snowflake designs. 
Question: How do I Draw Colorful Snowflake Art?
Answer: With the help of a stamper and your favorite nail color. Or, with a stencil, you can create such designs in every color you desire. The other option is to draw the snowflake designs by hand in the color you want.  
Conclusion
There's something about winter that makes you want to take care of your nails. The cold, harsh weather may make you want to wrap your hands in a soft blanket. Or perhaps it's the holiday season, with all its glitter and cheer. 
Either way, nails are one of the first things people notice about you. And it's vital to ensure they're always looking their best. Take some time for yourself!
I would recommend going for the Matte Black Snowflake Nail Art. Or the Santa Red Snowflake Nail Art, as they are unique, gorgeous, and stylish. I would love to hear about your wonderful experience with snowflake nails. So come on, girls! What are you waiting for? Treat yourself to some snowflake nails. 
Continue reading:
Red and Gold Nails Inspiration and Ideas: Bring Out Your Inner Goddess With these Red Nail Ideas
26 Stunning Fancy Nails Inspiration and Ideas
Butterfly Nails Inspiration and Ideas that Will Transform your Nails from Dull to Chic