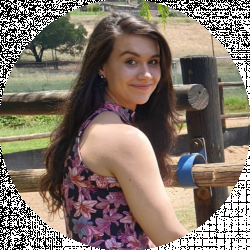 Latest posts by Christine Kent
(see all)
Royal blue, a deep shade of blue, is typically used for business logos, as blue is strongly associated with reliability and trust. Color psychology associates it with "Peace of mind, serenity, stability, security, and orderliness but sometimes aloofness and sadness." Due to its strong connection with the British throne, wearing royal blue is often a preferred choice for bridesmaids, formal looks, and nights out. Let's look at some royal blue nails so you can feel the essence of royalty. 
Royal blue has been part of my professional life for a long time. I worked as a graphic designer in a lab, where I had to make logos for fleet launches. So, of course, royal blue was the dominant color there. Day and night, I was surrounded by royal blue. Girls, you can trust that I will bring you the best royal blue nails inspiration and ideas as I have years of experience choosing the perfect blue color. So let us hop right to it!
Bottom line Up Front
Royal blue has different symbolic interpretations and may differ from person to person, but wearing blue often portrays "Sincerity, calmness, and intensity" — especially the shades of turquoises like aquamarine and teal. 
My all-time favorite royal blue nail idea is Royal Blue, and Nude Nails with Studded Leaves Detail, as this nail set means hope and growth to me. It helped me get through a difficult time in my life. I would look at the branch detail and see that this is just one stage of my life and that I will grow and become stronger. 
The gorgeous royal blue rhinestones and studs were a symbol for me. A symbol that my life would become bright and cheerful again. If you need positive vibes in your life, get your nails done. And get some art on your nails that will mean something to you. Are you ready for gorgeous nail ideas? Let us have a look at my other top picks.
My Top Picks
My Selection Criteria
I chose the royal blue nail ideas mentioned in this article according to the following criteria:
Nails that are trendy this season.

Nails that are elegant and sophisticated. 

Nails that are appropriate for every age group.

Nails that are suited for different occasions.

Nails that will make you feel like a queen.
Royal Blue Inspiration and Ideas

Before trying this idea, I never thought royal blue nails would look so elegant and beautiful. But, once I tried, it became the obvious choice for me. Why you might ask? Just look at them and how attractive and eye-catching they are. You can easily achieve this look if you have the basic skills and tools. 
I love this nail set as it looks elegant and sophisticated — something you can wear to a formal event or wedding. Just think how cute this nail set would look if you were a bridesmaid and your dress was silver or blue. 

I usually don't go for such long nails as they fascinate you just for one or two days. Afterward, you get tired of the extra care and the struggle of not being able to get your work done as fast as you used to. But, the fact is that girls are always obsessed with flowers and getting them on their nails. And as you might have guessed, I'm no exception. I love adding flowery details to my nails, and adding 3D flowers just adds a little bit of spiciness. I would love to get this nail set; I would maybe just opt for a shorter length.
If you are not an expert, this nail look might be a bit difficult for you to achieve. You might want to go to your nail tech for some help.  
If you work an office job but still want to have fun with your nails, this royal blue nail design is for you! The shape of the nails is great as it will make your fingers appear longer and skinnier. The length is also perfect, and the art is minimal. This is the ideal nail set for my office babes.
Moreover, this set is easy to create at home with minimal effort. 
This set is perfect for me, who is on my laptop 9 to 10 hours a day, six times a week. It won't restrict my typing or doing my daily activities. Who said you couldn't work and slay at the same time, girl? Get this nail set today!
Sometimes, I want more than one design on my nails. In that case, this nail idea is the perfect option. It is a mixture of royal blue, marble, and golden shimmer. This nail design might be difficult if you are a beginner. I'm heading to my nail tech for this one as I suck at creating marble nail art. I wish I had this nail idea in high school, as it would have gone perfectly with the blue and gold dress I wore for prom. 
I just know that when I get this nail set, I will be staring at my nails all day long!
This idea is a little crazy, and after reading it, you may ask, what is this? Okay! I am going to elaborate on it. Are you bored with the typical nail look where you can add just stickers, glitters, and stamping as an all-do? Are you figuring out something unique for a party where everyone will ask about your nails and where you got them done? Then, my dear, this idea is for you. 
Although this nail design looks complicated to achieve, it is quite easy if you have some basic skills and the required tools. The fun part of this look is adding the nail art charms. You can add skulls, spiders, pointy studs, etc. To give it that baddy look. 
I'm not very fond of this nail look as I find it quite scary, but if you are into these kinds of looks, then go for it. I think it would be an awesome nail set for Halloween. 
I love these nails, as they are so simple and elegant. Sometimes royal blue nails look so loud and dominant that they can overpower your outfit. In this case, you want to tone down the royal blue color with some neutral colors. And this nail design is the perfect example. 
I would wear this nail set as my everyday nails, as they will go perfectly with my formal wear. It's a nail look that works to wear at the office, for important meetings, and even a night out to a classy event. Simplicity never goes out of style, and I know this nail set will make me feel confident. 
OMG! This nail set is so beautiful that I was left speechless the first time I saw it. I was obsessed with butterflies and associated them with princesses in my childhood. Although I'm an adult now, the one thing I still need is butterflies on my nails. 
When butterflies are paired with royal blue, it gives me "royalty vibes." The look is also quite easy to achieve. You just need your royal blue shade, some glitter, and your gorgeous butterfly stickers, and you are good to go!
Because I love butterflies, I would love to get this nail design as my next birthday nail set. I can already see myself rocking this set with my white blazer dress and some chrome high heels. This nail set is also suited for formal and informal events. 
I am a die-hard fan of these nails and once got them done for my friend's birthday bash. I headed to my nail tech for this set, as the 3D flower art and ombre effect were difficult for me to create, and I wanted my nails to look perfect. My only problem with it was that my hair kept getting stuck to the rhinestones and 3D flower art. But overall, I had a good experience with the nails and received many compliments. 
The nail set might be a bit over the top if you want to wear it as your everyday nails, but it is a great choice as a birthday nail set or vacation nails. I can see myself holding my cocktail and tapping the glass with these gorgeous nails. Love it!
This nail set is highly eye-catching and elegant, but is it something I would go for? No, and don't get me wrong, I love Louis Vuitton and anything sparkly. But the length of the nails and the big royal blue pompom ruins the look for me. So sadly, it is a no from me. But if you like this nail look, go for it, babes. There is nothing wrong with being extra. 
Glitters on nails are so mandatory for me that I always need to have glitter on my nails, even if it is just one nail. I'm just in love with this nail look. Why you might ask? Because the length is perfect, I love the royal blue color, and it has a cow print on one nail and glittery silver details. How can I say no to that? This is a nail look that you can easily achieve at home and can literally wear anywhere. And that is why I love it. Any nail design with glitter and cow print is like moo-sic to my ears. 
I would say this is the best combo of colors together. The royal blue, red, and crown detail gives you the true meaning of royalty. Once my friend organized a theme party where I was represented as queen of the kingdom, I opted for this set. And, yes, this set made me feel like royalty. This set is also very easy to create at home. And it is perfect for any occasion, whether a party or a work event. 
This nail set will look amazing with red, black, navy, and gold-colored outfits. Will love to recreate this nail design again and feel like a queen.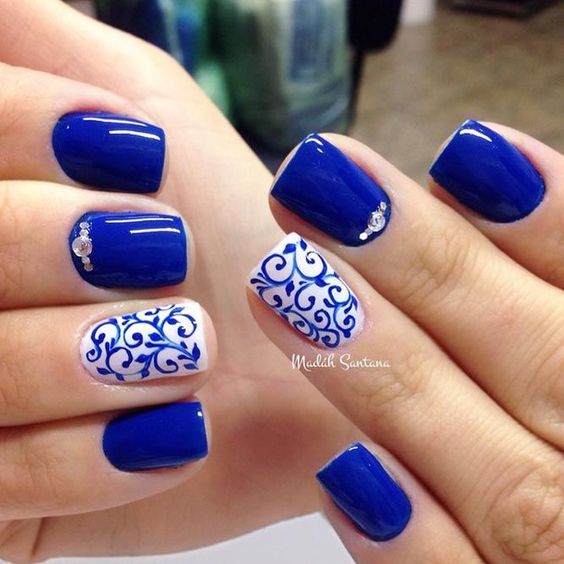 I love the color white with royal blue. It just looks bright, bold, and beautiful — the triple B's. The best thing about this design is that you can create it anytime with little effort at home. Although I like the color combinations and the length of the nail, the nail design looks as if it would be better suited for a more mature lady, so it gets a no from me.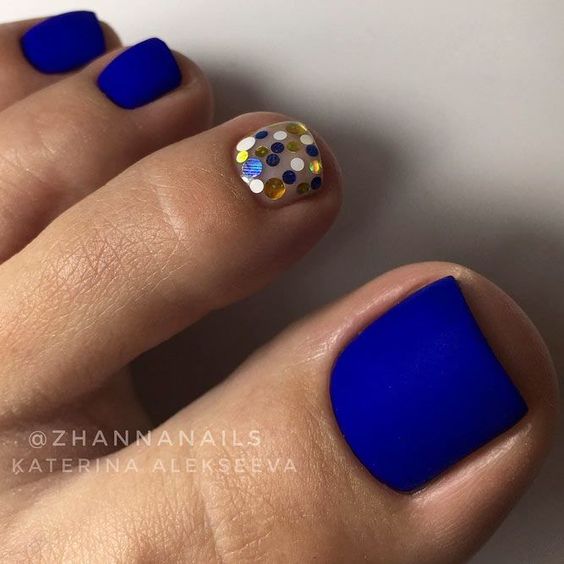 Psychology says the first thing a person notices in your appearance is your feet and shoes. So I'm definitely not forgetting about my piggies. This toenail look is very easy to achieve as all I need is my royal blue shade and some glitter sequence. 
When I do this look on my toes, I don't feel embarrassed about showing my piggies off. I show them off because who wants to hide their toes when they have this gorgeous design? Not me!
Royal Blue and Nude Nails with Studded Leaves Detail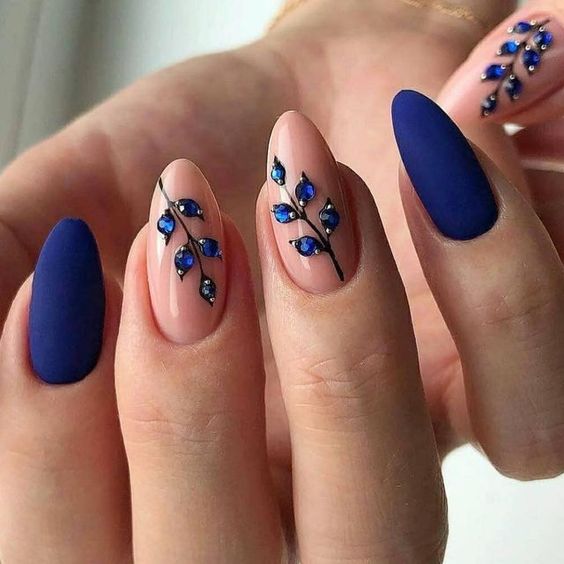 There was a time when I was jobless after graduation; I was so disappointed and hopeless. At that time, I created studded beautiful leaves nails, as they symbolize "Growth, hope, peace, and victory." The royal blue and leaves gave me hope for emotional and financial stability. Moreover, this set looks so sophisticated that you can wear it to the office and on a night out. 
I'm obsessed with the nail's length and shape as they will elongate my fingers, and I never say no to skinny fingers. The other thing I like about this set is that it's easy to create. I don't have to spend hours trying to recreate complicated nail art. A fine nail art brush, gel, studs, and blue rhinestones are all it takes, girls. I'm here for nail sets that are easy to create and that look great. 
Frequently Asked Questions
Question: What Colors go With Royal Blue Nails?
Answer: Royal blue actually goes with many colors. But here are some of my favorites: Green, especially emerald green, gold, nude, yellow, pink, white, and black. There are many colors, so you have a variety to choose from.
Question: What do Blue Nails Mean?
Answer: Blue nails can mean that you are a fun person who has a young soul and likes to try new things. On the other hand, it can mean that you are calm and sensitive. It can also mean feeling a bit "blue" (down or sad). Blue nails can also show the world that you are taken or, in other words, in a relationship. 
Question: Are Blue Nails in Fashion?
Answer: Hell to the yeah! Blue nails are really trendy this season, and I'm not mad about it. They are bold and bright and can be worn all year round. And the best part is that there are many colors of blue to choose from that will go with most of your outfits, so I'm here for it! The blue nail color is going to be in fashion for a long time to come. 
Conclusion
I hope you enjoyed these ideas and found your perfect nail set. What is your take on royal blue nails? Is it a nail color you would wear for everyday wear or only for special occasions? Let me know in the comments below. Whenever I do my nails in a royal blue color, I feel elegant, sophisticated, and like royalty.
If I had to recommend a nail idea, it would definitely be the Royal Blue and Nude Nails with Studded Leaves Detail because this nail set was my inspiration and hope when I reached a low point in my life. Looking at this nail set every day made me feel positive and reminded me that it was just another stage I needed to get through — and it was. If you need some inspiration and motivation in your life, go and get your nails done. Because a new set of nails with a meaning behind them always makes me feel better. Good luck, girls!
Continue reading:
Light Blue Nails Inspiration and Ideas: Find Your Dream Nails
Navy Blue Nails Inspiration and Ideas