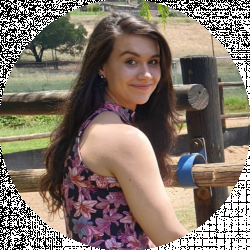 Latest posts by Christine Kent
(see all)
Valentine's day is that time of the year when you feel all giddy and excited! It is that season where it seems like the heart filter is turned on permanently during the day! For a month or two before Valentine's day, all you see is heart and cupid decorations. This season makes me reminisce about my high school days when we got to have a bunch of silly activities during Valentine's day! I remember cards, roses, and teddies being delivered to all the classes. That was one of the best days in high school! 
 And not to mention all Valentine's Day-themed parties that would be held. People would bust out their red outfits. And pair them with Valentine's Day-themed nail sets! And that is why I bring you the best Red Valentine's Day nails, Inspiration, and ideas today. So that you are all set when next year's Valentine's day comes, and you know exactly what nail set you should go for. 
Bottom Line Up Front 
Are you feeling the love in the air, guys? Well, you will be after reading this red Valentine's day nails inspiration and ideas article. If you are looking for cute red nails for everyday wear, you have come to the right place!
There is something about red nails that make you feel confident, sexy, powerful, and in control. Red is one of my favorite colors to wear on my nails. And I have a few recommendations for you of my favorite red Valentine's day nails! I'm super excited! 
My three recommendations are the glitter and heart design, Valentine's Nails, XOXO Nail Set Design, and the Valentine's Cute checkered Nail Set. By the end of this article, you will know why they are my top picks and why I highly recommend them to you. So let's get right to the article.
Top Picks 
Selection Criteria
The nail ideas in this article were picked based on the following criteria:
Nails that are suited for Valentine's day 

Cute nails that are suited for a romantic getaway or dinner at a fancy restaurant

Nails that will make you feel sexy and give you a confidence boost

Nails that are suited for formal occasions, parties, or casual events
Red Valentine's Day Nails Inspiration and Ideas
Here are the Red Valentine's Day Nail Inspiration and Ideas to help you decide what nail set to get for the day of love.
Your job just announced that they would hold a Valentine's Day-themed party in the office. And you're so excited, but you realize your nails were not party-ready. Don't stress, as I have the perfect nail design for you! This design has a base color of a fiery red, much like those flaming red hot Cheetos you love to snack on and a bunch of doodled hearts drawn on them. Glitter is also added to them, which adds sassiness to the entirety of the nail design.
This is perfect if you don't want to go for a longer nail since the design is for those who like short nails. I'd wear this at a corporate party since I could still wear it the next day and still look formal but cute at the same time. 
Another party-ready nail design that is perfect for any Valentine-themed party. It is ideal for those who want to go clubbing on Valentine's Day. The design is in red and nude colors. A French tip nail is incorporated in the design, and some hearts are drawn on the nails. The use of glitter and rhinestones adds charm and elegance to the design.
I could actually see myself wearing this when I'm out clubbing with my friends or when I'm out enjoying some Valentine's Day festival or concert with my girlfriends. It is chic, cool, and stylish. I will definitely not keep this set on for longer than two days, as they are too long for me. If you can manage to do all your daily activities without struggling with this nail set, go for it, girl!
This nail design is made up of red glitter and nude nails. The kiss mark and hearts are drawn using the red glitter. There is also an added XO design in red gel on the little fingernails. The design is cute and stylish. And it can be worn on both short and long nail lengths.
I would wear this on a dinner date with my husband and wear a sexy black one-shoulder dress with some gold jewelry and some gold lace-up heels. Talk about magical!
This design is gorgeous. It is composed of red, clear, and nude colors. The nails include sparkly studs and heart-shaped sequins that add an elegant and expensive look to the nails. I love this one because of the gorgeous rhinestones and the clear nails with the heart sequins. The heart sequins look like they are floating inside the clear nails, which I find really cute. 
I would wear this on a romantic dinner date with my husband or if we were attending a fancy event. And besides, this nail look will compliment my wedding ring perfectly. 
This design is like a french manicure but with a twist! The base color is a nude brownish color, and the tips are in a heart shape. Some eyes are drawn to the heart, which gives it a cute and girly look. The design is quite versatile as you can wear this on any occasion. You can even wear this daily, even if it isn't Valentine's Day. The design is also minimalistic and makes you look fashionable without even trying.
I would wear this daily because it looks adorable. But I would need my nail tech's help on this one to create those cute little eyes. If you wear it to a formal event, you can opt for fewer eye designs on the nails. And choose one nail to create the eye design on. Just to give it a bit more of a formal look. But hey, if you still want to create an eye design on each nail, then you do you, boo!
This design is perfect for those who love short nails! The design is simple and cute! If you ever want to celebrate the love season subtly, this nail design is absolutely perfect! It is a set that you can wear daily! It is composed of red nail polish on four fingernails. And a clear base color on the ring fingernail, with a small cute red heart drawn at the tip of the nail. 
Actually, this design has made me reminisce about my high school days. Back then, we would have different clubs, and I was part of the cosmetology club. We would partner up and have our nails done together. This was my partner's favorite design. And every time we were to do each other's nails, this was the design she would always ask me to do. So I'm definitely adding this to my list. As I know, with all my practice over the years, I will be able to achieve this simple look perfectly. 
This set is so gorgeous you'd be earning compliments all day long! The nails are composed of red, white, and black colors. The ring and little fingernails are painted black. The only difference between the ring and little fingernail is that the ring finger is covered in sparkly black glitter. And the pinky has a matte top coat over it.
The middle fingernail is like a french tip with white color as the base. And instead of a white tip, the hearts form a pattern at the tip of the nail. The other two fingernails are in bright red color. And then, there are sparkly rhinestones added to the nail bed.
This design can be worn on formal and informal occasions. Enhance the look of the nails by pairing them with a black satin dress on a night out. You can also dress it down with black jeans and a red crop top. Either way, it will look stunning. This is a design I would wear on Valentine's day. And if it's a normal day, I won't add the red hearts on the middle finger as it is too much for a regular day.
If you want to show your love for your partner, why not get your partner's initials on your fingernails? It will be like those days in high school when we would doodle our partner's initials on our notebooks. 
But, if you want to take it to the next level, why don't you put your and your partner's initials on your nails? The nail design is composed of the colors nude, red, and a red glitter top coat. The little fingernail is covered in red glitter. While the ring finger nail is a nude base color with a huge red heart drawn. And inside that heart are yours and your partner's initials. 
On the middle finger is a french tip design, where the base is in a nude color that fades into a red tip. The other two fingernails are in bright red color. This nail set is very cute and romantic. And I would definitely love to get a C+K, which is my husband and my initials, on my ring fingernails.
My red nail inspiration list will never be complete without me adding a cute french tip nail design. This gorgeous and adorable nail design is classy and fashionable. The design comprises a nude and red color. The pinky fingernail has a nude color as the base and is outlined by a red gel. The ring finger nail has a french manicure nail design with a nude base color, a heart, and a red french tip. 
The middle fingernail has a nude base color and some red stripes as the tips of the design. The two other fingernails (the index and thumbnails) are in a bright red color. This design is perfect for a romantic getaway on some isolated and romantic island. I could see myself going to a fancy restaurant with these nails with my partner. Because I know I won't have trouble deciding on an outfit that will go with my nails. My husband will be happy that he does not have to wait hours and hours for me to get ready. 
This design is perfect for those who want to feel like a boss babe. The red color doesn't just symbolize love. But also dominance and power, much like what red lipstick does. The design is composed mainly of red as the base color, with some added white details like the XO design on the ring finger. And then glitter topcoat, as we can see on the middle fingernail. 
I would love to wear this nail set on occasions when I want to feel confident and powerful. And combine this nail set with red lipstick so that I feel ready to take on the world.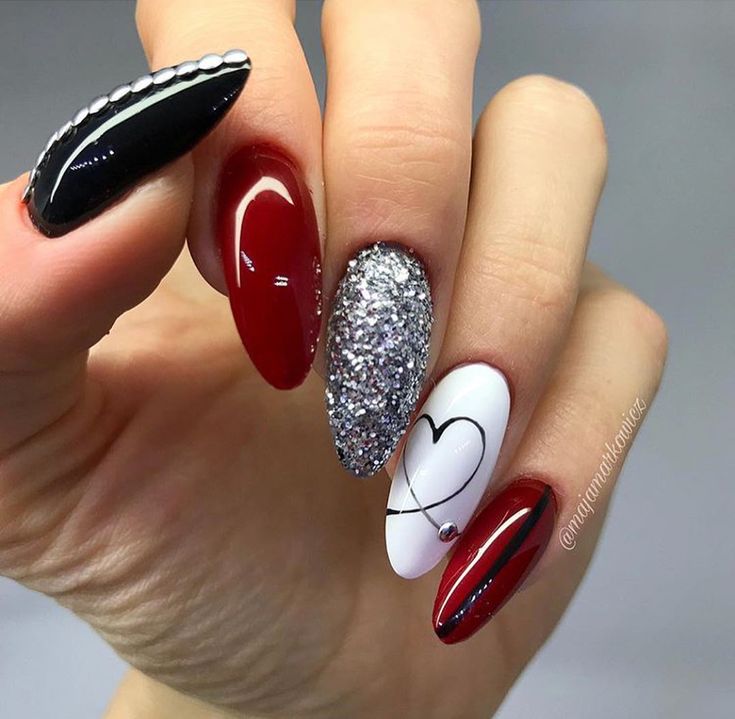 The design is quite interesting and luxurious. It is mainly composed of red, white, black, and silver colors. The thumbnail is a black base color with added black studs down the middle of the nail. The studs kind of remind me of an octopus's tentacles. In contrast, the index finger and the pinky fingernail are both red. The pinky nail just has an extra black line detailing down the middle of the nail. The middle finger has a glittery silver design, and the ring finger has a white base with line art of a heart.
The design is stylish. I would actually wear this on the weekend away or as my vacation nails. This is also a very versatile design as you can wear this at both formal and informal events. Super cute!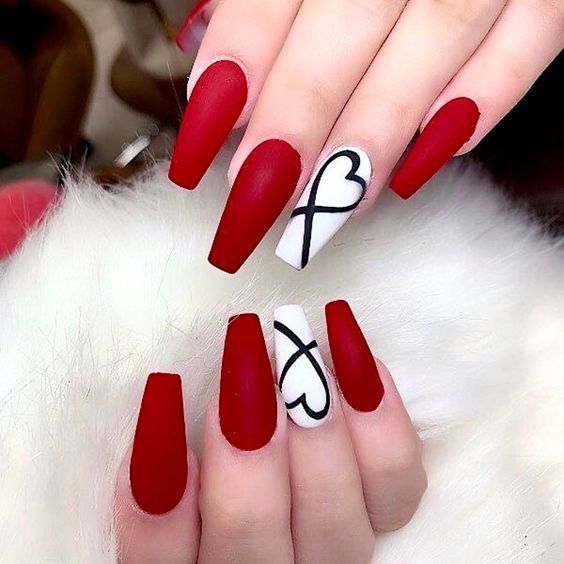 This nail set is more formal and something you can wear on formal occasions or any formal event. You can even wear this at a wedding. Or daily at work (you may want to opt for a shorter length if it is for your everyday nails).
I love the red and white paired together, and the heart design in black finishes off the look perfectly. This nail set makes your fingers appear longer. And makes you look sophisticated and put together. The design is also easy to achieve at home. All you have to do is paint all your nails a red color except for the ring finger. For the ring finger, you will paint it white, take a black gel, and paint a heart design on it. Absolutely gorgeous!
This design is quite interesting and aesthetically pleasing. It is composed of red and white base colors. The thumb and pinky fingernails are red. In contrast, the other three fingers have white base colors with eyelash and lipstick prints. That completes the overall design of the nail set.
Truthfully speaking, I would actually wear this just because of how unique and interesting the design is. I'd also love to wear this for a romantic getaway in Paris.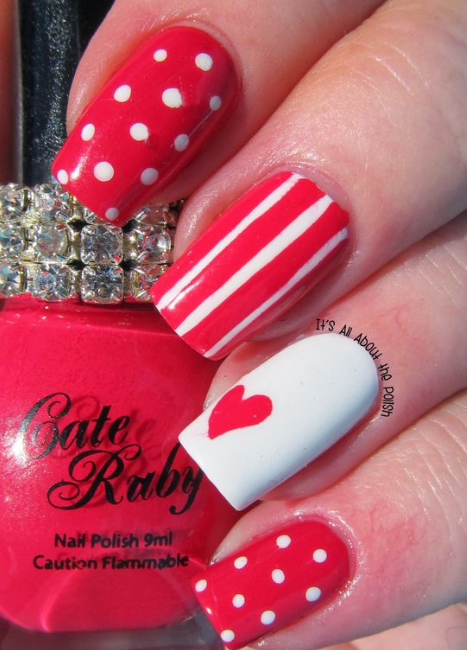 This design is adorable and unique. Perfect for teens who would love to celebrate the season of love in a cute and fun way!
The design is composed of pinkish-red and white as the base colors. The index finger and the little fingernails are decorated with white polka dots. The middle finger with white stripes, and the ring finger with a red heart and a white base color. Each fingernail has its own design. Due to my age, this is not a design I would go for; it looks like something I would have worn in high school. But if this is a design you want to go for, get it. The design is cute and stylish; you can wear it on all nail lengths.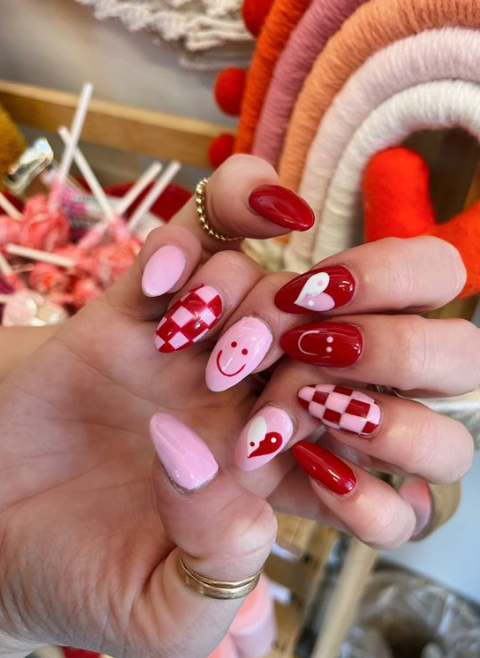 This design is perfect for those who love cute and aesthetic things. The design is adorable and mainly composed of pink and red as base colors. The thumb and little fingernails are in a bright red and pink color without any details. The index fingernail has a bright red base color on the left hand.
And a pale pink base color, on the other hand, but with a heart drawn. The one middle fingernail is in a bright red base color. And the other is a pink color. Both have smiley faces on. The ring fingers are painted in a checker design with red and pink colors.
This design is something my high school self would have gone crazy over. Back then, I loved the color combination of pink and red. But hey, I still find this nail design cute and would love to wear it to a casual event or as a birthday nail set. 
Frequently Asked Questions
Question: What do Red Fingernails Symbolize?
Answer: Red fingernails can symbolize different things depending on the person wearing them. But normally, it represents power, confidence, and sex appeal. Maybe that is why red nail polish is mainly used on Valentine's day. To attract people and to feel more confident.
Question: Are Red Nails in Style in 2022?
Answer: Experts said big, bright reds are making a huge comeback for spring 2022. Many designs are associated with red nail polish. Because the color is so timeless, you'll be able to wear red nails long into the future. Red nails are in style and will be in style for many years to come. 
Question: Are Red Nails Unprofessional?
Answer: Not necessarily. I would say what can make the red nails unprofessional is the designs on the red nails that you opt for. You can absolutely wear red nails to important meetings or work events in the office and still look professional and put together. 
Question: Why are Red Nails so Popular?
Answer: Red nails have always been popular. Red nails have always symbolized power and confidence for women, and that symbol has remained to this day. It is visible and striking and makes your hands look beautiful and well taken care of. The color itself can easily catch attention — this is why plenty of women love the color red on their nails and lips.
Conclusion
If you are looking for an excuse to wear red on your nails, why don't you use the season of love? You can freely wear red during that time. However, you should wear your red nails whenever and wherever you want. Red usually symbolizes love and passion. That is probably why the color of love is red, but the color red also represents power and confidence.
Whenever I wear red nails, I feel like a queen. My confidence rises to a level where I don't feel any insecurity. That is probably why I wear them the most. And this list has given me a bunch of ideas to style my red nails!
I highly recommend the glitter and heart design Valentine's Nails because it looks stunning and luxurious. It is something you can wear at a formal evening occasion and steal the show. However, you can also wear it whenever you want to go partying or clubbing with your friends. Who doesn't want a 2-in-1 nail set? 
My second recommended design is the XOXO nail set design. The red color in the design screams power and confidence to me. You wear this design whenever you want to feel that surge of confidence. This is probably the next design I would ask my nail technician to do on my nails.
My last recommended nail design is Valentine's Cute Checkered Nail Set. I used to love cute, girly, and funky designs, and I know my younger self would die for this design. The design itself brings me wonderful memories from high school.
I know that whenever we think of red nails, our brains panic because there are so many cute designs to go for when it comes to red nails. I especially panic if I'm going on a dinner date with my partner on the eve of Valentine's Day or if I'm going to be partying and celebrating the love season with my friends because I want my nails to look perfect and awe-inspiring.
I hope this list has helped narrow down the thousands of designs you're contemplating and helped you decide on the ideal red Valentine's nail design. Have fun, girls!
Continue reading:
Louis Vuitton Nails Inspiration and Ideas: Your Guide To Luxurious Nails
Pink French Tip Nail Inspirations and Ideas: A Guide to Awe-Worthy Nails