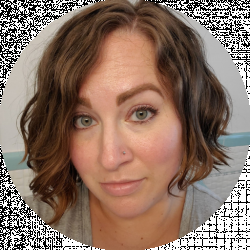 Latest posts by Elizabeth Ramos
(see all)
I have tons of peach nail ideas for you for every season and occasion! Whether you want cute nails or bold and trendy nails, you can have them with beautiful peach color.
Besides being a nail hobbyist, I worked in art for years as a preschool teacher! I am passionate about color, the color wheel, and how different colors work together. I play with what I know when I do my nails.
Having said that, I find peach to be an interesting color to define because it's not one color! The idea of peach color seems to be a combination of the colors you tend to find in the flesh, or inside of peaches. This generally is a combination of yellow, orange, pink, and white. I love personally a peach that has a larger amount of pink or orange tones in it.
And truthfully, I'm not a fan of pink nails, but when I'm tired of my neutral nails and want something a little brighter or feminine, I'll go with peach! My go-to peach nail polish is Essie's Van D'go! So, keep reading for my favorite peach nail ideas below.
Bottom Line Up Front
There are a few ways you can go with peach-colored nail polish. I fell in love with the Subtle Abstract Peach Design on Nude on my list. It's a great way to have fun with a peach theme without being too cutesy, and I love the deep green they used in the look.
With peach, you could embrace a whole peach fruit theme or use the versatile color to pair with a variety of other colors! Below I'll show you different ways to do that, so if you want all the details, keep reading!
Selection Criteria
While picking the best peach nail ideas for you, I used certain criteria and looked for certain things.
Different Styles
You'd be surprised at how many different looks work with peach! I wanted to find different styles so you can find something that fits your preferences. Perhaps you are a big fan of traditionally feminine, cute, girly peach nails. But if not, I promise you that I still have looks you'll love and want to try!
Peach, Not Another Color
There are so many different shades of peach, but sometimes it can be hard to decide if it's peach or another color. Sometimes, peach can look more pink, yellow, or orange, depending on what version of peach the nail polish manufacturer went with.
Peach colors can look bright and almost neon, or like a pale blush or pastel color. To keep focused on true peach colors, I made sure that the name didn't have another descriptive word, like "salmon." Or I made sure that the color I chose was some version of the agreed-upon tones traditionally used in peach colors: pink, orange, or yellow
Different Supporting Colors
Most people pair peach with white or green. But when you look at all different supporting colors, you realize just how versatile peach is! So, on my list, you'll find a wide range of neon, pastel, dark, light, bright, and neutral colors.
Different Nail Lengths and Shapes
Do you think of peach nail ideas and cute, short nails come to mind? Don't be afraid to think outside the box here! If you want stiletto peach nails, rock those babies! If you prefer a simple matte square shape for an elegant summer look to show off your bronze tan, I have that too.
Peach goes with natural, short nails, elegant almond nails, long coffin nails, and anything else you can think of. Sometimes you just need to see a nail idea in a different style to get inspiration, so I looked for as many different shapes and lengths as I could find.
My Favorite Peach Nail Ideas
Peach Fruit Looks
I love all the different elements of these classic peach nails! First, you have impressive peaches that are beautifully realistic. Then you notice that the peaches are on clear nails! Plus, the look includes 2 different shades of peach: a bolder, pink shade along with a pale orangey peach color. And I love that the artist used rose gold glitter in the wave design with this warm color palette!
I was blown away by this peach and cherry design! 3D charms like these are super popular right and take a look to the next level. The peach and hot red used with nude for the ombre follow the dual-toned nail trend with a different color on each hand. I love how the idea is reinforced by making each hand a different fruit theme. What a fresh take!
Another way to enjoy fruity peach nails is with a simple dip powder set! This short almond look presents a lovely solid nude nail with peach decal stickers. These trendy stickers are really easy to use at home, but I've seen nail techs use them too because they're a great way to add a lot of quality detail without hours of work. Also, notice that this set alternates between a matte and a glossy finish!
How cool are these peach and cherry nails? They look comic or even kawaii-inspired, with cartoon-style nail decals and hand-drawn white stars! I love that they involve a lovely bright peach color. The finishing touch for me is the peachy French tip with fruit stickers. Overall, this set is very tailored and clean, despite multiple details!
Another new way to go with ombre is with the peach theme! Not only do these Russian-style almond nails include the slight touch of just a few cute peach fruits, but they also have an ombre. I didn't even notice it at first, which is really cool! The rosy pink of the nude fades gently into the more orangey peach tips. I love it!
You can have sweet peaches on your nails and still use bright, bold colors! Notice how a more pink-based peach shade is used in this raised design? You can create designs like this called the "sugar effect" by using a dip powder set on top of any nail! The key is to use the same peach color gel and dip powder. Here, the artist also used a light neon green for the peach leaves.
For a new take on peach fruit nails, I adore this set! You can see the fruit on one nail, while the colors slowly unravel into a less clear abstract design on the rest of the nails. This set also includes a beautiful warm peach color and a deep green and stark white on top of nude, all of which come together for a contemporary color palette. And I love the short tapered square nail with the design.
Peach as a Nail Color
I just can't stop staring at the clean look of these almond peach nails! What's great about a color like peach is that it can be a simple, sold nail and feel like more than enough. Plus, you can go with any number of peach tones to go with your skin tone. As a ginger, I get super pale in the winter, so prefer peach over pink to warm things up. In the summer, a bold peach color accents and contrasts well with a tan!
I've never used peach as a base for a French manicure. But depending on your skin color, plus the color of peach you use, I can see how it works well! It can look almost retro. Trying a solid peach color as a French manicure base is also a great way to wear peach nails for the first time. Most people have done French tips, but maybe not peach nails!
What better way to lean into your love for peach than by using alternating shades of peach? This gorgeous manicure features yellow-, orange-, and pink-based peach shades. I'd wear this super juicy set in the summer.
You can go the opposite route and pair a warm peach shade with a cool shade. This beautiful light peach color looks stunning with a cool but vibrant teal! The cool thing is that the creator of this look used iridescent teal glitter with warm touches. So, it looks like it goes with the peach as well as the teal!
Continuing with neutrals, peach and warm white makes for a soft look. The cream softens peach because they're both warm tones. This is a matte, negative space nail set with a wave design- all modern trends. But the matte topcoat here works with the color palette to soften the whole look. This balances everything out so it's still modern, but soft, in my opinion!
If you prefer intense peach nail ideas, go with a bright peach! Note that these longer square nails are also matte. The bright but neutral white doesn't feel like it's competing with the bold peach color. And I like that the nail shape is a classic square shape. However, if you prefer, a tapered square or even coffin shape would also do this duo justice.
Like any girl, I can appreciate pink on occasion. But I much prefer a peach color. I feel like it still leans feminine, but with a sense of maturity. Is that just me? Either way, I love the unique look of this set with a cool-based pink alongside a warm peach. I think it looks so different, but it's subtle because both colors have pink in them!
Every time I look at this set, I see something new! While the navy color makes it feel grounded, there are actually a lot of details in this design. From the use of 2 different peach tones to the use of matte and gloss, as well as layering the design in both finishes. The short almond shape also keeps the look calm. I think this is a great way to have fun with your nails even if you need to keep them on the more conservative side!
I'm a sucker for a good matte coffin nail! This combo feels edgy, but feminine, with the single diamond near each cuticle. The black is neutral, without any warm or cool undertones, but the peach is an orange base. It's my kind of look: feminine, but with a cool factor!
Another way to use an orange-based peach is with a pastel! You can see that the light, powdery pastel lavender looks brighter here, contrasting with the warm peach shade. And it's all set on a neutral, bright white with minimal black detail. I love this look for spring, as a refreshing take on floral looks.
When you're in the heat of summer, go with it! Try a deep neon pink with peach. I also love that the only detail is a hand-drawn dot design. It feels perfectly imperfect, and it's a nice delicate touch to these otherwise bold nails.
While I prefer using matte topcoats with neon colors, I prefer glossy topcoats with pastels. It keeps nails from feeling too Easter Candy-inspired. In this peach nail look, short glossy almond nails pull on the trend of pastels. But peach warms up the set and keeps it from looking too sugary sweet!
And don't be afraid to wear pastels in the summer, which is super popular right now. But if you want pastel shades, I suggest sticking with a light peach color instead of a bold or pink-based peach.
A few years ago, I was in a wedding where the bridesmaids wore rose gold everything! That's when I learned that rose gold is like peach. it's not a certain color, but can be a variety of shades. Just don't let it get too copper or too straight metallic pink.
This shade of rose gold brings out the pink tones of the rosy peach shade, and the warmth in the peach balances out the cool tones of the rose gold. Overall, it's a very feminine look.
The yellow peach shade used with this neon purple, or orchid color, works well! Orchid is a super popular way to go with neon for the summer. I love that the tech mixed things up and did an ombre both ways with this color combo. It gives a bit of edge and interest to this otherwise very soft, feminine set.
The texture of the gold glitter in this modern design is absolutely stunning and decadent. I think it was a genius idea to pair it with a bright, almost neon peach color instead of going with another shade. It feels very fresh and summer, especially in an otherwise muted, minimalist design.
There's actually a lot going on with this set, and I love it! The silver holo glitter looks stunning next to the soft, light peach color. You don't really need the silver linework with the diamonds and French tips, but I like that they included it. This set is all about the bling.
Peach Nail Design Ideas
We're back with the over-the-top, almost duckbill square nails! I love it. Go big with peach French tips on your summer vacation. Keep the base as close to your flesh tone as you can and make the smile line (where the nail bed meets the curve of the free edge) as prominent as you can! This should be a dramatic look with a bright peach color.
I've been seeing Evil Eye nail designs everywhere. Go with an almond peach nail but add a little insurance with an evil eye! Plus, the blue color looks great with peach. It's super easy to create at home with dot pens or ask your nail tech for this simple design.
Ok, that's it. This whole list has convinced me to try dip nails! I love the sugar effect nails that you can create with dip powder. If you love glitter and you love peach, rock some solid peach glitter nails! Dip powder is a great way to go with glitter because it's in the pigment already and adds depth to your look.
Though very different than solid glitter nails, these minimalist modern art nails in peach are still very pretty. They feel inspired by the desert boho trend that's been popular for the last few years. Make sure you use a matte topcoat with a look like this.
FAQs about Peach Nails
Question: What's the True Color of Peach?
Answer: The color is inspired by the flesh of the fruit, which is pale yellow with a red or pink center. The exterior of the actual fruit consists of shades of deep red, orange, yellow, and pink, but much darker than the shade you see in makeup and nails.
Question: What is the Meaning of the Color Peach?
Answer: The color peach often reminds people of life, energy, positivity, and playfulness. While it's not just one shade of one color, peach is a pleasant, warm combination of pink, orange, yellow, and white. It can be soft or vibrant, but always sweet, feminine, and inviting, like the fruit itself!
Question: Can you Wear Peach Nails all Year Round?
Answer: Yes! Peach is a very versatile color that pairs well with a variety of other colors. The key is pairing it with the proper seasonal shades. In the fall and winter, tone it down with muted olive green or neutrals like gray or black. In the spring and summer, have fun with bright greens or intense metallics to make the peach color pop!
My Final Thoughts on Peach Nails
Everyone can find peach nail ideas that they'll like! I personally love a simple design that plays up the uniqueness of the color, like the Subtle Abstract Peach Design on Nude that's on my list. But no matter if you're into the latest bold trend or want sweet and pretty nails, peach is the way to go.
Craving peach nails in the winter? Pair it with a nude and deeper color like navy or dark green. In the summer, complement your tan with pastel and neon colors or glitter! Stick to true peaches and watch out for salmon or rich pinks.
But really, the best thing about peach-colored nails is that there isn't one peach color. So, you can interpret peach nail ideas and color combos to fit your taste! That means you can have fun and find the right peach look for you.
Continue reading:
Pink French Tip Nail Inspirations and Ideas: A Guide to Awe-Worthy Nails
Pink and White Ombre Nails Inspiration and Ideas