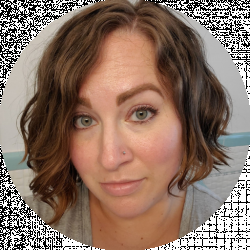 Latest posts by Elizabeth Ramos
(see all)
I grew up with shoe boxes and Caboodles cases in the bottom of my closet packed with nail polish bottles! Maybe you still keep your nail polish stored this way. For those nail polish lovers like us, I've put together a nail polish holders guide!
Occasionally, I found a bottle that had leaked. Dried nail polish would be on everything, hopefully not on fabric or something important! At the very least, I would have to throw out that bottle of nail polish. As it turns out, a lot of my nail polish storage woes came from improper care.
When you have nail polish, whether it's gel or lacquer, you're working with chemicals that change with exposure to air, light, heat, and cold. They dry out and even have an expiration date. I've even had a bottle explode in my luggage on a plane, leaving glass everywhere! It's important to store nail polish bottles properly.
Over the years, I've learned my lesson the hard way. I'll give you my best tips on storing nail polish and share my suggestions for the best nail polish holders. Keep your nail polish in great condition and enjoy all the colors in your collection by displaying all those pretty bottles!
Bottom Line Up Front
If you're here for my top suggestion, it's the Isaac Jacobs Acrylic 12-Count Nail Polish Holder. This beautiful, clear acrylic tray has individual compartments for your polishes. I love that's both lovely to look at and keeps all your polishes safe!
For more info on this nail polish holder, or for even more suggestions, keep reading.
Best Nail Polish Holders at a Glance
Selection Criteria
Materials
I looked for nail polish holders that were made of thick, durable material. Polish bottles can get heavy fast, especially if you're transporting them from one space to another. Even vanity trays needed to be made of strong plastic, wood, or glass.
I also tried to find a variety of holders for all kinds of people. Over the years I've had different priorities and tastes. I've all of them, from plastic and metal to wood and glass. So, I had a good idea of what to look for!
Compartment Size
There are tons of lipstick organizers that you might be tempted to use for nail polish. It's frustrating to learn that you need a certain compartment size for nail polish. I noticed that a lot of gel polishes come in tiny 5mL bottles these days, but most traditional polishes come in 15mL and 30mL bottles.
For that reason, I looked for compartments especially made for the largest nail polish bottles. If they are more generic makeup holders, I looked for ones that were larger, rather than smaller. I noticed that some organizers look like they're made for polish, but they actually hold narrower essential oil bottles!
Visibility
While I'm a fan of collections, I get nervous with disorganization. I like to be able to see all my nail polish colors! I tried to pick nail polish holders that held individual bottles, so they don't move around. Also, I looked for see-through containers or solid ones that were short enough (2-inches or less) to show the glass bottle, and not just the neck of lid.
Types of Nail Polish Holders and Organizers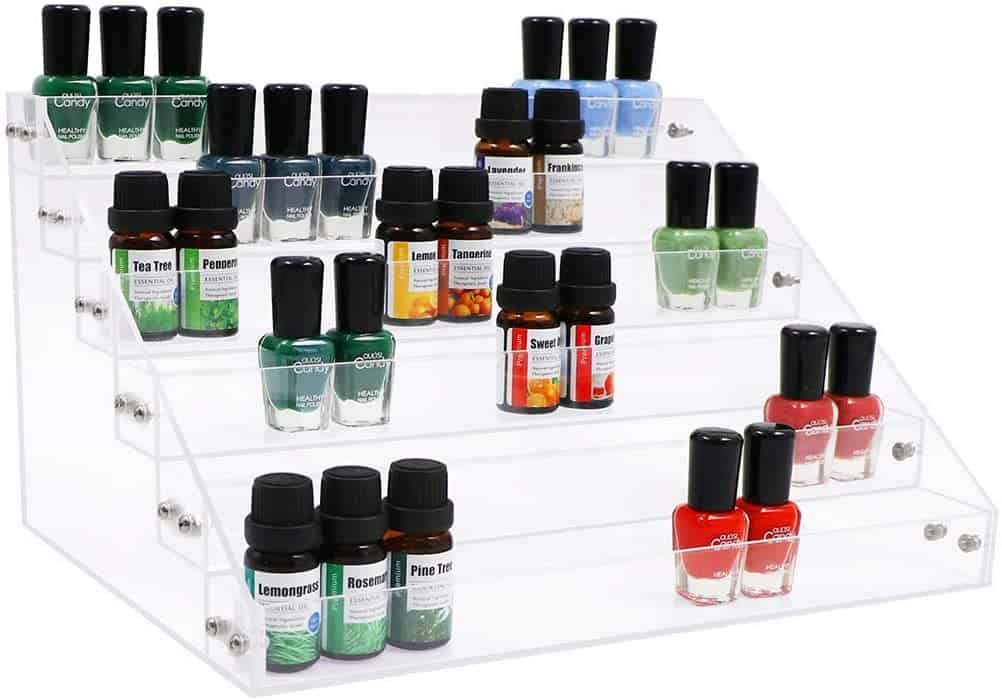 Once you start to search for something to hold your nail polish bottles, you realize that there are many different kinds of holders. Below you can read what you'll find for each type.
Individual Holders
Individual nail polish holders aren't something you use for storage or organization. But they're a very useful tool for when you're actually doing your nails! They hold your nail polish in a way that's convenient when you're applying it.
Have you ever done your nails and had an almost empty bottle? It can feel tedious to try to tilt the bottle to get to the remaining polish. Wet nails can get smudged and the whole process can take a long time. Individual holders usually have a stand with an arm, or they sit on your wrist or hand. They hold the nail polish so you can easily get to it without messing up your work!
Collection Trays
Collection trays are a great way to store both large and small collections of nail polish on a desktop or vanity. They come in all kinds of designs, including the following:
Desktop Displays
These tend to be flat trays or containers that allow you to show off your collection while giving you direct access to them. You can find them in all kinds of designs and materials, like trendy clear acrylic, wood, or metal.
Rotating Displays
I love a good rotating organizer. They make everything easy to find and accessible. Find them next to the popular acrylic makeup organizers or try a Lazy Susan stand! Some people use spinning spice racks (as long as they keep the polish upright!).
Multi-Tiered Displays
If you want to show off your nail polishes, a multi-tiered display might be the solution. You can find smaller displays or ones that hold large numbers of nail polish bottles. The tiers are like steps and each tier is made to be just the right size for nail polish bottles.
Creative Organizers
Another way to store and display your nail polish is to use things you wouldn't think of! If your polish collection will stand up securely in it, why not use it for beautiful storage? Some people use jewelry boxes, while others use things like vanity trays. I've seen picture frames used, though you can't move them.
Drawer Organizers
There are a variety of organizers that go inside of your drawers. If you go this route, look for something made especially for polish bottles. They'll have slots that keep the bottles in place even when the drawer shifts open and closed.
However, you can find a variety of slotted storage boxes, dividers, and more. Just place polishes in these long spaces, neatly lined up. This is great for bathroom or desk drawers. It's also a solution if you have a really sunny room and need to keep your nail polish in a drawer away from direct sunlight.
Storage Organizers
For large nail polish collections, go with long-term storage cases that have individual spaces for each bottle. They're a great way to keep everything organized how you like, and you know they're stored properly in an upright position. Some look like boxes while others look like narrow suitcases with a handle.
Wall-Mounted Holders
A simple search for nail polish holders brings up the classic salon wall-mounted holders. They really are an excellent option, and they aren't just for the professionals. You can use them at home as well. You can find the acrylic wall-sized ones or buy individual shelves!
It's true that they're most often available in modern, sleek wall-mounted acrylic or metal. But you can find beautiful wood options in a variety of styles.
Travel Organizers
Anyone who needs to travel with nail polish bottles needs a safe way to carry them. If you've ever thrown a bottle into your luggage, you know the risk you're taking! Thankfully, nail enthusiasts and professionals can find wonderful solutions available to them.
There are travel organizers that allow you to carry your tools and a few polishes in an upright zipped case. If you are a traveling nail technician or need to transport larger collections, including a UV light, you can find soft and hard cases. Lots of them have removable and customizable pieces that are really helpful for different needs.
My Picks for the Best Nail Polish Holders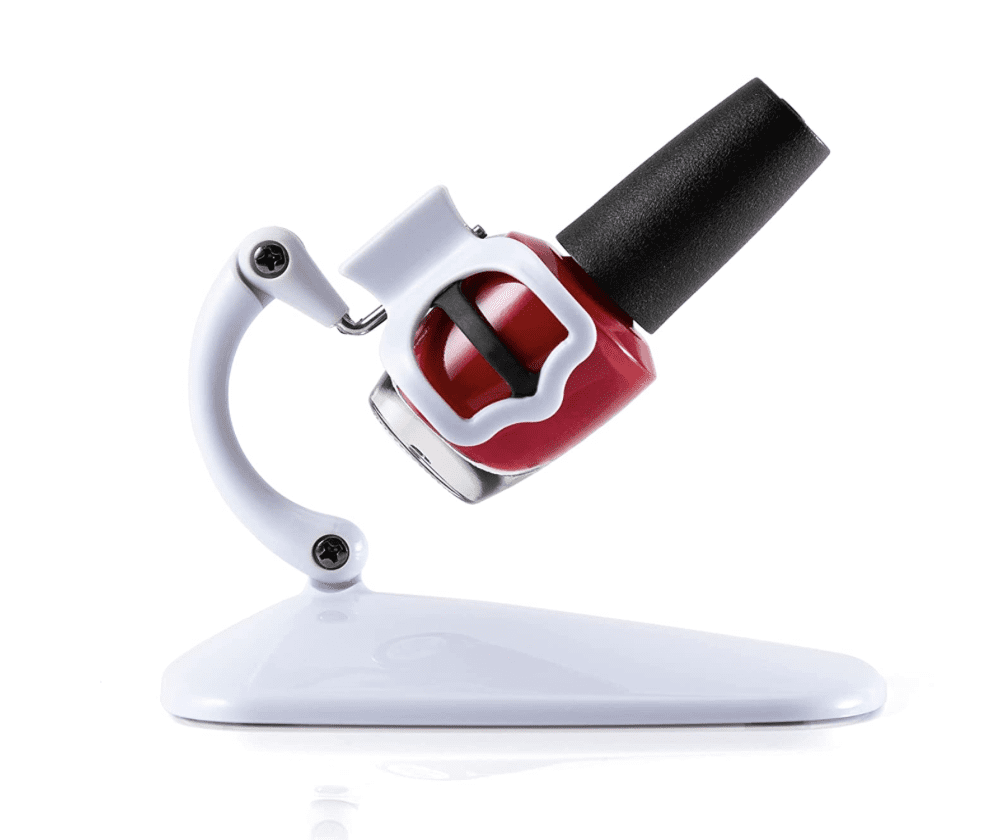 The Grip and Tip Nail Polish Holder is ideal for anyone who wants to streamline their manicure. This individual holder has a tension grip that holds any typical polish bottle. Adjust both the grip and the long neck in a variety of positions that best suit your needs.
Don't worry about tipping with the wide, weighted base. If you have limited hand mobility, this might be a great option to give you more freedom to do your own nails again.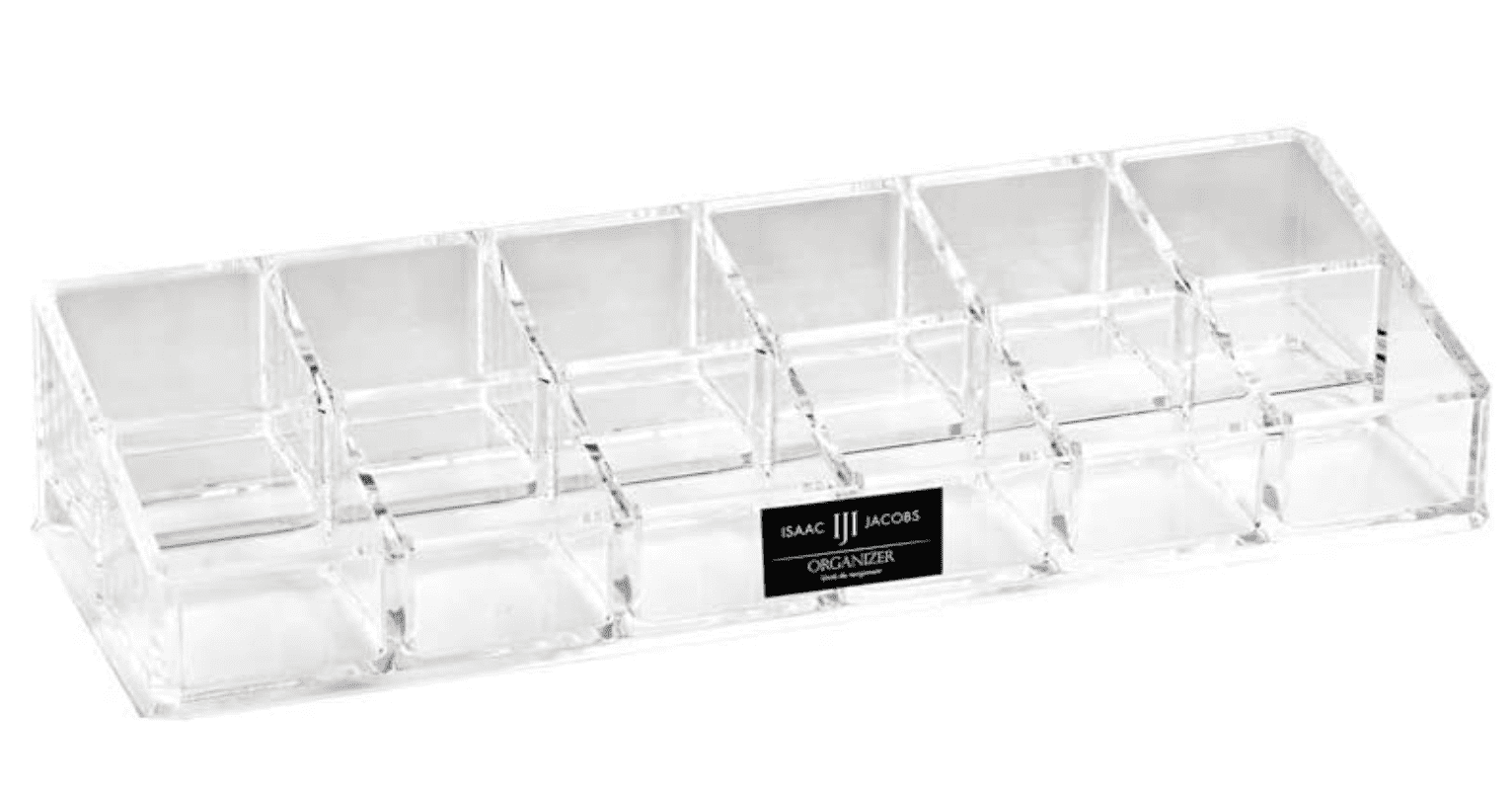 A clear acrylic nail polish holder like this one was great when I had smaller nail polish collection! I like that you can choose a tray with either 2-rows of 6 compartments or 3-rows of 4 compartments. I kept a similar tray on my workstation with my favorite polishes on display, but you could also keep it in a drawer.
What's great is that this tray can hold both 15mL and 30mL nail polish bottle. Two of my favorite lacquer brands, China Glaze and OPI, use larger 30mL bottles and they don't always fit in typical polish holders. I love that they'll fit in this one! Also, the holder is strong enough to move from a shelf to a desk where you are doing your nails. I don't have to risk any bottles tipping over or falling out.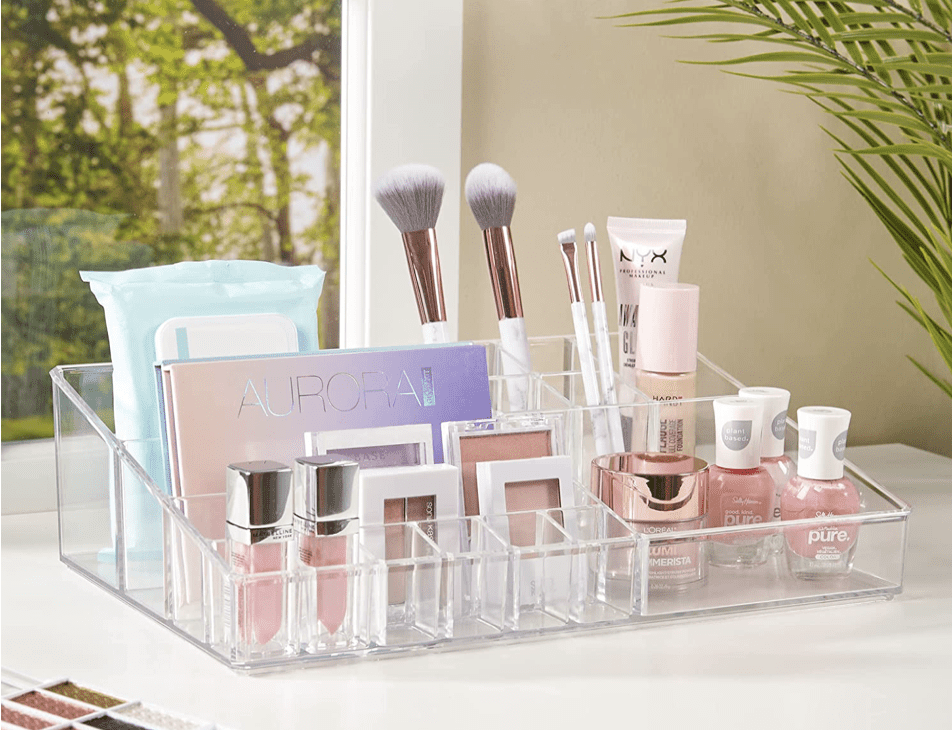 I'm a bit of a perfectionist who also loves color! A tiered acrylic nail polish holder like this one is a great way to organize and show off your polishes. I can't stand rummaging through polishes, especially when I'm not sure what color I want to use.
The elevated platforms allow you to quickly and easily find the bottle you're looking for without disturbing any of the rest. The only downside to this holder is that it has long slots and not individual containers for each bottle. You can't move it around easily. That just means that this nail polish holder would need to live near your workspace.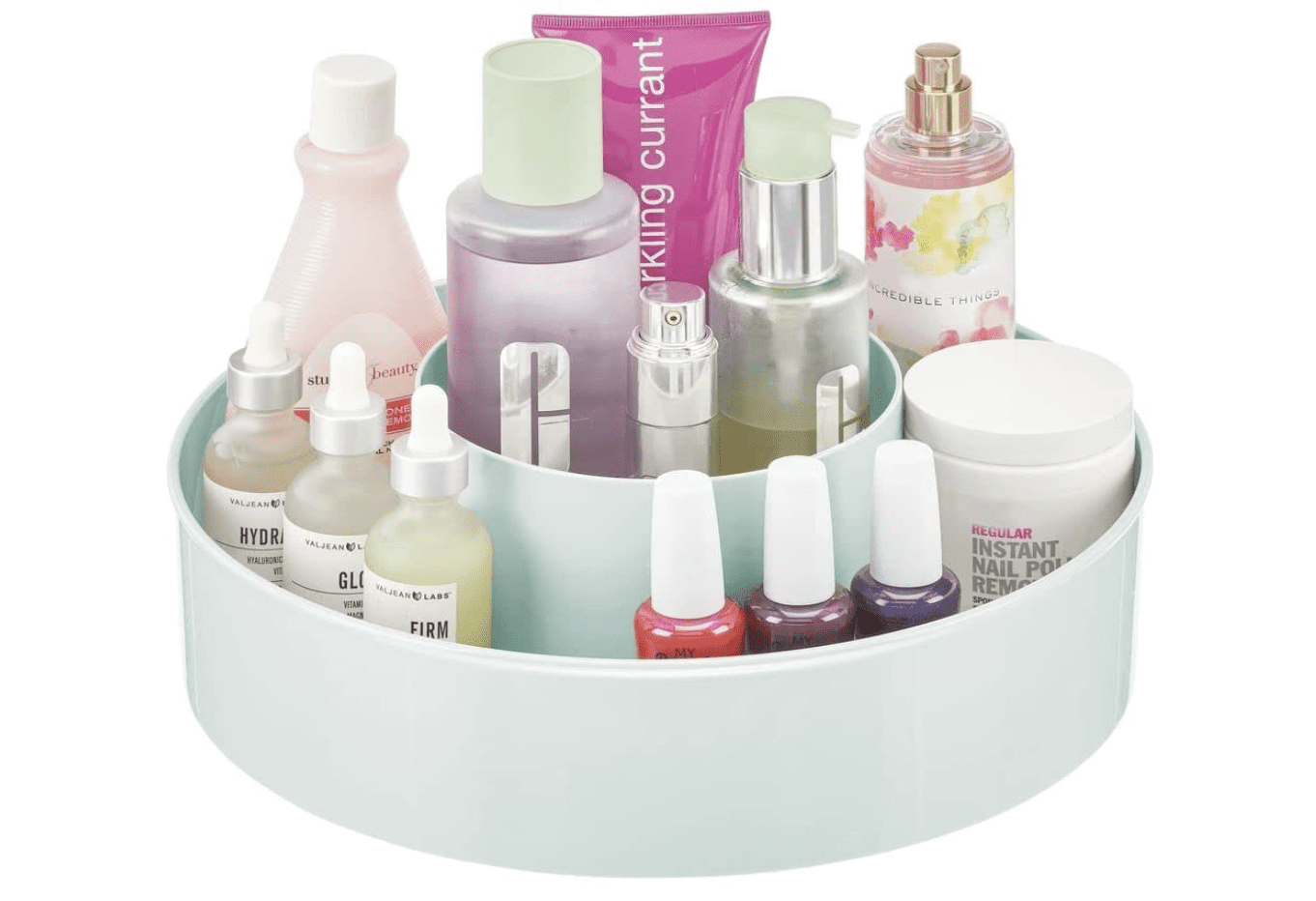 I love a good Lazy Susan style. I have several organization tools from mDesign, and I think they knocked it out of the park with this beautiful light green rotating makeup container! You have 2 storage spaces, one inside the other, and it has tons of room.
It's large enough that you could fit 40 to 50 nail polish bottles. For a more appealing display, I'd keep my polishes in the larger compartment. Then I'd keep my brushes, tools, and files in the taller, narrower compartment.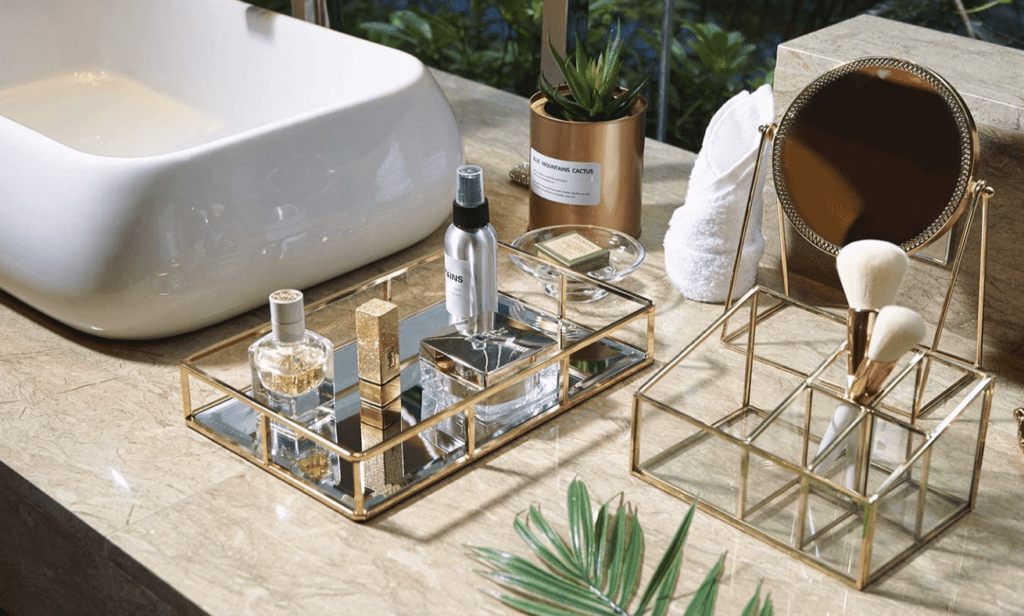 My 2 loves are nail polish and perfume. For a long time, I displayed both collections on top of a tall dresser that had a gold mirror on top. I wanted something beautiful to keep them in. A vanity tray was perfect! It's sturdy enough to hold several bottles, and the mirrored surface is easy to keep clean.
And I love that PuTwo has several different containers in this style. You can use this one to hold your polishes and use their other trays to hold things like makeup brushes and perfume.
These days I'm always looking for ways to be a little eco-friendlier.  I love bamboo because it's so sustainable, and I find natural wood to be calming while also looking more high-end! There aren't many bamboo nail polish displays, so I got excited when I found this one!
I know it's not made especially for nail polish, but the 4 compartments on top will fit several polishes each. Plus, the compartments aren't too tall, which was a selling point for me. You can easily see your color options while still having a secure and safe place to store nail polish. I also like that is has the drawer on the bottom. That would be a great place to keep manicure or nail art tools!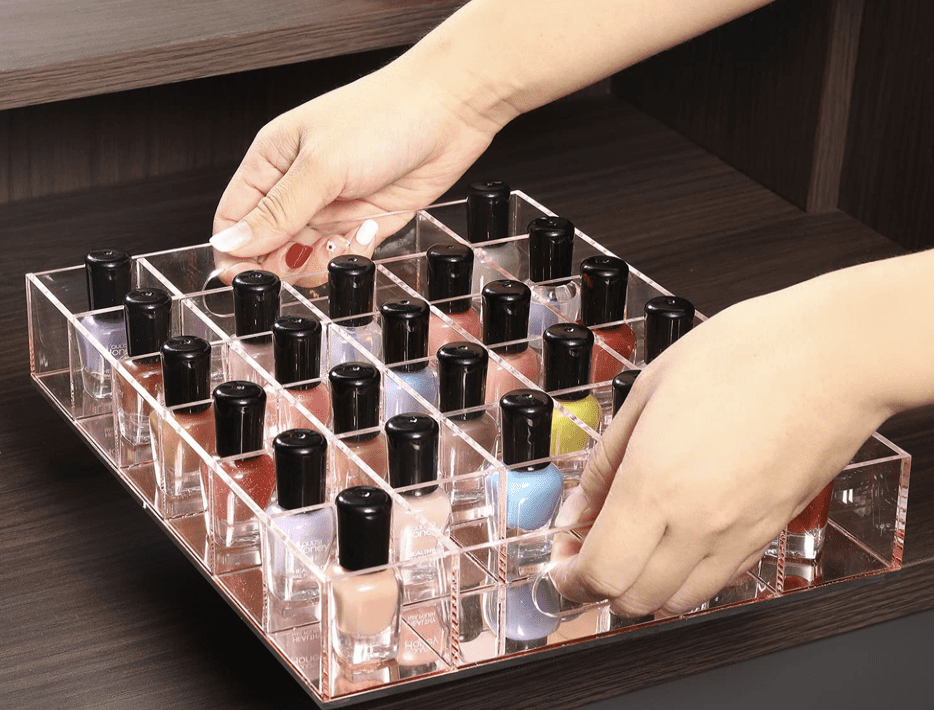 While this storage tray is meant to go inside a drawer, I would want to show it off! It's absolutely stunning, with rose gold-tinted clear acrylic and a mirrored bottom. I love that it has individual compartments that once again fit both 15mL and 30mL nail polish bottles.
Just make sure you get the 26-slot tray and not the 12-slot tray. I noticed that the smaller tray has round slots that are for narrower essential oil bottles.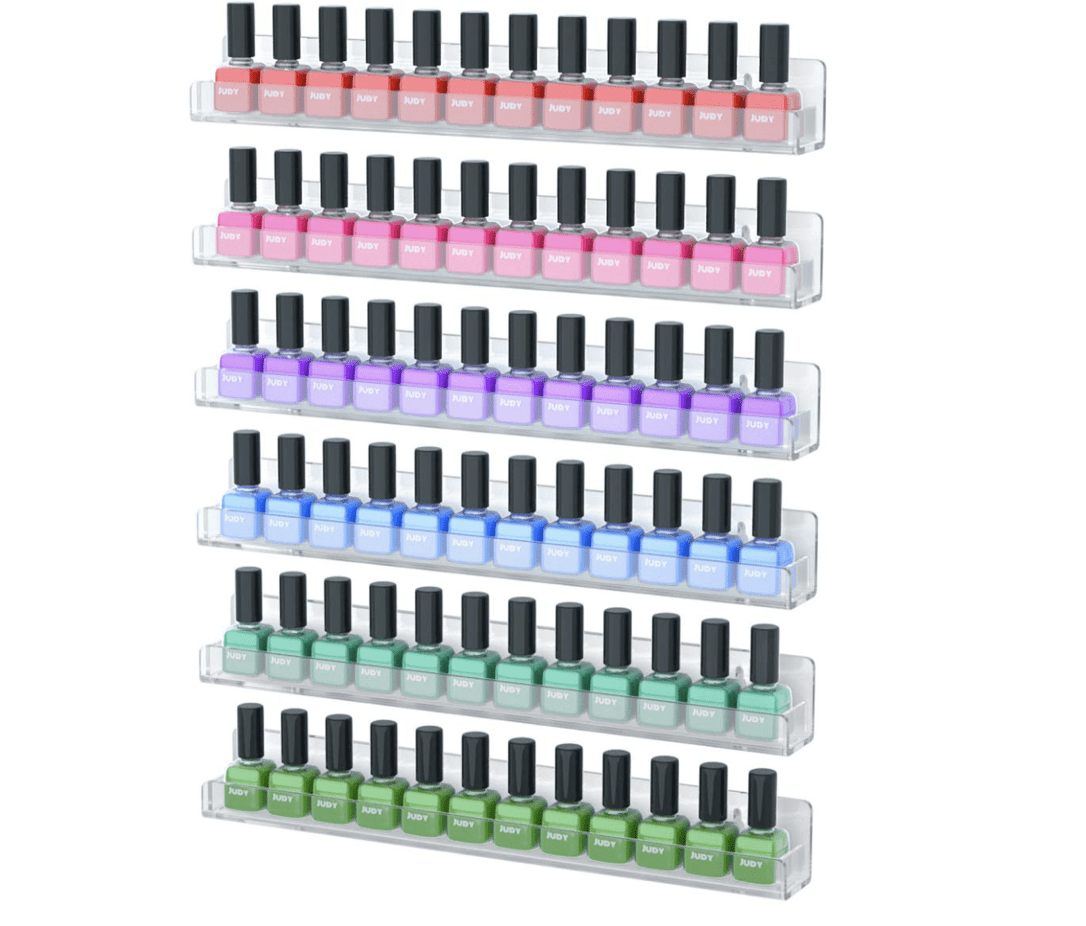 I wish I thought to get shelves like this when I lived in my tiny New York apartment! It would have been a dream to display my growing nail polish collection without taking up a lot of space. The self-mounted shelves also have a clean look that I love to backdrop colorful polish bottles.
Most of the acrylic polish shelves that are you'll find like these ones don't have end walls. I chose this one particularly because of the removable end caps! You to choose whether you want to line the shelves up end to end as one long shelf or place them in a row without risking bottles falling out.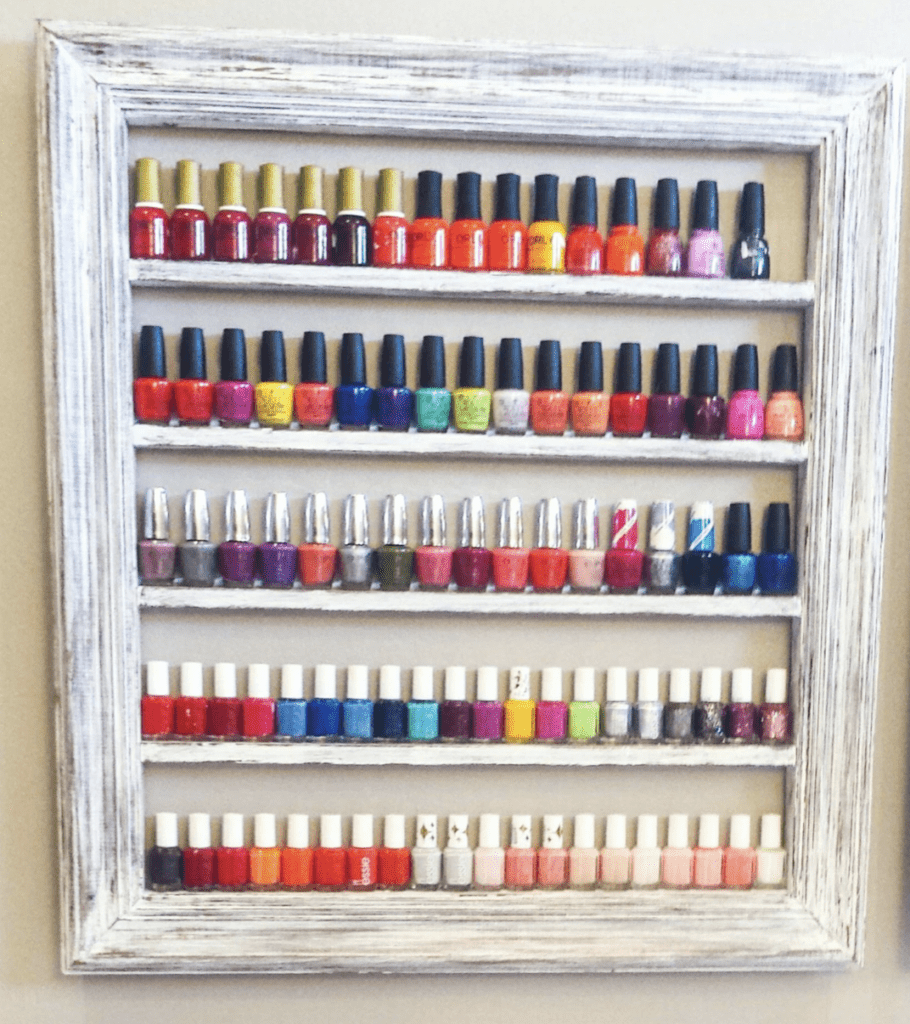 When it came to wooden shelves, it was hard to find ones made especially for nail polish. Finally, I found this framed shelf by His & Hers Woodworking. I love that I can support a small business on Etsy!
The shelf is framed like a picture and the 5 rows hold around 75 polish bottles. You can choose from a variety of stains for your shelf. If you're a fan of the farmhouse look, they have several different distressed and white washed finishes. But I would just order it natural or stained dark.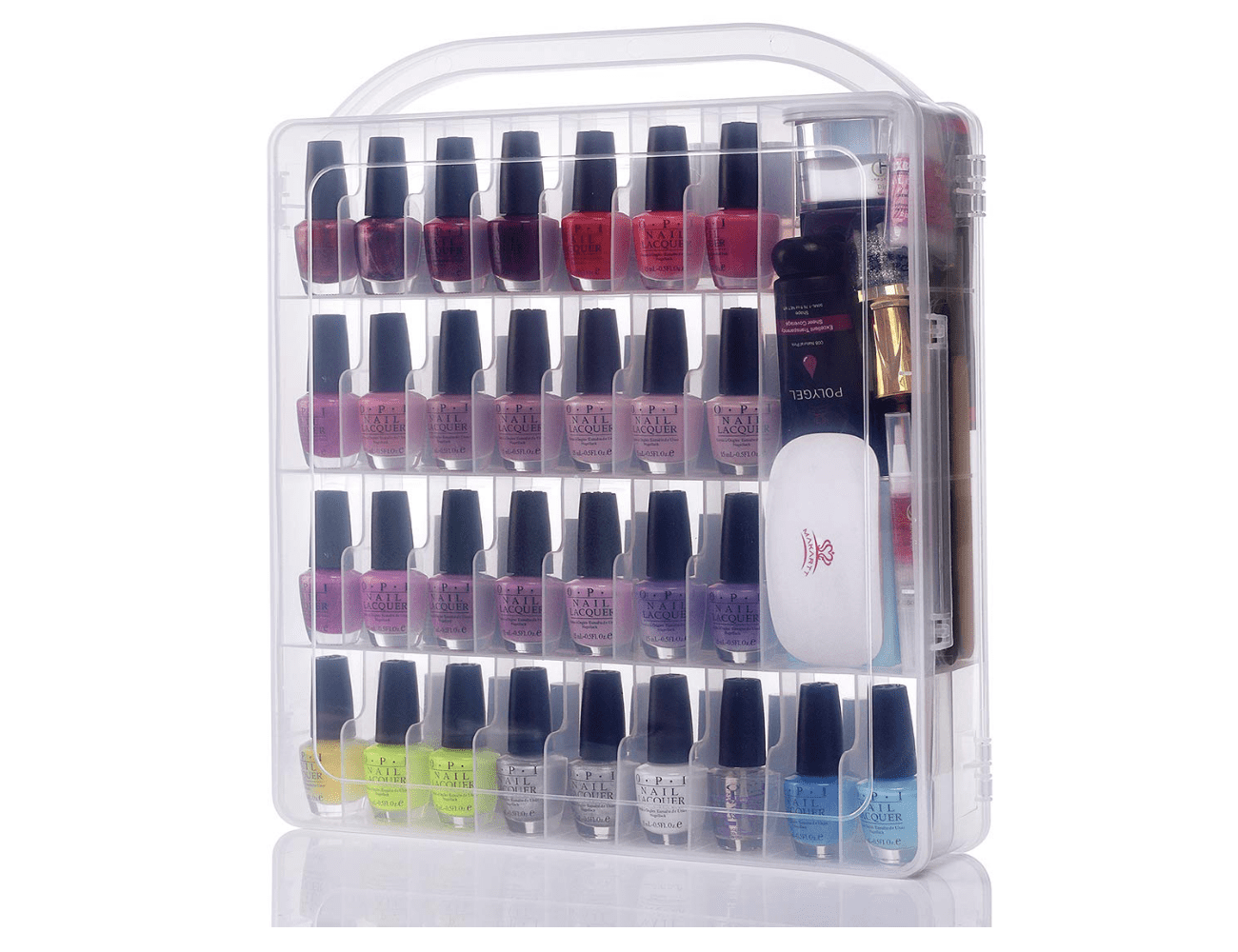 Over the years I've learned (the hard way) to trust everything that Makartt makes! Plus, they sell on Amazon, so it's super convenient if you have a Prime membership like me! I've been eyeing their large acrylic nail polish storage case for a while.
Each polish has its own compartment on both sides of this upright case. Latch it shut and carry it by the convenient handle. Besides fitting a 60-bottles, there's also a longer space for storing and carrying other manicure tools.
Makartt sells a slightly smaller case, too, but it doesn't have the longer compartment, and the handle is on the side. I'm afraid I'd end up accidently storing my polishes sideways, which is not a good idea.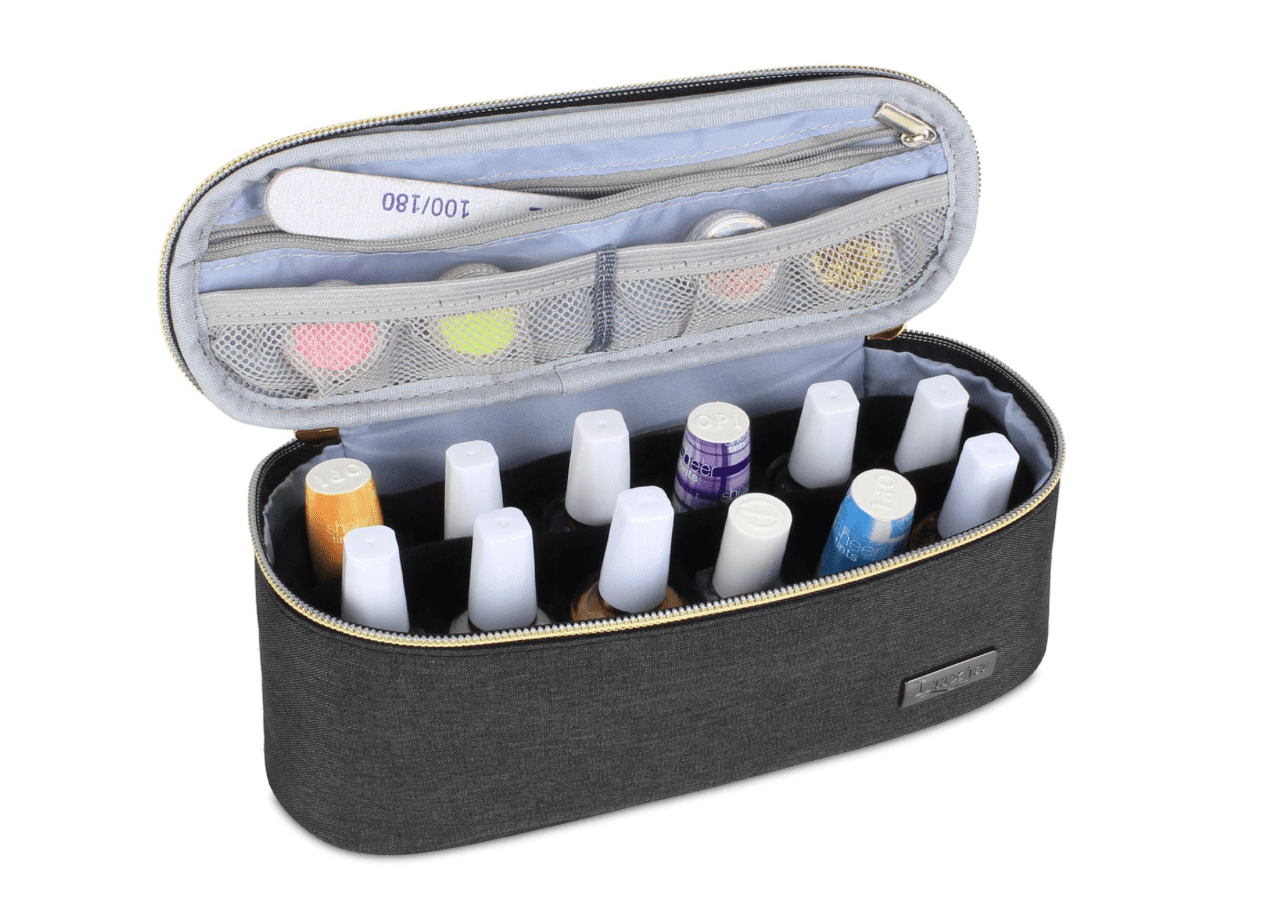 I love the 12-count travel organizer by Luxja. I've been looking for a small, simple carrying case for my nail polishes that will fit in my toiletry bag. But also, I'm impressed with all the little details, like the person who made it must travel with nail polish!
Check out the netted pockets for tools. I love that they use clear plastic. There are also 12 fitted compartments for your nail polish bottles. But what I appreciate is that the lining of the case is nylon, which you can see when you take out the removable padded bottle organizer! It makes for easy cleaning and extra protection from breakages.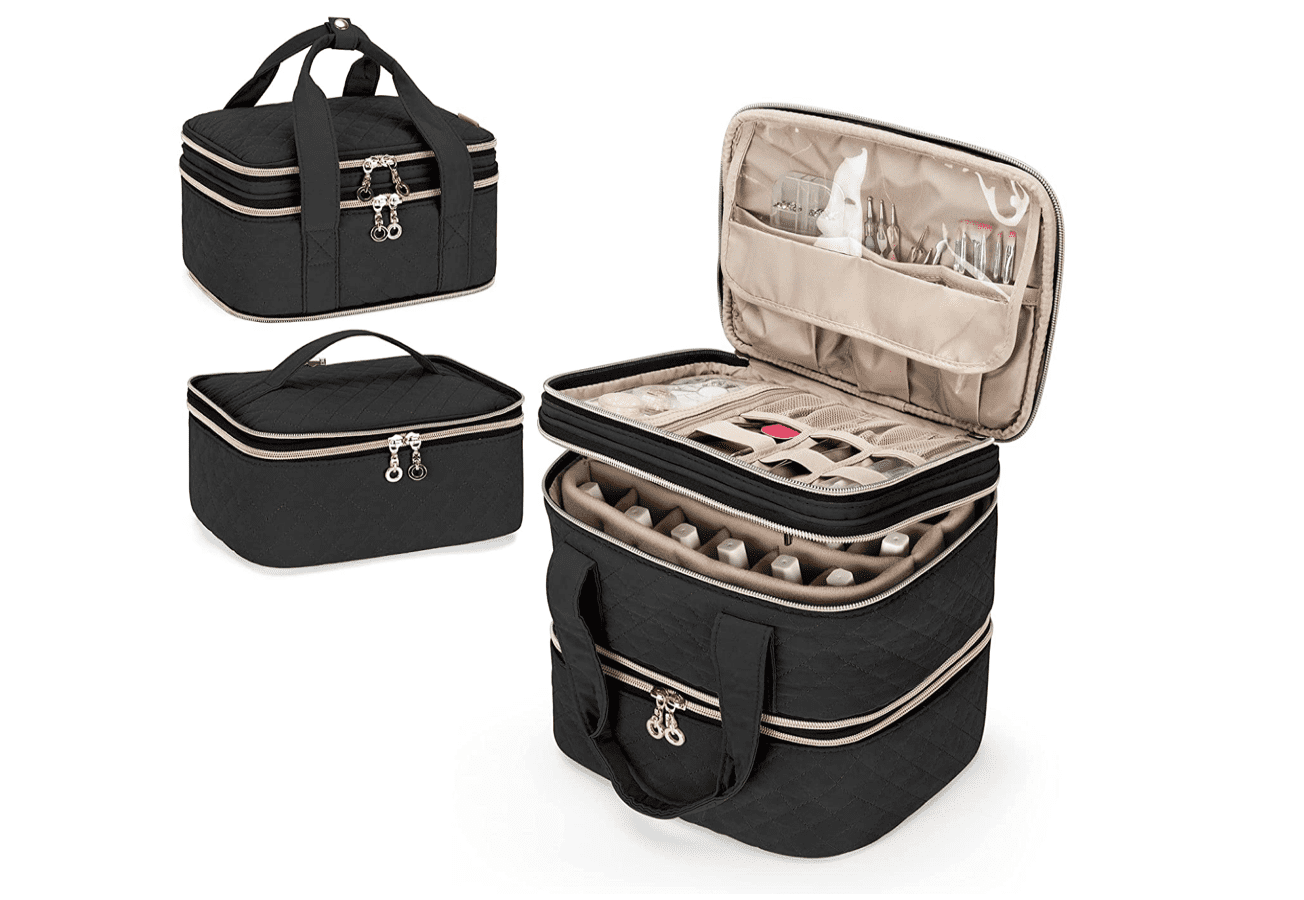 This travel case by YARWO feels surprisingly small for what you find inside. Not only does it have the capacity to store up to 48 nail polish bottles, but everything is super convenient to use. The entire lining is nylon for wiping down and accidents, and the case is highly customizable.
I found a lot of cute makeup train cases and fabric carrying cases online, but I chose this one for a few reasons. First, I can see both professional and hobbyist using it. You can separate both containers, store tools in the top of the case, and use the pockets.  Also, if you use gel, you know it's a hassle to travel with a UV light. This case solves that problem, because you can remove the dividers for large equipment like. And even then, the case doesn't feel bulky.
FAQs
Question: Is it OK to Store Nail Polish Upside Down or on its Sides?
Answer: You should always store nail polish bottles upright. If you go long periods without using a bottle and let it sit, the liquids and pigments can separate. If you keep it standing upright, it'll be easier to shake the bottles and recombine the contents. Also, standing bottles upright minimize the chance of leakage.
Question: Should you Store Nail Polish in the Refrigerator?
Answer: Despite popular advice, it's not actually helpful to store nail polish in the fridge unless you live somewhere with exceptionally high heat levels indoors. The idea behind the practice is to slow down the expiration process, but unless you're storing polish long-term, this is pointless. If you regularly rotate polish, keeping it in the fridge is just a hassle. When you take it out, you have to wait for it to reach room temperature to shake it up or use it.
Question: How do you Keep Nail Polish From Drying Out?
Answer: Store it properly! Keep it out of sunlight and in a cooler area of your house. Also, keep the neck of the bottle clean. Dried polish on the neck will keep the lid from screwing on all the way, allowing air into the bottle to dry out the polish.
Question: Does Nail Polish Have an Expiration Date?
Answer: Once you open a bottle, regular nail polish should be used for no longer than 2 years. Gel expires after 3 years. Other things like storage and use can speed up the expiration process. Also, if you get your hands on polish that's never been opened, it should be fine if it's less than 8 years old.
Question: How do you Know When Nail Polish is Bad?
Answer: The telltale signs that nail polish is expired or bad is if it's hard or clumpy and has a bad smell. Other signs are if it has separated and won't come back together, or the color has changed. When you apply it, bad nail polish is usually too thick and it's crumbly when it dries.
So, What's the Best Nail Polish Holder?
There are so many great nail polish holders out there, but I think the Isaac Jacobs Acrylic 12-Count Nail Polish Holder is top-notch. It's a great choice for avid collectors and newbies alike! I think that twelve polishes is a solid collection.  But if you do end up outgrowing this tray, matching acrylic organizers aren't hard to find.
On my nail polish holder guide, I tried to find something for everyone. There are individual bottle holders for quick manicures, or beautiful wall shelves to display and organize your collection. Choose from shiny acrylic for a modern look or go with wood for a natural feel.
Traveling with nail polish doesn't have to be risky when you have the proper holder, as well! You might be a world traveler or just want to know that your bottles are properly stored. Once you have an idea of the best way to store your nail polish, you can find some great options that fit your lifestyle.
Continue reading:
How to Find the Best Nail Polish Remover: Plus 3 Acetone Myths
Best Nail Polish Organizers Guide: 14 Storage Options to Reduce Clutter