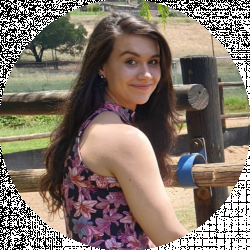 Latest posts by Christine Kent
(see all)
Sometimes it's hard to be a woman. Many people expect a lot from us but are disappointed when we satisfy their expectations. Exhausting, isn't it? It is even more exhausting if we have to do it every week. Well, we have no other choice but to do our best. Being a wife, a mother to two doggos, working full time, and doing house chores can be hard sometimes; that is why I am a huge advocate of self-love. And self-love means you have to love yourself physically too! To better care for others, we women should take care of ourselves first. 
Book that massage appointment you've been meaning to get. Book that appointment with your nail tech and get your pretty little fingernails pampered because "happiness is having your nails done"! I read an article once that said whenever your eyes get tired, you only need to stare at something green. Since green is so refreshing and relaxing to the eyes. What better way to rest your eyes than getting your nails done in lime green? Now, you can just look at your nails whenever your eyes feel tired. I have gathered some great options for you to try out in this Lime Green Nails Inspiration and ideas list. 
Bottom Line Up Front
Want to try something new other than your standard go-to nail set? Why not opt for lime green nails? It is pleasing to the eye and will definitely make a statement. As researchers suggest, the color green is also relaxing to the eye, so when you are stressed at work, you can just look down at your nails and feel less stressed. 
Lime green nails are classy and elegant and can be worn for formal and informal occasions. I would recommend the Neon Lime Green Matte Nail Design, as I just love the combination of lime green and white. This nail set is perfect to wear to an important meeting as it will make me look stylish and classy. I can head for a night out with my husband right after and still look fashionable. I love nail sets that can do both! So let us have a look at my other top picks. 
My Top Picks 
Selection Criteria
The nail ideas mentioned in this article are based on the following criteria
Lime green nails that are unique and will make you stand out

Lime green nails that are bright and will steal the show

Lime green nails that are more on the neutral side and will make choosing an outfit less stressful 

Lime green nails that will be easy to achieve at home

Lime green nails that you will need the help of an experienced nail tech 

Nails that are suitable for meetings, events, and nights out
Lime Green Nails Inspiration and Ideas
The design looks like a marble design or a splatter of green slime. But nevertheless, it's gorgeous! These nails will bring out the baddie inside of you.
I'm not a fan of neon green or anything light green, but this nail set makes me feel otherwise. I would probably wear this at a rave party or whenever I go clubbing with my friends. The nail set would look great while I sassily hold my drinks! Just think how cute a white blazer dress would look with it? 
But guys, I'm opting for a shorter length because I know I would not get anything done with these long babies. I will also need the help of my nail tech to achieve this design, as I know it will just end up as a hot mess when I try and recreate this look. 
The design reminds me of DJ Marshmellow's head because of the unique smiley faces we can see on the index and ring fingernails. The tequila lime color of the nails is paired with white and black designs. It looks chic and possibly aesthetic for those who like green.
If you are a pro at creating a french tip, this nail design will be easy for you to achieve at home. Let's start with the thumbnail. On the thumb, you will paint a nude base that flows into a lime green french tip. For the index finger, you will do the same as the thumbnail and create a lime green french tip nail, but you will use a thin nail brush and some black gel to create a smiley on the tip of the nail. Now for the middle fingernail, you are going to do a lime green french tip with a twist, half of the french tip will be lime green, and half will be white; you can use a dotting tool to achieve the dots on each of the sides. 
For the ring fingernail, you are going to do the same as the index fingernail. Still, instead of using the black gel for the smiley, you will use white and then add some sparkling rhinestones for that pizazz at your nail bed. The little fingernails are my favorite because it has a cow print design on the lime green french tip. I'm just obsessed with anything cow print. It is very chic and fashionable. 
This nail design you can wear whenever you go to clubs, parties, or concerts with your friends! I have always loved something unique on my nails, and this design totally caught my eye.
These neon lime green nails are for you if you want something more plain and simple. This nail set gives french nails a cool twist. This beautiful design is perfect for summer rave parties on the beach. Sip that tequila with this gorgeous nail set and watch your friends compliment them! 
I would honestly wear this at a beach party! It looks so simple but at the same time looks so good. So, if you are great at creating a french tip, give your nails a twist and create this fun nail look. Trust me, you won't regret it. 
Want to feel like a princess and a baddie at the same time? Well, girl, this nail design is for you! I know that some women like party nails, but they still like to appear elegant and sophisticated. Well, this nail set is the perfect combination.
I would wear this nail set to events or night outs. But I would need my nail tech's help on this look as I just know that 3D designs on the nail will end up looking as if I applied 100 layers of nail polish to my nails, it would look horrible! But hey, if you are feeling creative, try out this nail look, and you can get the heart charms on Amazon. You will want to keep your outfit choice neutral because the nail set is a bit over the top. 
Whoever thought of this brilliant nail design needs a Nobel prize or something! The design is cute and witty. There are certain times when we can't express our emotions properly. That is why emojis exist. We can't explain our feelings through text; instead, we send emojis in place of words.
I'm an introvert at heart, and there are times when it becomes hard for me to show that I'm annoyed with something or when I'm happy with something. I wore this set once, with specific emojis painted on my nails when I was going through severe anxiety.
It helped me express my emotions toward my family and friends. It was hilarious as I put the annoying emoji on my middle finger. You can achieve this cute nail set at home if you have emoji nail stickers, stencils, or nail stamps, or even if you are feeling experimental and want to paint them freehand. This nail set will look super cute with white, nude, black, and even pink-colored outfits. Start showing your feelings, girls, and get this nail set done. 
Guess what animal print this is. If you answered cheetah, you got that right! Animal print designs have always been a trend, even during the 80s.
These designs have been a part of our fashion history, from bags, clothes, and even nail designs. The nude color compliments the black and neon green that make up the cheetah spots.
I could actually see myself wearing this beautiful set. I'm not really a fan of extremely long nails, so I'd have this on slightly shorter nails. I will go to my nail tech to achieve this set to get those cheetah spots to perfection. Pastel-colored clothes will look amazing with this nail look. 
Line art nail designs have been taking the world by storm since 2020, and I still see no end to it. If you are someone who appreciates art, then this design is perfect for you.
It is a kind of abstract art with all those colorful neon colors intersecting one another. The color that really gave its charm is the lime green color that made the other colors pop out even more.
You can easily achieve this nail look at home if you have a thin nail brush and your desired colors. I would probably wear this if I ever go to a rave party because it is a glow-in-the-dark design. I can also wear this on other formal occasions because it looks classy and chic.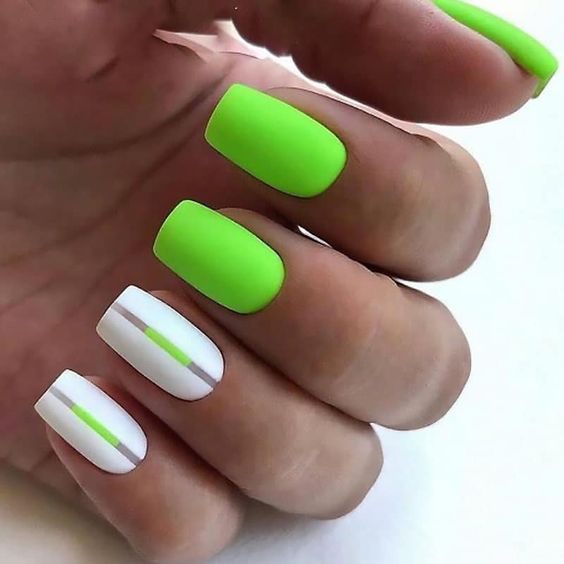 It is hard to find a decent design to put on short square nails, but this design is perfect for them. It is classy, chic, and very fashionable. The hint of green behind the white nail polish makes the entire look elegant.
With its minimalistic design, you can always pair it with monotone colors. Still, it would probably look best with white clothes.
I usually get my nails short because I work on my laptop daily, and typing with long nails is uncomfortable. If I want to be a bit wild, I'd go for this nail set because it looks so classy and elegant but, at the same time, colorful and playful.
The nail look is easy to achieve at home. Just paint 3 of your nails a lime green and two of your nails a white but use a line sticker and then paint the white color on both sides of the line sticker. Allow for it to dry, and then remove the line sticker. Then paint a lime green line in the middle of the stripe of the nail. 
It is a nail look that is easy to achieve, but it looks complicated. Give it a shot, girls.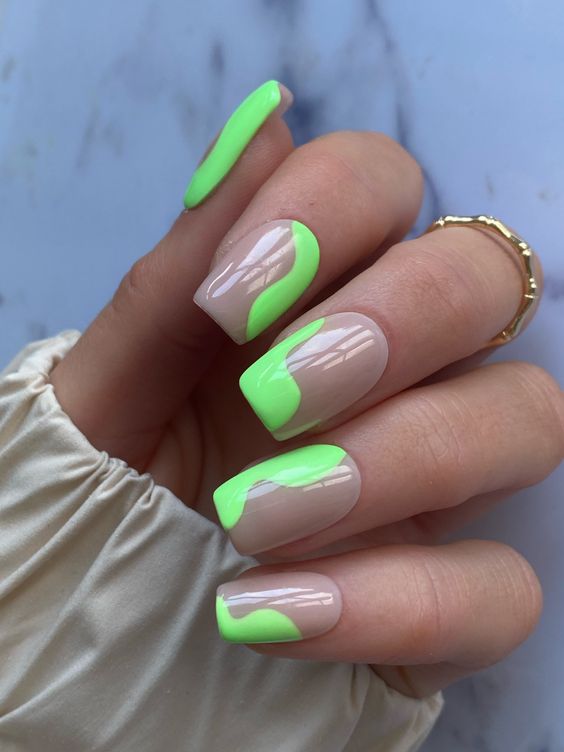 Suppose you constantly look for something new when you book an appointment with your nail tech. In that case, you should look at this adorable design. The design is minimalistic; you could wear this daily when heading to a meeting or for a night out with friends. 
I wear different colors of these abstract swirls nails every other week just because the design is gorgeous. But honestly, I wouldn't mind adding something green to my nails this week.
The design is easy to achieve. Just start with a nude base. Allow the nails to dry, and then use your thin nail brush to create the thin swirls. Don't worry about achieving the perfect swirl; swirls are meant to look abstract, so have fun with this design. The other thing I love about this nail set is that you can pair it with most colored outfits. I'm definitely getting this nail set next!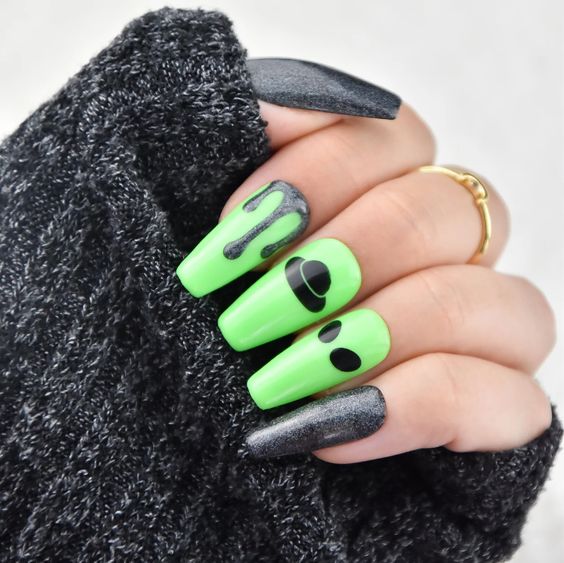 This nail design set is perfect for those who like designs that are something "out-of-this-world." Literally out of this world, this is a UFO design with the eyes of an alien and a spaceship. This nail set is easy to achieve as you just need a lime green polish color of your liking, some nail decals and glitter, and you are all sorted.
This nail set is not to my liking, but if it were just black glitter nails with some lime green here and there, I would definitely opt for it. The alien designs on the nails give the nails a bit of a childish look. But hey, if you want to get it, go for it. It would definitely be a hit at a Halloween party.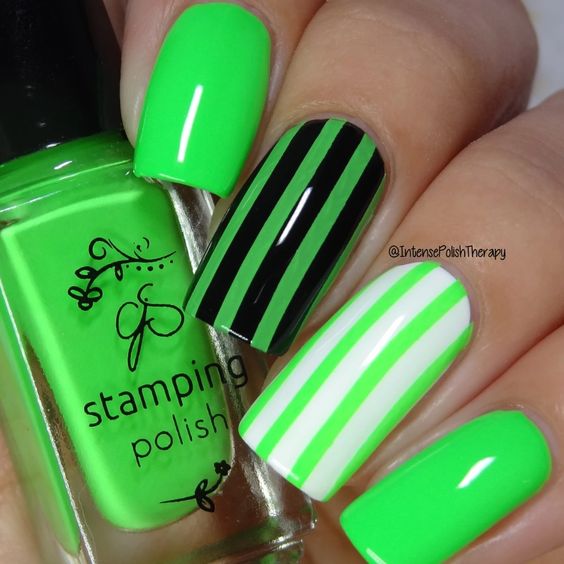 The gorgeous nail set consists of white, neon lime green, and black gel. The stripe design is simple, yet it looks complicated.
This is perfect for those who like gothic and emo designs because of the color combinations.
This nail design reminds me of my teenage years. I was such emo back in the day, and I would literally have black nails anywhere and anytime. It didn't matter if it was someone's wedding, birthday, or what; I would just wear black nails. It would have been nice if this was a nail-set idea in the past, I would have been fashionable emo.
This nail set is easy to achieve. All you need is your desired lime green and black gel and a nail stamp. But this is not a nail design I would opt for now as it gives me clown vibes. If you want to opt for this nail design, keep your clothing options neutral because this nail design is a bit busy.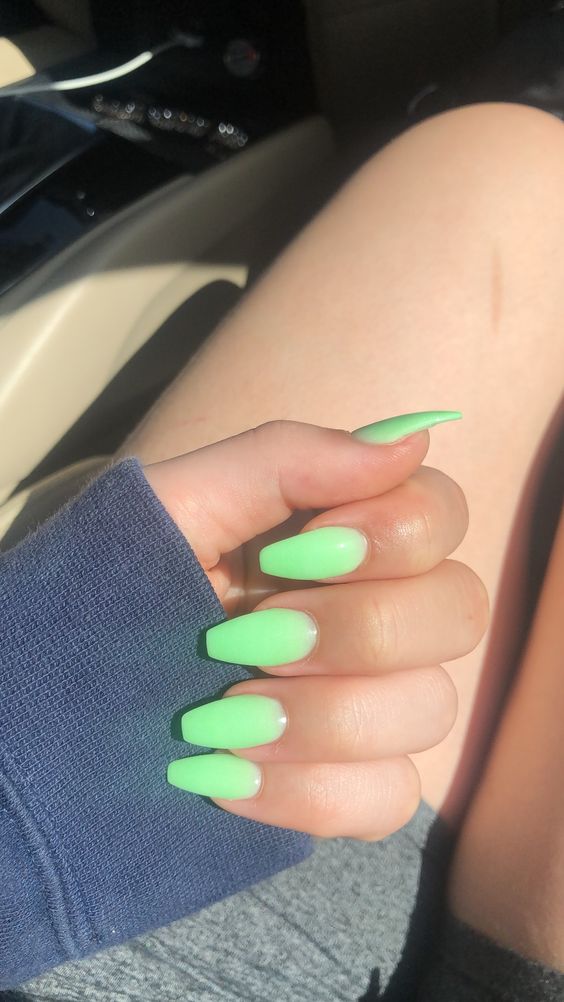 Simplicity is beauty, and this design defines simplicity and beauty. It may look like some basic nail design; however, the pastel lime green color makes it look elegant and chic.
Not to mention, the color would suit any length of nail you prefer. I have always loved wearing plain colors without any designs on my nails, especially this pastel lime green color.
Paint your nails a pastel lime green, and you have this gorgeous-looking nail set. It is an easy nail set to achieve at home as no designs need to be added. I would love to pair this nail set with an all-jean outfit.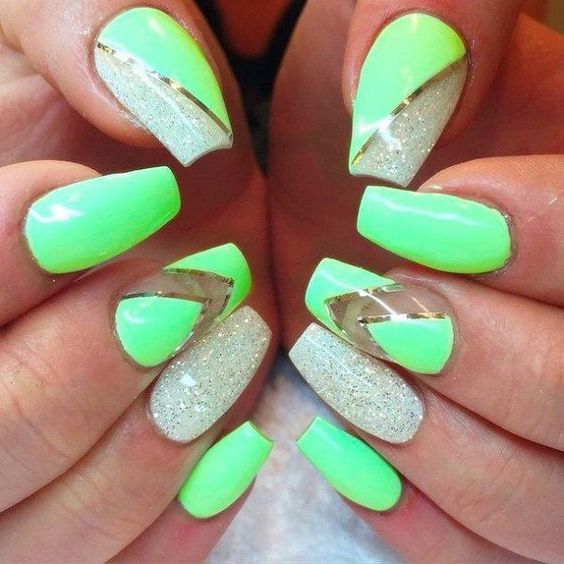 The design is exquisite due to the golden tape lining separating the lime green and sparkly white color. The unique design also includes a window-like design that makes it different from this list.
It looks so elegant that you can wear this on several formal and informal occasions or events.
I'm not particular with any design; however, this design is something I'd wear at a wedding that has a green motif. Absolutely gorgeous! Although this nail design is not that complicated to achieve at home, I'm definitely heading to my nail tech to ensure they are perfect.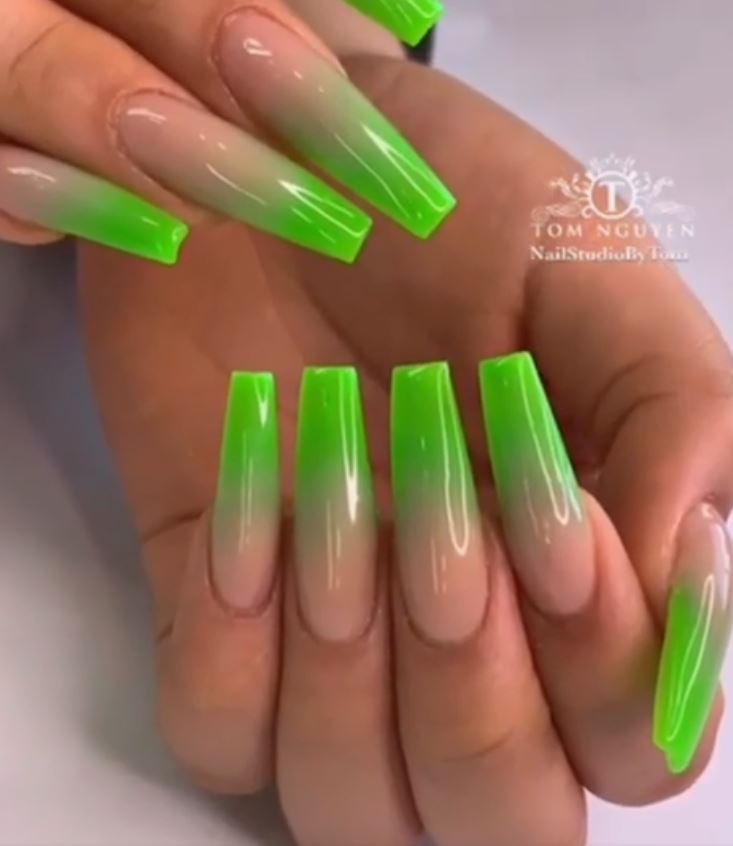 I am so excited to present this design to you! Simply because ombre is my all-time favorite nail design next to french manicures. I don't know why, but achieving such blended colors looks artistic.
This is also one of my most requested designs whenever I visit my nail tech. I would usually have nude and bright-colored ombre. Something about the nude and lime green combination makes the nail set look elegant and stylish. But I would head to my nail tech to achieve the perfect ombre nail look. I would just opt for a shorter length. 
This nail set will look perfect with a white, nude, black, or even red-colored outfit.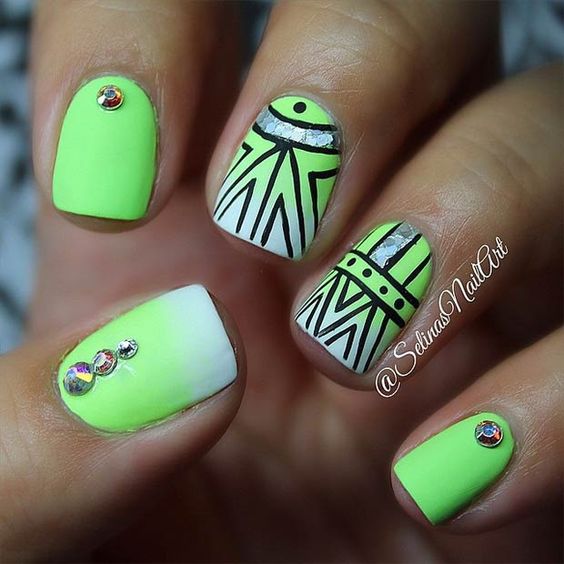 One of the most famous designs in the world is tribal design. It is so rustic and unique that you don't see the same pattern of tribal designs.
The tribal pattern here is unique and beautiful, and the silver nail polish adds more charm to the nail look. The ombre effect of green and white adds fun and fresh elements to the nails when paired with the tribal pattern. Additionally, the studs added more personality to the entirety of the design.
I'm not a fan of this look as it is a bit too over the top. But if you like adding details to your nails and want to try something new. Give this nail set a go. If you are feeling in a creative mood, you can create this set on your own by painting the tribal designs on your nail with black gel. Then add some glitters and rhinestones to make the nail look pop!
Frequently Asked Questions
Question: What Nail Color Goes with Lime Green?
Answer: Most neutral colors go well with lime green. For example, white, black, beige, and sage green go well with lime green. You can even pair lime green with yellow or red. 
Question: What Does Green Nail Polish Mean in Relationships?
Answer:  Green nail polish can mean that you are seeking growth or balance in your relationship. Or that you are happy and comfortable in your relationship. 
Question: What Does the Color Green Mean for Nails?
Answer: If you decide to wear green nails, it means that you are an adventurous person, you like the sense of feeling in charge and feeling powerful, and you like taking risks. 
Question: Is Green a Good Nail Color?
Answer: Yes! The color itself is quite versatile! There are a lot of shades of green. If you like something that would make you look elegant, go for a darker shade of green, like sage or army green. However, if you feel punky and want to party, go for a lighter green; I suggest a neon green if you plan to party at rave parties or attend a concert.
Question: How do you Make Green Nail Polish?
Answer: There are times when you crave a green color for your nails, but you just can't seem to find a green nail color. But you can't wait for Amazon to deliver your nail polish the next day.
You can easily whip up a green nail polish with a yellow and blue polish. Simply combine both colors until you get the color green. Voila! 
Conclusion
As women, we try to relax and destress whenever we can, staring at something relaxing to rest our tired eyes, going to a spa, or getting our nails done. According to research, whenever your eyes feel tired, you only need to stare at a green object for at least 20 seconds and close your eyes for a moment.
Sometimes I wear green nail polish and stare at it when everything in the office becomes chaotic. This is why I have included beautiful and classy green nail designs that you can wear daily whether you are at home or at the office.
My recommendation would be Neon Green Matte Design. The matte top coat makes the green look relaxing to the eye. You can wear this on short or long nails, which is why it is very versatile.
The second design I highly recommend is the Lime Green Ombre Nail Design. The ombre effect gives the overall design an artistic look. The combination of nude and lime green really looks great! If you ever wear long nails to work but want to be fun and cute yet subtle, this design is perfect for you. Ombre designs make you look fun and playful while being classy and elegant, depending on your color combinations.
The last design I would recommend is the Pastel Lime Green Nail Design. Nothing beats simply designed nails. Sometimes we feel so overwhelmed with everything that it makes us so agitated for no particular reason. This design will help you relax. Besides, it's quite economical too, since most nails with plenty of decorations on them could cost a lot of money, designs like this are way cheaper. If you want a little twist, try putting a matte top coat instead of the glossy one; that would surely make a huge difference.
What was your favorite lime green nail look? If you found your favorite lime green nail set go ahead and try out this nail look or grab your phone and book that appointment with your nail technician and watch them file away your dead cells along with your stress. Have fun, ladies!
Continue reading:
Dark Green Nails Inspiration and Ideas: Nail Ideas that Will Add Some Color to your Life
Neon Green Nails Inspiration and Ideas