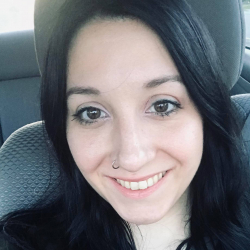 Latest posts by Stephanie Jensen
(see all)
Autumn is my favorite time of the year! Not only does fall feature my favorite holiday, Halloween, but it also welcomes cooler weather and I love the colors of the season.
Because of this, there are so many autumn nails inspiration and ideas. Fall welcomes many bold colors, such as red, green, gold, browns, and more. All of these colors will look amazing on a manicure.
Are you interested in an autumn-inspired manicure? Here are some ideas I have and examples of inspiration I found on Pinterest.
Bottom line up front: My favorite look is the first idea, the alternating neutrals with glitter. I love how minimalist the fall season is and this look perfectly sums up the ideal autumn nail manicure. Plus, neutrals match anything and are perfect for all occasions. I wouldn't do both the brown and purple nudes, I would choose only one and add the glitter as an accent nail. But you can take this look and do whatever you want with it!
Top Picks Up Front
The Best Autumn Nails on Pinterest
Are you ready to see the best autumn nails on Pinterest? Here are some of my favorite looks!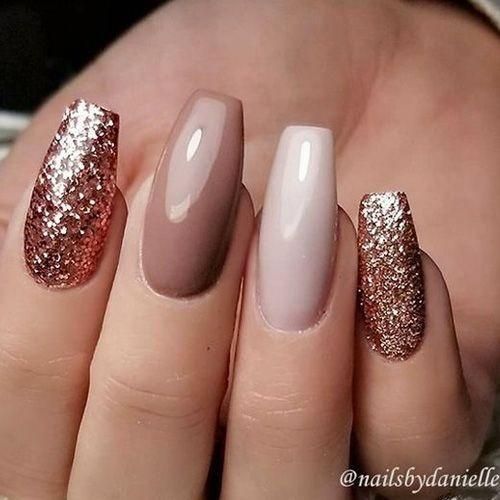 The key to achieving perfect autumn nudes is choosing darker neutrals, but not pure brown. That subtle brown on the left is the perfect example. I love the way that brown looks with the purpley light beige. Complementing these colors are the sparkly nude colors, which give this manicure the oomph it needs.
Do you not want the gold foil? You can find gold nail polish nearly anywhere, you can still do a DIY nail look.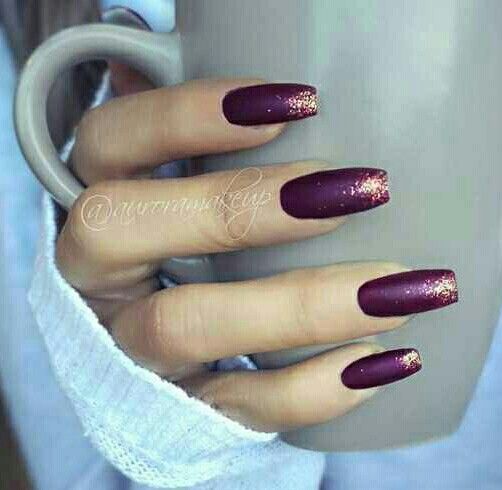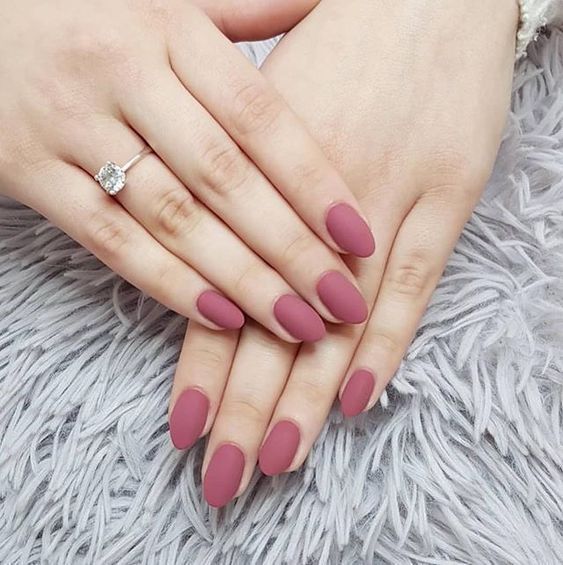 I'll be honest, I'm not the biggest fan of the color pink, but I love the simple and matte look of this manicure. If I were doing this look, I would still mix in different colors. I personally love the way dark purple shades such as plum looks with pink blush.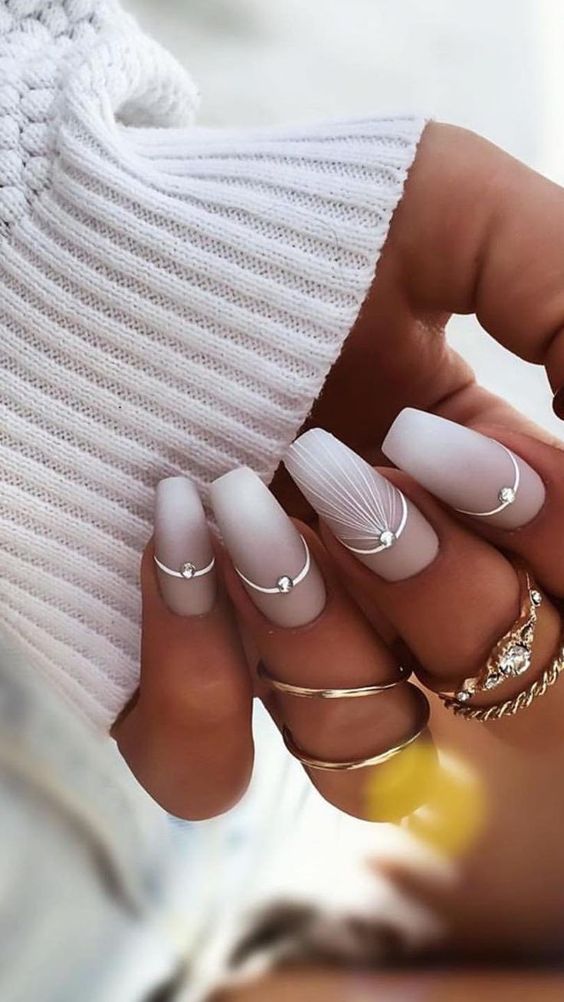 This look immediately caught my eye because I think it's perfect for a wedding! Obviously, the jewels are what make this manicure stand out. The circular ball jewelry is so unique, I've honestly never seen that on a manicure before. The graphic on the accent nail is also stunning. If you look closely, the nails have a slight gradient. That's another reason why I'm including this manicure in the autumn nails list; if you want a white manicure for autumn, I suggest choosing an off-white color so your nails don't look too wintery. For this look, the gradient offers something a little more eye-catching than stark white nails.
If you want an alternative color, such as for a DIY look, I suggest a yellow-based white that is more on the nude spectrum. You can also do this look but add gold jewelry instead or another cool design.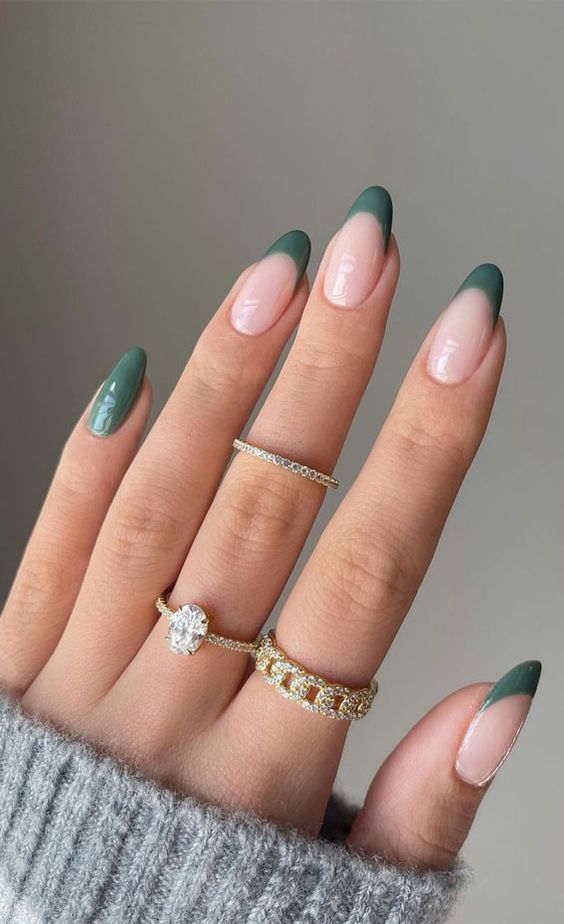 If I were getting this manicure, I would go a little darker and opt for a darker green, such as hunter green. I do think the all-green pinky nail is cute, but I would also do the pinky in the French tip or choose another nail for the accent nail.
If you don't like the green look, I suggest choosing a classic French manicure or keep up with the moodiness of the season, opting for the French tips in navy or even black. This is a great way to use the darker colors of the season if you don't want a witchy manicure.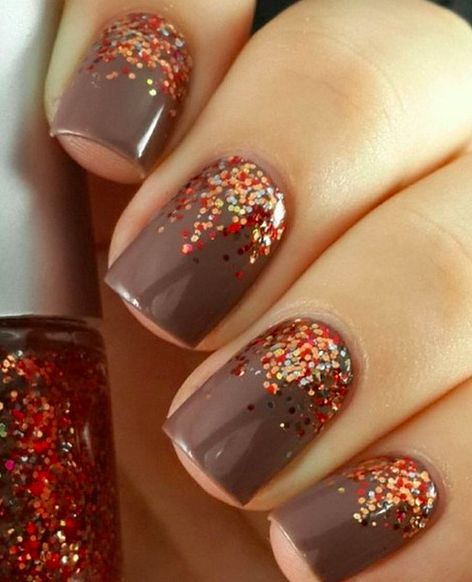 Glitter and sparkles work all year, including during the autumn season, and this look totally proves it. I wish the person who posted this image included the nail polish brand because I've never seen this before. If you can't find this nail polish at your local beauty store, I suggest showing this image to a nail salon and seeing if they have a similar glitter color.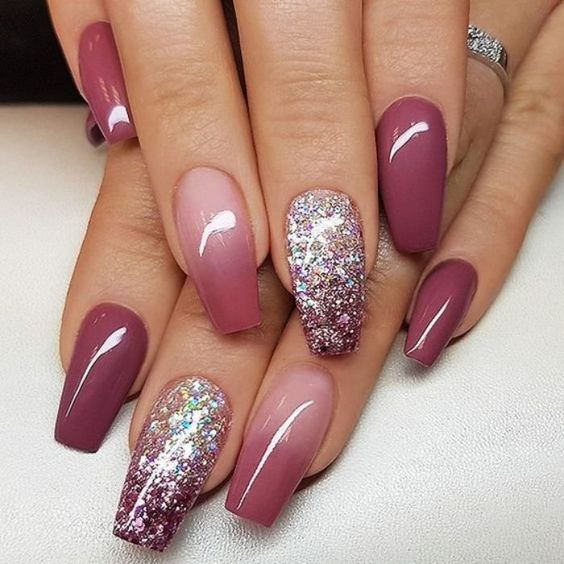 I absolutely love this blush ombre going on. Even though I'm not the biggest fan of pink, I would totally do this look, though I would do the glitter accent nail in more of a silver glitter to tone down the pink.
If you want to do a different autumn ombre, I suggest doing so in different shades of brown. You can also get creative and do a cider ombre (light orange to dark rusty orange) or an olive green ombre.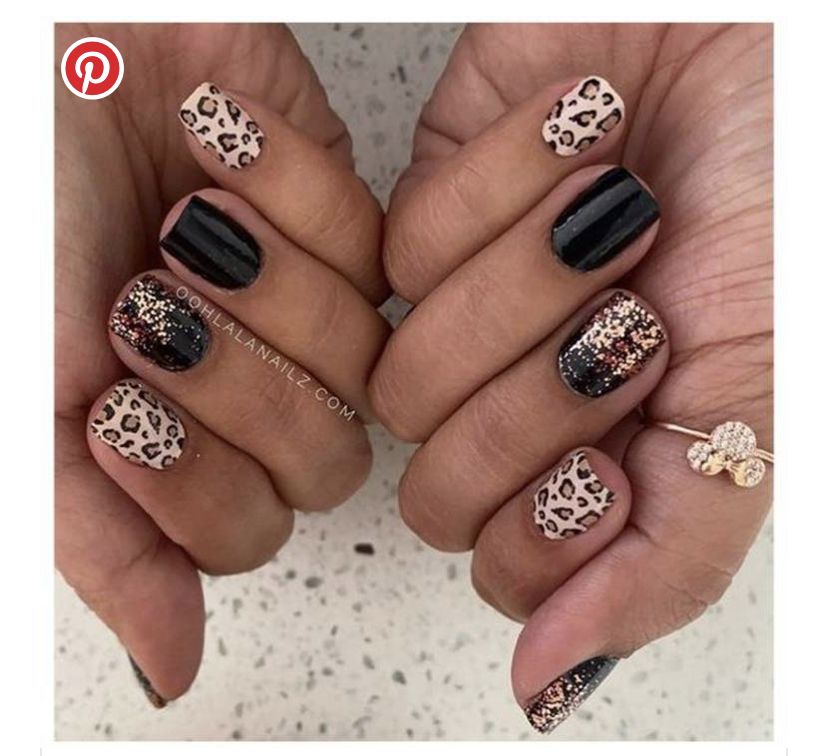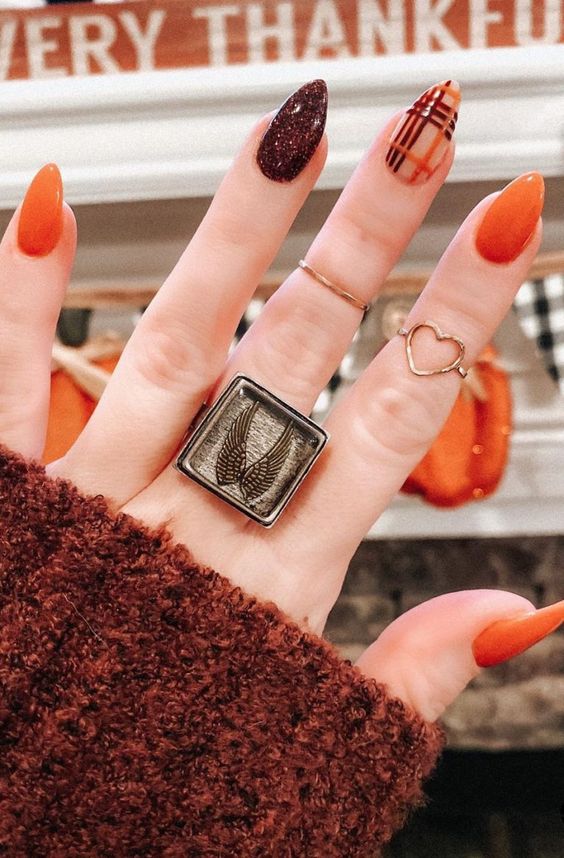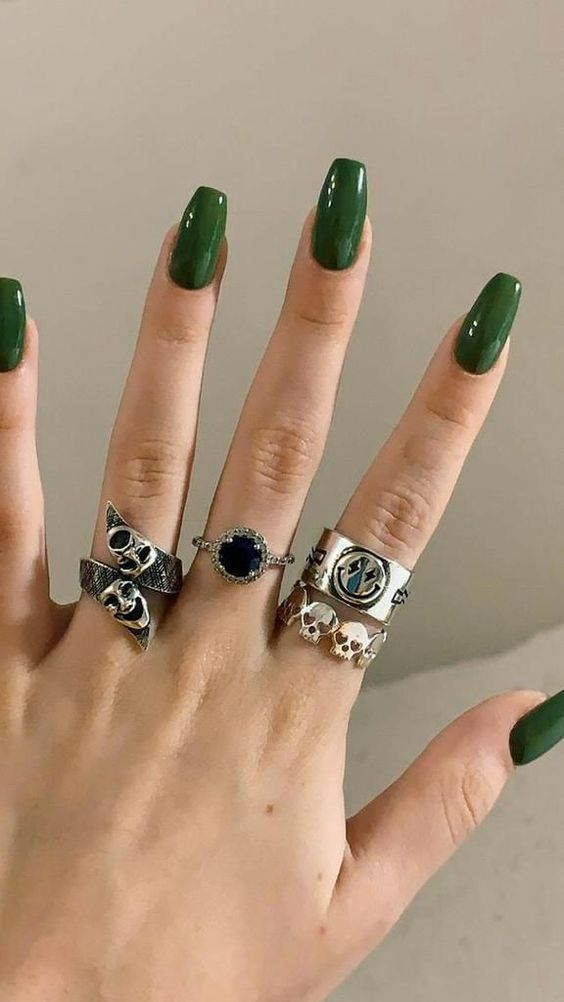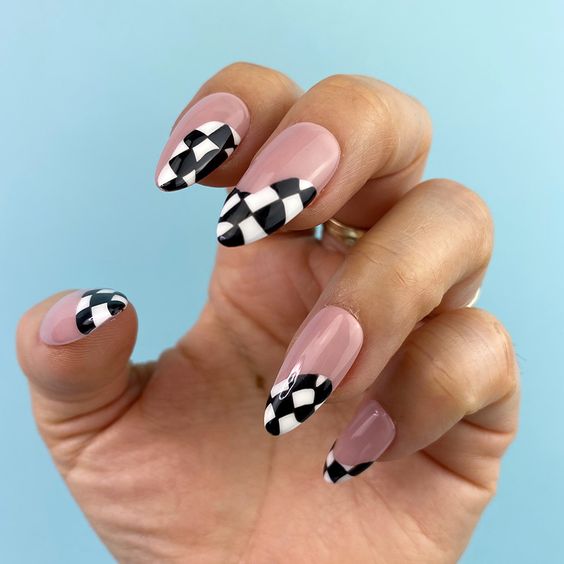 If you want something different than black and white checker print, I suggest doing this look in red instead. Red is a cozy color that is perfect for the season.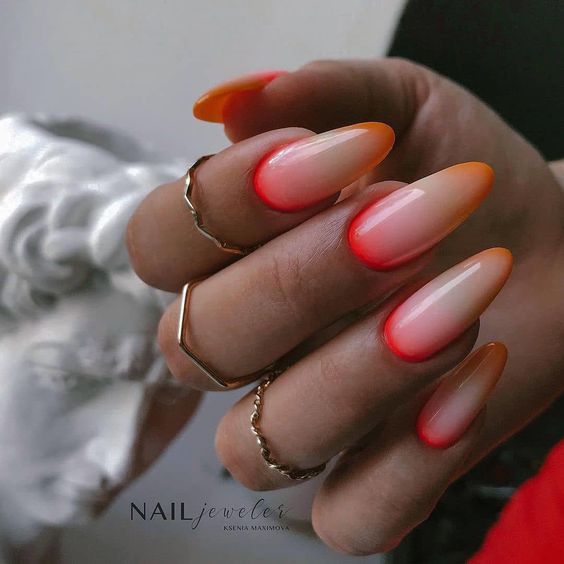 While these nails are acrylic and are more than likely done by a professional, I think you can do this look DIY. Paint your nails in that pretty off-white color. Then, paint a line of red on the bottom and orange on top. Take a brush and blend in the three colors for the ombre effect.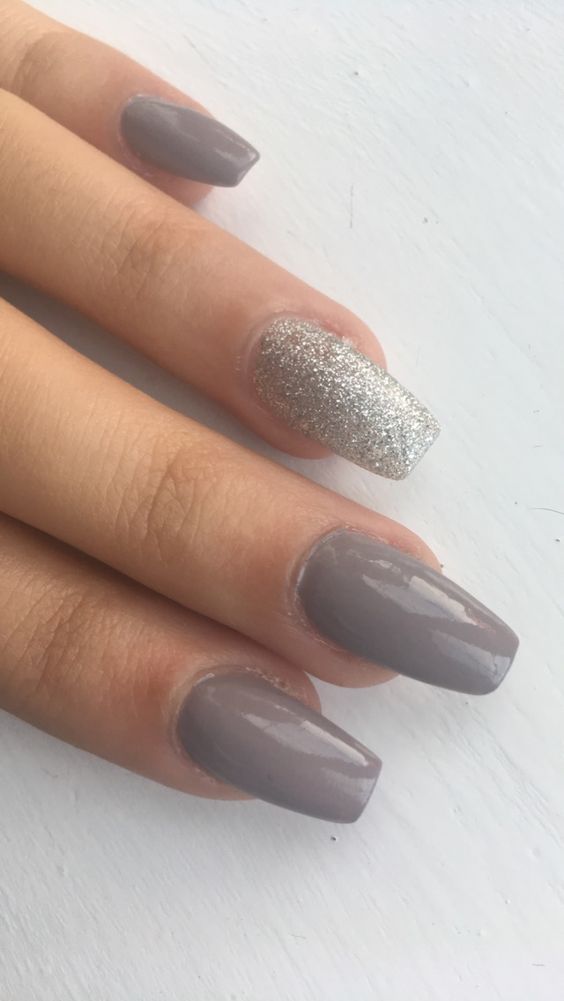 I also like how the model's nails aren't terribly long. For a look like this, I suggest keeping your nails short and rounded. You can also extend this look to the winter and I see this manicure working really well at holiday parties!
16. Neutral Swirl Autumn Nails
17. Cherry Foil Leaf Accent Autumn Nails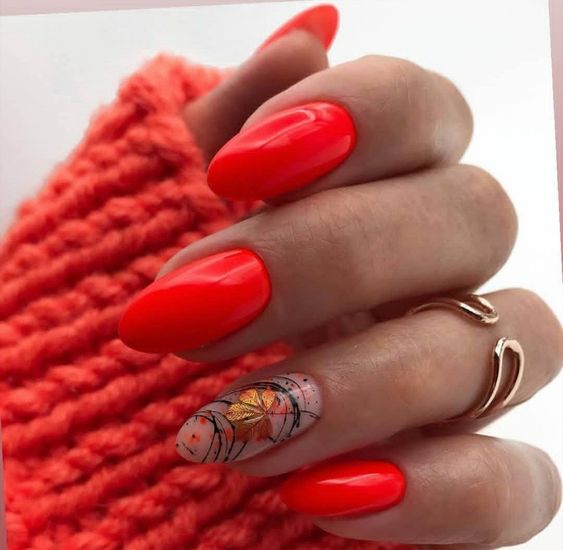 But let's focus on the accent nail, which is why I selected this look. If these were my nails, I would do my accent nail in a similar neutral color with the foil leaf, but without the black lines. The black lines make the accent nail too loud and take away from that precious foil leaf.
I do think the model's nail length is perfect. They're long but not too long, so they don't take anything away from this manicure.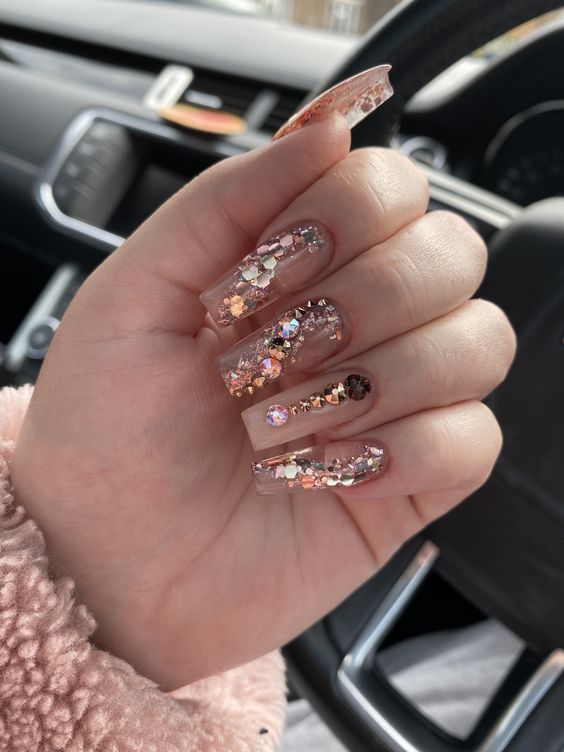 If you want to do a crystal manicure but also want to ensure it's appropriate for autumn, I suggest this look. I love these nails because the crystals are on the neutral side; they're not full silver or full gold, that perfect in-between color. However, this look will still "wow" anyone! I also like how the model's nails are a natural color. They don't take anything away from the crystals so the nails still look glamorous.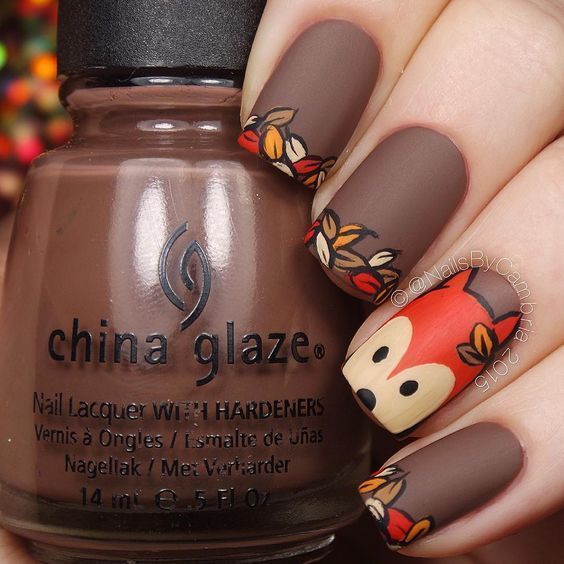 These nails are SO cute! I'm in love with the little fox detail. I'm honestly not sure how this fox was applied. My assumption is its special nail art but it does look painted. I think it's so cool how there are those who treat their nails as if they were canvases.
Plus, the tips of the fingers have cute fall leaves. The mix of colors here is perfect for autumn; the leaves are a combination of white, olive, red, and gold. Plus, I love how the artist doesn't make the leaf design too extravagant so the nails don't look too busy. The nails are painted with a beautiful shade of deep brown that has a matte finish.
FAQs
Question: What are the Best-shaped Nails for an Autumn Manicure?
Answer: I like the minimalistic look of autumn nails so I wouldn't suggest crazy-long acrylic nails. Keep your nails short, focusing on your natural nails. If you want your nails to have a more striking appearance, file your nails so they're square-shaped. If you're doing your nails DIY, rounded nails are the easiest to achieve.
This doesn't mean I'm not saying don't do acrylic nails. If you do acrylic or gel, keep the look subtle. Short and either square, almond, or rounded will look amazing for the season.
Question: Do we Know why Nail Trends for Fall 2022?
Answer: I'm only writing this in summer 2022, so I'm not too sure yet. From what I'm reading, we do expect the coffin nail trend to extend to the next season. Some other classic trends, such as nude nails, will also be prevalent this fall. Another major trend will be blue nails. I recommended the color navy on this list, so I suggest sticking with that shade. I'm shocked by some of the other predictions, such as chrome nails and rhinestones.
Question: What are the Best Fall Colors?
Answer: Here are my recommendations for fall colors:
Mustard
Moss green
Royal blue
Rich brown
Neutrals
Earthy colors
Blood red for Halloween
You can also mess around with these colors to suit your preference. For example, I hate mustard yellow. If I want a manicure in that same category, I would choose gold as opposed to mustard yellow.
Conclusion
Autumn is the best time of the year! We're only a month into summer and I'm ready for fall. These manicures are making me really excited for the upcoming fall season!
Out of all of these looks, the nude nails are my favorites. I'm very specific about nudes — I prefer brown nudes over pink nudes. But I think nude and neutral colors look best during the fall. Plus, you can extend this look to the wintertime or get a summer nude manicure that can last until fall. I love the first look, but I would get that brown-based or purple nude alone, not alternating, and add one of the glitter polishes as an accent nail. Still, I love how that look is so creative yet you can easily do this look DIY.
I hope you love all of these autumn nail ideas and I was able to recommend your next manicure for the fall season!
Continue reading: