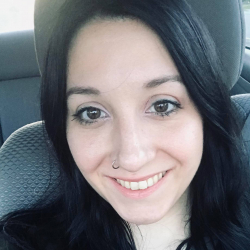 Latest posts by Stephanie Jensen
(see all)
Acrylic nails are such a great trend! Acrylic nails are made out of a combination of powder and liquid monomers. The result is a dough-like substance that molds to your nails, hardening to produce that stunning nail look. Acrylic nails cut out the need to paint your own nails, the polish lasts longer, and they're perfect for special events.
But if you want to take things an extra step, get black acrylic nails. Black is a striking color and black nail polish tells the world you're not afraid to be a leader or the center of attention. Not everyone can pull off black nail polish — if you're willing to get this head-turning color then you have confidence.
Black acrylic nails are one of my favorite looks. I've had black acrylic nails a ton of times. They're so gothy yet chic and are so easy to do — just take your favorite bottle of black nail polish to your nail tech. I've also had different black acrylic nail looks and added accents such as glitter to mine. I love how black nails are so versatile!
If you made the decision to get black acrylic nails, you'll want to make sure you get the right look. Read our black acrylic nails inspiration and ideas article for some advice, recommendations, and ideas for your next black acrylic nail look!
Bottom line up front: My favorite look is the black ombre acrylic nails. I love how the black fades into a natural color. It's such an extravagant look yet it's so classy. I would do this look if you're attending a formal event, such as prom or a corporate party. I also love how the ombre is what stands out here — the model didn't include any glitter or crystals to take away from the ombre.
My Top Picks
How to Maintain Your Black Acrylic Nails
If you made the decision to get black acrylic nails, you'll need to know how to maintain them. First and foremost, never bite your acrylic nails. Avoid eating certain food where you have to eat with your hands. The food can get stuck in your fingernails. This also means you should avoid peeling fruit with your fingers.
You should still always clean your acrylic nails every night. I'm reading different things online on how to do this. You can use a cotton swab and alcohol. I'm also reading you can use a small brush with some soap and water for a gentler clean.
Apply cuticle oil every night before you go to bed. This prevents the nail from breaking, lifting, and developing bubbles. Moisturize your nails throughout the day with hand cream to keep your nails and skin healthy.
If you went to a salon for your acrylic nails, avoid doing anything to them. Don't try to cut them down and definitely don't remove them DIY. If you want the nails shorter, longer, or you no longer want your acrylic nails, go back to your nail technician.
How I Chose These Black Acrylic Nails
First, I looked for more than black acrylic nails. I wanted to find some more unique looks. I understand that not everyone is willing to do full black acrylic nails, so I looked for unique designs, color combinations, glitter, and rhinestones. All of these details can make your black acrylic nails look chic  as opposed to witchy. Some of my favorite designs are ombre and animal print, so I looked for those specific designs.
Black nails are very Halloweeny, so I looked for ways you can wear black acrylic nails all year-round. For example, I found some really cute black and pink Valentine's Day nails that I think you will love!
Of course, I also chose some of my favorite classic black acrylic nails. I did focus on different nail shapes and lengths so you still have a little bit of variety.
Black Acrylic Nail Ideas That I Love
While plain black nails are always a classic, there are so many black acrylic nail looks you can find around the web — especially on Instagram and Pinterest. Here are some of my favorite looks!
Glitter and Glitz Black Acrylic Nails
These nails have a little bit of everything! One nail has black and white ombre French tips, another is black with white flames, another is black glitter, one has black rhinestones, and the final finger has a black rhinestone bear. This is a great look if you really want to show off your nails. I especially think the rhinestones stand out; rhinestones add subtle decoration to a black manicure, dazzling even the darkest of manicures. This look is absolutely amazing but you should definitely go to a nail tech for this look. Credit: @enchantedclaws.
Black Ombre Nails
Black Acrylic Fall Nails

If you're looking for the perfect fall nails, then try a look like these! All of the nails are matte black acrylic, except for one accent nail that features a fall leaf foil. One nail also has half of the same foil fall leaf design. The nails are finished with gold rhinestones at the bottom. These coffin nails are long so they fit all of these fun accents. I definitely recommend getting this look by a professional. Credit: @france_nailz.
Classic Black Acrylic Nails

Don't need all the glitz and glamour? I personally think classic black acrylic nails look the best. These particular nails look magical since they use the perfect glossy black polish. The nails are also long and coffin-shaped, so they look super chic. Credit: @mrc_nails.
Black Acrylic Claw Nails

As an alternative to the last entry, you can opt for stiletto nails! I think these nails look like claws so they look super witchy. Stiletto nails are also super trendy. I had this nail shape for years and loved them! Like the previous entry, these nails are that perfect glossy black color. These nails are perfect for Halloween or if you just want a chic goth look. Credit: @polish_and_glow.
Black Acrylic Nails With Multi-Colored Rhinestones

Who said your black acrylic nails have to look witchy? These nails scream fun while also playing with black polish. Most nails have black French tips but some have black alligator print. A few nails feature multi-colored rhinestones. I also like how all the nails are long, but some are stiletto-shaped and others are coffin.
These nails are perfect for a party or if you just want to add some bling to your next black acrylic nail look! Credit: @mayas.nail.lab.
Black and Nude Acrylic Nails

These nails are perfect if you want to have black acrylic nails but also want something on the neutral side. I think the nude colors offset the black — they don't look as dark and are more feminine. I also think these nails are perfect for summer!
I especially love how the model chose nude to match with black. Nude is a color that has been in style lately. It's usually a paler shade of brown but can also encompass various shades of brown. Nude and black is a chic color combination.
If it were me doing this manicure, I would have the tech do thicker black on the French tips. But I do love these nails. The stiletto nail shape is so stylish and I love the black accent nail, especially the rhinestones on the bottom.
Take a look at this post as the perfect example! I love the different sizes and shapes of these jewels and the different placements of the gems. I especially love the gems that surround the French tip. If it were me getting this manicure, I wouldn't get my nails done so long. I do love the coffin-style of the nails, especially the way it looks with the black French tips.
That and pink and black is such a stylish color combination. There are so many shades of pink you can use — you don't have to use this baby pink color that the model used. Magenta is a popular color to pair with black but blush pink and black are also trending.
Is this look too plain? For a modern modern look, add rhinestones or glitter in either gold or silver to the French tips.
FAQs
Question: Can I do DIY Black Acrylic Nails?
Answer: Unless you use black press-on nails, I wouldn't recommend it. Acrylic nails require special expertise. If you don't apply them correctly, you risk infection and nail damage.
Question: Are Black Acrylic Nails Trending?
Answer: I'm writing this article in May, so I would say not now. Black nails are more of a winter trend. However, some people (such as me) think black nail polish is a year-round color. So it really depends on you.
Question: How do I Mix Different Nail Colors with Black?
Answer: First, know which colors you want to mix with black. Second, take an empty nail polish bottle and pour a little bit of every color into that bottle. Don't shake the bottle! Dip the brush in and paint your nails as normal. This should have a marbled effect.
Question: Should I Wear Matte or Glossy Black Acrylic Nails?
Answer: Matte nails are the latest in nail fashion. With the right topcoat, you can achieve any matte nail look. But should you do a black matte acrylic nail or stick to glossy polish?
I suggest trying this trend, especially for a special event! Many people prefer matte nails because the polish lasts longer and maintains its crisp look. However, glossy polish is more versatile. Plus, you don't need a separate topcoat for gloss. At the end of the day, this decision is up to you.
Question: Should I Wear Short or Long Acrylic Nails?
Answer: Short nails are simpler and look equally amazing with black polish. I personally think they look cleaner compared to long nails. You can still achieve a variety of effects and designs with short acrylic nails. While long nails are stylish, many people can't handle them. I had long acrylic nails for a couple of years at one point, and even something as simple as opening a soda can was difficult.
Consider this when choosing the length of your acrylic nails.
Question: What Are The Best Shapes for Black Acrylic Nails?
Answer: One of the best parts about getting acrylic nails is the variety of shape options you have! I personally think black looks best on coffin and almond nails.
Coffin. More young women are getting coffin nails. This nail look is long and square-shaped, but still thin — just like a coffin. I personally think coffin nails are elegant; even if you were to get full striking black nails, they will still look feminine. Coffin nails are also long enough to add art and other detailings.
Almond. Almond-shaped nails are long and rounded, just like the nut. The curved shape balances out the sharpness of black nail polish, making black nail polish more elegant.
Question: Are there Alternatives to Black Acrylic Nails?
Answer: Do you love black nail polish but aren't sure if you want acrylic nails? First, let's discuss why you may not want acrylic nails. While artificial nails won't do extensive harm to natural nails, some problems can arise when you get fake nails. Infection is one of the most common problems, especially if you don't go to a good nail technician.
So, is there an alternative to acrylic nails? If you want a professional treatment, I suggest trying gel nails. Or, you can paint your nails black over your natural nails.
Gel. Like acrylic nails, gel nails are long-lasting and you can do so many styles with this look. The best way to get gel nails is by going to a nail tech.
Natural. Both gel and acrylic nails are expensive. You have to go to a professional to get that look and need to go back frequently for fills and touch-ups. Both also come with risks.
That's why you may want to paint over your natural nails. While you're limited on style options (assuming you're not the best nail artist), this method is cheaper and comes with fewer risks.
Painting your natural nails also doesn't last as long as acrylics or gel. But there are ways to extend your DIY black polish and make your manicure look chic. Always apply a base and topcoat to your nails. Paint at least two coats, ideally three. Dip a Q-tip in nail polish remover to wipe away any mistakes. Always apply cuticle oil every night before bed.
Bottom Line
Acrylic nails are always trending. For many, black nail polish is the perfect year-round look. Black nail polish is edgy yet stylish, perfect for a sexy goth look or just something different.
My favorite black acrylic nail look here is the ombre. I just love ombres! I think they're so unique and eye-catching. There are so many ways to rock a black ombre, but I think the model in the second listing nailed the look perfectly. The nail shape and size were also perfect, and there weren't any glitters or crystals or anything to make the nails look crazy. It's such a classy yet eye-popping look, perfect if you want something different aside from traditional black nails.
There are still so many ways to rock a black acrylic nail look. Try starting with classic glossy black on acrylic nails. If you want a more unique twist, you can mix black with other colors, add different art and designs, and more.
If you're still not sure what to do, see what nail looks are in style and how you can apply them to a black manicure. I hope my black acrylic nail inspiration article helped plan your next black manicure!
Continue reading:
Black Coffin Nails Inspiration and Ideas: A Guide to Dominating the World With Your New Nails
Red and Black Nails Inspiration and Ideas
Dark Purple Nails Inspiration and Ideas: My Favorite Dark Purple Nail Designs