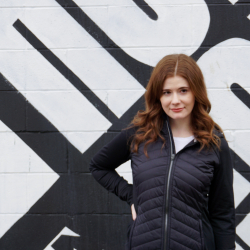 Latest posts by Kelsey Purcell
(see all)
One unexpected side effect of having an addiction to nail polish and nail art is that your collection of nail colours, tools, and odds and ends will accumulate quickly. Finding the best nail polish organizers becomes a top priority.
From overflowing baskets, plastic bins, cloth bags, and more, I've stored nail polish in some creative and questionable ways, but there's nothing worse than wanting to reach for a specific polish and not being able to find it!
Using my unique blend of love of beauty and supreme organizational skills, I'll offer up some nail polish organization options for any space!
How to Organize Your Nail Polish
I'm a complete organization junkie! I love Bed Bath & Beyond, Ikea, and home goods stores for all the storage and organization options out there. From bins, trays, shelves, and baskets, it's so satisfying to find a home for all your things.
The struggle with organizing nail polish is that the bottles are kind of awkward. I'll be the first to admit before I found the best storage and organization system, my collection lived in a lululemon bag – nail polish, tools, and all. But you need to treat your nail polish with care – the last thing you want is to break a bottle in improper storage! Nail polish can stain and cause damage and discolouration to so many different types of surfaces, so organization is the best way to prevent accidents.
Nail polish organization can be fun! Just like organizing your shoe racks and bookshelves, there are so many different ways to sort your polish to make it practical but satisfying to look at! Here are some of my favourite ways to organize my nail polish.
Organize Nail Polish By Colour
Colour sorting is so satisfying! Whether you group colour families or create a spectrum of polish shades like the rainbow, it's incredibly aesthetically pleasing. Not only that, but it's so much easier to find your desired colour if you're sorting it this way – since you likely choose your nail look based on colour, it's the best way to see all your options in one place. 
Organize Nail Polish By Brand
Mixing and matching non-uniform bottles can sometimes get to me – sorting your collection by nail polish brands can help make things look more consistent! Keeping all my Essie, OPI, Deborah Lippmann, Zoya, or Sally Hansen separate eases my brain and makes the whole collection prettier to look at. Since bottle shape and size are a recognizable part of the nail polish's branding, organizing by the company may be the best option for you if you have an extensive collection.
Organize Nail Polish By Favourites
As much as you may try to be equal, there are always a couple of bottles you use more than others. Keeping your most used shades, topcoats, and basecoat close at hand and separate from the rest of your collection can help you when you're in a rush – it's beneficial if you're low on organization space and want to show off your most-used bottles.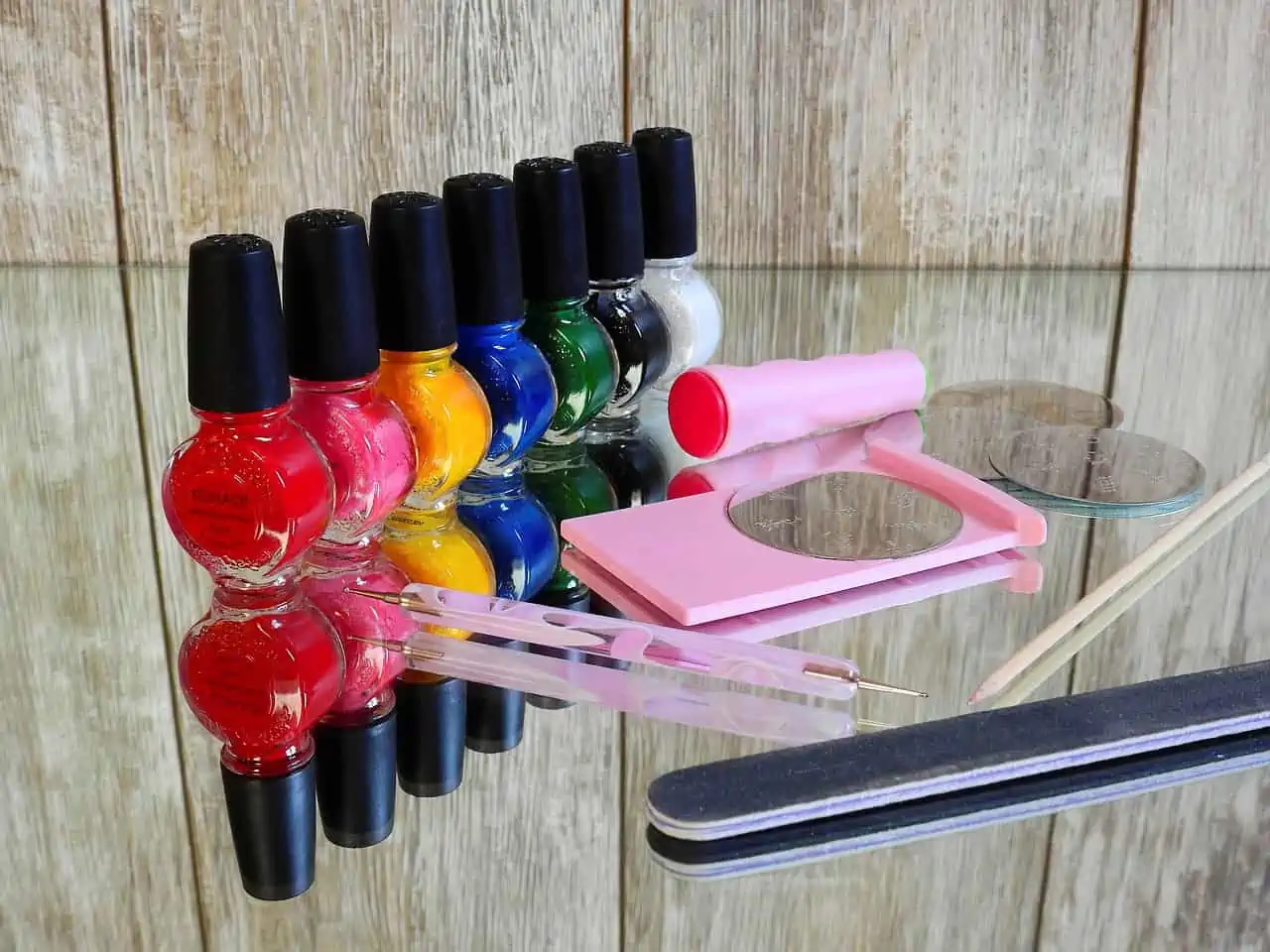 Bottom Line Up Front
My top choice for travel is the On-the-Go Nail Polish Case that fits all the basics. For my at-home display, I love the Minimalist Plastic Nail Polish Stand to show off my most-loved bottles, while everything else gets organized in a basic Plastic Nail Polish Organizer.
Criteria
Everyone's organization system is different, so I wanted to compile a list that has something for everyone. No matter how big or small your nail polish collection is, there's a solution on this list to help you reduce clutter and make your polishes easy to track down when you need them.
Travel-Friendly
There are options on this list to help you organize all your nail polishes when you're carrying them with you.
Basic Storage
If you want something simple that can keep your collection in order and out of sight, there are some basic storage options on this list!
Display Organizers
Want to show off your collection? Display organizers are like a beauty lover's bookshelf – the best place to show off your favourite shades, aesthetically and colour-coded.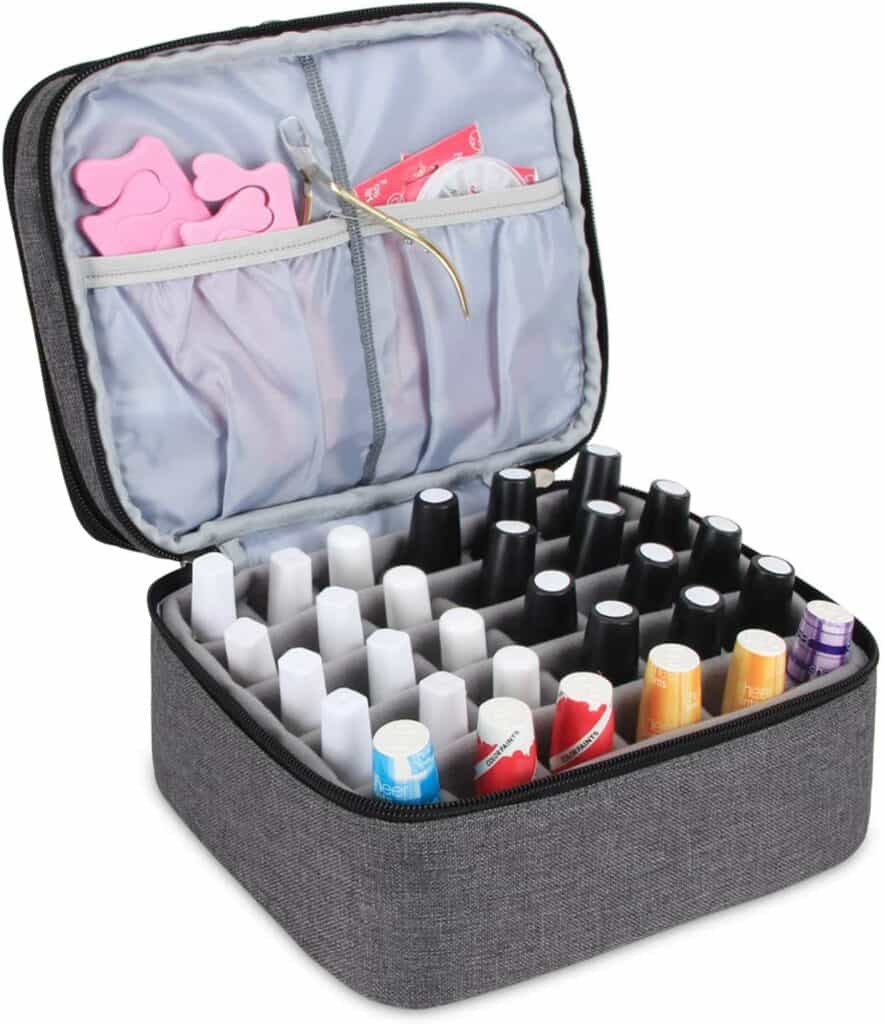 Perfectly portable, this nail polish carrying case is compact and cushions the nail polish bottles safely. With tons of outside pockets and sleeves to store accessories, this case isn't just for your polish but for nail files, dotting tools, tapes, brushes, clippers and anything under the sun! My favourite detail about this option is the different compartments. The top compartment is a flex space to hold odds and ends, while the bottom case has space for your nail polish bottles.
Pros
It holds up to 30 nail polish bottles with flexible dividers to accommodate your different-sized bottles.
This case is made of durable nylon that's durable and easy to wipe down and clean.
Easy to pack in luggage measuring only 9 inches by 7.5 inches by 5 inches and is available in various colours and patterns.
Cons
You'll probably need something a little bit bigger if you have an extensive nail polish collection, but this is a great option to rotate your favourites to grab-and-go.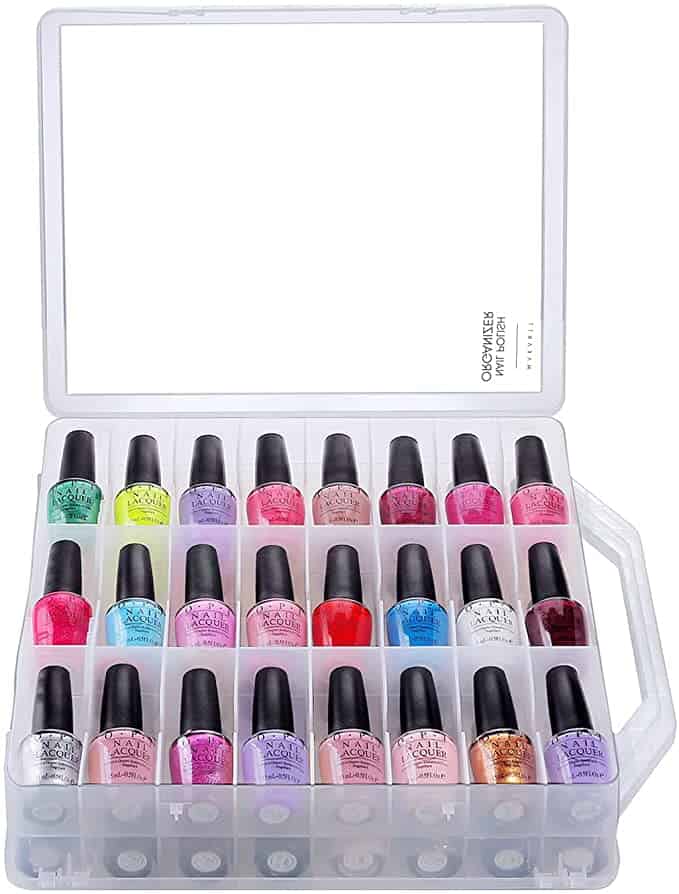 This briefcase-like organizer is a nail polish collector's dream for a permanent arrangement system! With double-sided doors and transparent access to any of your polishes, it's the easiest way to see your whole collection and access any shades that draw your eye. It fits nicely into tight spaces, which is appealing if storage space is a luxury you need to maximize.
Pros
Made of sturdy plastic that works as a window to see every colour you have at a glance.
You can adjust the height of the dividers to fit most nail polish bottles.
This organizer holds up to 48 bottles of nail polish.
Cons
Other nail accessories, like clippers, nail files, and design tools, don't have a home in this organizer, so you'll need to keep those various items separate.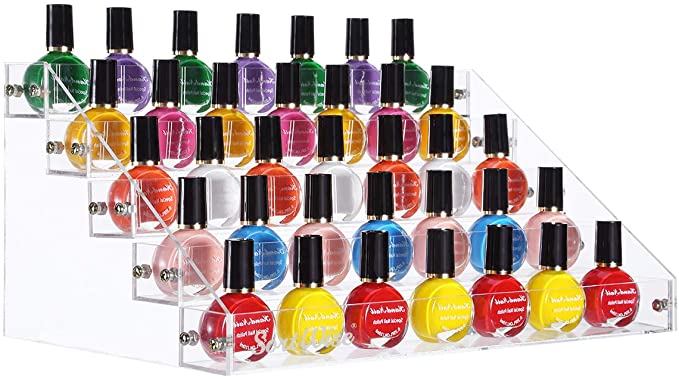 Storage and organization doesn't have to be out of sight. Tiered shelves are the perfect way to display your colourful nail polishes while keeping everything neat and clutter-free! This five-level acrylic stand uses stainless steel screws to create a stable shelf for your polishes to live.
Pros
This stand is easy to put together and simple to keep clean and dust-free.
With a shelf width of 1.48 inches, this stand perfectly holds up to 45 bottles of your go-to nail polishes.
The sleek and professional stand will fit any decor and is incredibly simple to assemble.
Cons
Measuring 11.62 inches by 8.25 inches by 5.87 inches, this stand can take up a lot of room, so if you're low on surface space, this won't be the best option for you.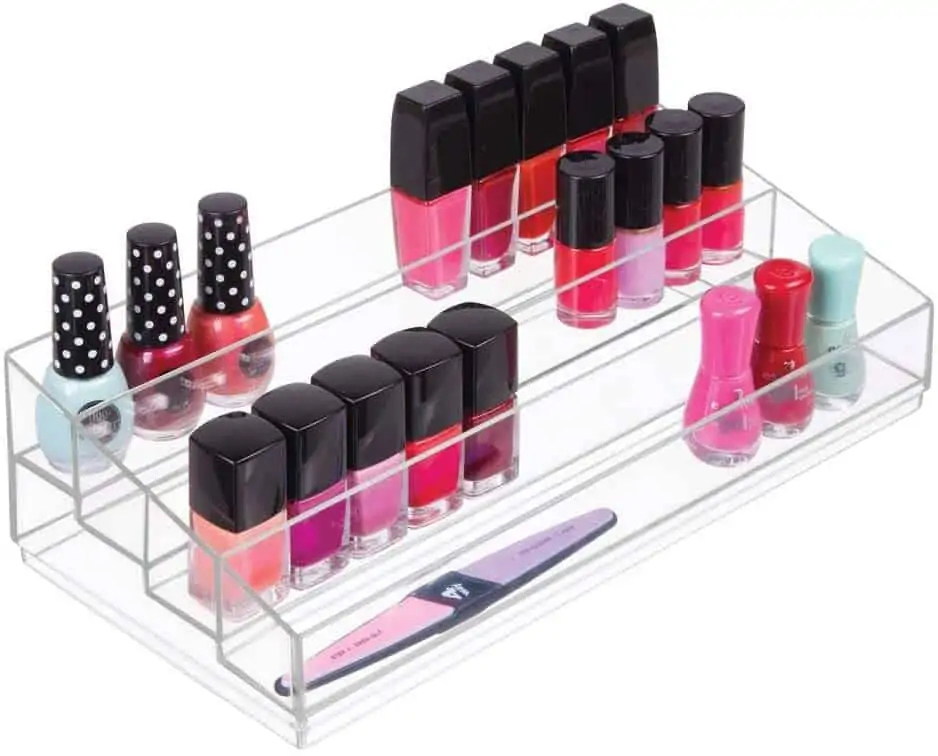 For the beginner collections or for those who want to feature a small selection of your favourite nail polishes, this minimalist tiered tray is a simple storage solution where your bottles are still completely visible. Its compact size is perfect for your vanity or countertop to add some colourful decoration and clean up the clutter. Made with thick acrylic that's easy to clean, this organizer is incredibly low-maintenance.
Pros
Perfect for smaller collections, tighter spaces, and highlighting a few of your go-to colours.
Highly adaptable, so if you grow out of this organizer, you can repurpose it for something else.
Small and sweet with dimensions of 13 inches by 6.5 inches by 3.46 inches.
Cons
There's no place to store all of your nail accessories without sacrificing space for polish bottles, so it's important to consider how many tools you need to tuck away.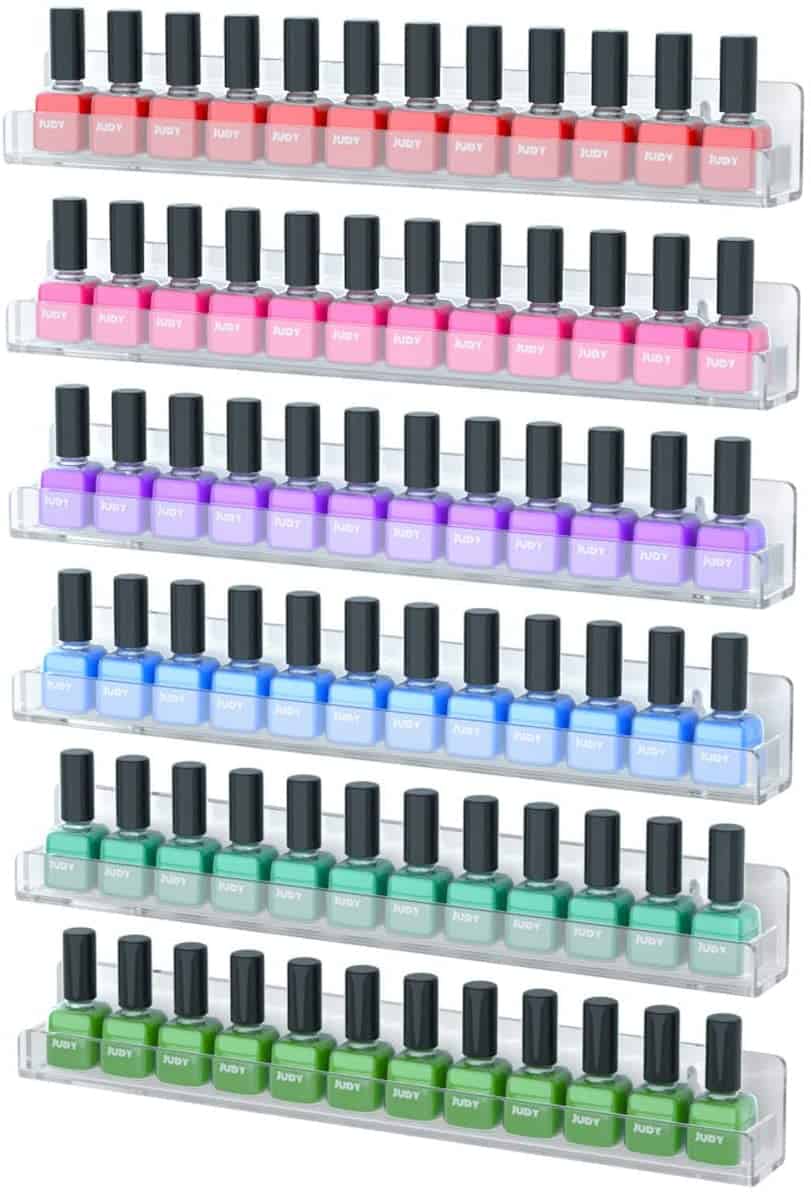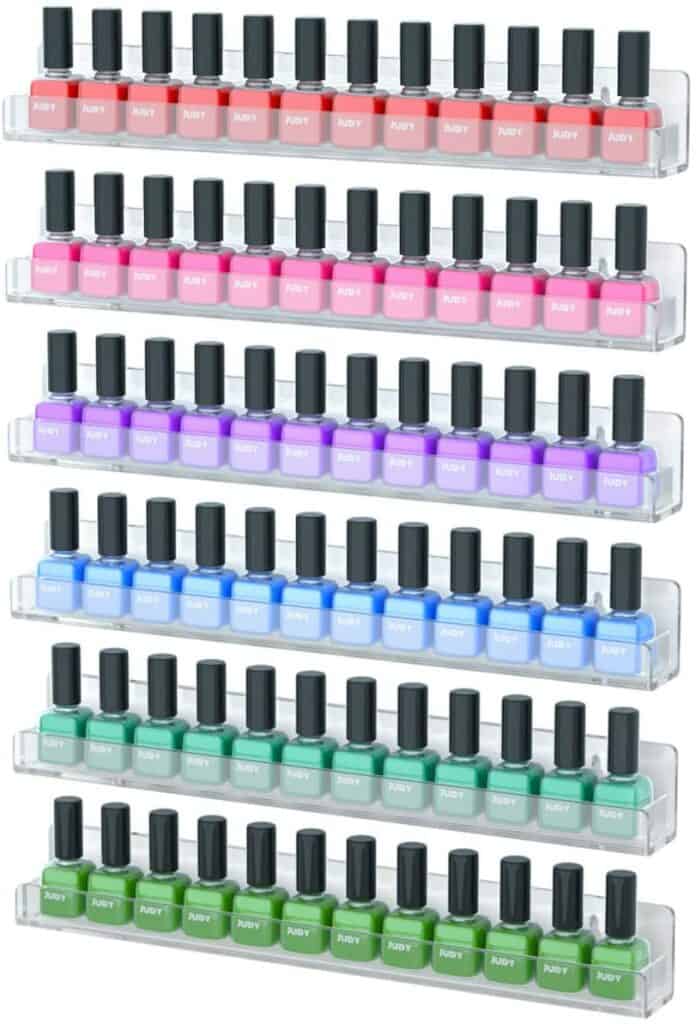 If you want total salon vibes, consider making an accent wall out of your nail polish collection. These wall-mounted shelves double as storage and art – the acrylic is transparent so you can see all your polish at a glance and its sturdy construction and anti-slip ends make sure there are no accidental falling bottles. This wall-mounted shelf comes with six tiers to create your own version of a salon-worthy focal point! Just be sure to keep your shelves out of direct sunlight.
Pros
It's an incredibly affordable version of more intricate wall-mounted systems.
Each shelf is 15 inches in length and can hold anywhere between 10 and 15 bottles of polish.
Because the shelves are unattached from each other, you can use them all, use just a few, split up the set, or space them far apart – there is a huge opportunity for creativity.
Cons
You're going to be required to screw into the wall to secure the shelf, so sadly, renters may have difficulty with wall-mounted organizing.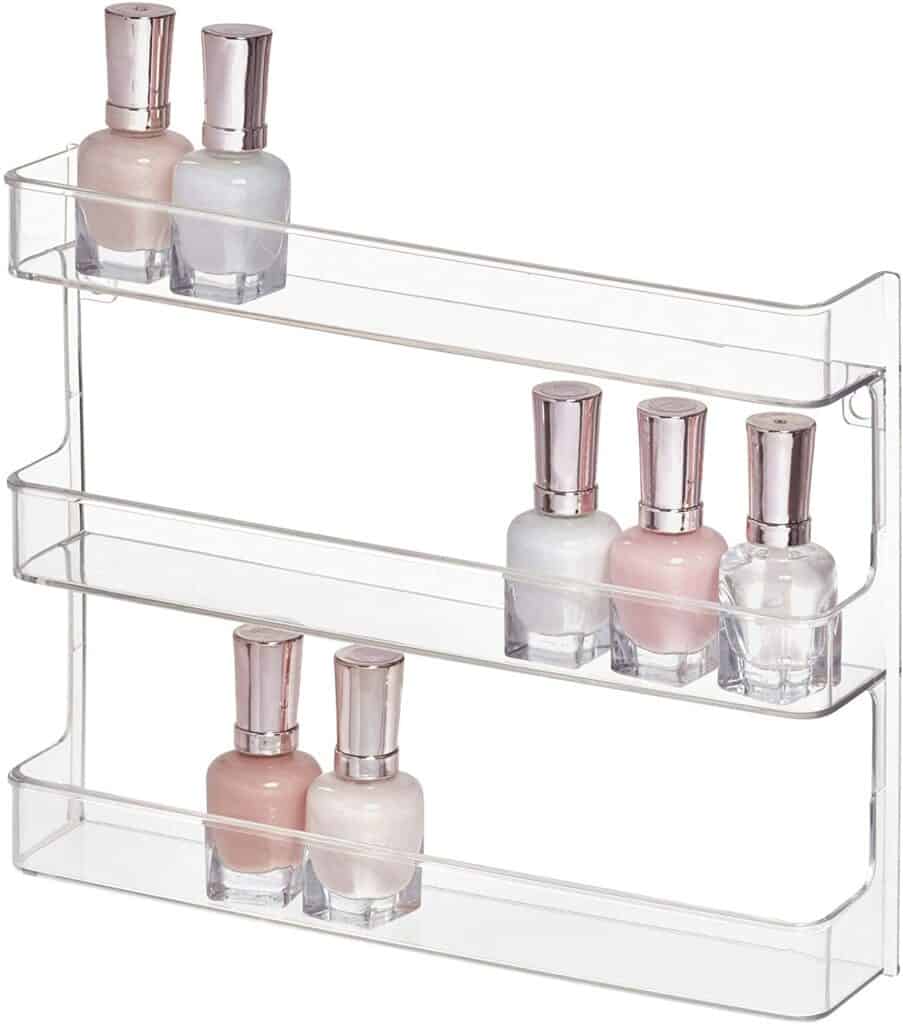 Another wall-mounted option, this three-tier shelf is an affordable and chic way to get nail polish bottles off of your surfaces. These 11-inch shelves can hold your most-loved colours, so they're at hand next time you refresh your manicure, but the bulk of your collection will likely have to be organized elsewhere.
Pros
An affordable, miniature version of the wall-mounted look, this is an elegant, budget-friendly way to use your wall for storage.
Easy to mount near your vanity or anywhere you need to reach.
Clear plastic is easy to clean, fits into any decor, and keeps all your stunning colours visible for you to enjoy.
Cons
While it's adorable, for long-term storage of a growing collection, this won't be an effective solution, but a beautiful, aesthetic look!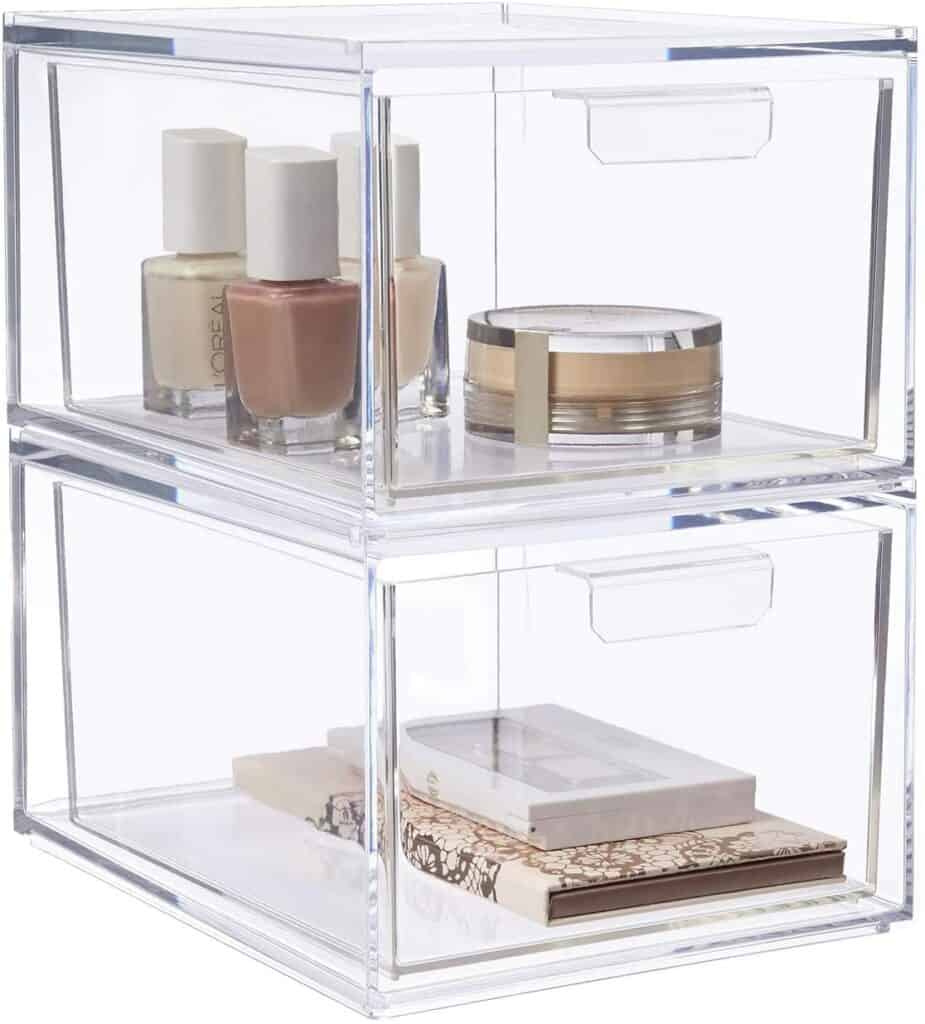 Need to make the most of very limited space? Stackable draws are versatile little tools to organize anything that causes clutter – especially nail polish! You can stack these little drawers under your sink or on your vanity to save some space while keeping everything organized and looking sleek. Only 6 inches wide by 4.5 inches tall, this pair of drawers is the ultimate compact option, but with a depth of 7.8 inches, you can still fit a lot.
Whether you use this organizer to keep your go-to bottles at hand or simply have a small collection, this drawer duo is classic, stylish, and still practical.
Pros
Can be reused and repurposed when your nail polish collection grows.
Stackable and compact for small spaces.
Easy to keep clean and fits with any decor.
Cons
Depending on the nail polish brand, you won't be able to fit too many bottles in these drawers, so it's best for a starter collection or just miscellaneous tools and accessories.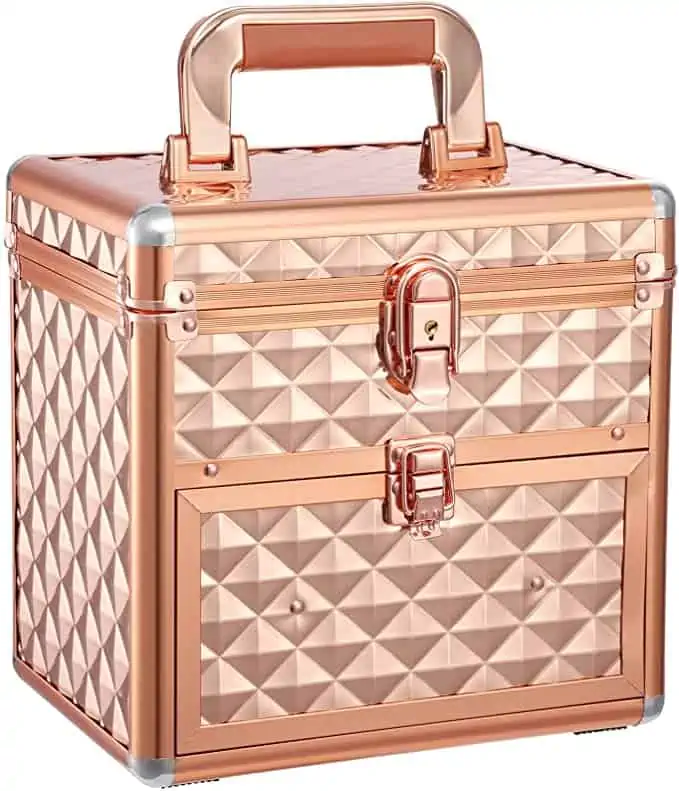 Stylish and practical, this professional nail polish trunk is the perfect place to store your collection, accessories, and tools in a safe and secure home. Easy to carry and transport, this is a seriously stunning trunk for the casual nail polish enthusiast and the budding professional. With foam dividers to keep your nail polish bottles safe, this trunk also has a mirror, a large bottom to hold goodies like UV lamps and tools with a sliding drawer for ease.
Pros
Stunning and travel-friendly, this rose gold case has a lock and key to keep your most prized products safe.
Elastic slots to keep dotting tools and brushes from getting lost and tangled.
Space for 24 bottles of nail polish.
Cons
The photo can be deceiving – it's not as large as you may imagine. On the outside, it's 9.3 inches wide, 6.7 inches deep, and 9.1 inches tall, so it may not be big enough for your entire collection.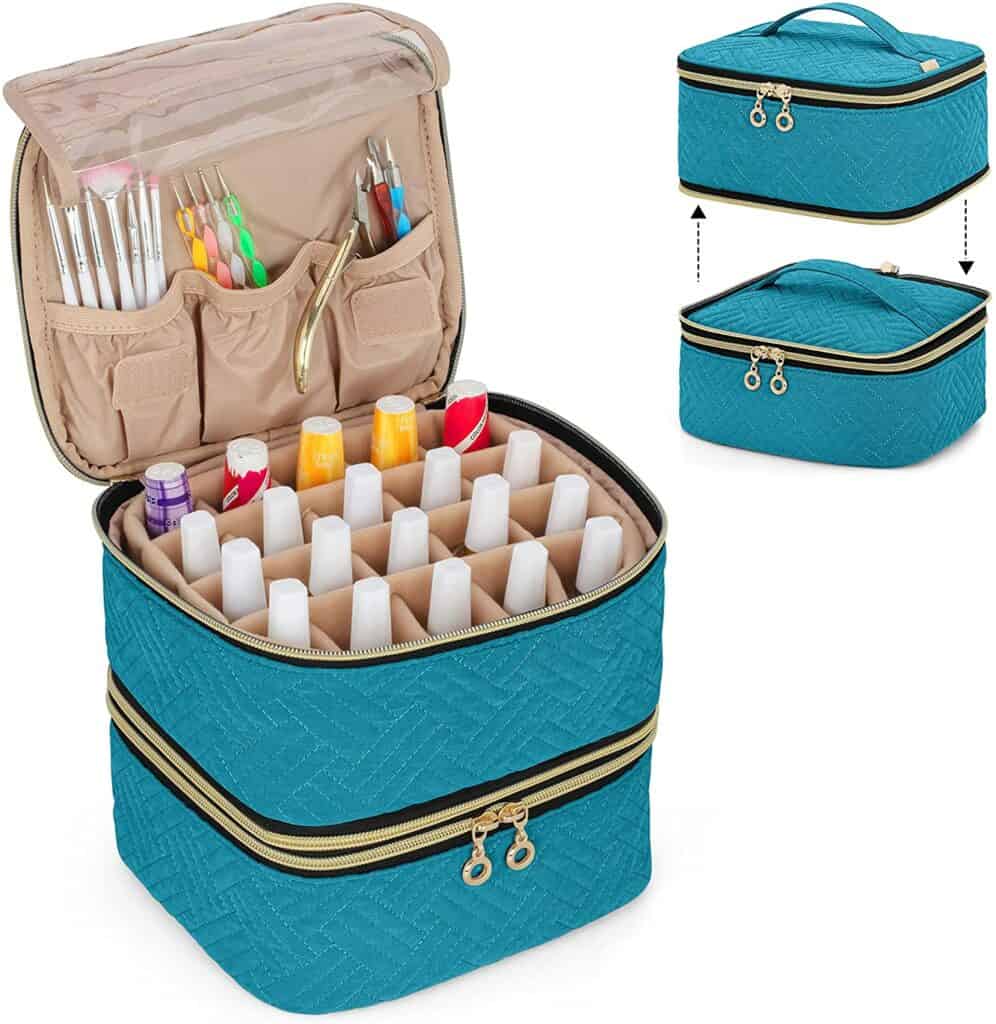 I love this option because it's like two carrying cases in one! Both the top and bottom sections have removable dividers for your individual nail polish bottles, and they also have various pouches, so you can really pack in everything nail-related. The top case has several small pockets to hold your dotting tools, brushes, files, and clippers, while the bottom compartment has a large zip pouch that can carry nail stickers, nail tape, and anything else you need.
Pros
Holds up to 40 bottles of nail polish along with all your accessories.
Removable dividers make space for UV lamps, drills, and other large accessories.
Compactly sized at 8.5 inches in length, 7.5 inches in depth, and ease individual case is 3.5 inches tall (or 7 inches when fully assembled.)
Cons
You might find that it doesn't hold enough products or tools, so this is a storage option you can quickly outgrow.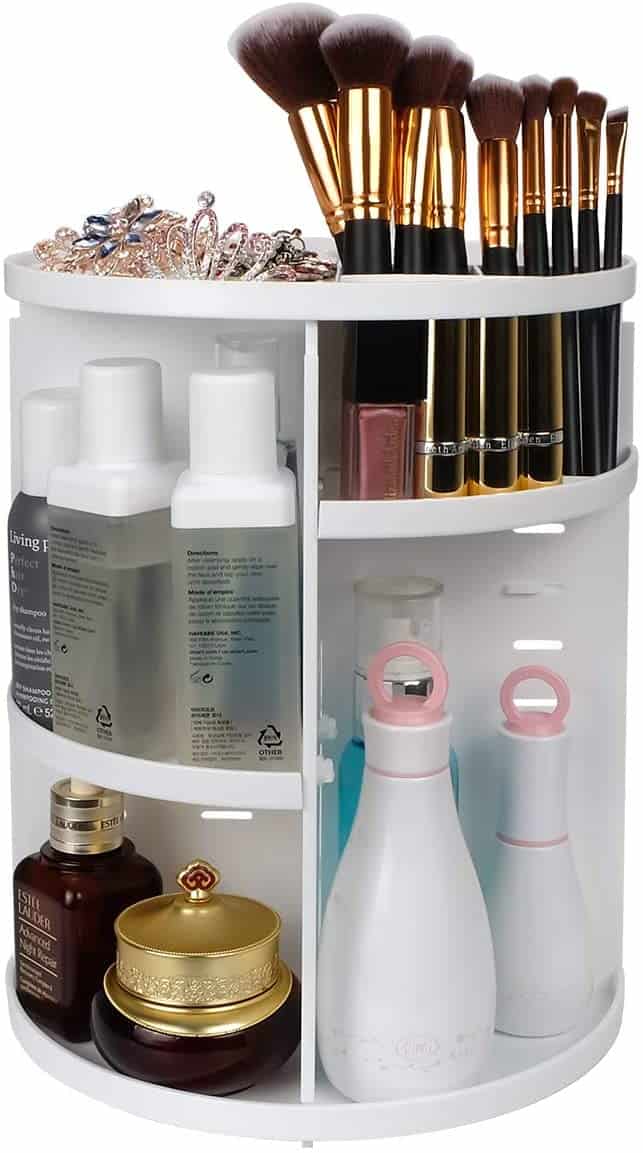 Just like the space-saver in your pantry, using a rotating lazy Susan-style nail polish organizer is the best way to maximize space while still keeping your nail polish visible. Whether you keep it on your countertop or hide it in a cupboard, a spinning tray will keep your space clutter-free and looking modern!
Pros
This spinning organizer has trays that you can move around to fit your tallest and shortest nail polish bottles, maximizing your real estate.
Comes in 7 pieces to create the perfect architecture for your needs.
Made of durable plastic and it's easy to assemble and disassemble for cleaning.
Cons
There are only four shelves, and they can't all be placed at the same level; you may feel like some of the height is wasted space.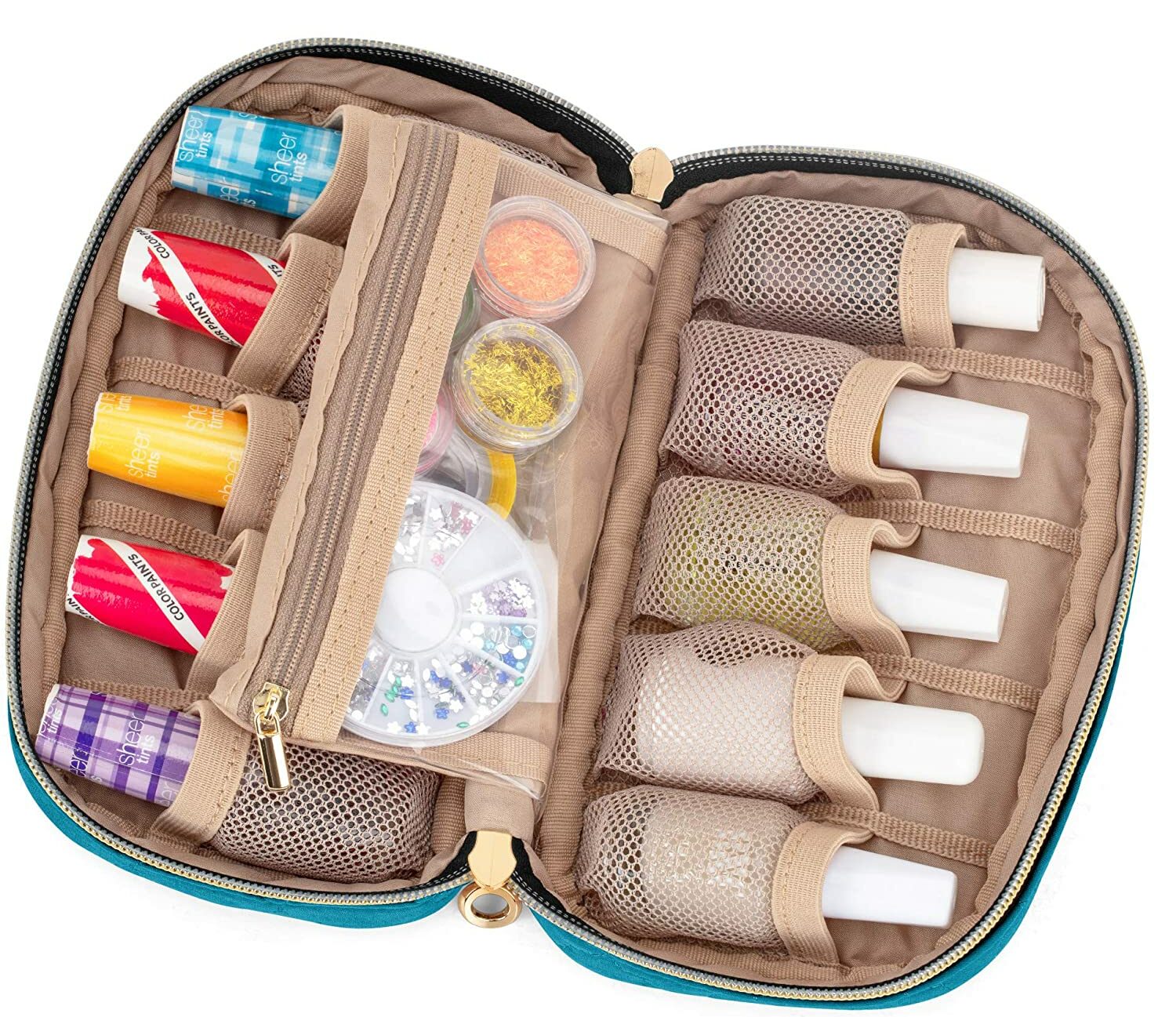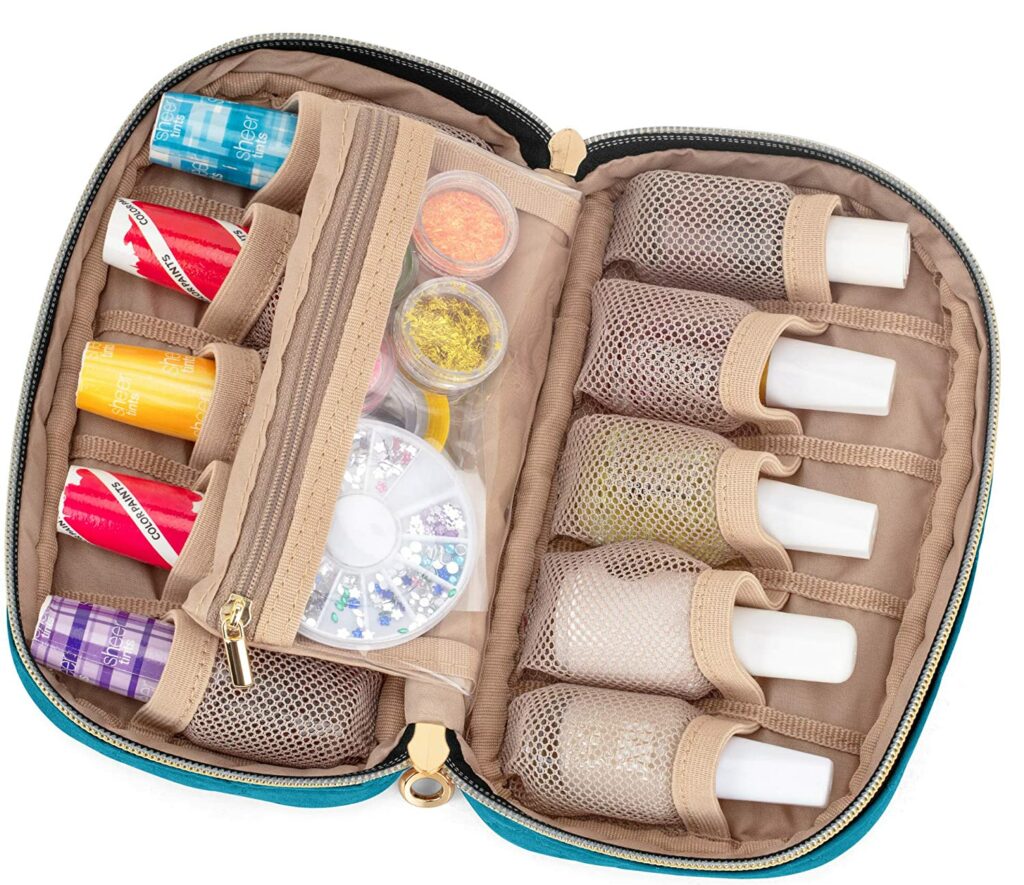 This cute tiny case is exactly what you need to toss in your tote bag! Small but mighty, this case has sleeves for nail polish bottles, an inside mesh pouch for accessories, and an outside pocket for dotting tools or nail files. When zipped, it's not much bigger than your normal makeup bag, making it a must-have in your everyday bag.
Pros
It's an incredibly affordable little bag.
Holds up to 10 nail polish bottles and more accessories.
Thick padding protects your bottles when you're on the go.
Cons
It's only available in black.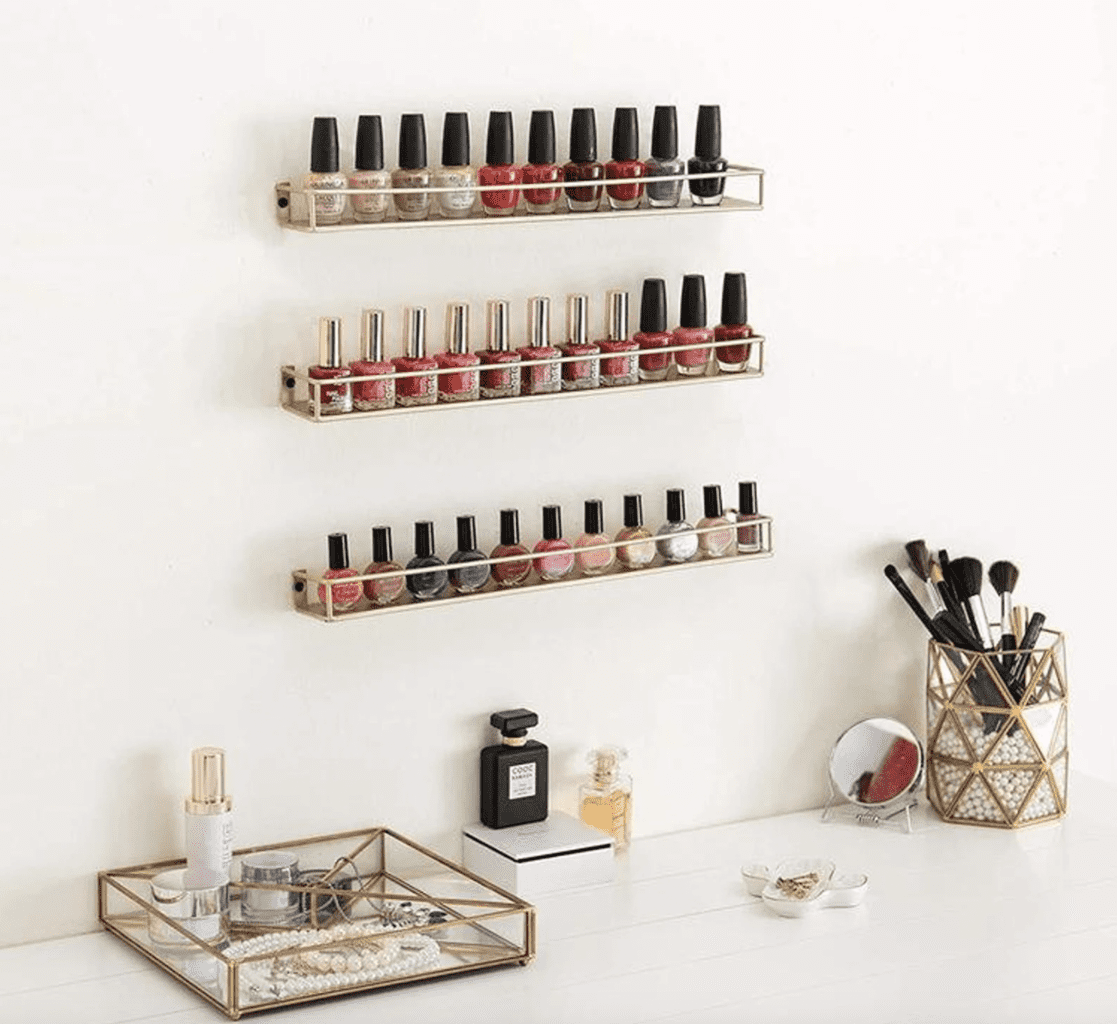 Moving away from all the plastic, these brass shelves are a more eco-friendly approach to your organization system. They're sturdier, last longer, and look incredibly polished. The minimalist metal railings keep all your polish in place while still keeping everything visible so you can see all your colour options. This set comes with three shelves that you can easily mount to any wall in a floating style.
Pros
Each shelf is roughly 16.25 inches wide and can easily fit roughly 10 bottles per shelf.
An aesthetic step-up from the acrylic plastic, brass shelves are a timeless organizer.
Brass is an easy metal to mix – whether your existing decor is gold, silver, or rose, brass fits in seamlessly.
Cons
Unlike other wall-mounted options, this doesn't come with the hardware, so you'll have to make a trip to the hardware store before you mount your shelves.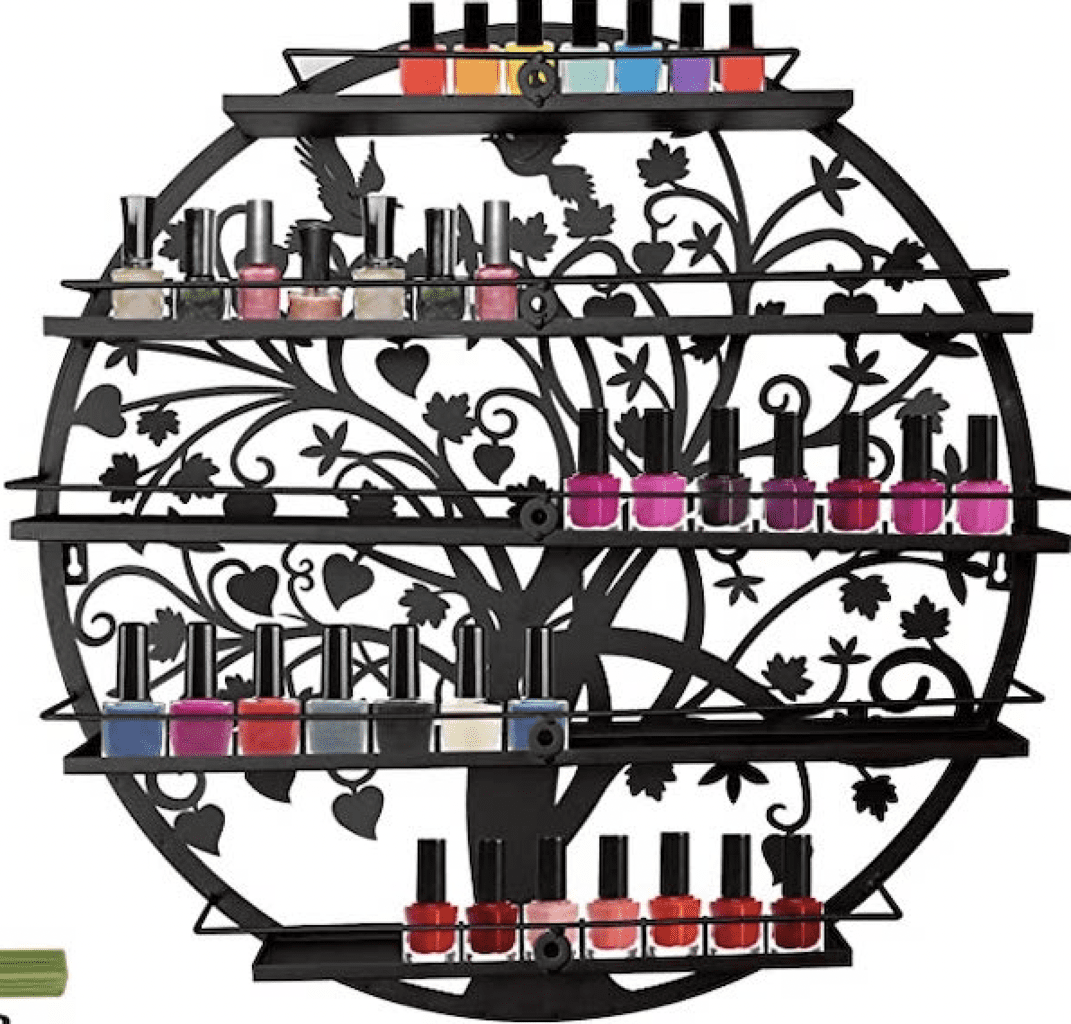 This whimsical wall-mounted nail polish shelf adds a touch of whimsy to your decor! Unlike the other shelves on this list, this circular version creates dimension and draws the eye. It's an elegant shelf with an affordable price and with five levels for storage, you can fit your collection easily!
Pros
Measuring 23.6 inches long and tall, there is a ton of space to show off your polish, and with a shelf depth of 2.2 inches, your biggest bottles will still fit.
Comes with all the pieces you need to safely secure your rack to the wall.
If you outgrow it, you can transition this rack for another purpose, like in the kitchen for spices.
Cons
Unfortunately, this is another plastic option.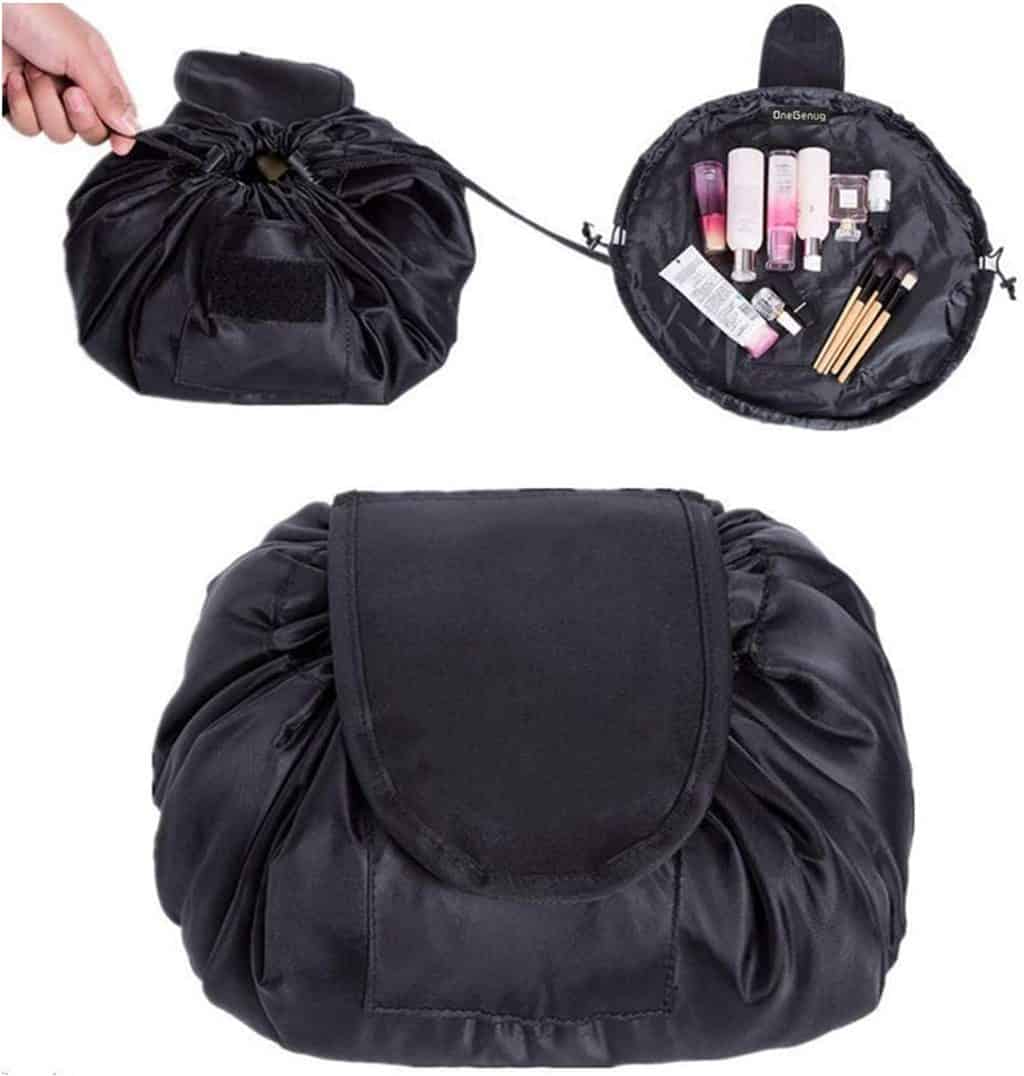 The ultimate simple method for the lazy person in all of us is this drawstring nail polish bag. I love that you can open this wide and lay it flat and just dump everything in the middle and draw the strings for quick packing. This is a great option for smaller collections, smooth trips, or for a simple solution before you commit to something more permanent. Even this would've been better than my lululemon shipping bag.
Pros
The polyester waterproof coating is durable and easy to clean – it's even machine washable.
It has zippered storage pockets and an elastic brush holder for extra storage of your nail accessories or odds and ends.
Super affordable and can be used for other cosmetics too.
Cons
With a malleable bag like this, you can't always be sure your bottles are upright, which is the best way to store them, and the bottles are loose, making them more likely to knock together and break.
FAQs
Question: What's the Best Way to Store Nail Polish?
Answer: Ideally, the best way to store your nail polish is in a designated space, like a drawer or bag. Heat and moisture can cause discolouration and warp the shade you love, so the darker and cooler, the better. Even if you're keeping your collection in your steaming bathroom, just be sure to keep them out of direct sunlight. Otherwise, nail polish is one of the most resilient pieces of cosmetics.
Question: Should you Store Nail Polish Upright?
Answer: Nail polish should always be stored upright whenever possible. Nail polish pigments separate, which is why you always have to shake the bottle before you paint your nails. It's easier to remix separated products when it's been stored properly.
Question: How Long can you Store Nail Polish?
Answer: Unlike other cosmetic products, nail polish has a long shelf life. The formula of nail polishes is hostile to bacteria growth, so it doesn't spoil or expire the same way your makeup or skincare would. The main issue you'll face with aging nail polish is colour separation. Older nail polish struggles with colour separation, which leads to changed texture or poor remixing. You may also notice the hues change over time and become dull or discoloured.
The best judge of your nail polishes quality is your eye – if you don't like the shade it's turning into, you should get rid of it.
Bottom Line
There are tons of creative ways to organize your nail polishes. I gravitate towards the more plush cases made of fabric, but the plastic storage is practical and easy to handle. Using your nail polish as a decor item is a stunning look, so display organizers are always popular.
Alas, I'm still a renter, so wall-mounted options are far in my future, but I love the idea of displaying my collection (I want to show off my investments!) So, for now, acrylic shelves and stands to house my favourite bottles, and the rest are in a larger plastic organizer that is more tucked away.
Ultimately, your choice will depend on how much travelling you do, how much surface space you have to display things, and how big your collection is growing! Try out the various types of organization styles to find your favourites.
Continue reading:
How to Find the Best Nail Polish Remover: Plus 3 Acetone Myths
Best Nail Polish Holders Guide