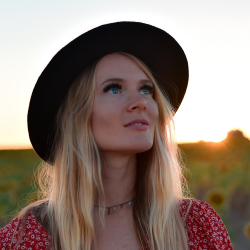 Latest posts by Haley Parker
(see all)
Clear nails are a newer trend that I'm kind of upset I didn't come up with myself. This design is so different from anything that I've ever seen in my nail salon before, and I love it! I know that this nail trend may seem weird at first, but wait until you see all of the clear nails inspiration and ideas I have in store for you today.
Nail trends can get a bit repetitive when you've been doing nails for as long as I have. Therefore, when I saw a clear nail design for the first time, I was immediately all over it like a child with a new toy on Christmas Day. Clear nails are something that I have never seen before, and there are so many fun ways to do them that can be elegant and luxurious or about as edgy as you can get with nails.
Best Clear Nails Up Front
I cannot get enough of the butterfly nails spreading like wildfire in the nail world! This design is enjoyable on clear nails because the effect makes it look like the butterflies are fluttering off the tip of your nail. However, I know this is a very cutesy, unsophisticated look, so I will go with the white and clear marble design when I want something more elegant.
What Are Clear Nails?
Clear nails are a trend that recently started and can only be done by trimming your natural nail short and gluing on clear tips or forming acrylic. I find that having clear nails give your nails a glassy effect that looks clean and unique. You can add designs to clear nails to make them look like they are floating on top of your nail and off the end of your nail.
Beware that clear nails can be challenging to keep clear because environmental factors can yellow them, and any dirt under them will be visible. I recommend using a UV protection topcoat, such as OPI Topcoat, weekly to prevent yellowing. You also want to keep the underneath of your nails clean by using soap and warm water with a nail brush.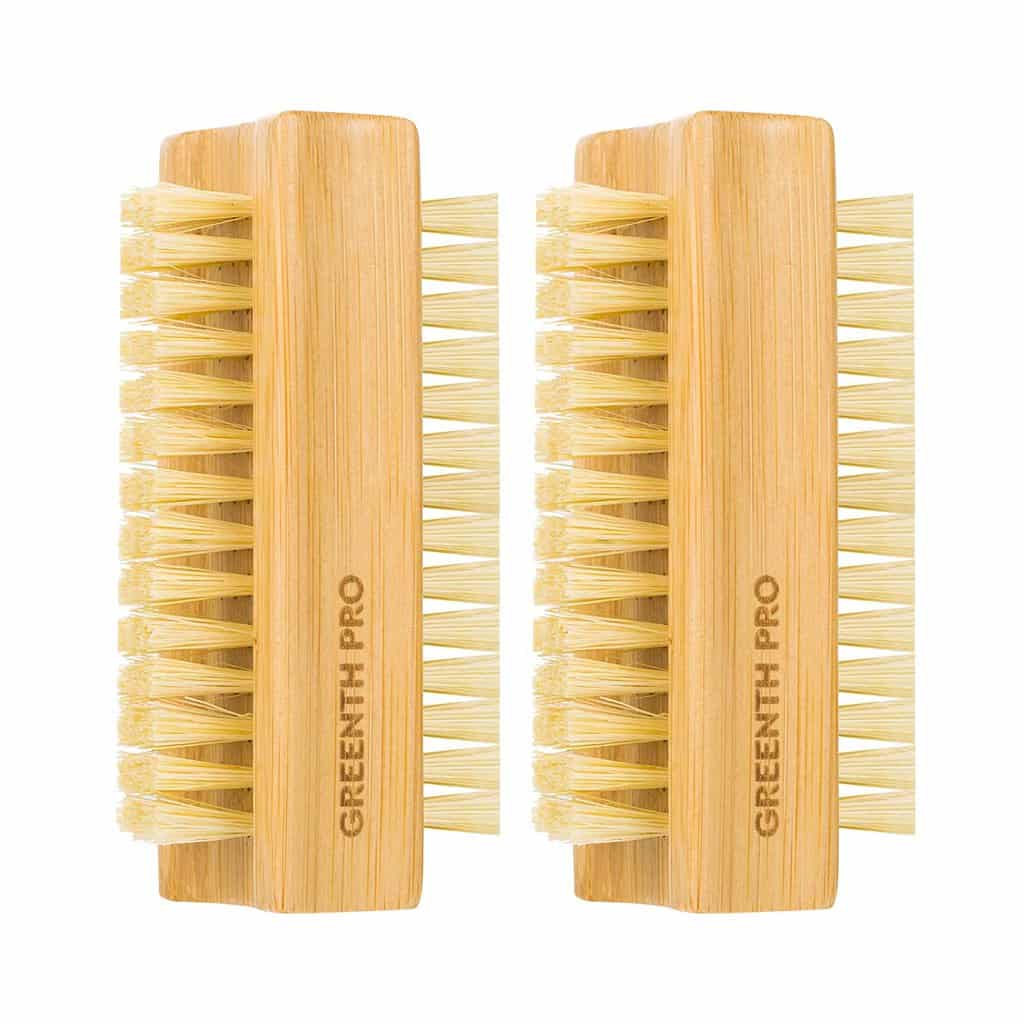 Selection Criteria for Clear Nails
Acrylics
Clear nails are almost always acrylic because your natural nail is not translucent enough to see through it. You could glue a clear tip onto your natural nail, but there is no way to blend that in without acrylic. I don't think your clear nails need to have a lot of length, but they need to leave the free edge to create a clear look.
Trendy
The clear nail trend only started about a year or so ago. It's something that I have never seen done in the nail world, and I love the difference it gives your nail designs. Anything that you do with a clear nail will be trendy because it is new, unique, and can be done with any stylish design.
Something For Everyone
I change my nails with my mood, so I can go from wanting a classic, simple design to something strange that stands out within a few weeks. In this list of clear nails inspiration and ideas, you can find things that will work for any style and any event you have going on.
Clear Nails Inspiration and Ideas
White and Clear Marble
Marble patterned designs are found on everything now, from cell phone cases, bags, and nail designs. Two of my favorite colors to marble together are white and clear because it is subtle and has that glassy, elegant effect. You can also throw a little gold flake in to give it that extra oomph that your nails sometimes need.
Plain Clear Nails
For the glassiest look you could get, try completely translucent nails. I like to think of this look as the glass slipper of nail designs. I also want to believe that we nail technicians are kind of like fairy godmothers that give you magical nails that can attract a prince.
Butterflies
Butterflies are back in from the 90s, and one of the best ways I've seen them is butterfly sequins floating in a clear nail with glitter surrounding them. It makes them look like they are flying off the tips of your fingernails. I love this look for spring and summer, but honestly, I would probably wear it year-round because I love it so much.
Clouds
Clouds are another thing that floats in the sky, so why not make it look like they are floating on your nail with a clear background? You can make your clouds any color, such as pink and purple to mimic a sunset, black and grey for a stormy sky, or plain old white, and I have to say that I prefer the regular white for clouds on a clear nail.
Wavy Lines
Wavy lines are an abstract look that looks even more abstract when done over a clear nail. I like to do colored thin lines that create S shapes across my nails, but you can make your wavy lines into any form you prefer. Make sure that your wavy lines aren't too focused on the tips of your nails, so you get the full effect of the clear nail as well.
Jeweled
Another thing that clear nails resemble is diamonds! I think it's fun to roll with whatever a particular nail shape or color reminds me of, so adding rhinestones to your nails is a great way to take that diamond look to the next level. You can do as little as adding one jewel to the tip or base of the nail or make a pattern of gems all over the nails.
Stars
Stars are another thing that shines bright like a diamond. You can do the typically five-pointed stars on your nails or glistening stars, like the one you see on Pinnochio. Being a 90s kid, I tend to lean towards the five-pointed stars over glistening stars.
Geometric Lines
Like wavy lines, geometric lines take an abstract look to the next level when done over clear nails. My favorite way to do lines is to keep it simple, with only one or two lines running across my nail, either down the length of my nail or across my nail. However, you can make this look as complex as you like, adding as many lines as you want and even making shapes out of the lines.
Fine Glitter
Make your glassy nails a little bit shinier with some glitter. For this look, I recommend using a fine glitter so the nails still look clear without any obstruction from chunkier glitter. I also love using glitter with clear nails because the glitter can add a tint to your nails if your use colored glitter, such as pink, blue, or purple.
Tinted Clear Nails
Tinted clear nails have also been called jelly nails to match the jelly shoes that we all adored in the 90s. If you don't remember what those are, let me remind you. They are those rubber shoes that were either completely clear or had a tint of color, such as blue or pink. You can also do this trick with nails by using a jelly polish over your clear acrylics.
Iridescent Flakes
Much like glitter with clear nails, iridescent flakes can give your clear nails extra sparkle and a tint of color. The difference with using iridescent flakes is that it looks more like broken glass that changes color as you turn them in the light. This look is a lot less subtle than glitter clear nails, but I find it more fun and unique.
Pressed Flowers
This look reminds me of the artwork that individual craftspeople make with dried flowers in resin. If you've ever been to an art festival or on Etsy, you most likely know what I'm talking about. Real pressed flowers are not used to achieve this look, but you probably could not tell the difference by how real some of the press-on foil patterns are used for nail art.
Gold Leafing
I feel like gold leafing goes with clear nails so well because both things on their own look luxurious. Gold leafing can be put into a clear nail in any pattern to make a particular design or put sporadically all over the clear nail. One of my favorite looks is using gold leafing to hide the line where your free edge starts.
Outlined Tips
I usually prefer an outlined tip with a nude underneath or the outline around another color, but this is a fun way to do a clear nail. I specifically like this look on a clear nail because it hides the line where your clear nail leaves the free edge, which generally isn't pretty. You can do your outline in color or keep it neutral with white or black color.
Daisies
Daisies are another design that I have loved recently, but I may be biased because daisies have been my favorite flower forever. This design looks excellent over a clear nail because it makes the design look more subtle. I think this is most likely the look I will be sporting for half of my summer.
Celestial Nails
Celestial nails can be as simple as adding a moon to one clear nail on the one hand and a sun on the other hand. Although, I think I love these because you can also mix in clouds and stars with your suns and moons. I'm not sure why clear nails look so good with designs that mimic our sky, but some things don't have an explanation.
3D Nails
3D nails are when your nail artist makes the top of your nails have a texture by forming your acrylic into bumps and ridges. In my opinion, this look is wacky, but it's something I've seen quite a bit of, so I figured I would add it as an option. This nail design is for those that like to stand out more than most people and have the confidence to do something extremely edgy.
Greenery
Greenery painted on top of clear nails gives the design a "floating on water" look. Viney designs that mimic the plants people are hanging all over their houses nowadays are super popular. You can also paint on some palm leaves for your next tropical vacation.
Flames
Flames are another fun design to do with a tinted clear nail because the background looks like a smokey haze over your nail. The one thing with this design is that you need to make sure that your nails are either long enough or the flames are small enough for you to still see the clear underneath the free edge of the nail. You could also paint the flames from the bottom of the nail rather than the tip down.
Clear Tips
This is a funky spin on the classic french tip where the ends are clear instead of white or any other color. In my opinion, if you are going for tips, the outlined tips go with the clear nails better. However, this is an excellent way to get clear nails without seeing the natural free edge underneath since the base is painted with a perfect arch.
Matte Clear Nails
Whenever I see clear nails that are matte, I also think of that glass that they use as shower doors or bathroom windows that isn't completely see-through. Saying that now, it doesn't make this look sound too appealing, but I swear it's a cute, unique look for clear nails. You can matte out any design you decide to put with your clear nails, including cow print.
Snowflakes and Ice
One more thing that clear nails resemble is ice. That makes clear nails a perfect nail design for wintertime, especially if you add a snowflake design over them. Your nail technician may even be able to add a bit of texture underneath the tip of the nail to make them look more like a natural ice cycle.
Clear Ombre
It seems like a weird idea to ombre a color into clear since it is absent of color, but it works. You can do a fantastic modern take on the french tip by doing a baby boomer type ombre with nude and white into the clear. You can also ombre any other color into clear or even into a tinted clear. I think it would be interesting to see someone ombre an opaque color into a tinted clear of the same color.
FAQ's
Question: Are Clear Nails Hard to Take Care of?
Answer: Clear nails can be challenging to keep clean and from yellowing. The best way to keep them clean is by using warm water and soap with a nail brush on them once or twice a day. You can also top your clear nails with a UV-protecting topcoat weekly to protect your nails from environmental factors.
Question: What is the Difference Between Natural and Clear Nail Tips?
Answer: Clear nail tips are transparent, whereas natural nails are only slightly see-through at the free edge with a white tint. You can not get clear nail tips naturally because of the keratin in your nails, and you have to chop off your free edge and put a transparent nail extension on with acrylic to get clear nail tips.
Question: Do you Need to Blend Clear Tips?
Answer: Clear tips need to be blended into your natural nail with acrylic, so there is not a lip where the nail extension starts. You can then blend where the free edge meets your natural nail with designs, but it is unnecessary. If your nail technician adequately filed down your natural free edge, it should not be very noticeable where the nail extension starts.
Question: How Often Should your Fill Clear Nails Acrylics?
Answer: Clear nails grow out more naturally than any other acrylic nail design because you can see your natural nail straight through the acrylic. Therefore, there is no line of color where the acrylic meets your natural nail. It would help if you still got these filled every six to eight weeks to maintain your acrylics.
Question: Do you Need Long Nails to Have Clear Nails?
Answer: Your nails do not need to be long for the clear nail look, but they need to extend beyond your free edge to create a translucent look. If you don't make the clear extend past your free edge, you will only see your natural nail underneath, and they won't be see-through.
Should You Try Clear Nails?
The look of clear nails is very intriguing, but I could not ever do clear nails on myself because I would destroy them so fast. My hands are constantly in things that would either stain them or get tons of dirt under them, so they would maybe last a day on me before turning into grossly tinted nails instead of clear nails. I don't think even a soapy nail brush or topcoat could save my nails from the trials I put them through.
However, if you are someone who does not play in the woods and doesn't deal with things that stain your hands, you should definitely try clear nails! I love the look of the nail design floating in thin air or on top of water that it gives your nails. If I could do these on myself, the first one I would try is butterfly nails, followed by pressed flowers and iridescent flakes.
Continue reading:
Navy Blue Nails Inspiration and Ideas
Best Polygel Nail Kits And Application Guide
18 Easter Nails Inspiration and Ideas for the Spring Holiday