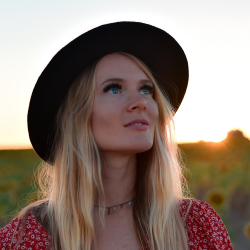 Latest posts by Haley Parker
(see all)
The 90s are back, and I am so excited about all of these 90s nails inspiration and ideas. This was the decade that I grew up in, and it makes me so happy to see younger people enjoying and bringing back alive all of the things I loved about the 90s. Some of the looks that I especially love and have done myself are the dark nails, chunky confetti glitter, and butterflies.
The 90s were when Nickelodeon made some of the best cartoons to date, people finally showed their emotions in the grunge scene, and the internet blew up pop culture. All of these nail inspirations and ideas perfectly reflect what the 90s were. I don't know about you, but I'm already feeling nostalgic before even getting to the meat of it.
Favorite 90s Nails Inspiration Up Front
A funny fact about me is that my first car had flames down the side of it. Therefore, my favorite nail design has to be the flames. They are a more complex nail design to achieve, but due to them being so popular currently, there are nail stickers and nail stamps to help make creating your design easier. Plus, what better way is there to make your nails look hot?
My Top Ten Favorite 90s Nails
Smiley Faces
Flames
Yin-Yang Signs
Metallic Nails
Sequin Butterflies
Colorful Shapes
Deep-Dark Nails
Cheetah
Cartoon Nails
Chunky Confetti Glitter
Selection Criteria for 90s Nails Inspiration
Trendy
90s fashion has made a comeback and is very stylish right now. Everything from chunky glitter, to smiley faces, to the cartoons of the time, you can see it everywhere now.  I love all of the 90s fashion that has reemerged, and I think everyone else will.
Can Be Done Yourself
Even though 90s fashion is full of whacky, intricate designs, there are ways to easily DIY these designs without masterful skills. There are also quite a few very simple 90s nails on this list, like metallic and glitter nails. To see some tools to help you create these designs, scroll down to the "Useful Tools for 90s Nails" section below.
Anyone Can Wear Them
Whether you like subtle nails or to stand out with your nails, there is something for everyone on this list. You can do 90s-inspired nails that are all one color or do a whole hand of 90s cartoons. No matter what event you have coming up or what style you like, there is something on this list for you.
90s Nails Inspiration and Ideas
Smiley Faces
Smiley faces were initially invented in the 60s, reemerged in the 90s, and are back in style again. They characterize a hippy lifestyle, and you can make your whole nail a smiley face, paint smiley faces all over, or do psychedelic melty faces. The easiest way to make a smiley face is with nail stickers, but you can also free-hand paint a smiley face with a dotting tool and line brush.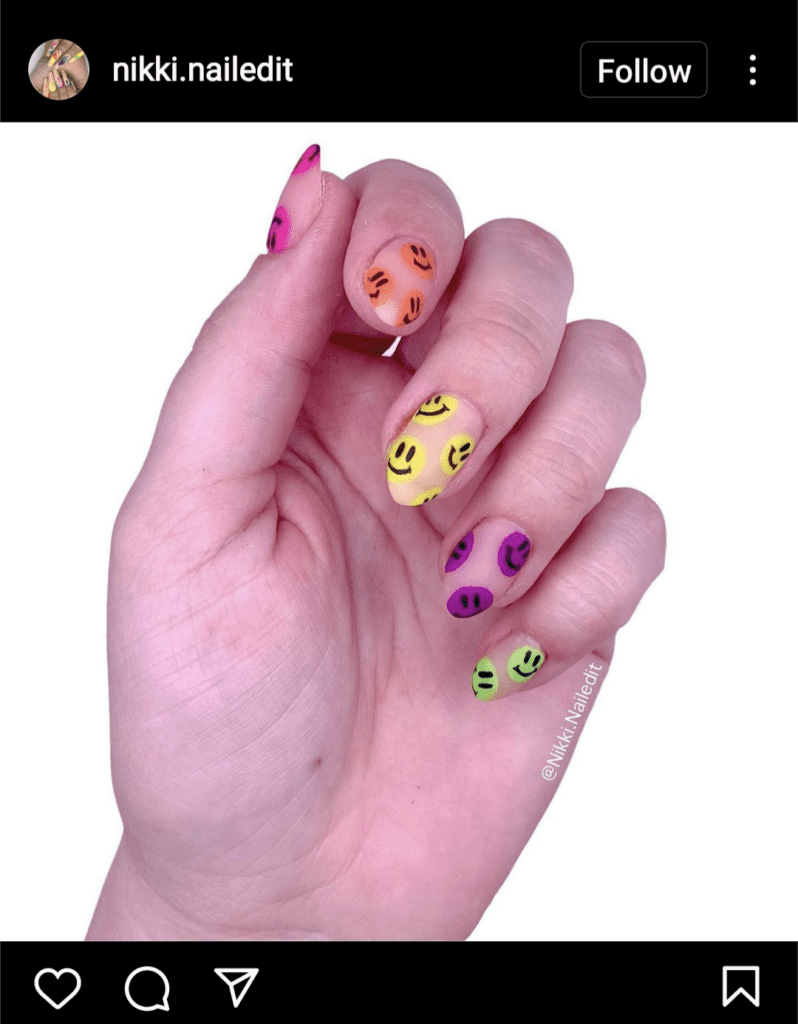 Yin-Yang Signs
Yin-yangs are an ancient symbol meaning harmony amongst contrasting aspects of life. The symbol is usually done with two contrasting colors but can be painted on with any two colors you like. To free-hand paint a yin-yang, divide the nail in half with an S shape and paint each side a different color. Then take each color and put a dot of paint in the curve of the opposite color.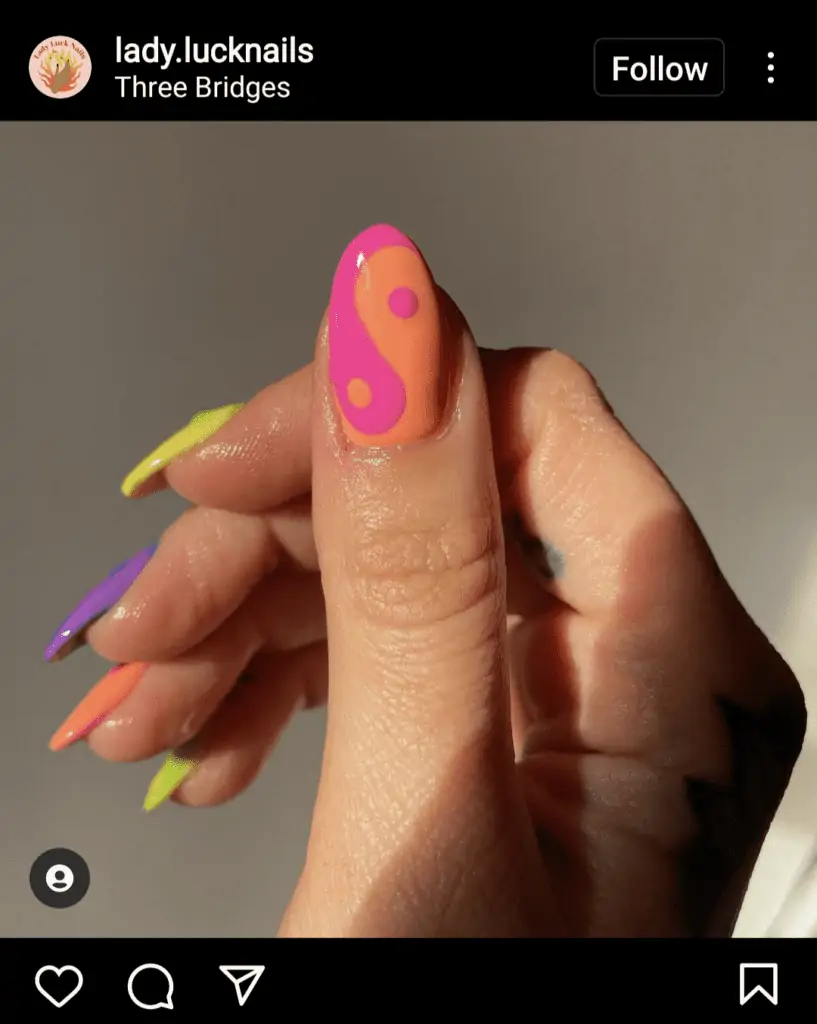 Tye-Dye
Tye-dye clothing was everywhere in the 90s, and you can now make a tye-dye pattern on your nails. I was personally never in the tye-dye scene, but these could be fun for a concert or festival. However, doing tye-dye on your nails is much different than how you used to do it on your shirts, as you can't fold up your nails with rubber bands. Watch the water-marbling technique below to see how you can do this tye-dye technique yourself.
Metallic Nails
Everything was metallic in the 90s, from your eyeshadow to nail polish and I was guilty of putting metallic on anything I could. Metallic nails are one of the most straightforward looks you can achieve because you paint a metallic nail polish in whatever color you want onto your nails and finish with a shiny topcoat. Some great metallic nail polishes are OPI Metalic Composition, Revlon Blushing, and ILNP Reminisce.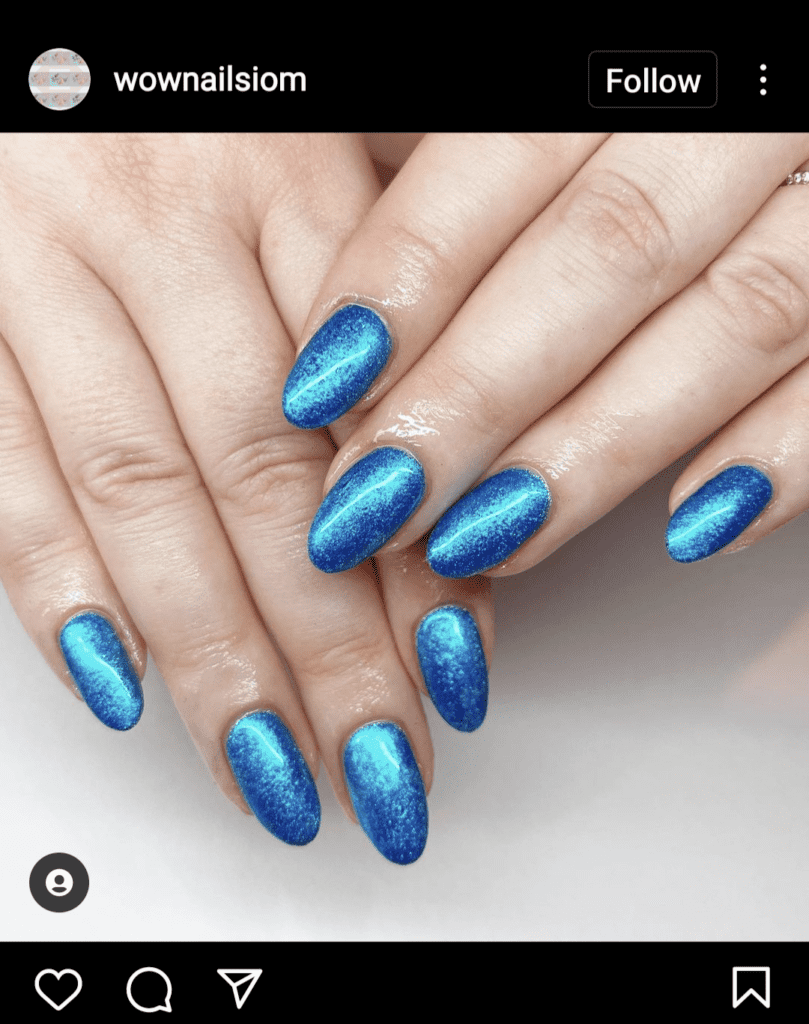 Sequin Butterflies
Butterflies are another throwback coming back into fashion that I am so happy about recently, especially those tiny butterfly sequins and blue monarch butterflies. You can paint one giant butterfly across two different nails, have a bunch of small butterflies all over your nails, or ombre in sequin butterflies from the tip to the base. The easiest way to do a butterfly design is with nail stamps, nail stickers, or nail sequins.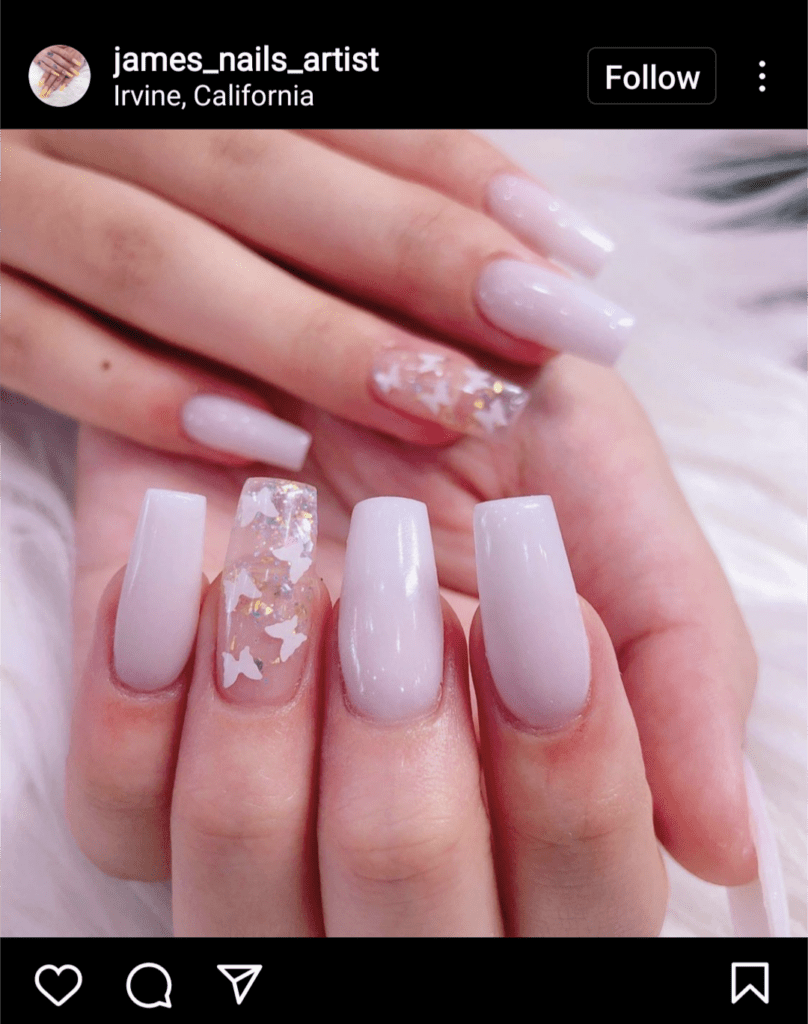 Plaid
If your favorite movie from the 90s was Clueless, your favorite color must be plaid. A prep statement pattern, plaid was all the rage in the 90s, and you can still see plaid on multiple pieces of fashion today. You'll need a long line brush and two or three colors to paint your plaid design onto your nails to paint thin lines crisscrossed onto your nail. You can also stamp on a plaid pattern with a nail stamp.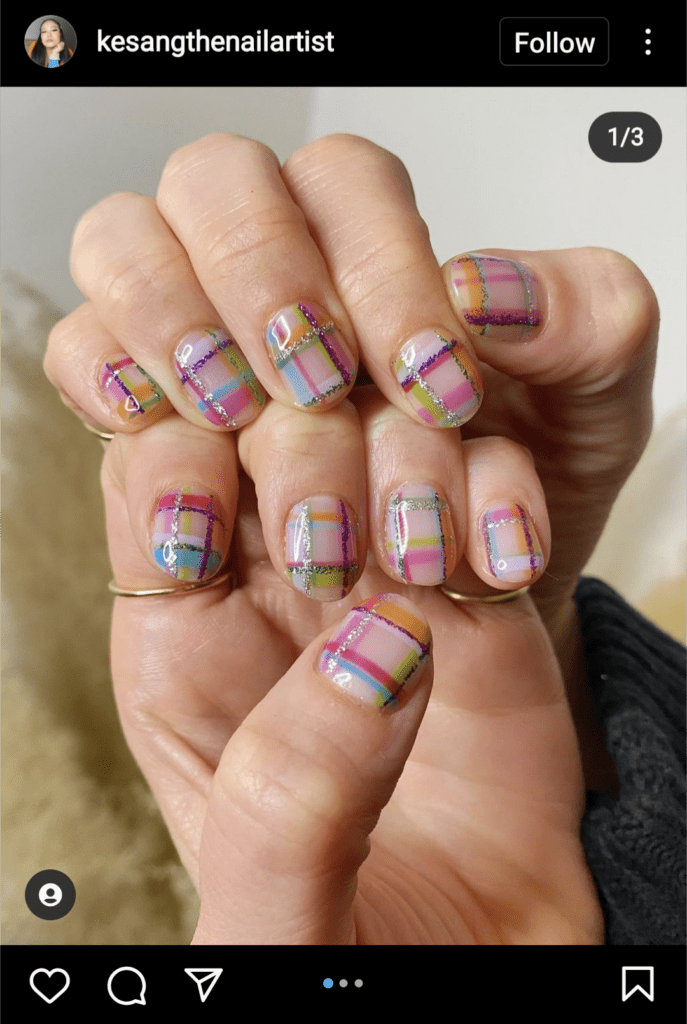 Colorful Shapes
Random colorful shapes everywhere are a popular pattern you will see from the 90s, and it was put on everything from cups to wall decor then, and you will now see it on nails. This design was never my favorite in the 90s or now even, but it definitely takes you back to the shopping mall food court. You could easily paint these simple shapes with a line brush and dotting tools in multiple colors.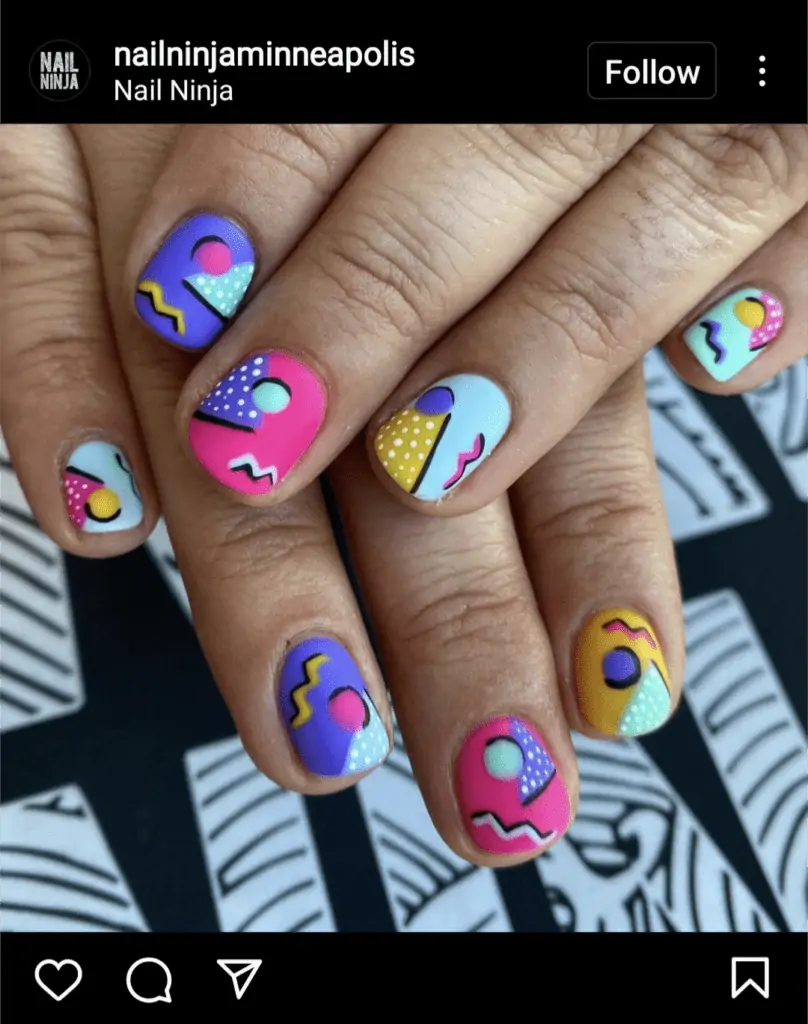 Deep-Dark Shades
Not only was the 90's bright, sparkly, and colorful, but it was also dark and grungey. Shades of red, purple, and my personal favorite blue that are as close to black as possible will bring out your darker, more emotional side. Nail polishes like Good Girls Gone Plaid by OPI, Berry Naughty by Essie, and Sailor by Zoya are great shades to let out your inner grunge.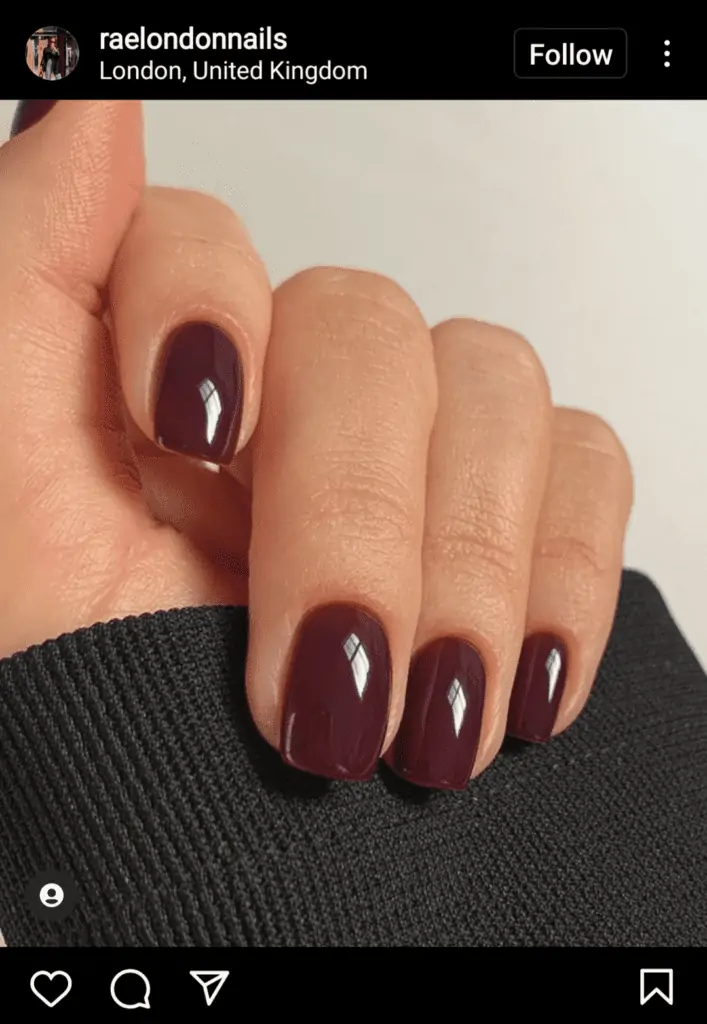 Checkerboard Pattern
The checkerboard pattern was popular amongst those that loved flannels in the 90s. The standard checkerboard is done with black and white, but you can do it with any contrasting colors, like pink and green, blue and orange, or purple and yellow. You can draw on your checkerboard pattern with a line brush or use nail stickers to make it easy.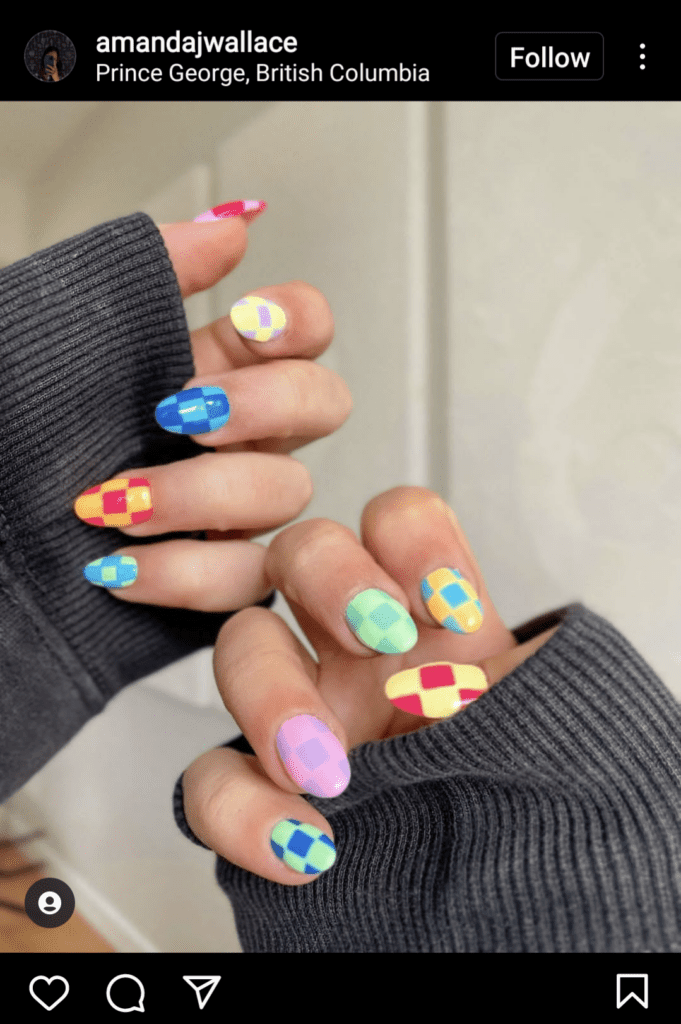 Lightning Bolts
Cartoon lightning bolts are a design you saw many of in the 90s but haven't seen much of until recently. You can do one lightning bolt in the middle of each nail or a nail full of mini lightning bolts. I like to use bright colors with this design to really shock people. This design is tough to free-hand paint without it looking like a zig-zag line, so using nail stickers or a nail stencil is best.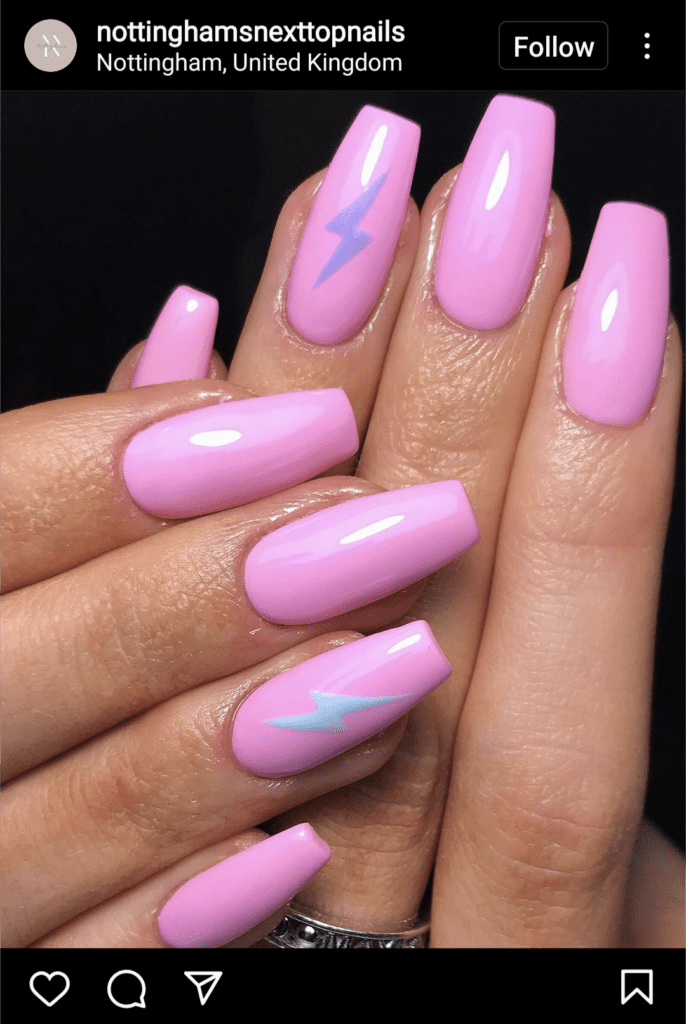 Flames
Abstract flames like you used to see down the side of hot rod cars are now a fun nail design. You can do an ombre in a lighter color and paint the flames on in a darker shade to mimic smoke, do an outlined glitter flame design, or keep it simple with one color flames going into a nude nail. Try flame nail stickers or flame nail stamps if you don't feel up to painting your flames.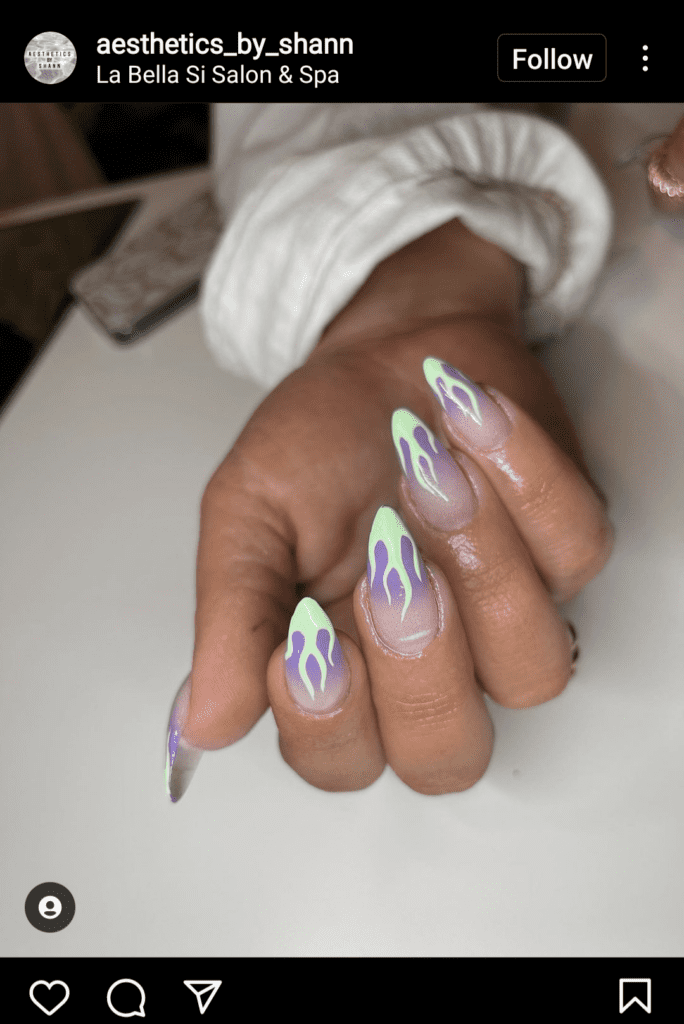 Cartoon Nails
In my opinion, one of the best things the 90s ever made was cartoons! Spongebob, The Rugrats, Power Puff Girls, and Courage the Cowardly Dog are all cartoons from the 90s that everyone has heard of and still loves. There are so many more that I do not have enough room to fit here that are better than any other cartoons from any different era. Unless you are a true artist, I wouldn't even attempt to free-hand paint these, so use nail stickers.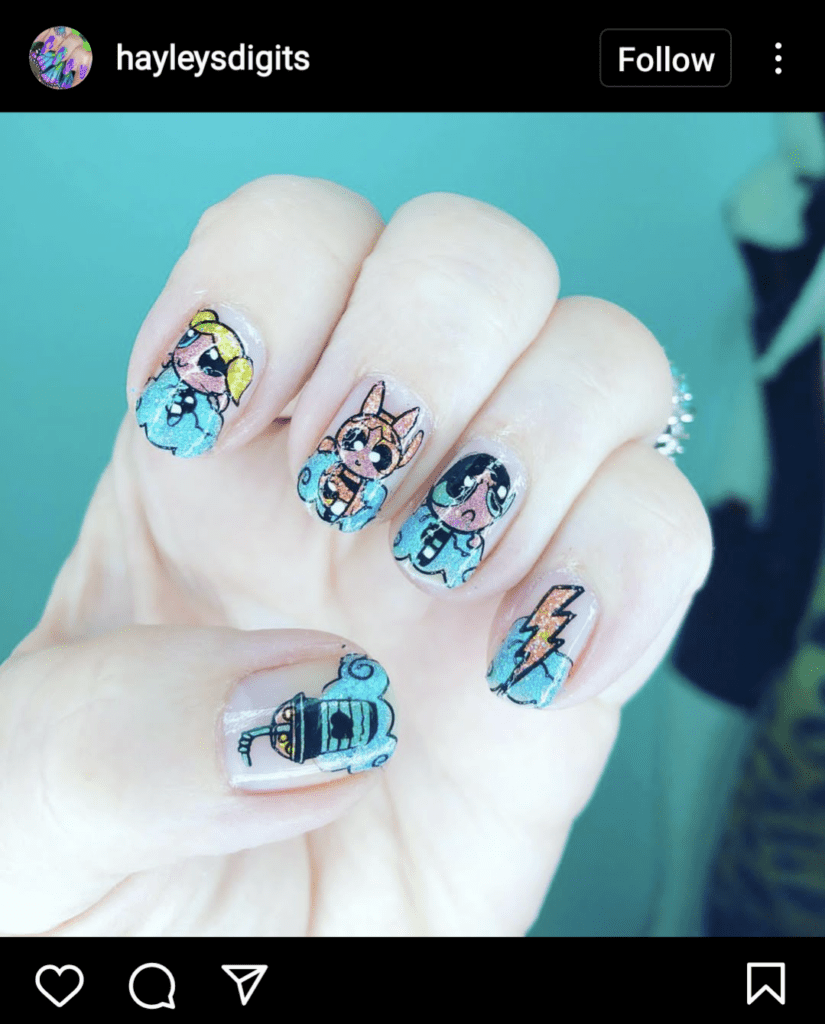 Cheetah Print
Let out your inner cheetah girl with some colorful cheetah print nails. If you don't know what the heck I'm talking about, you can at least acknowledge that cheetah print is everywhere again. Try cheetah print over rainbow nails, or keep it natural with nude and black. You can quickly get cheetah print nails with a cheetah nail stamp.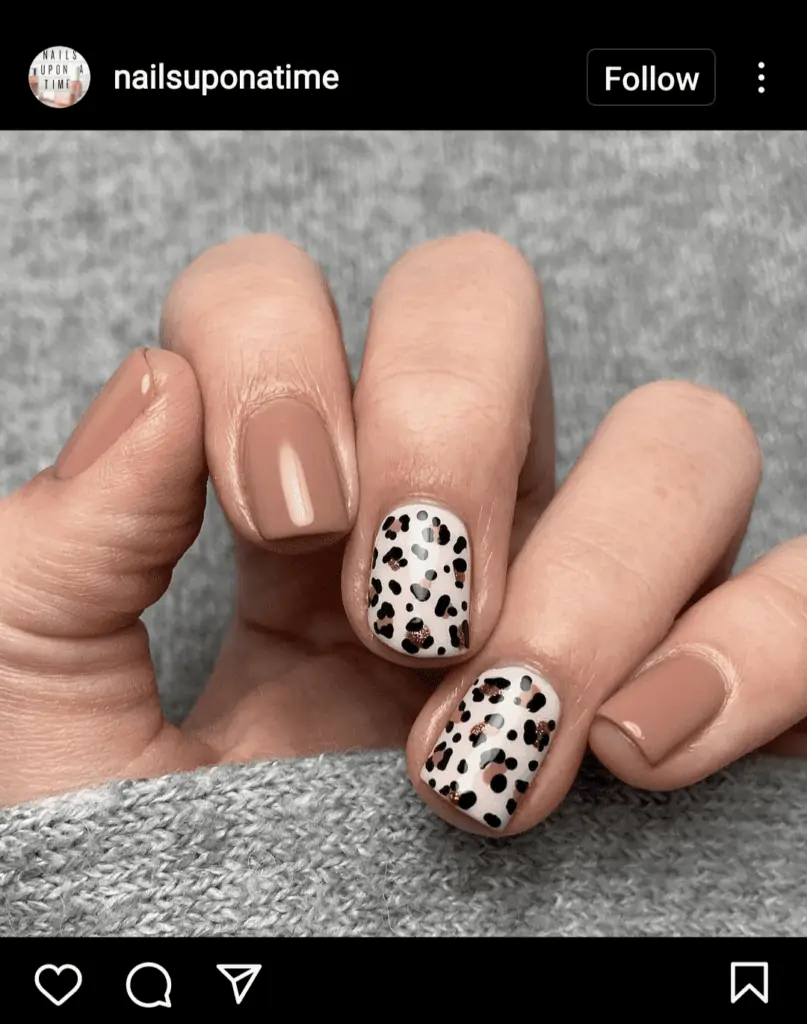 Cow Print
The cow print is another animal print that has made a comeback, especially in the nail art world. Cow print is typically done in its natural black and white shades because it looks like random blobs of color if you start doing it in other colors. You can paint your cow print by dabbing a dot of black polish with a dotting tool and dragging the tool outward a bit. You can also get nail stamps and nail stickers in a cow print.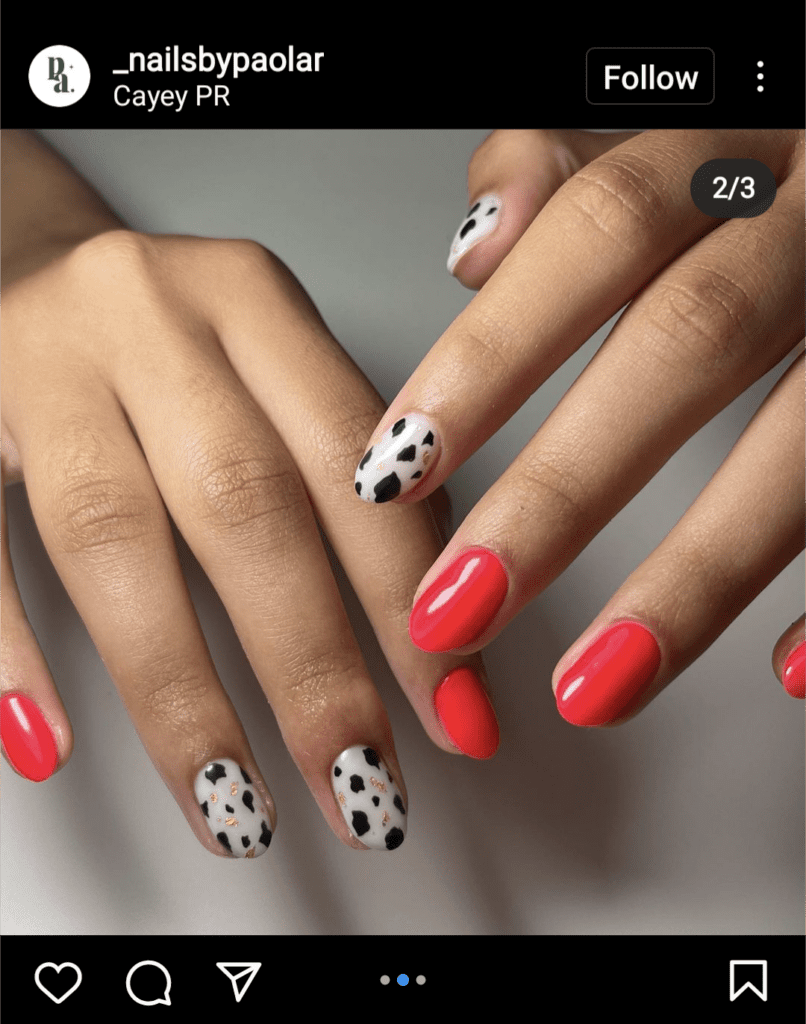 Neon Nails
Neon colors were popular in the late 80s and bled into the 90s as well. Neon green nails are my favorite and seem to be the most popular color right now, and you can do a lot of fun things with them, like little aliens and slime. You can also play around with other colors, such as neon yellow, neon purple, neon blue, and neon pink. This trend is also fun to do with a matte topcoat.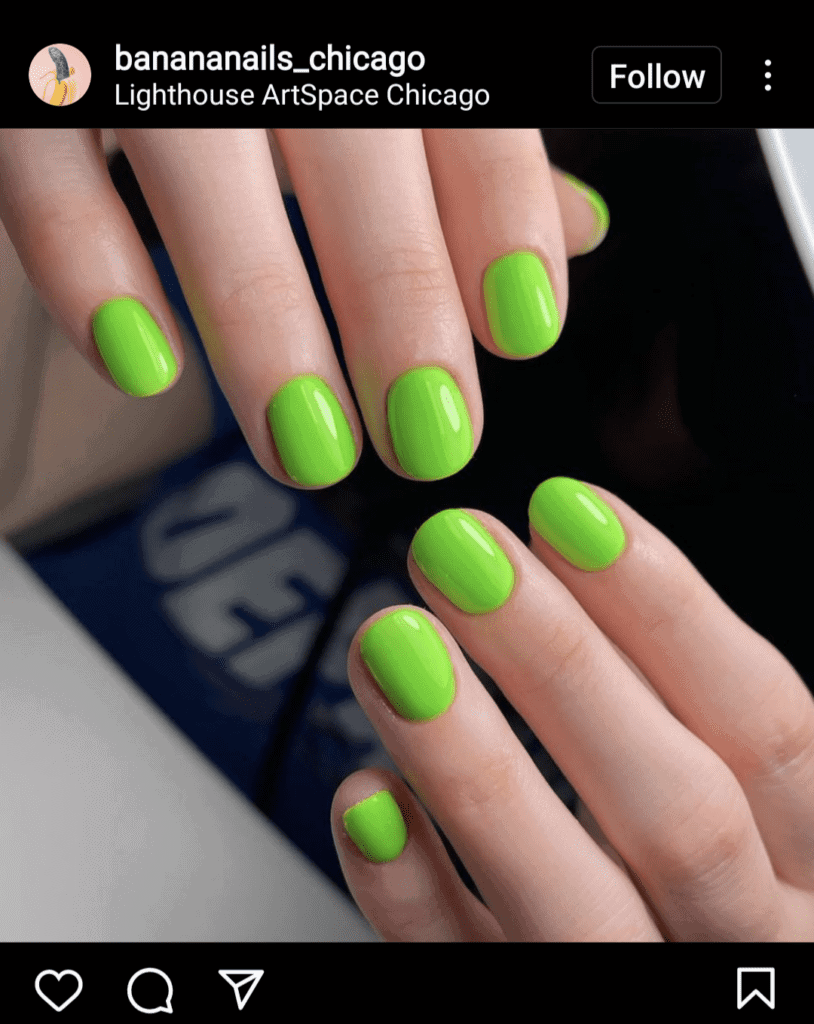 Chunky Confetti Glitter
Glitter never really goes out of style in my opinion but does change in the type of glitter you are getting. The 90s was full of chunky confetti glitter in a rainbow of colors. You can do each nail with a different color of glitter, the same color of glitter, or rainbow confetti glitter on each nail. Some fun confetti glitters to try are Orly in Turn it Up, OPI Confetti Ready, and Zoya Monet.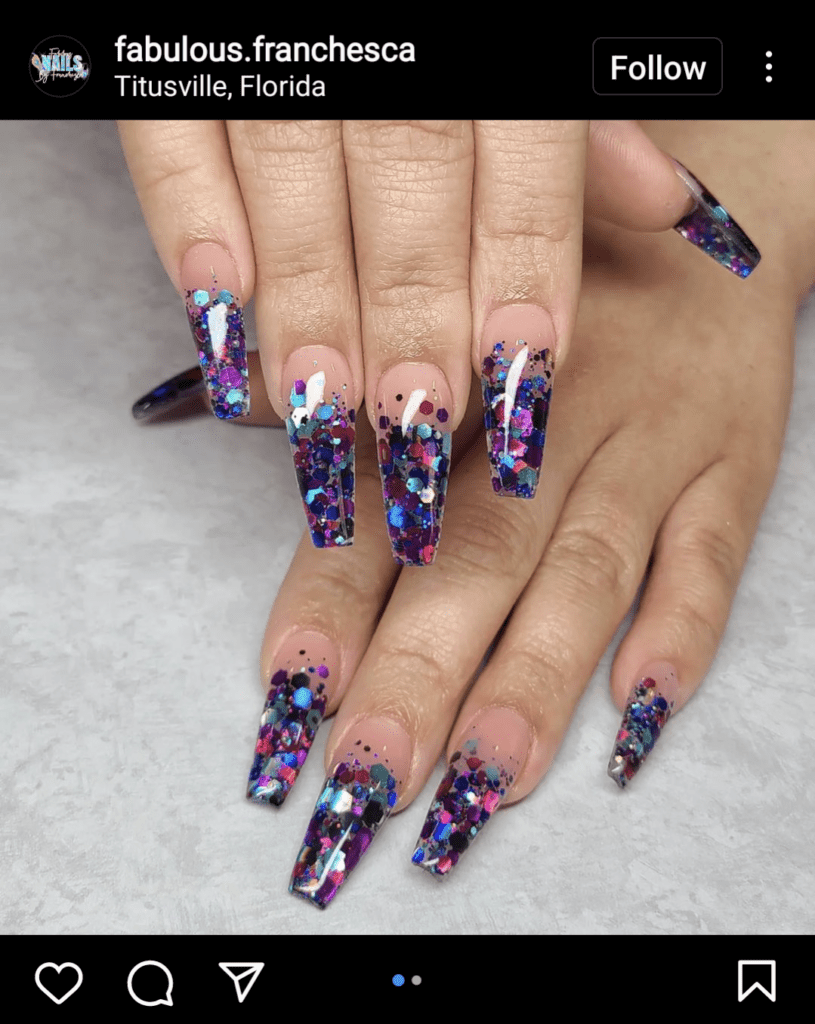 Square French Tips
French tips have always been in style and changed in variations throughout the years. Long french tips with a square nail shape were trendy in the 90s and still look good today. To achieve the standard french tip, start by painting the end of your nail white, starting at the free edge. Then go back with a dome-shaped nail brush dipped in acetone, carve out the perfect arch, and finish with a pink-tinted topcoat, like OPI Bubble Bath.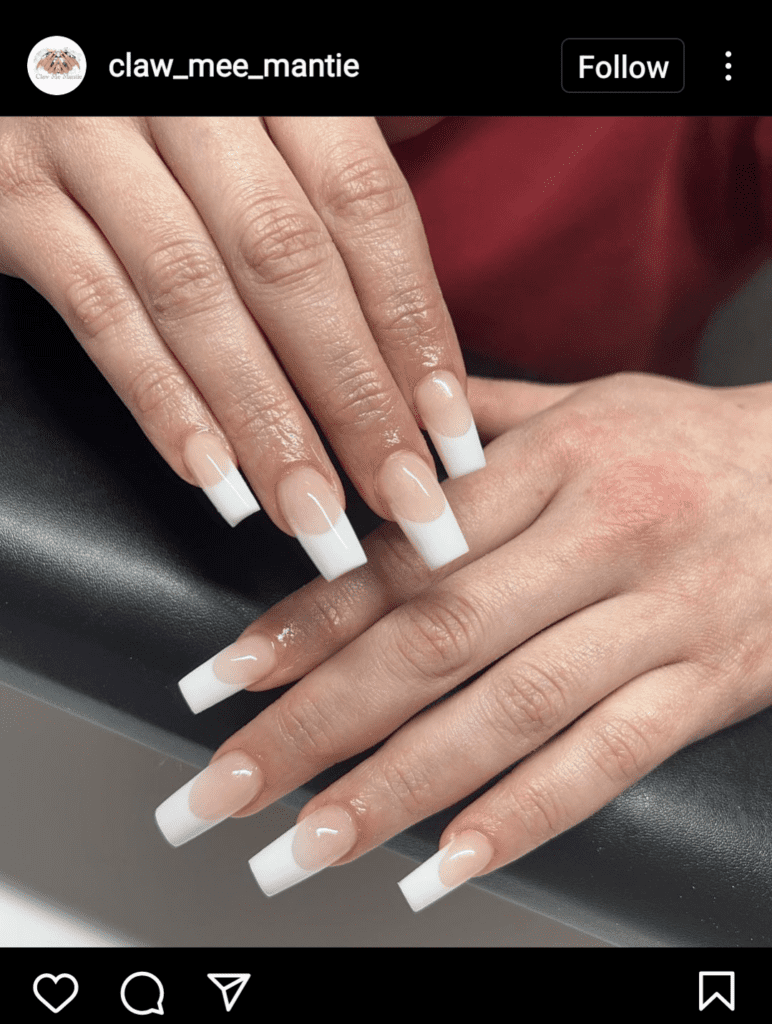 Graffiti Nails
Try graffiti nails with colorful letters and bubbly cartoon designs to stand out. You can try to paint your graffiti art with line brushes, two or three polish colors, and some patience. You can also use nail foils, which are basically transferred tattoos that you put over foil glue and press on. Even though this is an awesome look, it is a bit more complex no matter how you do it and may not be achievable by everyone at home.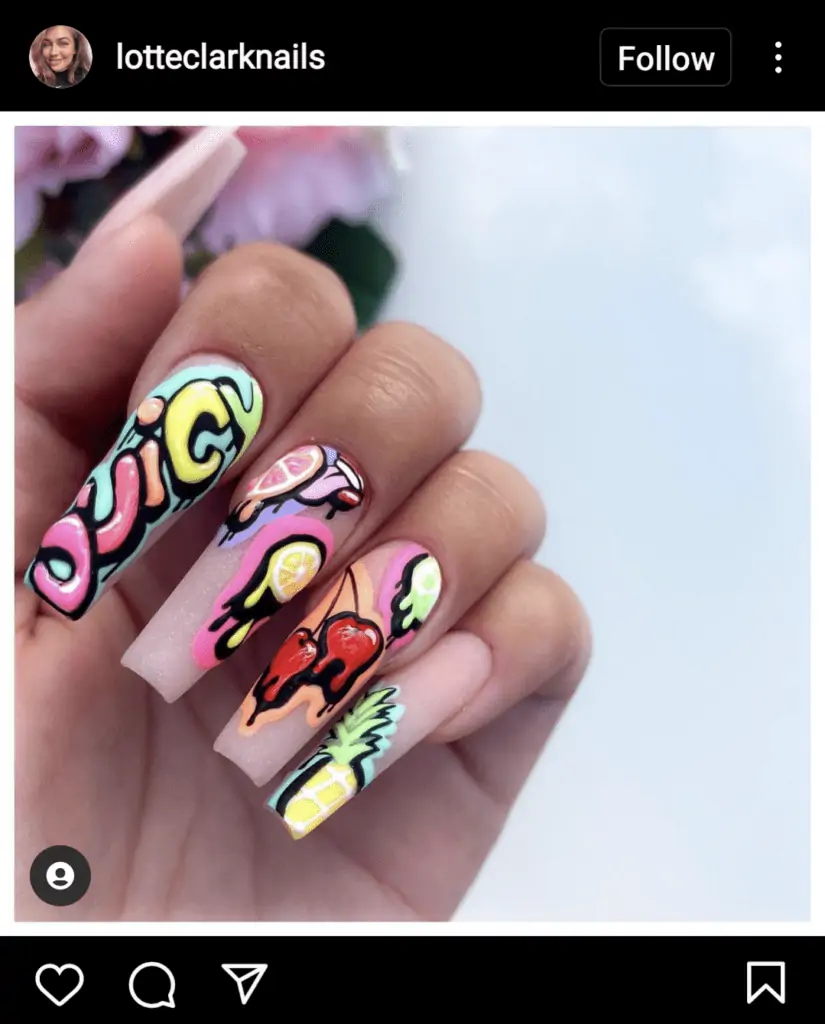 Mix-N-Match
Since these designs go together because they are from the same era, it can be fun to have a different design from nail to nail. You can do smiley faces with lightning bolts together, butterflies with metallic polish, or checkerboard with yin-yangs. You could even make each nail a different design since more than ten designs are listed here.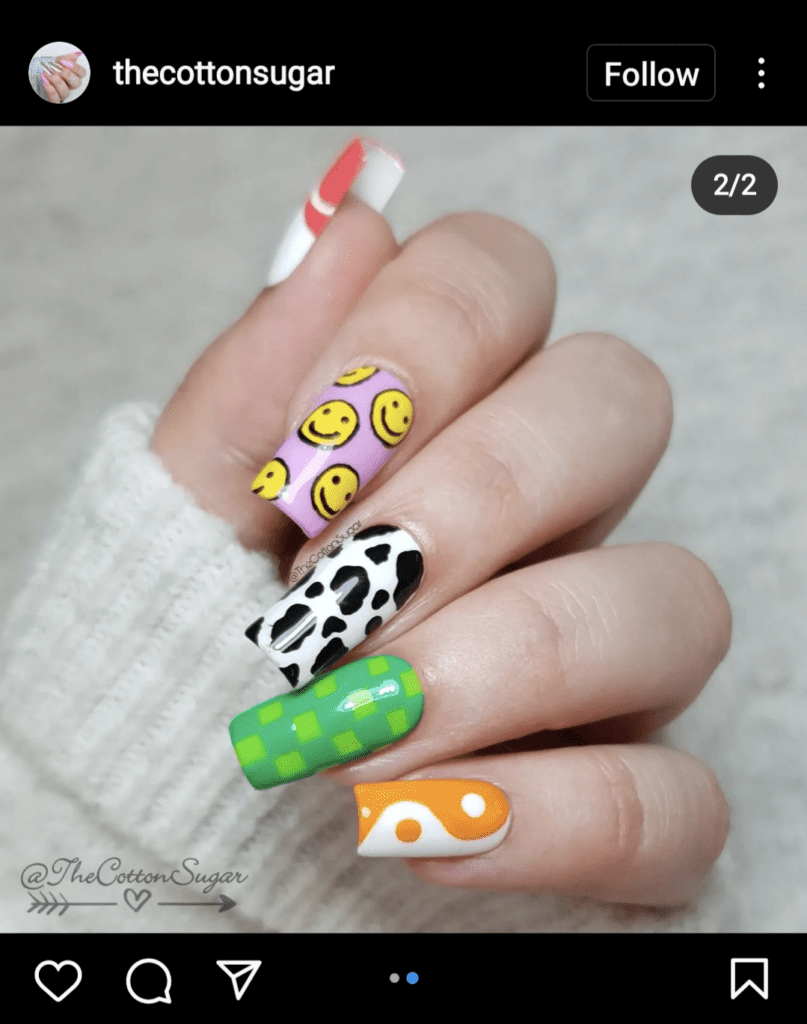 FAQs
Question: Is 90s Fashion in Style this Year?
Answer: 90s fashion has started to make a comeback, from cheetah print to metallic. Other designs you will see on clothing, accessories, and nails are smiley faces, yin-yang symbols, checkerboards, and flames. Expect to see this style around for a while.
Question: Did they Have Acrylic Nails in the 90s?
Answer: Acrylic nails were invented in the 50s by a dentist who broke his nail and made an artificial nail out of dental acrylics. However, today's method for acrylic nails was not invented until the 70s and didn't become popular until the 90s. People still use acrylic nails today to create artificially long nails.
Question: What was the Trendy Nail Shape in the 90s?
Answer: Square nails were the trendy nail shape in the 90s, especially if you did a french tip with it. A square nail shape is still popular today, but it is now trendy to go with an oval or almond-shaped nail. An oval or almond nail shape is more natural and less likely to break than a square nail shape.
Question: What is the Easiest way to do 90s Designs on Your Nails?
Answer: The easiest way to do 90s designs on your nails is to use nail stickers. Many designs from the 90s are intricate and colorful, making it challenging to paint these designs yourself. They are even too colorful for nail stamps most of the time due to nail stamps only being able to be done with one color.
Should You Try 90s Nails?
If you love unique, colorful designs, you should give 90s nails a try. I am all about the 90s fashion coming back, and I love everything 90s, including the dark grunge scene and unique cartoons. These designs throw me back to whenever I was a kid and make me want to let out my inner child, especially my favorite flame design.
Continue reading:
27 Fun Abstract Nails Inspiration and Ideas to Try Out
Brown Nails Inspiration and Ideas: 22 Chic Brown Manicures for 2022