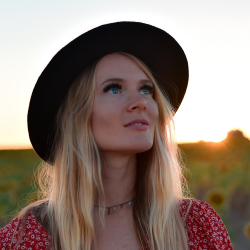 Latest posts by Haley Parker
(see all)
Summertime is coming, and that means bright blue skies! I know I can't wait to see those clear sunny skies that we all love. What better way to kick off your summer than with a bit of sky blue nails inspiration?
I don't know about you, but I am ready for all the summer fashion to start coming. Anyone can enjoy sky blue nails, from nails that glisten in the sun to designs that make you feel like you're living in a summer fantasy. Plus, it is one of the most seen colors on fashion runways this spring!
Sky Blue Nails Inspiration Up Front
Bright Sky Blue: This color mimics the color you think of when you look at the sky on a sunny day.
Stormy Blue: The sky isn't always a bright shade of blue. Sometimes it storms, creating a grey shade of blue.
Baby Blue: For those who don't want a super bright blue.
Periwinkle Blue: It's like baby blue with a tinge of purple undertones.
Glitter: Everyone loves a good glitter nail, and what better color to reflect in the sun than the color of the sky.
Sky Blue Designs: Clouds, daisies, ombre, color blocking, tipped, snowflakes, and butterflies are all designs you will find on this list.
Selection Criteria for Sky Blue Nails
Can Be Done at Home
Everything that you find on this inspiration list is doable from your home. Even those who are not very crafty can achieve these looks with the right tools and some practice. If you aren't comfortable doing your own nail art, there are plenty of basic sky blue nail ideas here.
Trendy
You will not find unfashionable styles on this list of inspiration. There are only current colors, such as periwinkle, and cool new designs, like color blocking. I don't want to inspire people to come to my manicure table asking for dot flowers and other outdated nail designs.
There's Something for Everyone
Sky blue is not always the best color for everyone. It's a pastel color in a cool tone which can be difficult for some to pull off, such as fair people and warm, dark skin tones. Do not let that deter you from sky blue nails, though! There is something for everyone on this list.
Sky Blue Nails Inspiration
Sky blue can be a wide range of colors. If you look up during a sunny day versus a cloudy day, the sky will be two very different shades of blue. Below is a list of some different sky blue colors you can choose from.
Bright Sky Blue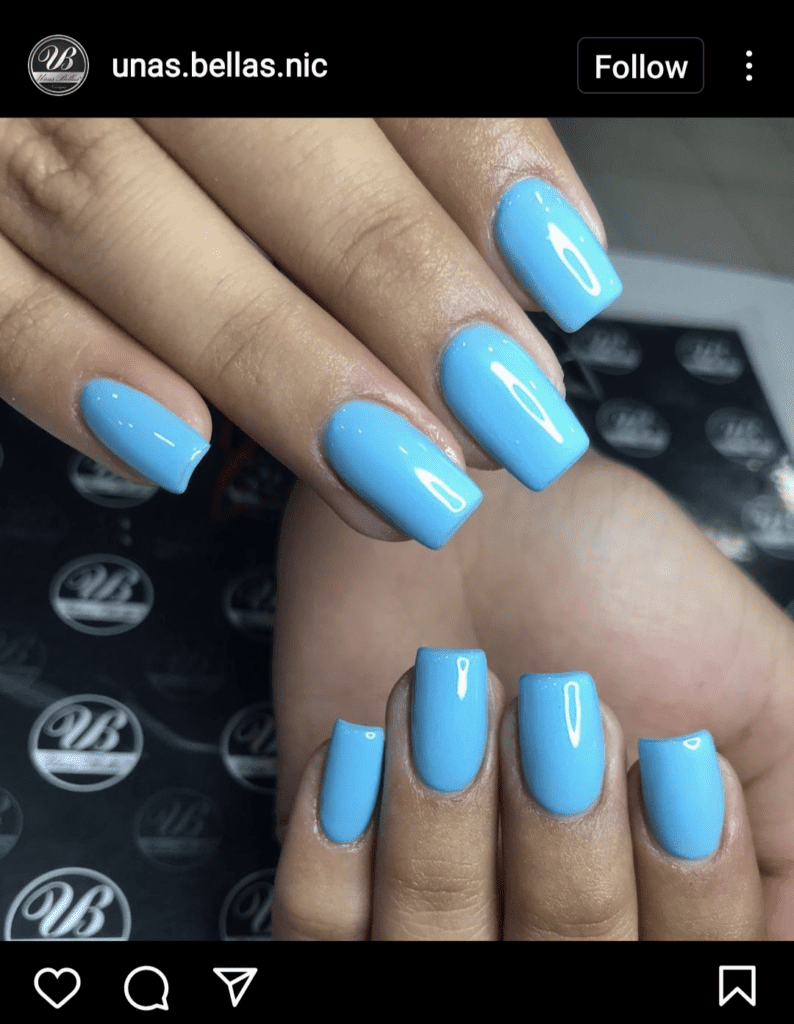 This shade of sky blue is what I imagine when you look up at the sky on a partly cloudy day. Some color examples that remind me of this are "No Room For the Blues" by OPI, "Summertime Blues" by Duri, and "Blue Me Away" by Sally Hansen. This color of sky blue is bold and will work for most skin types.
Stormy Blue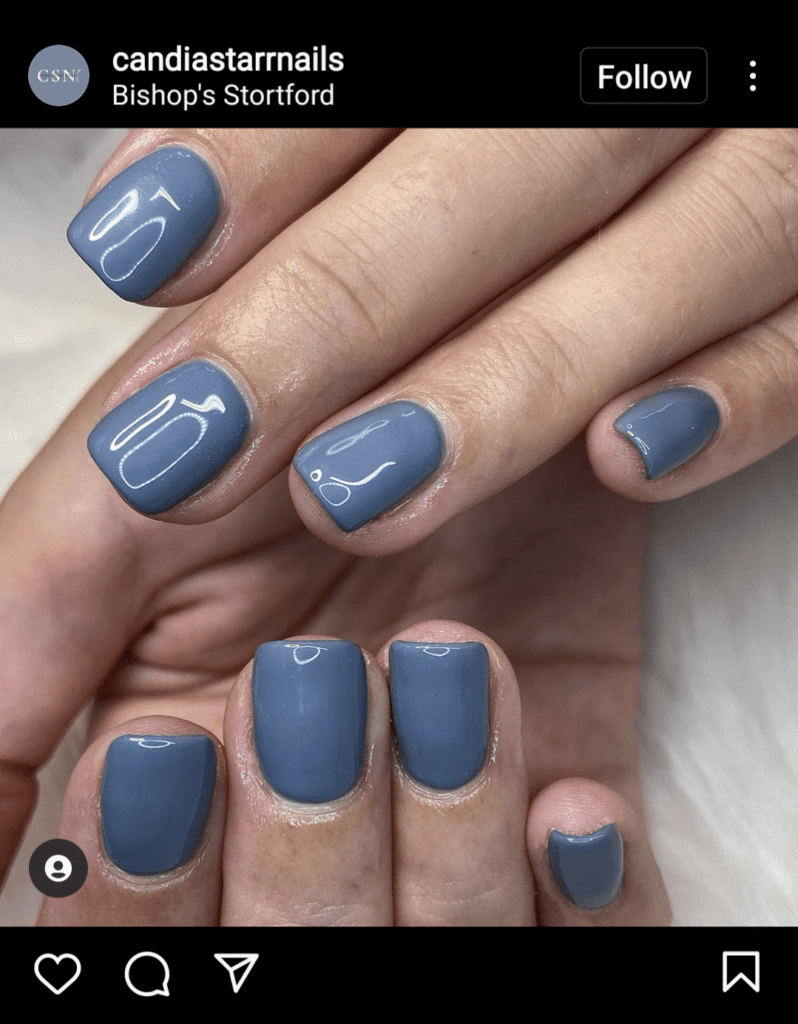 Stormy blue is more of a neutral blue. Mixed with a little bit of grey and maybe some purple, this color is less bright and is better for those looking for a tamer sky blue. Some polishes that resemble stormy blue are "Air Dry" by Expressie, "Check Out The Old Geysirs" by OPI, and "Denim Patch" by CND Vinylux.
Baby Blue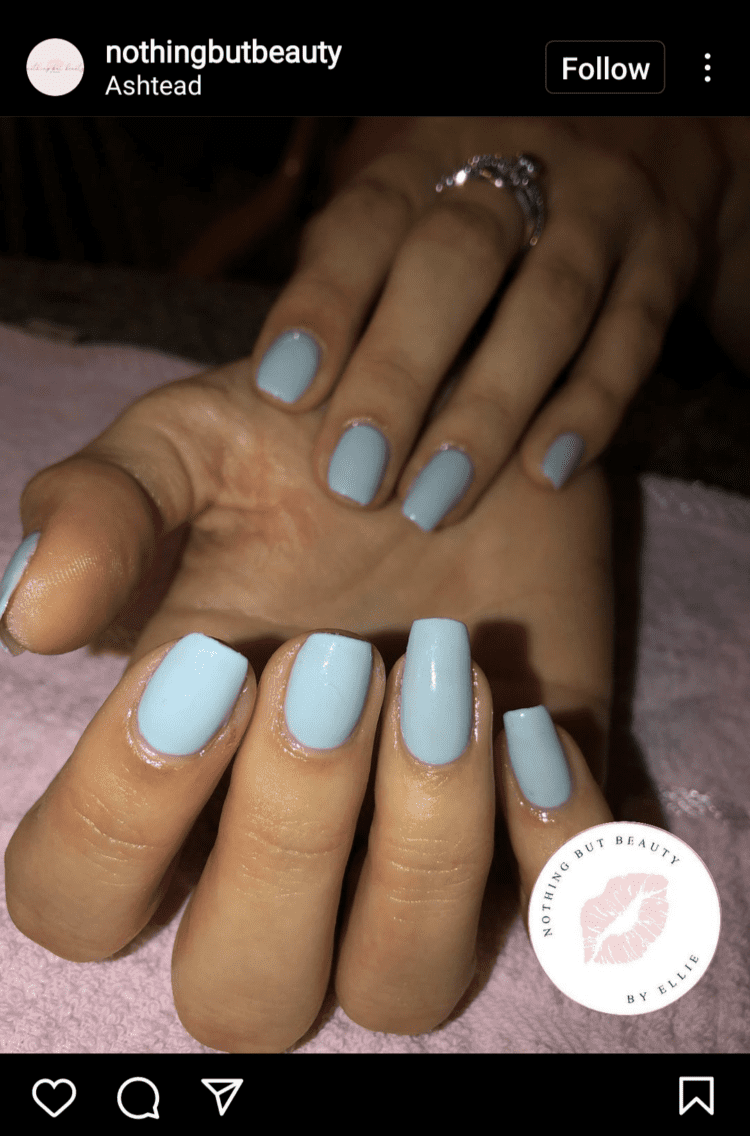 This shade of sky blue resembles more of a cloudy day when the actual sky color and the clouds intermingle. Some great baby blue colors are "It's a Boy" by OPI, "Breeze Blue" by Sally Hansen, and "To the Chapel" by Revlon ColorStay. These blues look surprisingly good on paler skin tones and most others.
Periwinkle Blue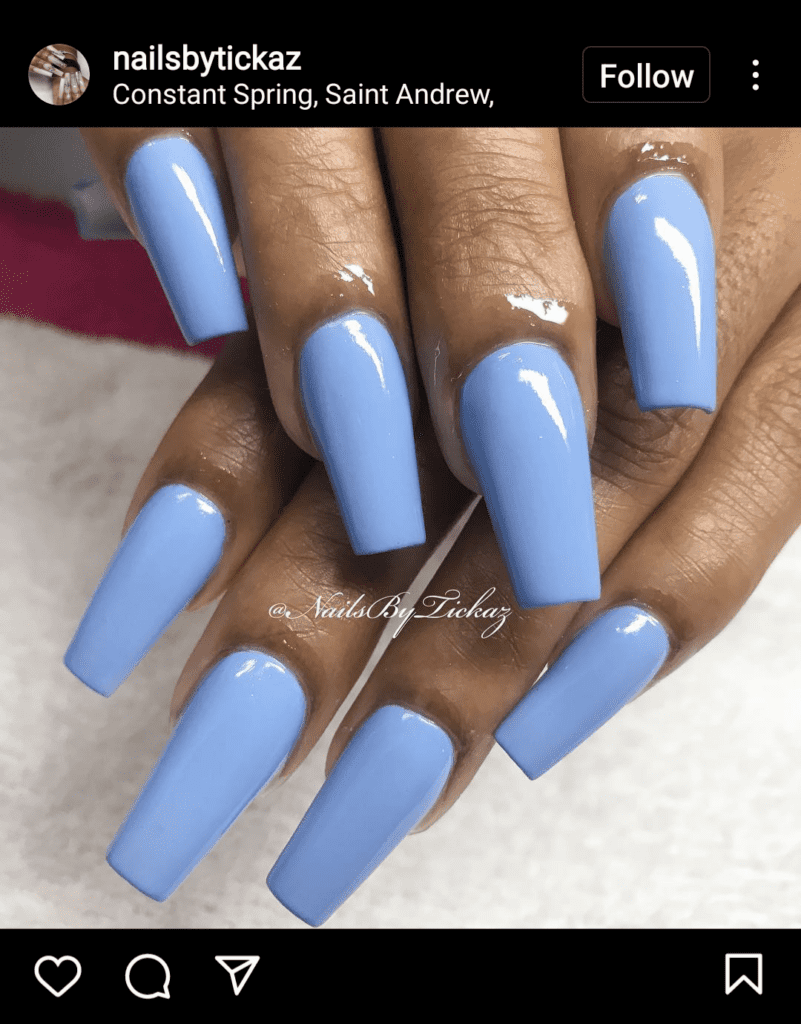 Periwinkle is a type of flower whose petals are a blueish purple shade. This shade of sky blue reminds more of winter skies right before it snows and looks great on those with warmer skin tones.
Some examples of periwinkle blue polish are "Bikini so Teeny" by Essie, "O-Zone You Didn't" by Salley Hansen Miracle Gel, and "Chance Taker" by CND Vinylux.
Glitter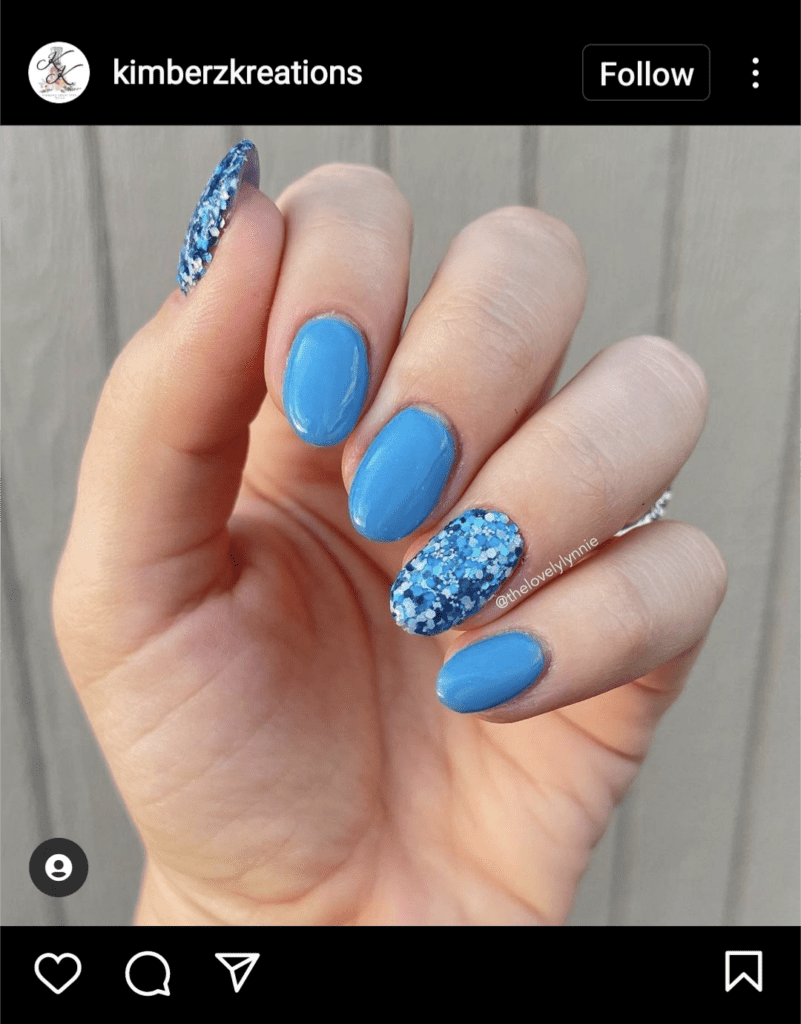 What better way to mimic sky blue than to put a bunch of tiny suns on your nails reflecting light? They are also known as glitter. You can do a whole nail of glitter or a simple glitter topcoat. You can try polishes like "Dream" by Cupcake Polish, "Angels Flight to Starry Nights" by OPI, or "Crystal Blue" by Sally Hansen.
Mix Different Shades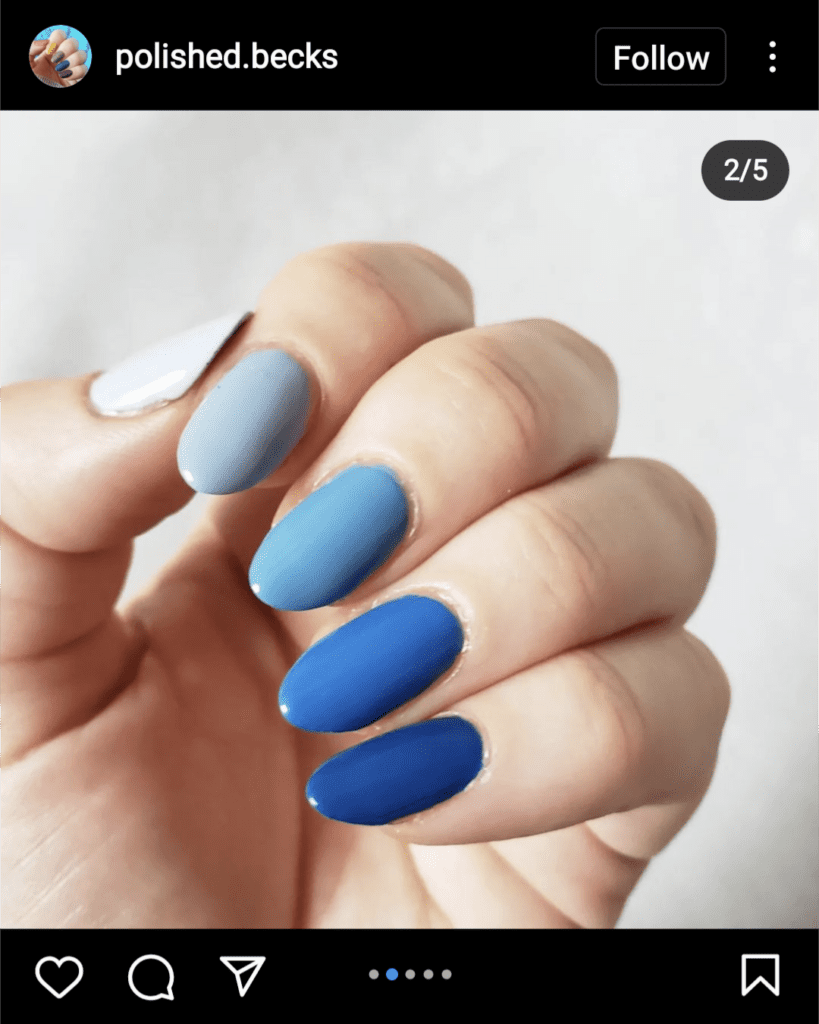 Lately, putting a different shade of sky blue on each nail has been a common trend. You can paint different shades on each nail, such as periwinkle, storm blue, and baby blue. You can also do this by changing the lightness of blue from nail to nail, starting with a bright sky blue and gradually getting lighter to white.
Sky Blue Nail Designs Inspiration
Sky Blue is a great color to pair with designs because it is a lighter color, and you can make your design high contrast or blend it in with another pale color like white. Below are some sky blue nail designs as fun as the color itself.
Clouds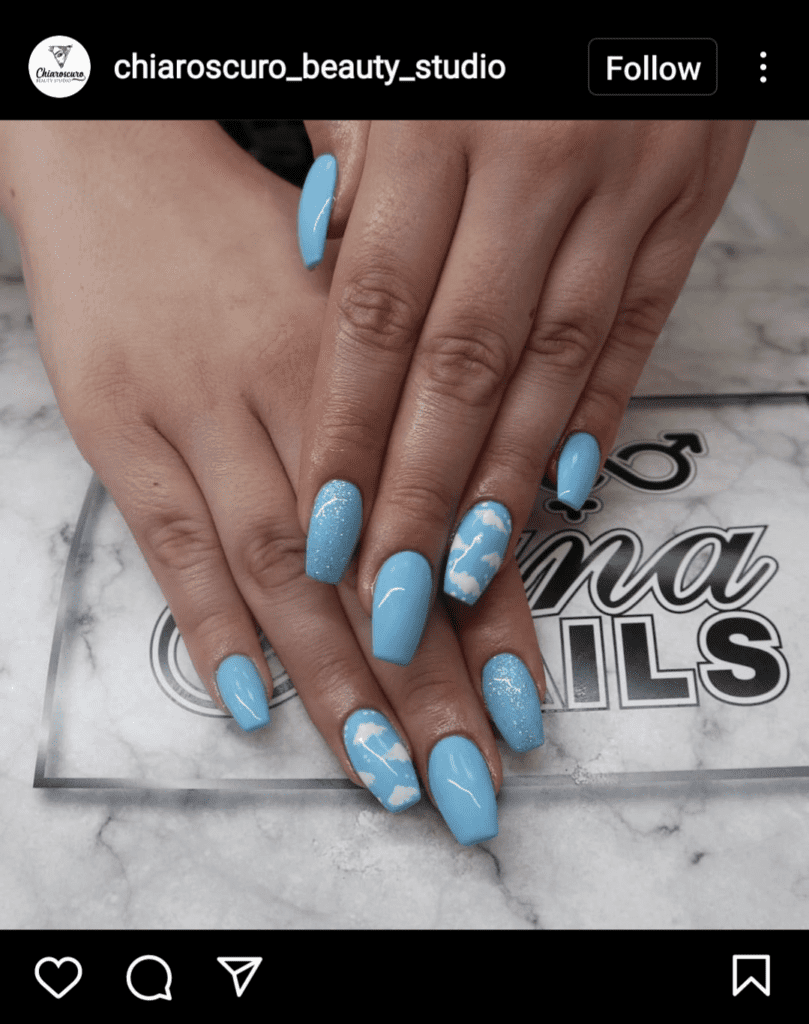 What better nail design to go with sky blue than clouds? Clouds are a perfect design to kick off summer, giving you all the sunny sky vibes. The best color to do this with would be bright sky blue, but you can pull it off with any shade of sky blue.
To make a cloud design, start by painting the entire nail your desired shade of sky blue. Then take either a dotting tool or toothpick and dip it in white nail polish so that only the tip has a small amount of polish. Then start dotting the white paint in a random circle shape, making sure to fill in the center.
Daisies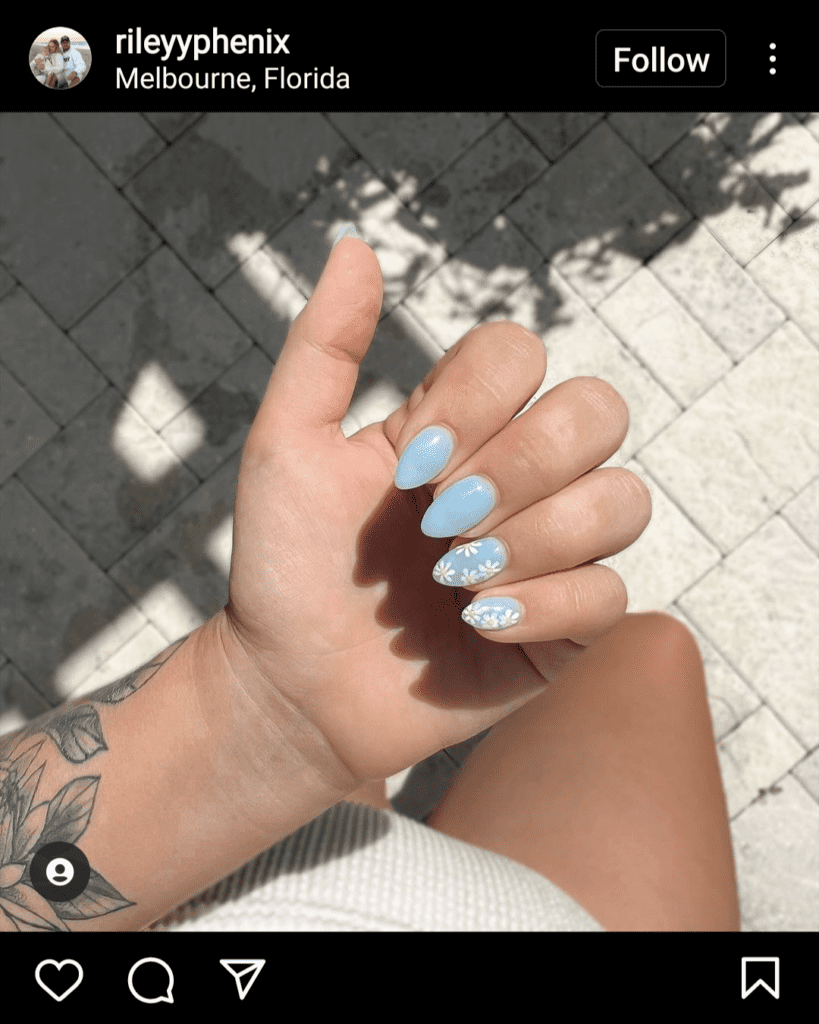 Daisies and baby blue are two things that seem to go together. They're both super summery things and have a fun, cute vibe. You can do anything from one big daisy in the middle of the nail to a few tiny daisies all over the nail.
You will need a dotting tool and a nail design brush (a long skinny paintbrush) to make daisy designs. Start by putting a dot of orange or yellow polish in the center of where you want your daisy.
Then take your design brush with white polish and draw thicker lines around the outside of the center dot. Start from the inside out, so the widest part of the petals is on the inside.
Ombre
Ombre nails came around about ten years ago and never went out of style. The nice thing about ombre sky blue nails is that they look more subtle. Especially if you ombre the color into a nude. You can also make them pop by fading sky blue into a darker color like navy blue or black.
For this design, you will need a makeup sponge, your desired shade of sky blue, and whichever color you want to ombre the blue into.
Start by painting your whole nail a lighter shade of polish, either the sky blue, nude, or white. To see the ombre process, the video below may help you. Make sure to finish with a top coat, as the process will make your polish matte.
Color Blocking
For a more modern look, color blocking is the way to go. Color blocking is when certain squares of your nails are one color, and the spaces in between are another. This look started in the '70s but has reemerged through nail art.
Before color blocking, paint your whole nail with a nude or whatever color you want underneath. Once that is completely dry, block out the space you don't want to be sky blue with scotch tape and paint your nail with sky blue polish. Immediately remove the scotch tape and apply a topcoat.
Tipped
Doing a sky blue tip is always in style. French tips have been around for generations, and now there are many new and unique ways to add colored tips to nails. You can simply outline the end of your nail, fade in the tip color, or do more of a triangular-shaped tip.
To get your standard french tip, try painting your whole nail tip first instead of painting it on perfectly. Once your entire nail tip is opaque in color, take a dome-shaped design brush dipped in acetone and carve out your perfect smile-shaped french tip. Top with a clear topcoat or translucent nude color.
Butterflies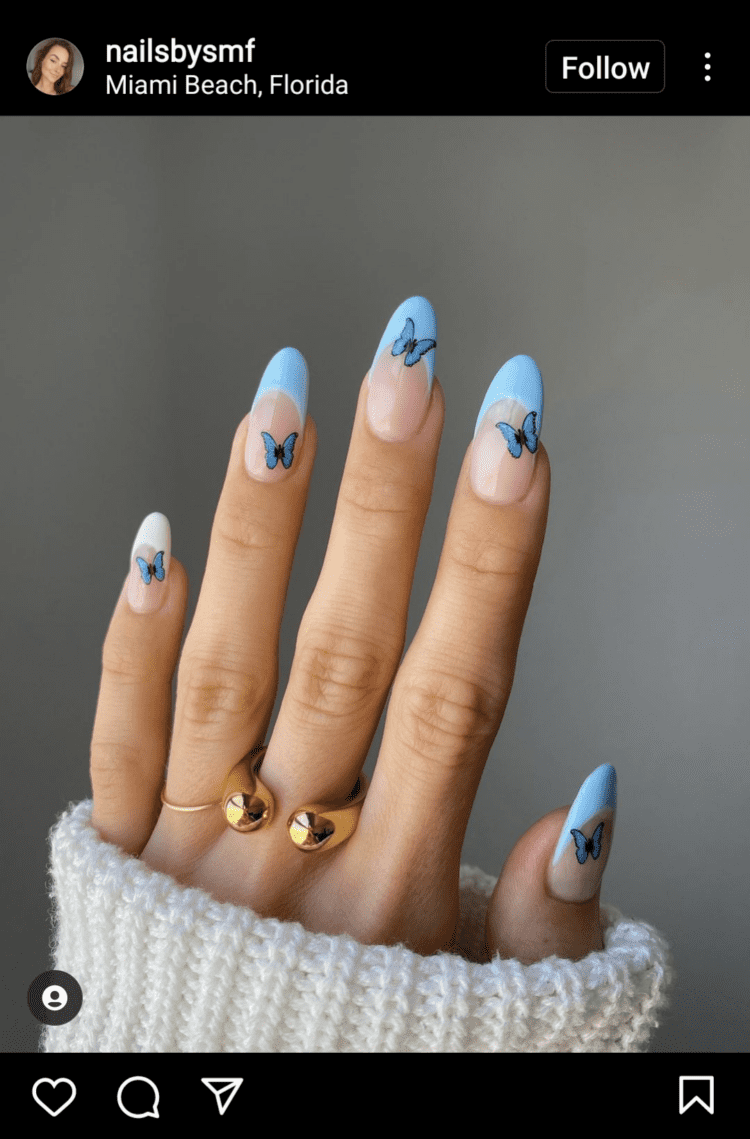 What says summer skies more than butterflies. Especially those blue monarchs that are the same color as the sky. Simply painting your nails sky blue and putting a few little butterflies on top can give your nails the summer vibe they need.
The easiest way to get butterflies on your nails is with nail stickers. They are small, thin stickers or decals that go right over your polish. Once you have placed the butterflies where you want them, paint a layer of top coat over your nails.
Snow Flakes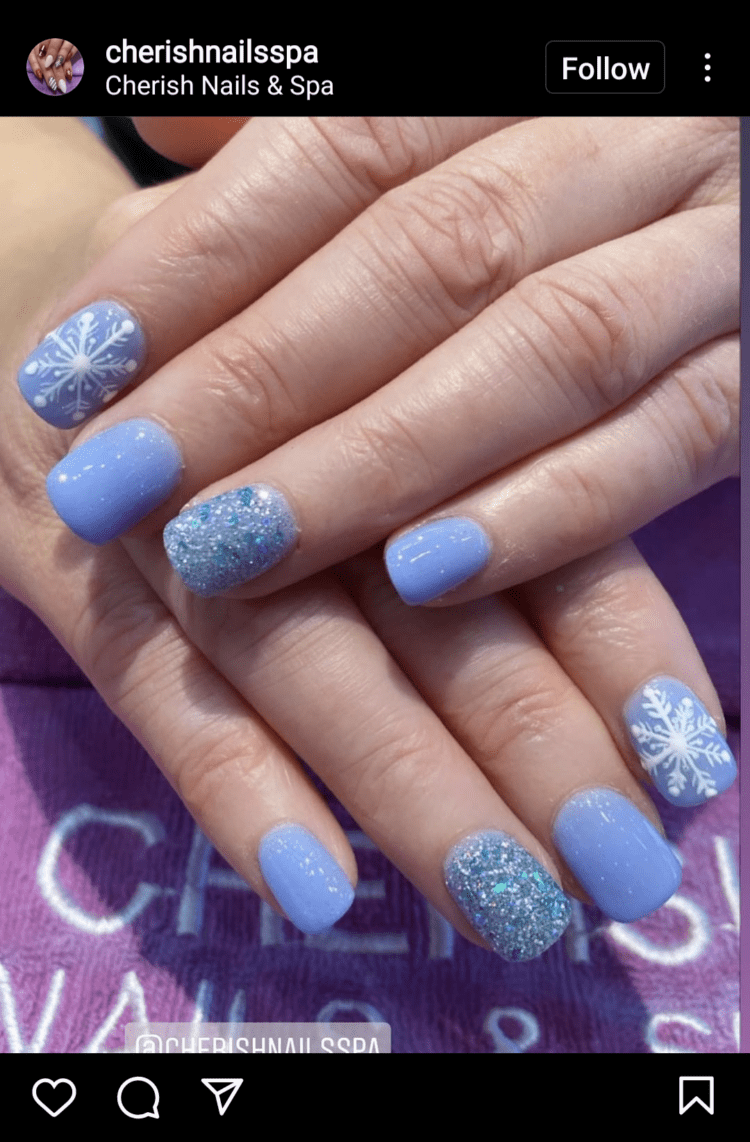 For more of a winter sky blue look, go with snowflakes. The best sky blue color to use with snowflakes would be periwinkle blue, and the purple tinge gives this color more of a winter feel. Snowflakes are also surprisingly easy to do yourself.
Using a nail stamp is the best way to get snowflakes quickly. If you want to freehand snowflakes, you need a dotting tool and a design brush. Start by brushing two lines into an X, then make one or two more lines through the center. Use your dotting tool to make small snowflake branches off of these lines.
Tools to Use
Below are a few tools that may make your nail art easier:
Nail Stamps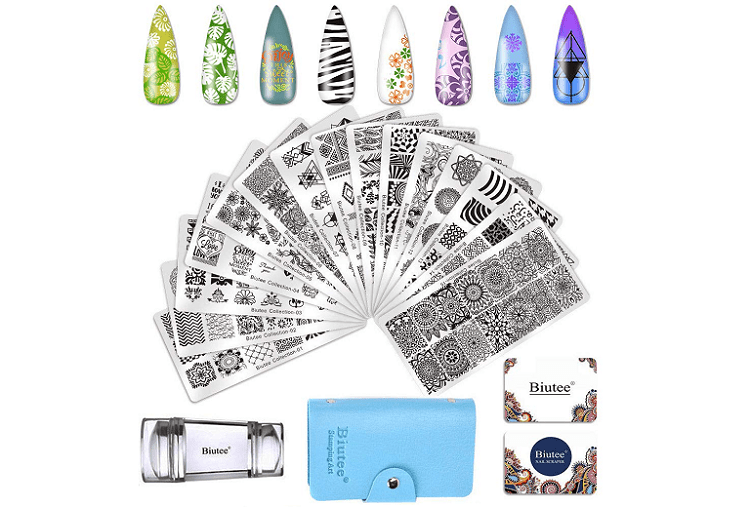 You can use a nail stamp to stamp nail designs onto your nails, so you do not need to freehand them. It comes with a silicone stamp, a plastic board, and metal cutouts with designs. They work by laying your chosen design plate over the plastic board and painting in the design with polish.
Remove the metal design plate and stamp the design on the plastic panel with the stamper. Last stamp the layout on your nail and finish with a topcoat.
Nail Stickers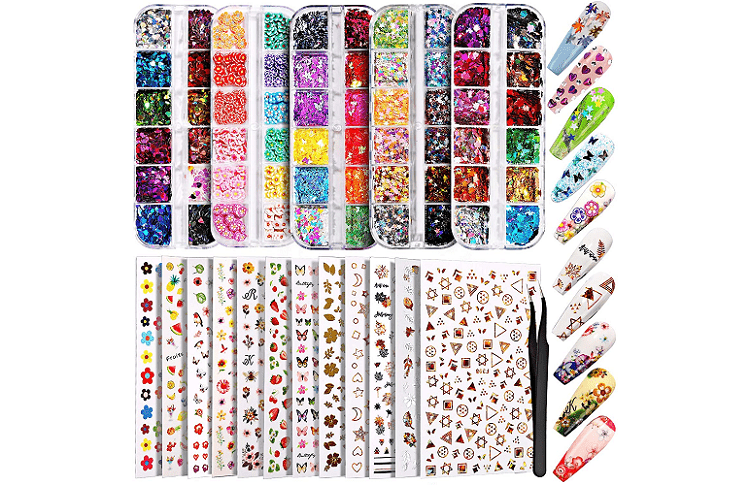 Nails stickers are what they sound like exactly. They are small thin stickers that you can place over nail polish to add a design to your nails quickly.
You can get anything from smiley faces to hearts to butterflies in these nail stickers. Make sure to finish with a top coat, so the stickers do not come off quickly.
Makeup Sponges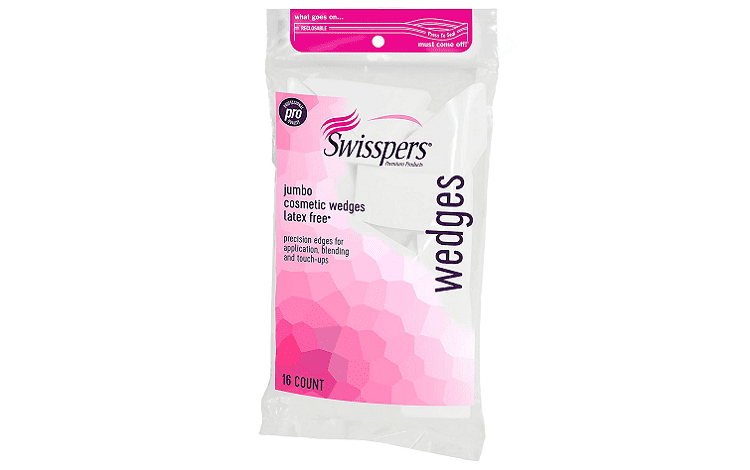 Makeup sponges can be used for various blending techniques in nail art. You can use them for ombre, galaxies, tye-dye, and watercolor looks. You want to get a big pack of disposable sponges as they are unusable after one set of designs.
Nail Design Brush Kit

If you plan to do designs on your nails regularly, it is wise to have a nail brush set on hand. They come with a dome brush, rectangle brush, angled brush, pointed brush, design brushes, and dotting tools. You can use these for french tips, flowers, geometric designs, and many other fun nail art.
FAQs
Question: Are Sky Blue Nails In Right Now?
Answer: Sky blue is a color that you will find all over runways this year. From bright blazers to monochrome shoes, sky blue is everywhere. It only makes sense to match your nails with some sky blue polish.
Question: Do Sky Blue Nails Go With My Skin Tone?
Answer: There is a shade of sky blue for everyone. Cooler skin tones can go with any shade of sky blue, while warmer skin tones may want to stick to more of a periwinkle sky blue. Pale skin tones tend to look better with a lighter, baby blue than a bright sky blue.
Question: Should Your Nails Match Your Toes?
Answer: That depends on your style. If you are one of those who like everything to match, I wouldn't try to play with different fingernails and toenails, or you'll most likely regret it. If you have more of a chaotic style, mixing patterns and colors, you can totally pull off mix and match fingernails and toenails.
Question: Are there Multiple Shades of Sky Blue?
Answer: Yes. The sky isn't constantly one shade of blue. You can find sky blue in bright blue, baby blue, periwinkle blue, grey-blue, and whatever other shade of blue you think the sky looks when you look up. You could even say navy blue is sky blue since that's the color of the night sky.
Question: Does Sky Blue Look Good on Short Nails?
Answer: Yes! In my opinion, sky blue looks better on short nails than long ones. Sky blue gives short nails the pop they need for people to notice without overdoing it. Lighter colors like sky blue can also make short nails look longer.
Bottom Line
There are so many fun, summery things that you can do with sky blue nails, from quite literally mimicking a summer sky to having butterflies dance around on your fingers.
However, it is also one of those colors that you can tone down for a more classic look with an ombre or a tinge of periwinkle. There is something for everyone with this unique nail color.
Even though sky blue may seem like a summertime nail color, you can also drag this color into the winter months. It is also the same color as ice and snowy skies. Sky blue just so happens to be a versatile color that you can wear year-round if you genuinely love it.
Continue reading:
Light Blue Nails Inspiration and Ideas: Find Your Dream Nails
Navy Blue Nails Inspiration and Ideas