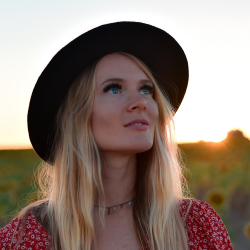 Latest posts by Haley Parker
(see all)
As someone who works in the nail industry, finding products that are non-toxic and good for your nails can be difficult. Acetone is not good for your nails with frequent use, and it seems that every alternative they have come out with lately is more toxic than acetone. So, here we are. Trying out another acetone alternative.
In this Mineral Fusion nail polish remover review, I will go over how well it works, if it is actually better for you, and other features that differ from standard acetone-based nail polish removers. I haven't found anything better than acetone yet, so let's dive in and see if this one can beat the odds.
Is it Worth it Up Front?
Mineral Fusion nail polish remover worked surprisingly well for not being an acetone-based remover and smelt much better than acetone alternatives. It also left my nails smooth and less dry than with acetone removers. However, I'm not a massive fan of the ingredients, and the bottle leaked everywhere. I'm sort of an ingredients snob, so I will not be using this remover again.
Mineral Fusion Nail Polish Remover Features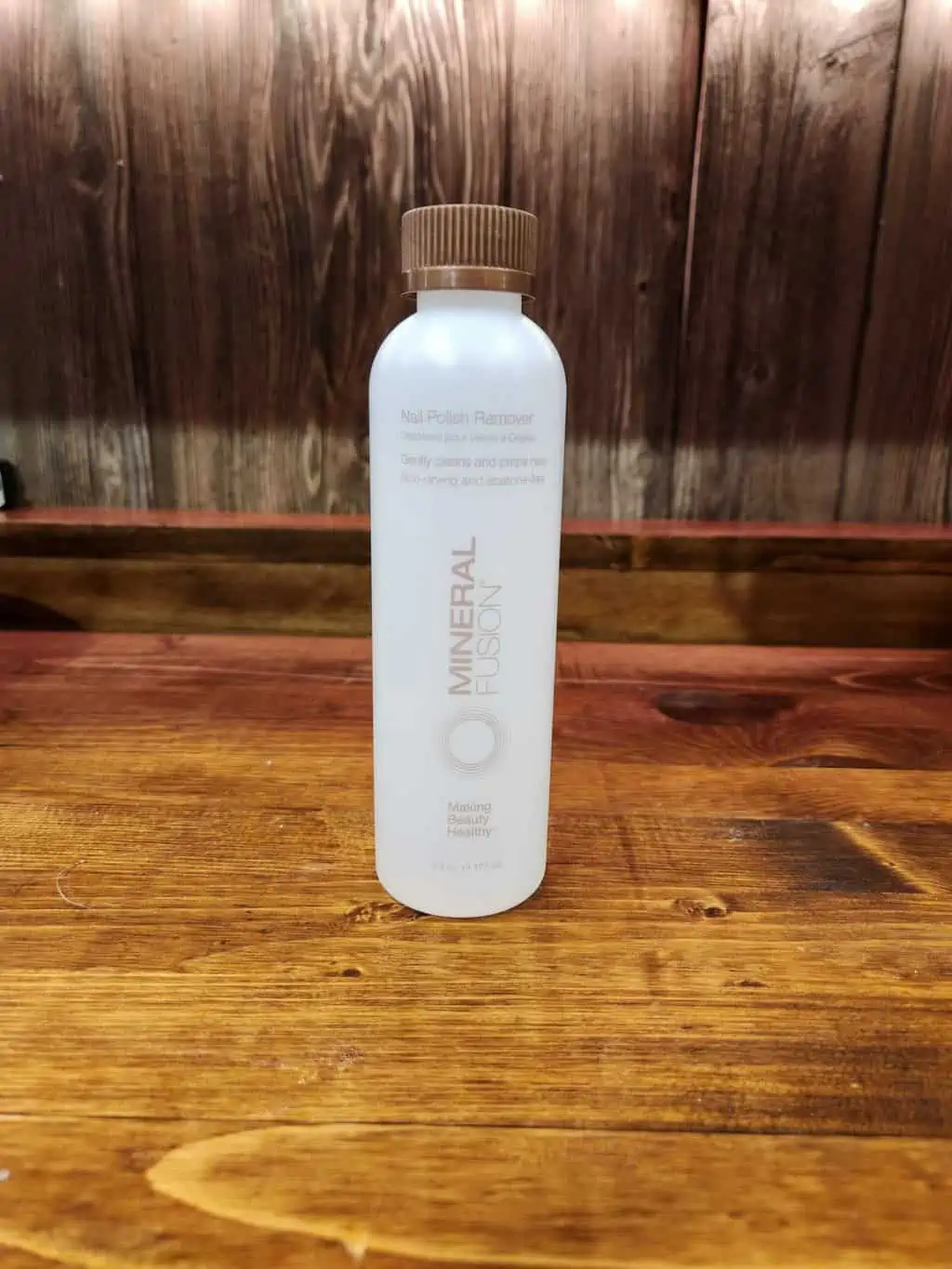 I look at a few things when purchasing a new nail polish remover, including the scent, ingredients, and packaging. If one of these is not to my liking, I most likely won't even try it out. So let's go over these first.
The Scent
No nail polish remover ever smells amazing. It will always have that slight alcohol scent when you put it up to your nose. However, we aren't usually sniffing nail polish remover, or you shouldn't be anyway. So, I'm basing this scent analysis on how it fills the air and lingers.
I actually really liked the scent of this remover. My boyfriend even walked in while I was using it and said it smelt really good. It smells like a sweet floral and lingers on your nails a little bit. Although, it is not super heavy like many other nail polish removers. It sort of just floats in the air as perfume does.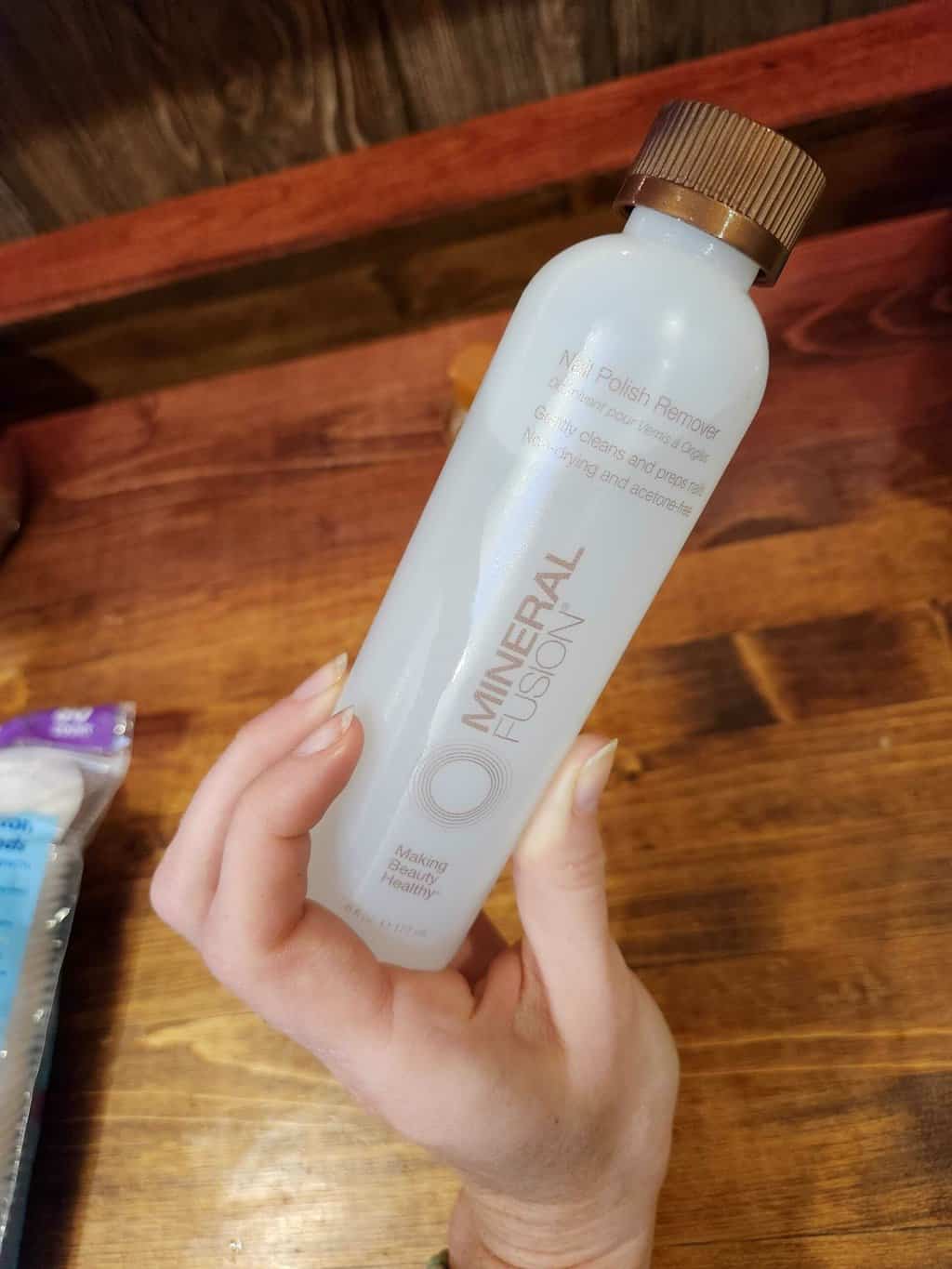 Ingredients
This nail polish remover has only three ingredients: 
Methyl acetate

Isopropyl myristate

The elusive fragrance 
I love a product with a short ingredient list because it means they aren't putting in a bunch of unnecessary ingredients. However, I need more than that to make me think it has good ingredients.
So let's look into what these ingredients actually are. First, I want to state that Mineral Fusion claims to use no artificial fragrances and is paraben, cruelty, and gluten-free. Isopropyl myristate is a moisturizer that you can find in many lotions and helps keep your skin soft and smooth, which will make it unsuitable for cleaning the nail before applying polish.
The main ingredient is methyl acetate, which is the actual solvent used to remove polish. While methyl acetate will not harm you in the small amounts you're using to remove your polish, it can be toxic if inhaled in large quantities. It's really deceiving because it has a floral scent that is weaker than other solvents. Still, there are alternatives that are virtually non-toxic, like acetone.
Methyl acetate is also a methanol product, made mainly from natural gases or coal. If you are worried about using environmentally conscious products, there may be better choices for you.
Packaging
There is only one good thing that I have to say about this packaging, so we'll start with that. The screw top is child-proof, so you don't have to worry about your pets and children ingesting it. This is unique for nail polish removers but should totally be standard.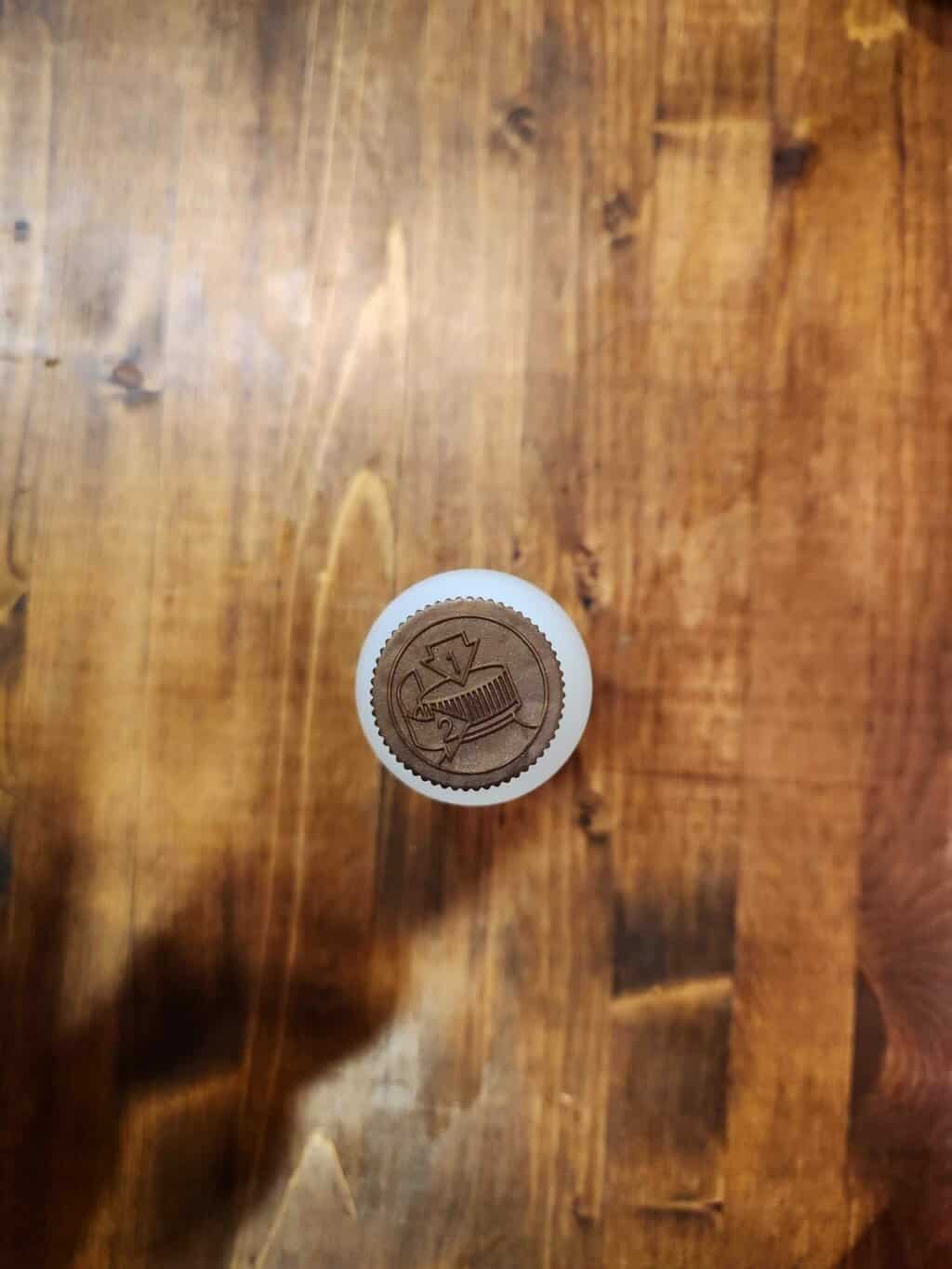 That being said, the child-proof top is not leak-proof. Leaky caps are a common problem for nail polish removers, so I flipped the bottle over and let it sit on the cap for a minute or two. The remover poured out of the closed cap when I flipped it back over. This could be fixed if they installed a rubber seal in the cap.
This isn't a huge deal as long as you keep your nail polish remover in a place where you know it won't fall over. My bottles always somehow get knocked over in my cabinets, so this is a huge downside for me. Mainly because nail polish remover can ruin your furniture and cabinets.
How Well Does it Work
I've always had a hard time finding an acetone alternative that is just as effective and quick at removing polish. I use Sally Hansen Miracle Gel on my nails, which is a thicker form of a regular polish that mimics gel without the LED or UV light. When using this remover, I had the polish on for about five days, so it was starting to lift in some spots.
Application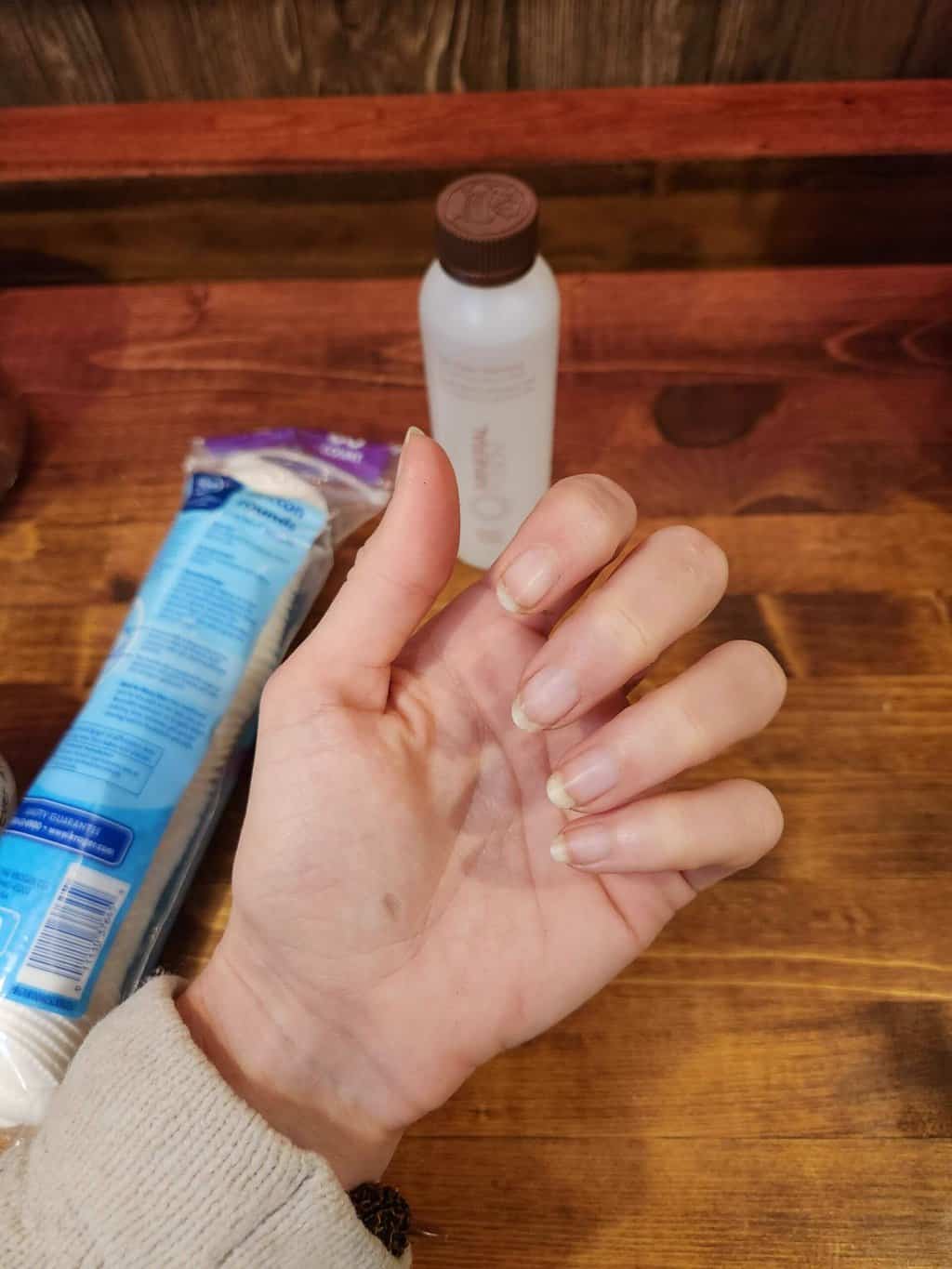 The consistency of Mineral Fusion's nail polish remover is similar to acetone, so it is very runny. I simply laid a cotton pad on the bottle's opening and flipped it over for a second to ensure the pad was thoroughly soaked. I prefer pump tops because you're less likely to spill, but this is standard for nail polish removers.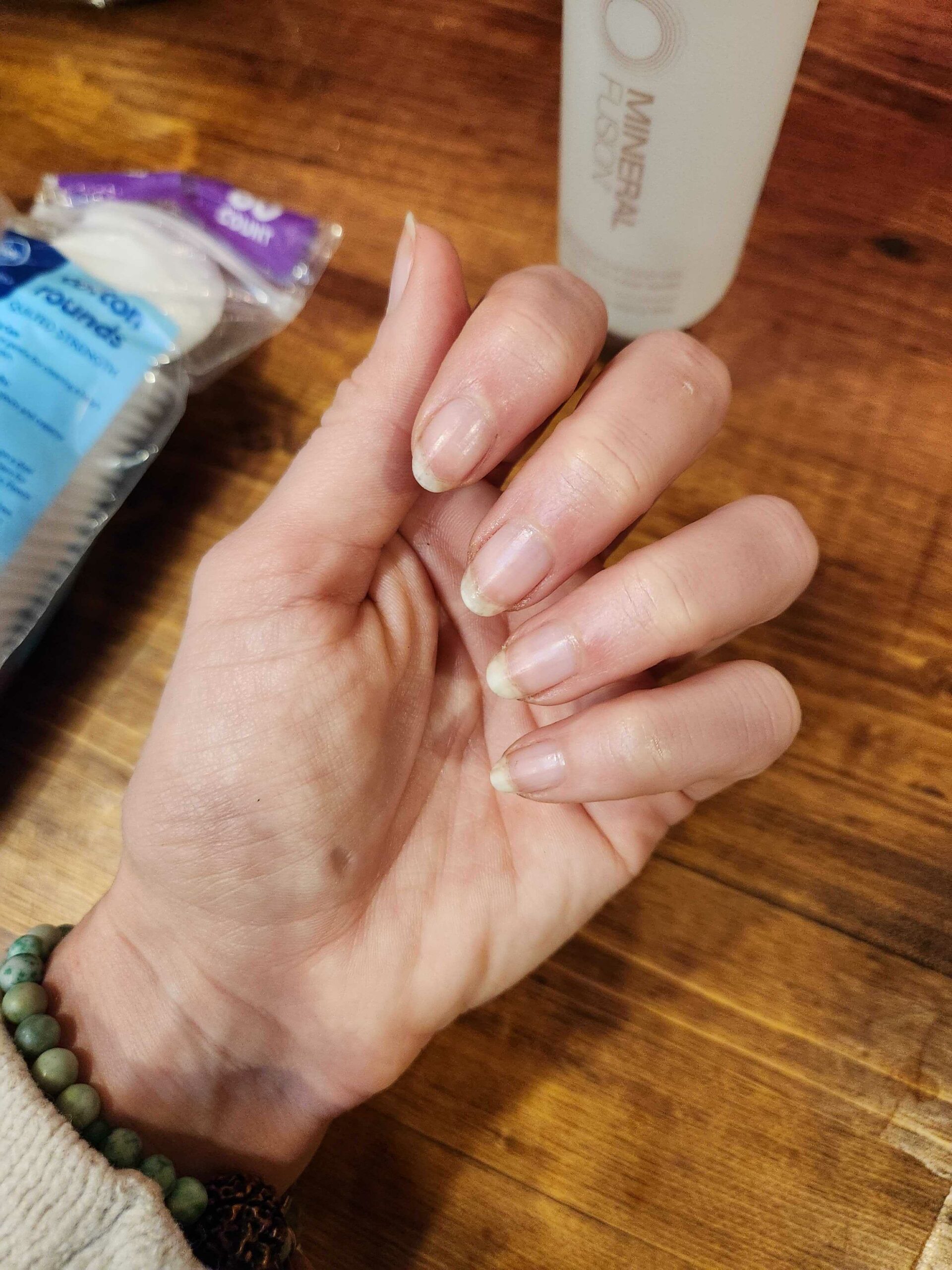 The remover lasted on the cotton pad for quite a while (four nails) before evaporating to the point that it wouldn't remove the polish anymore. I have had acetone formulas that lasted longer than this, being able to finish an entire hand before needing to reapply to the cotton pad. However, this is close to standard for a nail polish remover.
Removal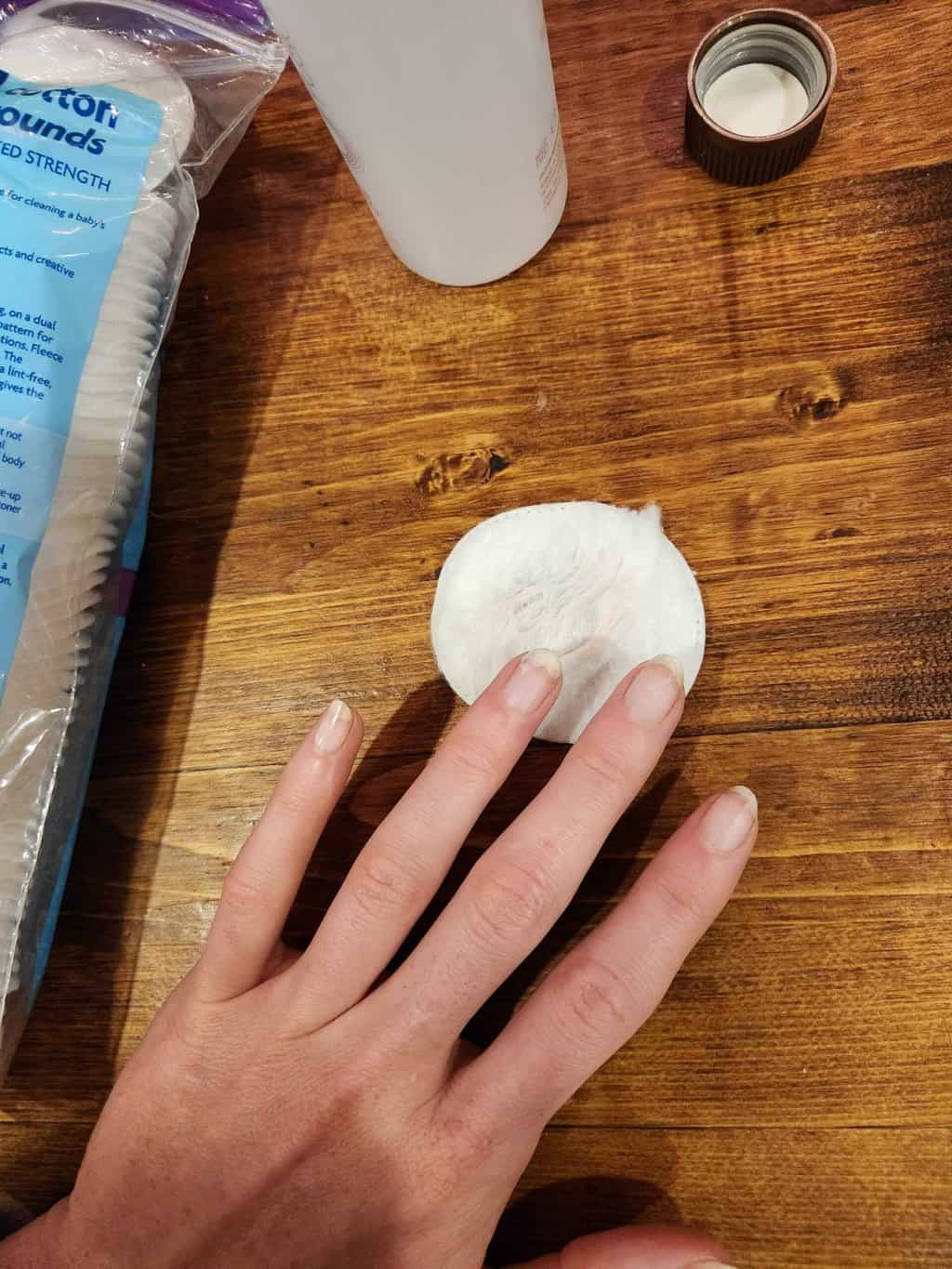 I was actually surprised at how well this nail polish remover worked. The formula worked as fast as acetone on my Sally Hansen Miracle Gel nails. I held the soaked cotton pad on my nail for a few seconds and then wiped it away. Over half the polish was gone already.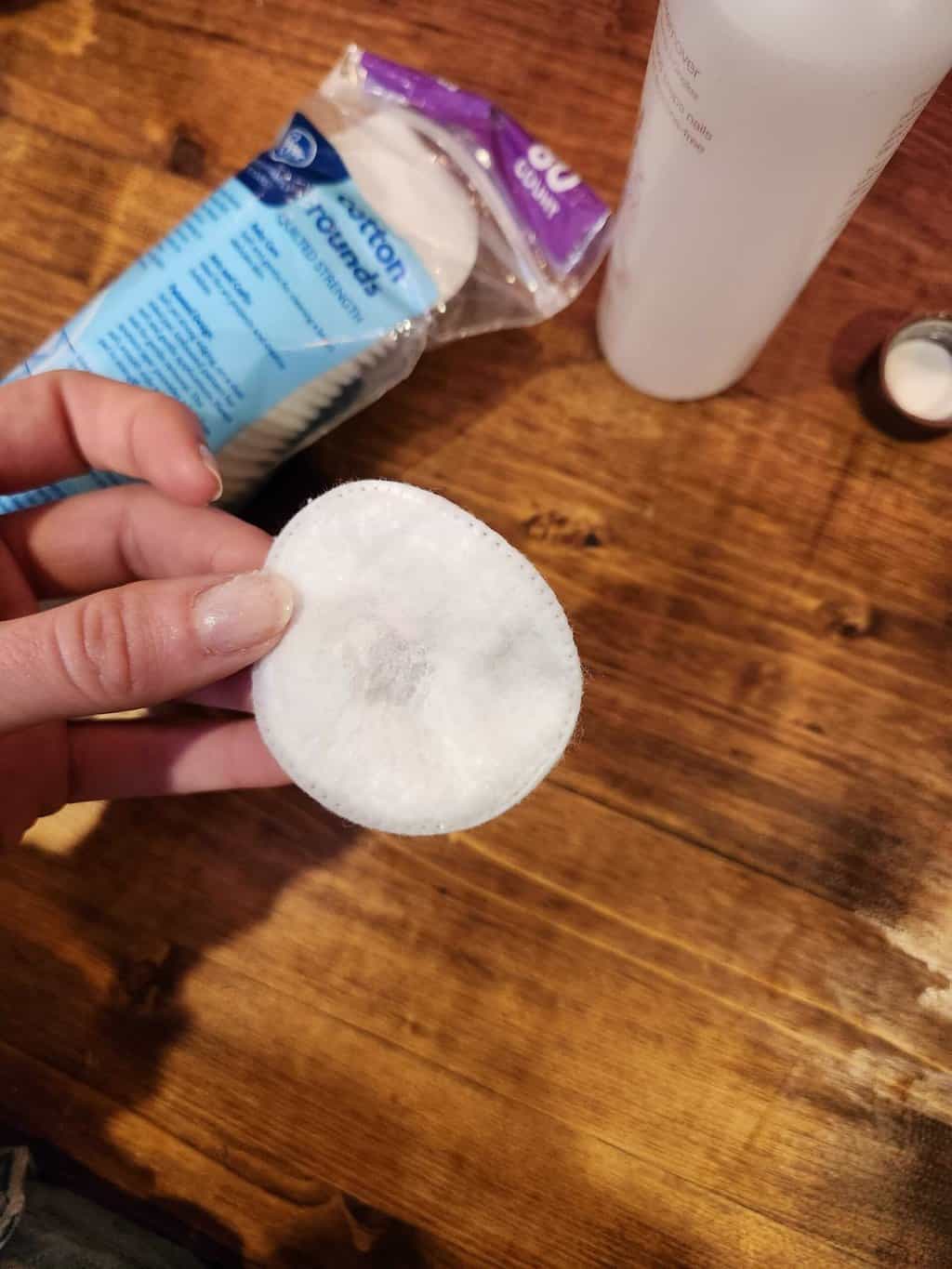 I did three more quick swipes on the nail, and the polish was gone entirely. I've never found another nail polish remover that removes polish quite as well as acetone, but this one is comparable. It also states that it will work on regular gel nails and glitter polish, which I totally believe.
Is It Drying?
This is the most significant benefit of Mineral Fusion nail polish remover. Once I was done removing the polish, my nails looked like they usually do, without any dry spots or flexibility. There were a few little dry spots on my skin where the cuticles needed to be nipped away, but that would happen with any liquid applied to the nail.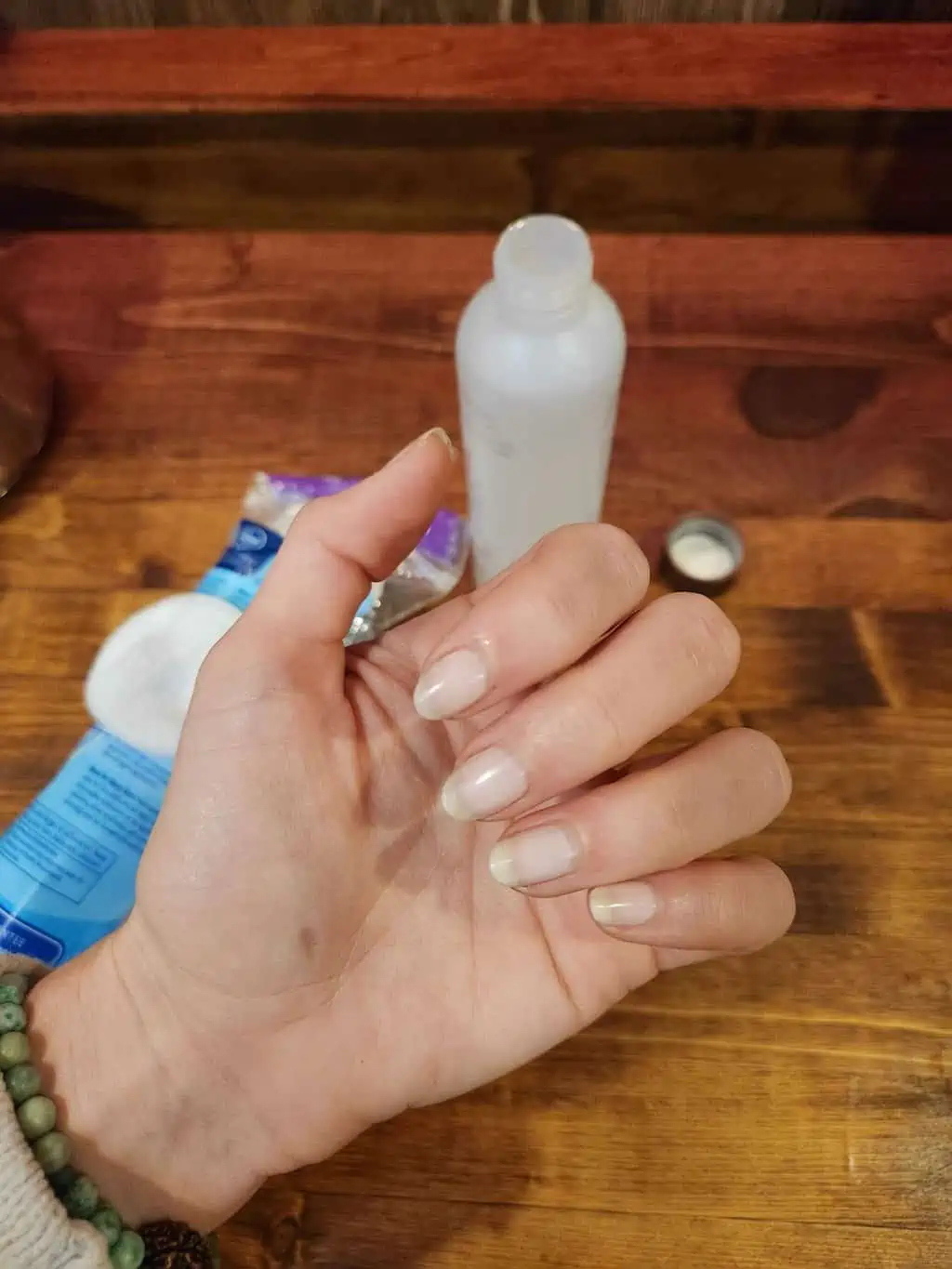 It also made my nails and skin feel super smooth, so it would be easy to prep the nail again for another application of nail polish. My skin felt like it had a layer of something on top right after the removal, but this went away once I applied cuticle oil.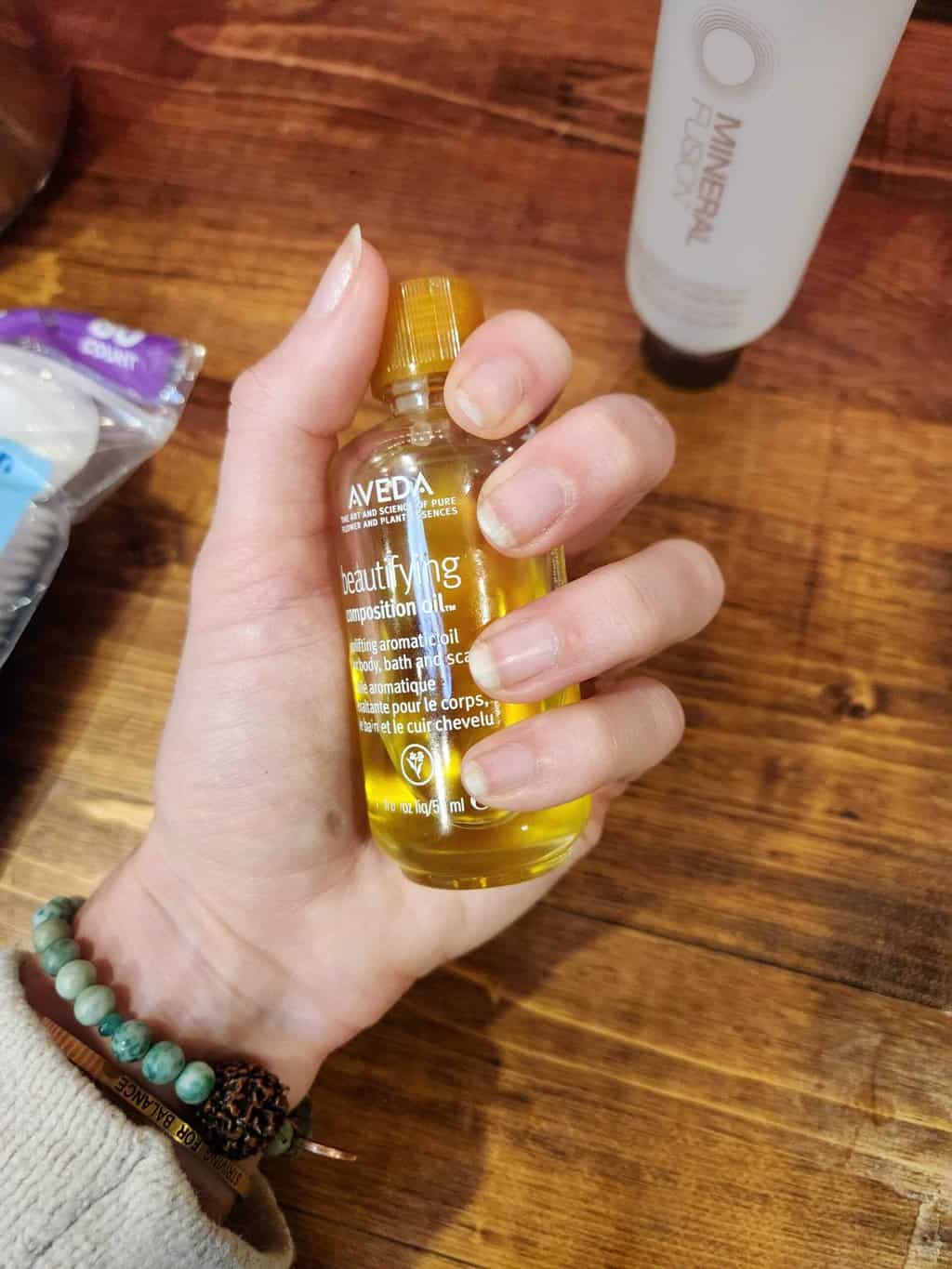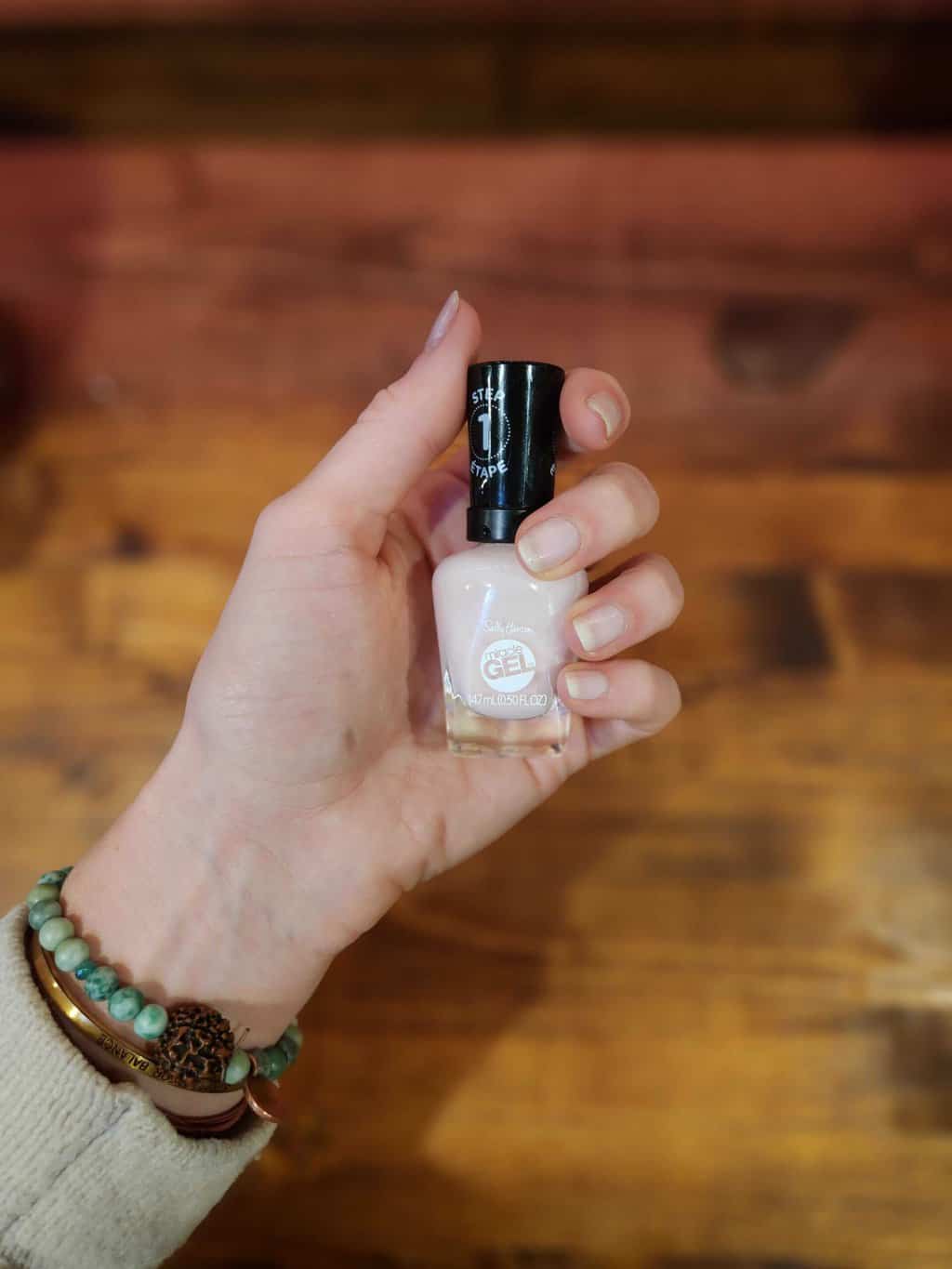 Mineral Fusion Nail Polish Remover Pros and Cons
Pros
Smells really good, like a sweet floral perfume.

Removes Sally Hansen Miracle Gel just as fast as acetone removers.

It leaves your nails feeling strong and hydrated.

The cap is child-proof.

Doesn't evaporate off the cotton pad quickly.
Cons
Its main ingredient is not the safest solvent for a nail polish remover.

The cap leaks horribly if the bottle isn't right-side up.

It may not be the best solution for prepping your nails for polish because it smooths out your nail so well.
Mineral Fusion Alternatives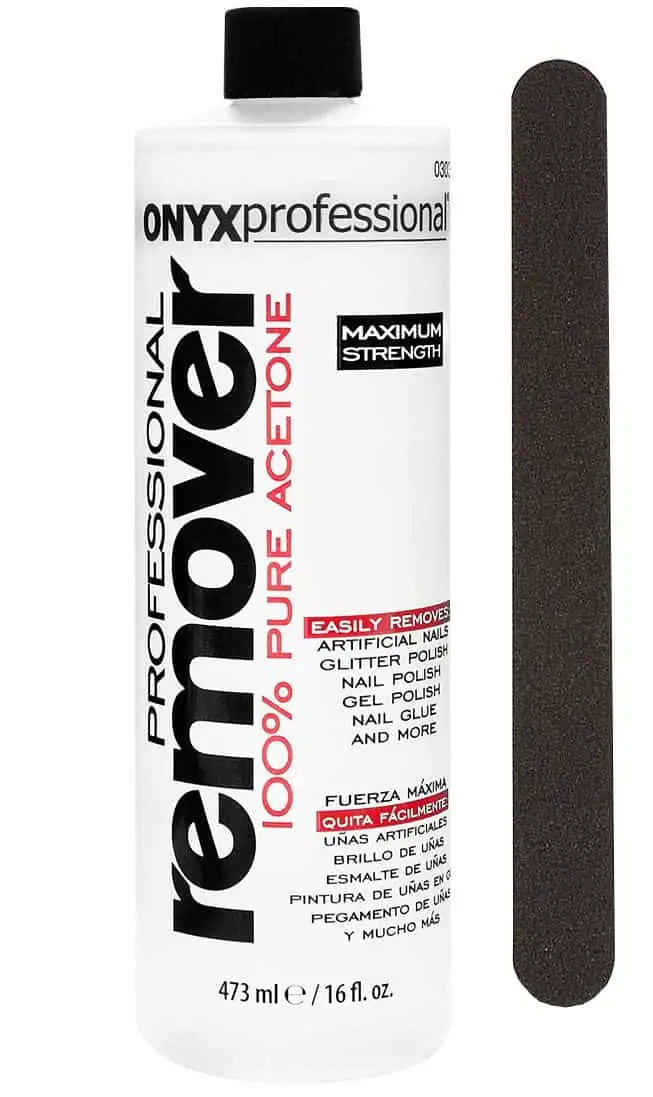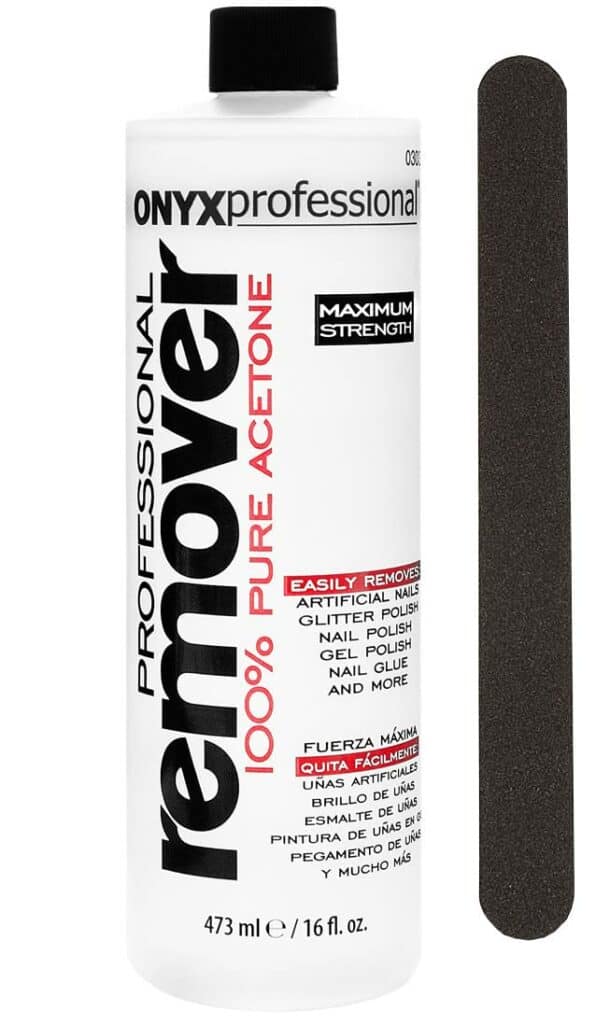 You can find this nail polish remover at almost any drug store and online. The only ingredient in this is acetone, which is drying but very effective. It can quickly remove glitter polish, color street, gel nail polish, and acrylics. It is also very affordable compared to other nail polish removers.


You may have seen this remover in your local nail salon. The main ingredient in this remover is acetone, but it also has moisturizing properties to keep your nails from drying out too badly. I love that Zoya Remover+ has a pump top to easily apply the product onto a cotton ball, helping you avoid spilling it all over your nice furniture or clothes.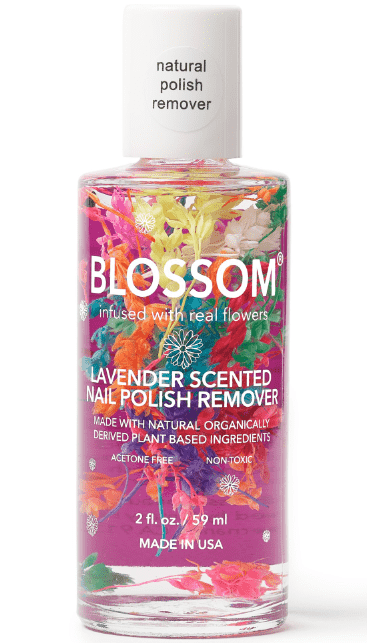 Blossom nail polish remover is a newer brand that uses propylene carbonate instead of acetone to remove nail polish. It works a little slower than other solvents, but it is the only alternative that is 100% non-toxic, actually smells good, is non-drying, and is environmentally friendly. It will only remove regular nail polish, but it is worth it with all the other advantages it has.
FAQs
Question: Does Mineral Fusion take off gel nail polish?
Answer: Mineral fusion took off my Sally Hansen Miracle Gel quickly, and they say they can also remove regular gel polish. With how fast it took off my gel polish, I believe it will also remove regular gel nail polish as well.
Question: Is Mineral Nail Polish Remover toxic?
Answer: Mineral Fusion nail polish remover is not toxic in the small amounts you will be using at home. However, the main ingredient, methyl acetate, can be toxic if inhaled in large quantities. Therefore, if you are a nail technician using it in a salon all day, I recommend wearing an air-filtering mask.
Question: Is Mineral Fusion all-natural?
Answer: Mineral Fusion uses many natural ingredients, such as natural fragrances. However, not all of their products have 100% natural ingredients. They use small amounts of engineered or chemical ingredients to make their products effective, especially when it comes to their nail care products.
Final Thoughts About Mineral Fusion Polish Remover
This is an excellent acetone nail polish remover alternative if you want something that works just as well but is less drying and damaging to the nails. The smell of Mineral Fusion is much better than acetone and lasts quite a bit of time on your nails. I also like the child-proof cap since solvents can be deadly for children and pets if ingested.
However, I cannot get behind methyl acetate as an alternative to acetone. If you have read my other article, "How to Find the Best Nail Polish Remover," you'll see that it is a product of one of the acetone alternatives I tend to avoid. Methyl acetate is not that dangerous in the amounts you would typically use at home, but for nail technicians like me, it is more toxic than acetone at lower levels of use.
I will also need to switch this product to another bottle because of how badly the cap leaks. It's funny that Mineral Fusion put a child-proof cap on the bottle, but it still leaks out significantly. The leakage basically makes the child-proof cap ineffective. Therefore, I will not be repurchasing Mineral Fusion nail polish remover.