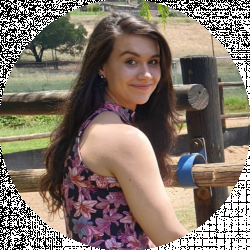 Latest posts by Christine Kent
(see all)
I remember dressing up as a princess for my birthday as a kid, and I feel even more lovable when I recall those memories. My birthday was the only day of the year that I eagerly awaited so that I could get anything I wished for from my parents. From a lovely themed party and birthday gifts to a fully decorated customized cake. Everything used to make this day super fun.
And today, many ways have evolved to make this special day even more entertaining. Your birthday only comes around once a year. So make it extra special by treating yourself to a fabulous nail design! Simple and classic or something bold and daring. There are endless possibilities for birthday nail art. To help inspire you, I have rounded up some of my favorite ideas. Take a look at these perfect Birthday Nails Inspiration And Ideas. And get planning your perfect day.
Bottom Line Upfront
Every nail art defines your personality, choices, and priorities. The cute and stylish birthday nail art on your special day is another way to describe you with a profound meaning hidden inside it. Let it become a source to express those beautiful memories you once shared with your loved ones. Cherish those days again and share them with people who love you.
Every year I plan a new nail art design for my birthday. This year I will get this beautiful Sweet Cupcake Birthday Nail Art. Which is trendy, fun, and easy to replicate. The sweet little cupcake design looks too cute. While the multi-colored polka dots are enriched with elegance.
Top Picks
Selection Criteria
I chose the birthday nail ideas mentioned in this article according to the following criteria:
Birthday nail designs that are easy to do yourself

Birthday nails that you will need the help of a professional

Birthday Nails for people of all ages

Birthday nails that will get you in a party mood

Birthday nails that are bright and beautiful

More subtle birthday nails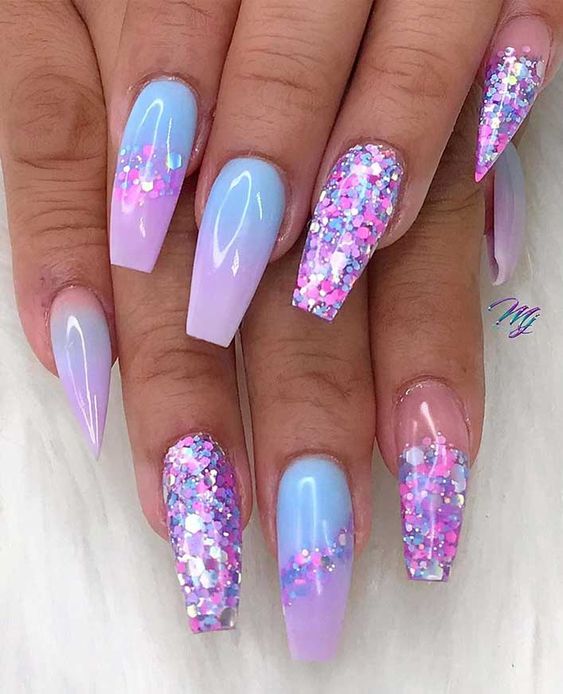 These coffin-shaped acrylic nails with sparkly glitter on them are the perfect way to add a touch of glamor to your life. Swirls of purple, a glimmer of multi-color glitter, and a blend of sky blue and pink shades add an appealing sensation to this art.
If you don't like the trendy pink or cake-themed nail designs you see at every birthday party, this nail art is for you. This nail art would be difficult to create at home. Because the cool colors must blend perfectly to achieve this intriguing look. This nail look would be perfect for making your day extra special.
This is a nail set I would go for! As I love the combination of pinkish-purple colors and blue together with the gorgeous glittery sequences. The look reminds me of unicorns, and I LOVE unicorns! The only thing I don't like about this nail set is the little stiletto fingernail. It looks weird to me that all the nails are the same shape except for the little fingernail.
Age is nothing more than a number. It can not dull the beauty of your life, which reflects and radiates from within. This adorable, edgy nail art is the epitome of this well-known adage. Get this funky girly nail art over and over again at any age to remain young at heart.
The lovely shade of pink will never go out of style. Pink nails always look super feminine and pretty. They are the perfect choice for a birthday mani. I adore this delicate nail art. Which features many designs on glossy gel nails. And is ideal for springtime birthday parties.
Nail art decals will make this look easy to achieve at home. On each birthday, relive your life and feel younger. I really like that on each nail, there is a different design. This way, I can show the world my personality.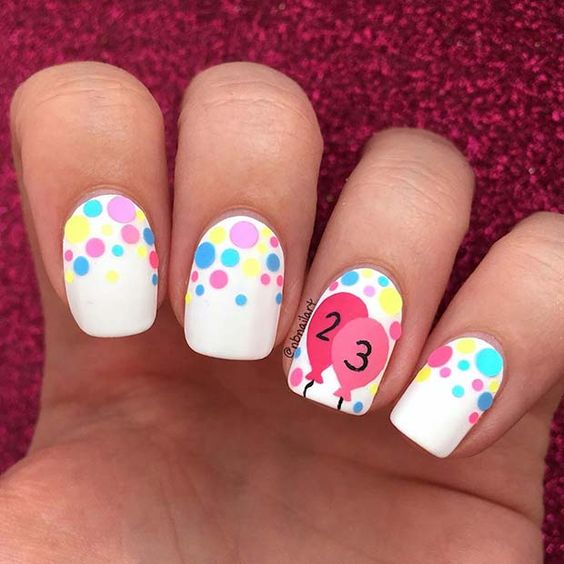 The white shade symbolizes "Peace, simplicity, and solitude." This color may be lifeless, uninteresting, and boring to some. But it may also be elegant and classic to others.
The classic white shade covered with a colorful polka dot ombre pattern is too charming to resist. Each piece of colorful nail art makes the world appear vibrant and colorful. Those who enjoy using dark, bold nail colors may find it boring and plain.
But, I find it among the most elegant looks. And I will definitely enjoy wearing it on my birthday. The art is easy to create with simple techniques. Layer up your nails with a white shade. And then, with the help of a dotting tool, design your nails with colorful polka dots. With the multi-colored balloons, this adorable nail art will be stunningly displayed. Get this pretty, bubbly rainbow nail art to liven up your party.
Cupcakes are delicious and are one of the most popular party desserts. The concept of including them in your nail art will also be enjoyable and charming. This fashion trend has been sweeping the internet, and for a good reason—it's just too darn cute! This nail art is perfect for anyone fond of sweet delicacies. Or someone who is a self-proclaimed baker and wants to try something new.
The lovely polka dot pattern looks absolutely stunning on the light peachy basecoat. The dotted artwork looks like sparkling caster sugar dusted on a cupcake. It's surprisingly simple to create this adorable and vibrant nail art at home. You only need to use a few basic materials. Use decals or craft this sweet delicacy yourself on your nails.
I need to be honest with you guys. I have a crazy sweet tooth and love cupcakes; that is why this is the ideal birthday nail set for my birthday party. Cupcakes on my nails, cupcakes to eat, you can never have too many cupcakes. Okay, that sounds unhealthy! But you know what I mean!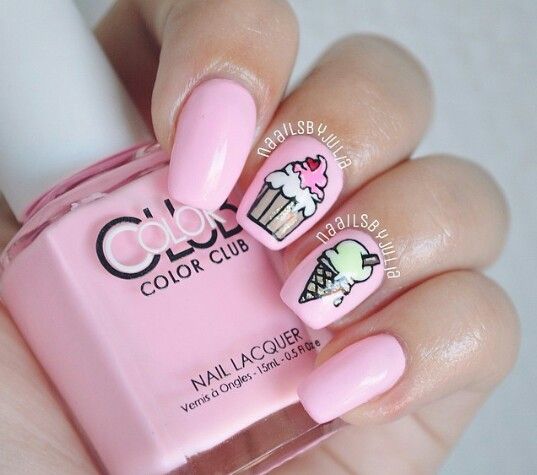 Try this birthday nail art if you want a simple appearance. That doesn't look bold and attention-grabbing. This nail design will complement your eyes and make your nails look more elegant. Minimal, decent nail art will definitely please you, and you won't be exhausted by the idea of how to do it.
I loved the idea of simple nail art with cupcakes for a birthday party! The cupcake and ice cream look so cute together, and I think the color pink complements the designs. I also loved that the design is done on short nails. Short nails with cupcakes on? Sign me up!
This nail art presents a broad view of a distinctive pattern. Filled with vibrant hues and color richness. The multi-colored glitter and rainbow nail art on the neon pink dip nails are stunning.
I've tried a lot of birthday cake nail designs. But this one stands out to me because of the variety of vibrant colors and shimmering effects. Since my nails are always short, I always look for nail art that will be aesthetically pleasing. And I've finally found it. This nail set gets a big YES from me.
The distinctive design of these lengthy coffin-shaped nails can enhance the beauty of various hands and styles. Every design and color scheme works beautifully with this nail shape. It has grown globally. And is currently trending on social media, particularly among celebrities.
The layering of the pink gradient heart bouquet. And the long, transparent nails add life to the entire ensemble! I adore this artwork's lovely pink heart design. Which resembles the gloriously blooming grassland flowers. And the flames illuminating the whole art. Hire a pro to have this gorgeous nail art flawlessly. And impress your friends with this fabulous nail design.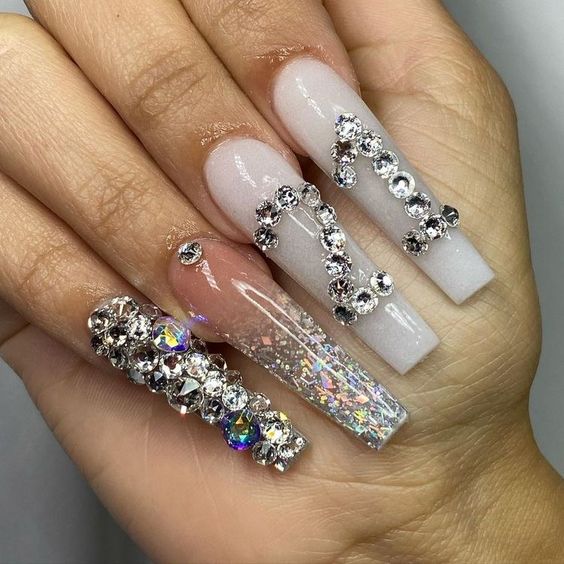 This is a pricey luxury that will undoubtedly be difficult to carry. On nails, Swarovski crystals and rhinestones always appear ostentatious. And overshadowed by their sparkles. An acrylic base is a foundation for this work of art. Which is then shrouded in stunning crystals and glitter. Consider getting this nail art for your next birthday party. If you enjoy accessorizing it with large and expensive ornaments.
You can also create a design with your age numbers on one of your acrylic layered tips. Make these expensive, gorgeous nails, and let their elegance steal the show. This is not a nail set that I would go for. Even though I love sparkly things, especially some sparkle on my nails, this nail look is a bit too much for me. So it is a no for me.
A look of complete joy in single nail art full of color and love is perfect for a birthday party. The multi-art is incredibly adorable and features a sweet birthday theme. One of my favorite birthday nail designs is this one, which I will undoubtedly get for myself.
This artwork is a joyful and festive way to express your sense of style. Furthermore, it is much simpler to do if you are an art wizard than you might think. I will definitely get this nail set for my 24th birthday this year!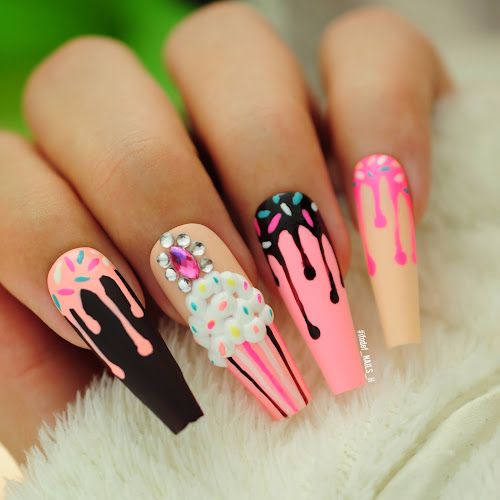 Do you have a sweet tooth? If you do, then you're in luck! This adorable birthday nail design will please all your sweet tooth desires. Whether you have a birthday coming up or you're just in the mood for some sweets, this nail art is perfect for you. The ombre drip art looks like a sweet, love-filled sugar-dripping fall. With a variety of these lovely luminous colors, the art seems stunning on matte drip nails. I'm sure everyone will adore this fantastic result, so put it among your favorite nail designs.
I think the nail look is cute in how it looks like the ice cream is melting and dripping down the fingernail. The colors used in this nail set also complement each other well. Definitely a nail set I would go for. I would just go for a bit of a shorter length.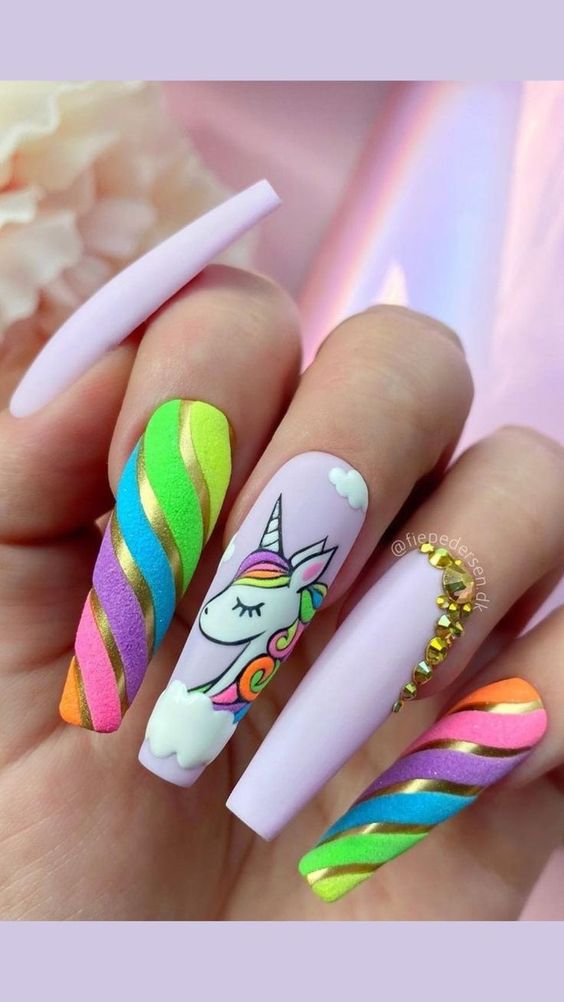 Find a fun birthday party theme Nail design to make your special day more impressive. These wild and wacky unicorn ideas are drenched with endless enjoyment like a sprinkle of sugar.
We all know unicorns are magical creatures. There is a ton of imaginative nail art with unicorn themes that you must get at least once. By incorporating that adorable unicorn and magical rainbow design. You can add a touch of magic to your nail art. The rainbow art on the glitter nails looks excellent. And the unicorn floating in the clouds on the other tip looks so adorable.
I think this nail design is super cute. And definitely something I would go for as I'm obsessed with Unicorns and rainbows. I'm still a child at heart.
This nail art is for you if you're searching for some unique, respectable, and stylish art beyond the conventional, vibrant birthday theme. Many more options can be used to simply commemorate your special day. This nail design is a graceful and modest illustration of that simplicity. The artwork is as simple to make as it appears. Paint your nails with white nail polish. To further accentuate grace, add the digits of your birth year to the tips of your nails. And lastly, add sparkling crystals to your design. It has enough style to give your personality some glitz.
It's relaxed and sophisticated. I think the idea of adding your birth year in pink or any color on a white base color is super cute. But if you don't want people to know how old you are, maybe opt for another design.
Most people might find this nail art to be both meditative and thought-provoking. As it explores your personality through a fantastic design. This artwork creates the overall appearance of a lovely birthday party theme by including candles, balloons, cakes, and other elements.
Long square-shaped gel nails are always in and won't get old-fashioned. The pattern is easy enough to paint by hand. With the aid of fine art brushes, create this adorable little art on your nails without exerting much effort. Start by painting a pretty base color on your nails. And get decals to finish this gorgeous look. I think this is a very cute and unique design, and I love how the color compliments the designs. The nails make me want to throw a party just by looking at them.
There are so many unbeatable ways to celebrate a birthday with glitter and glam. Sparkling glitter-filled nails and white French tips make this festive nail art simple yet radiant. The ideas are effortless to create. Make sure you have access to every tool required for this stunning art. Birthday stickers, glitter, and, on top of all that, a shiny top coat is all you need.
Who says a simple glam look can't make you the show star? Have this nail art and make the environment shine with this lovely work of art. I love how this nail design includes everything you want a birthday to include. Balloons, someone saying happy birthday, cupcakes, and some glitter. Some might not like adding their age to the nail. But hey, maybe you can add the age you are actually feeling.
Nothing compares to these stunning sparkles and rhinestones. Which can be used to enhance the natural beauty of any nail color. Complete coverage of nails with red rhinestones is indeed heavy. But rocking enough to carry the burden. The red shade stands for lust, sexiness, and love and is just as passionate as red rhinestones.
This stunning nail art is perfect for you if you always want something extra to stand out in a crowd. And want to shine on your birthday. Don't risk ruining your seductive appearance by creating it yourself. Hiring a professional to get this fantastic, sexy nail art is best. I won't go for this nail set as it is just too over the top for me. And I just know the rhinestones will get stuck on everything with my clumsy butt. But hey, if you like this nail set, rock it, be sexy and grab attention, girl!
Frequently Asked Questions
Questions: Do Crystals or Rhinestones Look Good on your Birthday Nail Art? Can I get Them on my Nails for my Birthday?
Answer: Yes, they look amazing on every type of nail art. Incorporating these ornaments will augment your hands' beauty and enhance your nail art.
Question: How do I Draw my Birthday Nail Art on Glitter Nails?
Answer: Use a top coat to seal the glitter on your nails and when it dries, draw your design smoothly on your glitter nails. It won't smudge.
Question: Can I Wear Any Nail Design as my Birthday Nails?
Answer: Of course, it is your special day. So it is your choice what design you put on your nails and the colors you choose to go for it. The ideas mentioned in this article are just guidelines for you. If you have difficulty deciding on what design to get for your birthday.
Conclusion
Find reasons to make your special days memorable. The same is true of birthday celebrations, among those memorable occasions. Make it happen and relive every moment of it. These lovely nail art designs are inspirational. Allow them to bring you joy and happiness. I hope you discover your favorite nail art among these precious suggestions. These ideas are adorable, practical, and easily designable. Why not also decorate your nails? If you can decorate your birthday party with cupcakes, balloons, and candles?
What was your favorite birthday nail design mentioned in this article? If I had to recommend one design. It would definitely be the Sweet Cupcake Birthday Nail Art. As it is cute and classy. And it will just put you in the birthday celebrations mood. With the little cupcake and the polka dots that remind me of confetti. Come on, girls, you only have a birthday once a year, so make your birthday nails extra special!
Continue reading:
Teal Nails Inspiration and Ideas: Get Your Nails Summer Ready
Peach Nails Inspiration and Ideas
White Nails With Design Ideas: Nails That Are Simple and Chic