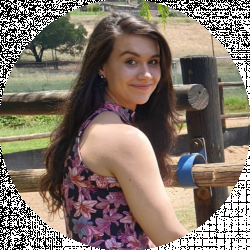 Latest posts by Christine Kent
(see all)
Have you always been obsessed with cute and aesthetically pleasing things? Same girl, same. From a young age, I always wanted my nails to be all cutesy. My mom used to paint her nails in beautiful colors with the cutest designs, and of course, I liked the same. Just imagine the following: a 5-year-old with bright red nail polish with Barbie stickers on it. Jip, not the best look, but oh well, it made me happy, and my mom thought it was cute. 
Fast forward 18 years, and things still haven't changed. I mean with wanting cute nails and not with the bright red nails part. And that is why I want to bring the best Cute nails inspiration and ideas to you today. Because I have years of experience in what is cute and what is not when it comes to nails. So let's get started, ladies!
Bottom Line Up Front
Are you always searching for the next sweet, cute design to put on your nails? Well, girl, you are in for a treat! Today I share my favorite cute nail inspiration and ideas. That will make you jump with excitement. My favorite nail idea is the Cute White, Pink, and Glitter Nail Design. I feel that it is perfect for any occasion, whether I'm heading to the office for an important meeting. Or going to the mall for shopping with friends. This nail set always makes me feel fabulous. 
 Top Picks
Selection Criteria
I chose the nail ideas mentioned in this article according to the following criteria:
Cute nail ideas that are suited for everyday wear

Cute nail ideas that will make you feel like a Barbie

Cute nail ideas that are suited for special occasions

Cute nail ideas that will bring back nostalgic memories

Cute nail ideas for different personalities 

Cute nail ideas that are perfect for the summer
Cute Nails Inspirations and Ideas
There is nothing better than eating watermelon on a hot summer's day. It is such a refreshing fruit, and the colors of the fruit are bright and fun to look at. That is why the watermelon makes such a great nail design during the summertime. I mean, who doesn't want a cute, fun, and bright nail design during summer?
The design includes pink, green, and nude base colors. Some watermelon stickers are then added to the nude nails. The look is finished with a glossy top coat to give it that shiny effect. This is definitely a nail set I would go for. As I love watermelon, and I think the colors green and pink look so cute together. This nail set is something I would wear to a pool party or to a day at the beach. Super cute!
What do you get when you cross rainbows, flowers, and mushrooms together? An adorable nail design. This nail design is cute, youthful, and, most importantly, aesthetically pleasing. The nail set incorporates plenty of designs on the nails, and all of them are hand-painted.
The design includes some checkered designs painted on the little fingernails in different colors. The left hand is painted orange and white, and the right-hand uses blue and white for the checkered design.
It also includes some adorable daisy flowers and some mushrooms. Oh, and I can't forget the rainbow design on the middle finger that perfectly matches the rest of the designs. This is not a design I would go for, as it gives me childish vibes. Don't get me wrong, the design is very cute. I just think it is more suited for teenagers. 
 Tie-dye was very trendy during the Covid Lockdown. Everyone was dyeing their clothes in all sorts of colors. Jip, I was one of them! Now that the tie-dye trend has calmed down a bit. Why not try it as a design on your nails? It is cute and unique and will definitely attract attention. 
This design has nude as the base color, with bright red, purple, and yellow tie-dye designs. The index has a red lip design that looks like the lipstick is melting off of the lip. It goes perfectly with the bright tie-dye colors. Which also looks like they are melting into each other. 
Tie-dye designs on nails are not really my thing. Since I am more into sophisticated, elegant, or minimalist designs. But I included it in the list simply because of how interesting the design is. The design is cute and something else. The floral tie-dyes made me think of the Hawaiian dancers' flowers on their hair. 
This is a design I am so excited to share! I love anything pink paired with white, and this design is just gorgeous! This nail set is even elegant enough to be worn on important occasions. You can even wear these nails to weddings because I know I would.
The design includes a pastel pink as the base color. And some adorable clouds with dainty stars are painted in white. 
This design is both adorable and gorgeous. And honestly, if I didn't spend most of my type in front of the computer. I would probably wear these since the design looks so gorgeous on long nails. But, I'll ask my nail tech if she can apply this on my short nails the next time I book an appointment with her. I think this nail set will also be adorable for the gender reveals for a baby girl.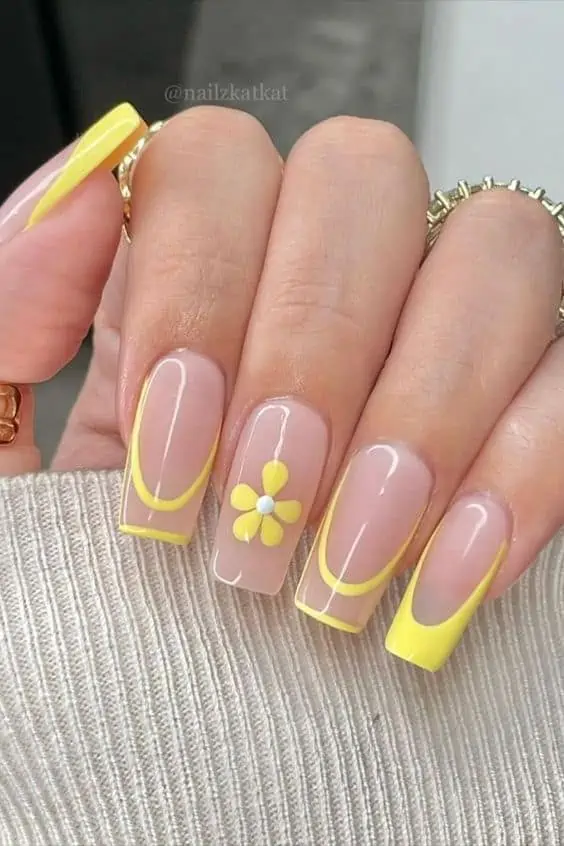 This design is one of my most recommended designs. It is both cute and stylish. And it is something that I could easily wear daily because of its minimalistic design. The design includes a baby yellow gel for nail art and a nude base color. I love the baby yellow french tip with the little flower detail. I think it looks cute, chic, and suited for any occasion. I'm not usually someone who wears yellow. Or goes for yellow nail designs, but this cute nail design stole my heart. And I'm definitely getting this set next.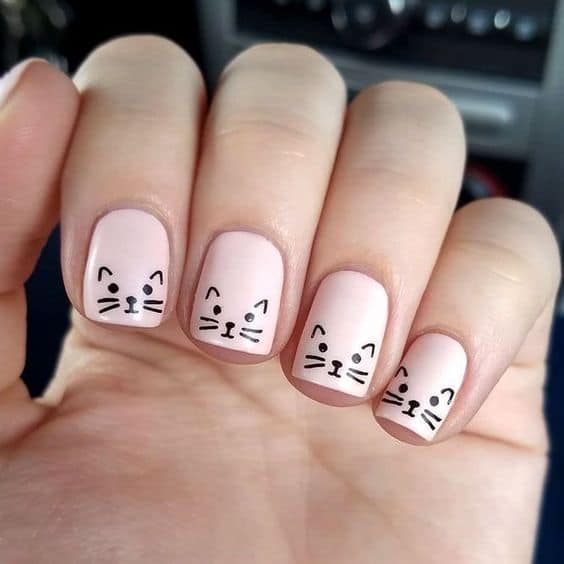 Now, this adorable nail design is perfect for you if you are a cat person. It is also ideal for those who love short nails!
The design has pink pastel as the base color, and the adorable cat designs are then painted using a black gel. This nail look is easy to create as you only need your base color and a thin nail art brush to achieve those cute designs. But if you are not that confident in your art skills, there are always cat stickers you can use to achieve this look. 
This nail set is so cute! I am a cat person, and I would swoon over my cats day and night. And I would love to wear this design because it would simply remind me of them. And it is perfect for me since I love having short nails.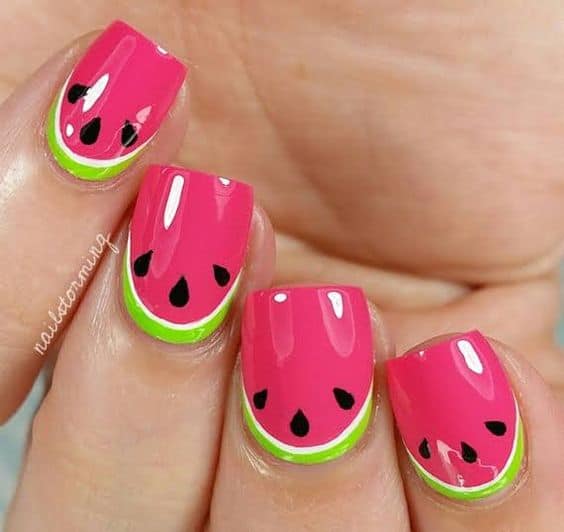 Another cute watermelon nail design. This is another design you can easily wear to the beach or when you take a summer vacation.
The design uses a red-pinkish color with white, green, and black detailing. The red-pinkish color is used as the base color of the design. The black gel is used to paint the seeds of the watermelon. And the green and white gel are used to paint the skin of the watermelon.
Although the design is adorable, it doesn't really suit my taste. I feel that it is more suited for ages 15-18. But I have to admit, it is truly eye-catching. This is something my little cousin would love to wear. The design is also easy to achieve at home, but if it is your first time getting your nails done. Head to the nail salon to get this design. It is a fun experience to try at least once in your life, and what better nail design to go for than this cute one.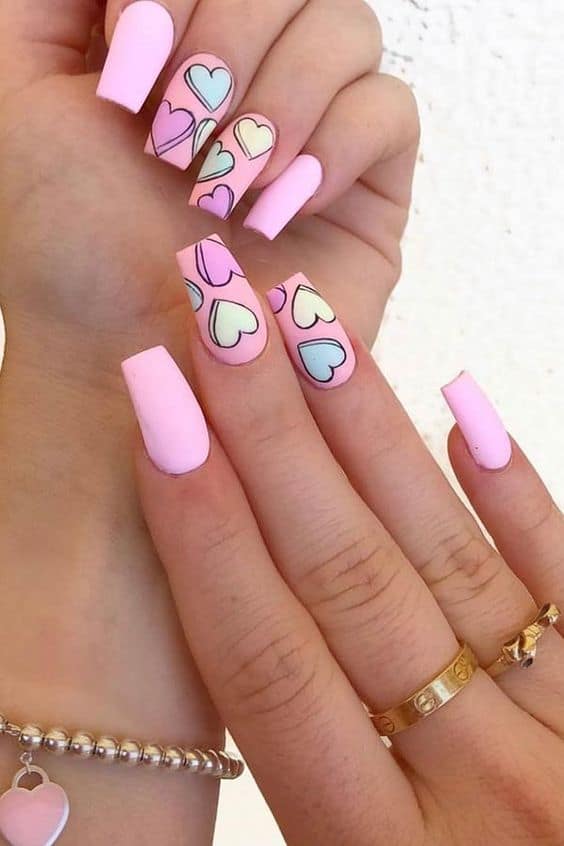 This pastel heart nail design is so cute! It is easily the cutest design ever! The best part is that it is suited for all age ranges, whether you are 16 or 60. 
The design uses two shades of pastel pink as the base color. The middle and ring fingernails are painted with a slightly darker shade of pastel pink as the base color. Some heart details in different pastel colors are then added to them. The thumb, index, and little fingernails are painted with a slightly lighter shade of pastel pink.
The design is both chic and cute. Thus you can wear this daily. The matte finish of this nail look boosts this design's charm. I could see myself wearing this to informal occasions. Like a relative's birthday, perhaps? Anyhow, this is perfect for women who want to be subtly cute! It is also the perfect set for Valentine's day. Love will definitely be in the air with this nail set.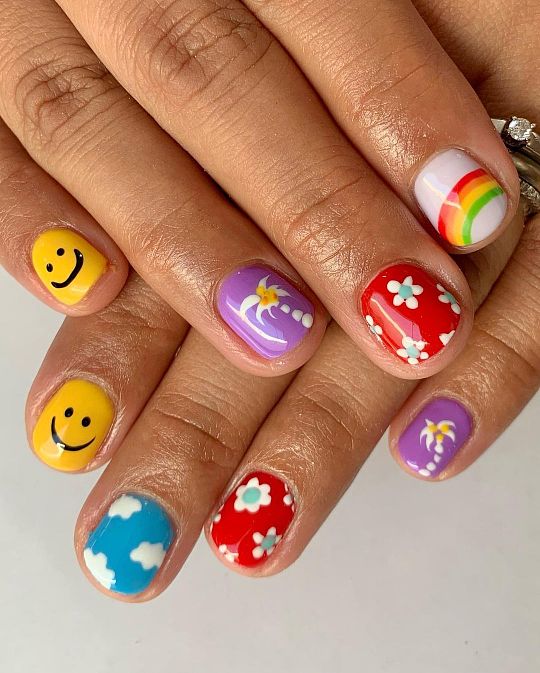 If you are into the 2000's aesthetic, well, this nail design is perfect for you! The nail design is composed of a different design on each fingernail. There are overall 4 designs included in this nail set. The first design incorporated is the smiley face nail design with a yellow base. The second one is the coconut tree nail design with a purple base color. Then a little daisy design with a red background. And finally, the rainbow nail design with a white base color.
This nail design is one of the nail designs that makes me think of the past. I remember a photo of my mom wearing a nail design like this back in the day. But instead of coconut trees, flowers and clouds, it was the peace sign. And the smiley face drawn on her nails with similar bright colors as the base color. She was quite a hippie back in the day, so I think if she saw this, she'd be delighted to wear it again. This is, unfortunately, not a nail design that I would go for. As I like more neutral-colored nails with minimal designs. But I still think it is a very cute nail look.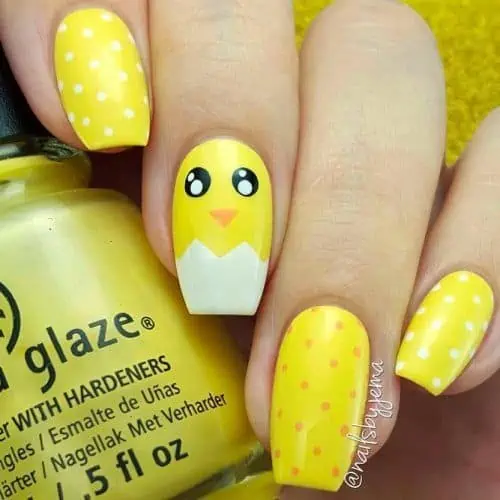 This gorgeous easter nail design is super cute and has a baby chick drawn on them! There is no better way to celebrate Easter. Then wearing an Easter-themed nail design during the Easter egg hunt! The design mainly uses bright yellow and white as the base color. A baby chick that has just hatched from its egg is drawn on the middle fingernail. While a bunch of polka dots is painted on the rest of the fingernails.
Although I do not see myself wearing this, I still think this design is worthy of being included in your choices. It is really cute, and it doesn't look cringe at all. And the polka dots don't really take too much attention away from the adorable baby chick on the middle finger. If you want to get this nail set, you will want to head to the nail tech as the design is a bit difficult to create. 
This design is perfect for those who are into minimalistic designs yet want short nails. My first thought when I actually saw this design was, "Wow! This is actually a design I can wear to the office!"
The design includes pastel pink, white, and gold glitter as its base colors. The thumb, index, and little fingernails are painted pastel pink. The middle fingernail is painted with gold glitter. While the ring finger has a white base, and a few lines are also drawn on them using a black gel. And finally, add a matte or glossy top to finish the design. But honestly, I would recommend a glossy top coat because it will look better with the glitter.
I think anyone can wear this design to any event, be it formal or informal events or occasions. And if you want, you can easily wear this daily since it looks elegant and fashionable. This is definitely a nail design I would go for. As it gives me Barbie vibes, and I imagine Barbie would wear something like this if she was in the real world.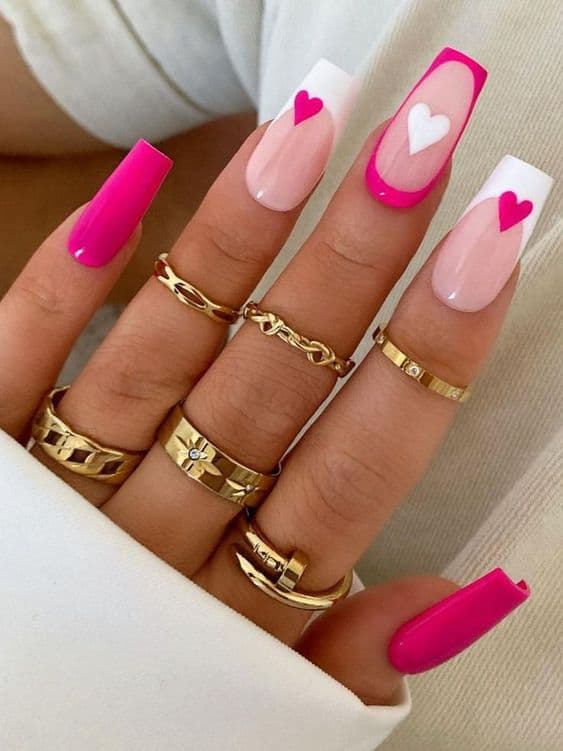 I can't provide you with a cute nails inspiration and ideas article without including a cute french manicure. This gorgeous and absolutely adorable design is perfect for all those long nail enthusiasts! And it is ideal for Valentine's day!
The design uses white, nudish pink, and hot pink colors. Hot pink is used to paint the little and thumb fingernails. The french tip design is then applied to the index and ring fingernails. A heart is then painted in hot pink in the middle of the french tip and the base color. The middle fingernails are thickly outlined with hot pink, and a white heart is on the inside of that border.
This nail design is cute and elegant. Because the different shades of pink truly complement each other. The white color tones down the hot pink and makes it look less loud. This is another nail set that reminds me of Barbie. More specifically, it reminds me of "Barbie life in the dreamhouse." Because of the different shades of pink and, of course, the hearts. Getting to live the Barbie life for 2 weeks with this nail set, how can I say no to that? That reminds me, I still need to order my blonde wig to go with the nails. Jip, I'm going all out!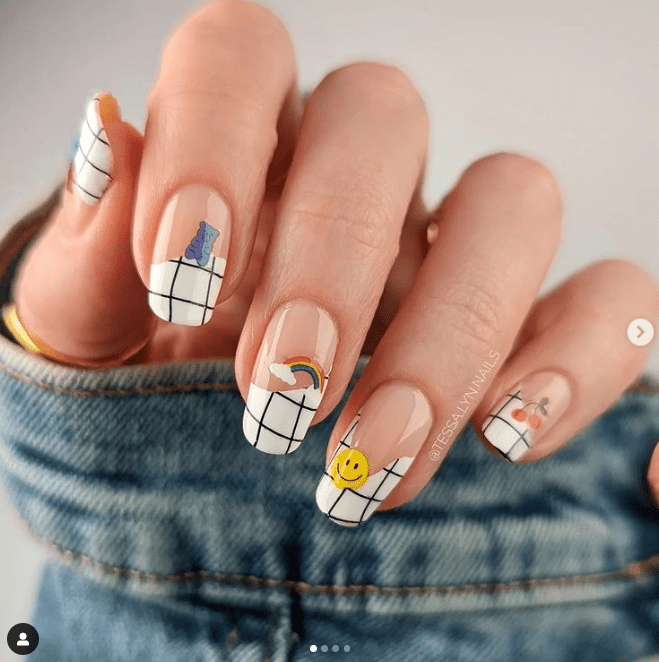 Take a look at this aesthetically pleasing and cute nail design. That could also easily pass as somewhat minimalistic. I know a lot of people who love white but at the same time love cute things, and I would recommend this nail design to them.
This nail set uses black, white, and nude colors. Some adorable nail stickers are also added. The design is incorporated into a french tip design. Where the french tips are applied freestyle. Without getting that normal clean-cut look of most french tip manicures. The tips are painted white, and some lines are added using a black gel. To add cuteness to the design, some nail stickers are added in the middle of the base color and the french tip. And these stickers are sure to cheer you up. Who isn't excited when seeing gummy bears, smileys, and rainbows?
The reason why I said it could pass as minimalistic is because of the white checkered tips. White and black are neutral colors and look easy on the eyes. It looks even more minimalistic because it is incorporated into a French tip design. This is definitely a nail look I would go for. As I'm obsessed with rainbows and gummy bears and would love to stare at them on my nails every second of every day. Oh, and the checkered french tips remind me of paper. Which brings back nostalgic memories of school and Uni.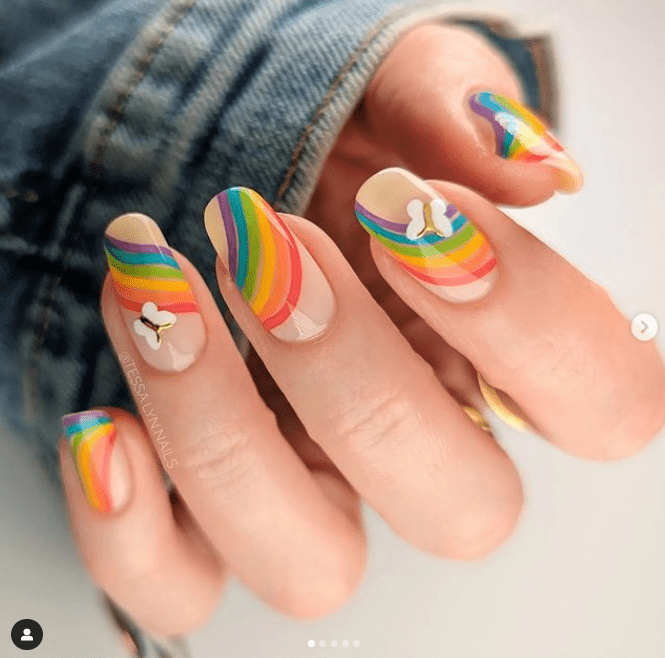 If you ever decide to ask a child what the things are that they find cute. They would answer, teddy bears, kittens, puppies, and rainbows. Well, at least that's what my little 4-year-old niece told me when I asked her that question. The design is chic, fashionable, and cute. And it would have been the perfect nail design if you had attended the recent pride parade.
The design uses a nude as the base color, and purple, blue, green, yellow, orange, and red to form the rainbow detail. Some cute butterfly nail stickers are also added. The nude base color makes the rainbow colors pop out even more. I would have loved to wear this in a pride parade, considering I'm part of the community.
Yes, you heard it. Shrimps on a nail design. I know, I know, it's weird. Shrimps? On nails? But some people actually like weird things. Not me, though. The design uses green as the base color. The shrimps are then hand-painted in the middle of the nails. To add spice to the overall design. Tiny sunglasses are painted on the shrimp on the middle fingernail.
I do not see myself wearing this kind of nail design because I don't like shrimp or the color green, so it is a big no for me. But I'm all about inclusion. We shouldn't exclude people with interesting tastes just because they are different. After all, designs like these are cute to them. 
Frequently Asked Questions
Question: Are There Any Specific Types of Cuteness When it Comes to Nails?
Answer: Just as beauty is in the eye of the beholder, cuteness is also in the eye of the beholder. People find different things cute. Maybe you find the shrimp nails mentioned in the article cute, whereas I find it a bit weird and cringy. Everybody has different tastes, and that is what makes us unique. The world would be boring if we all find the same things cute. So to answer your question, no, there is no specific type of cuteness when it comes to nails. You decide what you find cute. 
Question: Can I Create Cute Nail Designs on Both Short and Long Nails? 
Answer: Of course you can! There are so many cute nail designs to choose from that work on short and long nails. And this especially makes me happy because I prefer my nails short. You just have to find the design that is right for you. 
Question: Are Cute Nail Designs Trendy in 2022?
Answer: Yes, cute nail designs are trendy in 2022. And it will always be. We humans like to look at things we find cute and aesthetically pleasing. As it makes us feel warm, happy, and safe. That is why cute nail designs will always be a thing because it brings us joy and happiness. And makes us feel better about ourselves. 
Conclusion
Every single one of us has a different taste and aesthetic that we follow. Some like to be more elegant and more minimalist in their lifestyle. Some tend to follow the kawaii fashion from Japan. And some even like the vintage aesthetic, more specifically, the 2000's aesthetic. We all find different things cute. So I tried to be as inclusive as possible in this list. And provide you with different cute nail inspirations and ideas.
And to help you shorten those choices, I have a top 3 recommendations for you. Although it might not be to your taste, I considered many factors in choosing these for you. Still, the biggest factor might be because I found them extremely cute.
My first and favorite recommendation is the Cute White, Pink, and Glitter Nail Design. As I love nail designs that are suited for any occasion. I can go out with my girls tonight. And have a wedding to attend tomorrow, and these nails will be suited for both occasions. I also love that it has a cute, fashionable, and stylish vibe. It makes me think of a nail set that Barbie would have worn in the real world. And I was obsessed with Barbie as a little girl. I still am (Shhhh, no one has to know) So, of course, this nail set gets a big yes from me.
My second recommendation is the Cute Dreamy Pink Nail Design. The shade of pink just looks adorable, and the white little clouds and stars just make the entire design. Again, this nail design can practically be worn to any occasion. Because it looks cute, chic, elegant, and luxurious. And just by looking at it, it fills you with happy emotions and puts you on cloud nine. Jip, I know, so punny!
My third recommendation will be the cute Yellow Floral French Nail Design. To be honest, I included it because I love nail designs that are French-styled. I also consider it to be something you can wear daily. If you ever like feeling and looking cute, stylish, and professional every day. What were your favorite nail ideas mentioned in this article? Let me know in the comments below. 
The definition of happiness is having cute nails. So what are you waiting for, girls? Go and get your nails done all cute. And be happy!
Continue reading:
Pink French Tip Nail Inspirations and Ideas: A Guide to Awe-Worthy Nails
Pink and White Ombre Nails Inspiration and Ideas