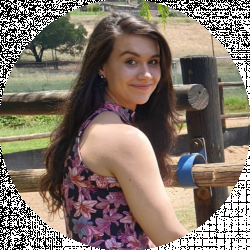 Latest posts by Christine Kent
(see all)
A fresh and trendy manicure is the perfect way to boost your confidence. As nails can make or break your outfits. And believe it or not, people notice your nails. So it is important to pay attention to our manicures. So, guys, trust me, I will bring some amazing trendy nail inspiration and ideas for you today.
Being trendy was very important to me when I was growing up, and it is still to this day. If there were school bags or trendy pencil cases or clothes or shoes. I needed to have it. Knowing that I had the trendiest stuff made me feel better about myself. It made me feel cool. As if I belonged. And now that I'm an adult, I still feel the same, not with school bags and clothes. But with my nails. So let me share with you my best trendy nail inspiration and ideas.
Bottom Line Upfront
In this technology-oriented era, we easily know about trends in any industry, especially in the fashion industry. But at the same time, trends are changing very fast. So, it is better to opt for evergreen trends, especially in the nail world. My all-time favorite is Long Acrylic Nails with Rhinestones and Pearls. This idea is the transition of two or more colors and arts. And I am sure you will love it. Let's crackdown on some highly trendy nail art designs of this season.
My Selection Criteria
I chose the nail ideas in this article based on the following criteria:
Trendy nail ideas that are easy to achieve at home.

Trendy nail ideas that you need the help of an expert to create.

Trendy nails that are short and stylish.

Trendy nails that are long and elegant.

Trendy nail ideas that are perfect for a rave or a festival.

Trendy nail ideas that are great for special occasions like date night.

Trendy nails that are bright and beautiful.
1.
Trendy Bright Colored Nails 
There was a time when I loved to maintain long nails in college. My teachers often scolded me as it was against the discipline of the college. Ah! Those were the days! After maturing, at least in my point of view. I realized that long nails did not look so attractive in my day-to-day routine. So I decided to try short nails. Moreover, short nails with creative designs have been trendy these past 2 years. And I love to follow trends as most girls do. 
These trendy bright colored short nails are very cute, attractive, and fascinating. And especially for teenagers. But, they are also suited for my Boss Babes. Who wants cute trendy nails that won't interfere with their daily routine. And that will give them some motivation to tackle job problems. 
You only need a nude base color and your desired bright gel colors. Along with a thin nail art brush to create beautiful art like flowers and zigzags and checkered detail on your nails. But I would rather head to the nail tech to achieve this look to perfection. This nail set is perfect for everyday wear and even events and festivals. 
2.
Trendy Pink Flowery Nails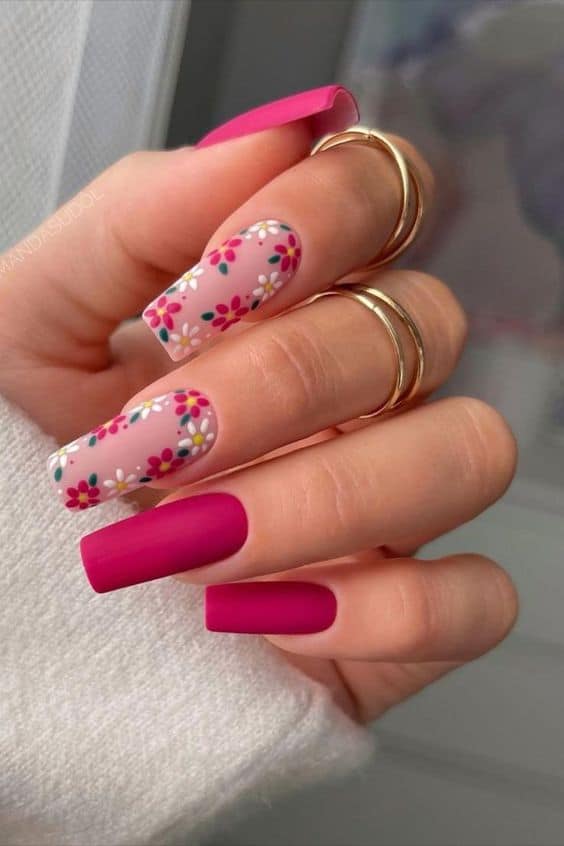 OMG! What a beautiful design! In the fashion industry, pink never goes out of trend. And it is the most obvious choice for girls when it comes to their nails. I prefer to create this nail design for special occasions. The color and the designs make it look classy and sophisticated. And I love how the light pink and dark pink look together. It is definitely giving me professional Barbie vibes. 
If you are not the best at creating nail art, I would suggest that you hire a nail tech. The flower detailing might be a bit tricky to achieve. 
Once I arranged a birthday party for my little sister. And the dress code was long pink fairy gowns. I opted for a nail design like this one to go with my pink fairy dress. And it really made me feel like a princess. 
3.
Short Trendy Blue Nails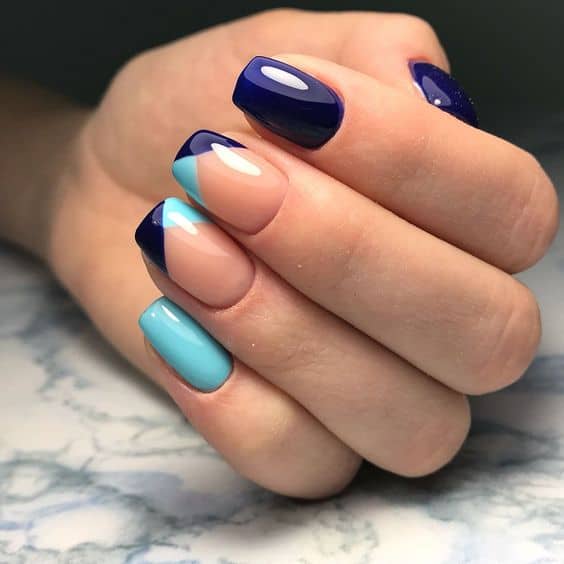 Blue is trendy this summer, so why not add different shades of blue to your nails? Color psychology associates blue with "freedom, inspiration, imagination, confidence, and intelligence." And due to some Uni issues, I need this kind of association in my life.
Moreover, this nail idea is so simple that I can create it at home with minimal effort. All I have to do is to start with a nude color. Once dry, then add shades of blue on the tips of the nail to form a split french tip nail. You will create this look on your ring and middle fingernails. And paint the rest of your nails in a dark and light blue color. You can add a glossy top coat to your nails to finish the look. Whenever you feel low, just opt for this trendy nail set and feel confident, Queen!
4.
Cute and Trendy Pink Nails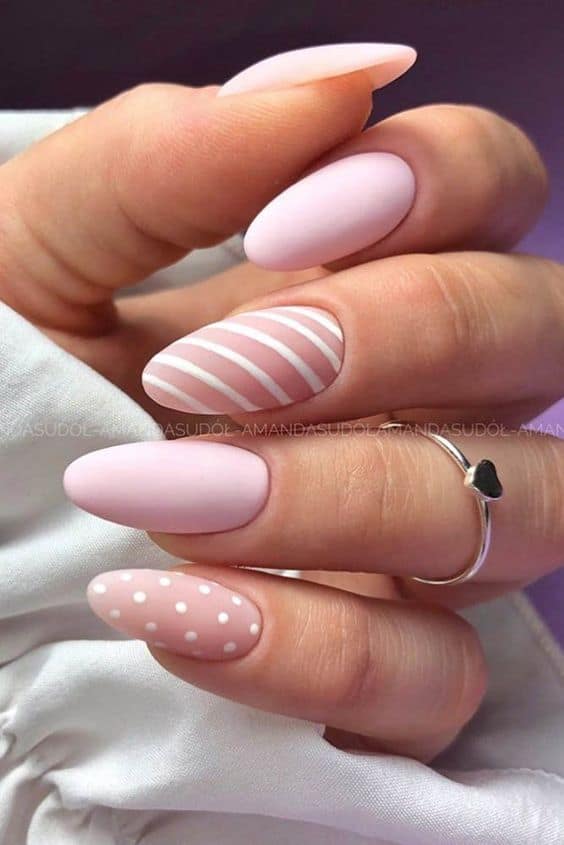 Girls! As you know, class and simplicity never go out of trend. And this cute and trendy pink nail set is the best example of class and simplicity. I mean, just look at them! And how simple and elegant they are. Whenever I need a break from loud and bright-colored nails, I opt for this nail look.
Furthermore, you can opt for this idea for every occasion. From parties and night-outs to formal and boring office meetings. The best part is that this idea is so budget-friendly. Because it has simple designs that are easy to achieve. I usually prefer to opt for it at the end of the month when my salary has decided to go out the door. 
If you want to achieve this look on your own. Start with any decent color, like light pink, then add white lines or dots on one or two nails. And then you have a simple and subtle nail design that still looks fashionable. I will definitely opt for this nail design. As I love the color pink and designs that are minimalistic. This nail set also reminds me of Easter with the color and polka dots. #Easterready
5.
Trendy Pretty Floral Nails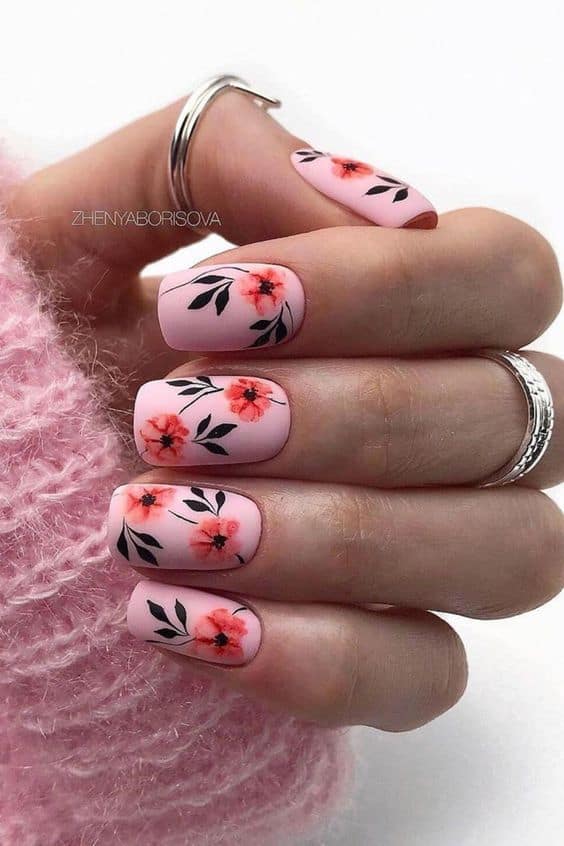 Flower designs on nails? How can a girl say no to this? Floral designs on nails have always been trendy. And this design is so attractive and breathtaking that it would bring you to a chat discussion. This floral nail set is versatile. As it will go with most of your outfits and will make choosing your OOTD (outfit of the day) super easy.
This nail design requires tricky detailing. So I recommend you visit the salon to achieve this look. Remember! Try to select natural colors for the flowers and leaves, like red and green, as it gives the vibes of real flowers. This is a nail set I would definitely go for as it includes 2 of my favorite things. Flowers and the color pink. 
6.
Trendy Short Swirl Nails with Shades of Blue
We are witnessing a lot of swirl details on nails on our social media feeds. As they have taken the nail world by storm. I love this trend! As I feel that it is cool, unique, and fun. 
This time I chose swirl nails with shades of blue like the sky and navy blue. You can easily create this nail set at home. You just need to paint your nails with a light blue base color. And paint some navy blue swirls all over your nail using a thin nail art brush. If you don't feel confident trying this nail look. You can visit your nail tech with some inspiring photos of blue swirls nail ideas.
 Once you have tried out this nail design, I guarantee you will want it again, maybe just in a different color. I think this nail set will look fabulous with blue or white beachwear. 
7.
Trendy Pink and Blue Nails with Black Art
People usually get bored with long nails with a lot of art. And I'm one of those people. Rhinestones, pearls, and other decorations on long nails can interfere with your daily routine and might not last that long. That is why most people follow this trend that gives them comfort with style. I love this nail set so much because my favorite colors are used in it. Namely pink, blue, purple, and black detailing. I love how all the colors used in this nail design complement each other. I would get the exact same design just on a shorter length. 
The nail set is easy to achieve at home as you just need your 3 base colors. A thin nail art brush and some black gel to create that creative nail art. Remember to add the glossy top coat to add that class and elegance to the nail look. 
I think it is the perfect nail set for a rave or festival. Let the party begin, girl! 
8.
Trendy French Nails with 3-D flowers.
In 2022, you can see 3D patterns everywhere, and 3-D flowers on nails are no exception. I give a big Y-E-S for this! You can create this nail set for anything. From night-outs to important events, especially on a date with your loved one. 
I usually love adding 3-D flowers only on my ring finger as they look so elegant. You can add the 3D flower details in any color. But I think the light blue and french manicure design look great together. I prefer to visit my nail tech for this one as I want it to look perfect for my date with my husband. 
9.
Trendy Coffin Nails with Brown Swirl Tips
Color psychology associates brown with "security, responsibility, strength, and reliability." Everybody needs this association to tackle these worldly problems in this hurried life. That's why brown tips with fresh swirls are in trend now. 
Furthermore, these brown swirl tips look damn beautiful and stylish. They kind of remind me of chocolate and caramel-swirled ice cream. When you open the tub of ice cream, stick your spoon in and then see the different colors of brown. You can create this idea with thin nail art brushes with minimal effort at home. Start with a nude base, then create swirls with brown and white. I think this is the perfect nail set for summer. Flaunt your nails this summer, girls!
10.
Trendy Purple and Blue Ombre Nails with Space Designs
Light purple color is considered the color of summer and spring. And that's why I decided to add this idea to my list. For my birthday last year, I created this idea with many cute designs. The nail art I created was: alien faces, dark stars, spaceships, and many more. 
It was a nice experience, and I will repeat it for my best friend's birthday party. This idea is difficult to create at home. Because you need to blend light purple with sky blue, and the nail art contains a lot of detail. So, it is best to visit your tech with some designs in your mind. Have fun, girls!
11.
Trendy Neon French Tip Nails
Being a professional lady, I am not a die-heart fan of this nail set. I feel like it is a bit loud and too bright for everyday wear, especially if you are working at an office. I think it is best for teenagers who want to enjoy and experience every essence of life. Or if you have a neon party or event, you need to attend. 
Moreover, you can create it at home with minimal effort. You just need your selected neon colors for the french tip and the nude for the base color. And get creative with your ring fingernail. Use all the colors, and form a pattern around the edge of your nail. Be the life at the party with this nailset girls!
12.
Long Trendy Nails with Rhinestones and 3D Details
OMG! This nail design is absolutely a gem. And this is my favorite so far. This nail set with rhinestones and 3D detailing is made for special events. Like your best friend's wedding or graduation ceremony. You will definitely need the help of your nail tech to achieve this look. Because it has so many complicated details. Remember that this set might be pricey because of all the detail. But if it is for a special occasion, then it is totally worth it. 
I know I will definitely wear this to a wedding, and I wish I had this nail set as my graduation nail. Because I just know that I would have felt much more confident receiving my degree with this gorgeous set. 
13.
Trendy White and Blue Cute Nails
Due to its simplicity and elegance. This nail set will never go out of trend and is considered appropriate for girls of any age. If cuteness and coolness had a face, it would definitely be this nail set. The nail art with the contrast of white and blue is just icing on the cake. 
The best thing is that these nails can easily be created at home with thin nail art brushes and steady hands. All you have to do is start with a white base, then create breathtaking leaves and branches on it. And then paint the thumb and ring finger on both hands in navy blue. This nail set is perfect for formal and important events. And is something I would definitely opt for if I have a formal event coming up. Because I know this nail set will make me feel like a million dollars. And I will look sophisticated and professional. 
14.
Trendy Yellow Nails with Cow Print
Last but not least, yellow and cow print nails. After the pandemic, people tried to mix more than two designs together. That is the exact opposite of each other. The best example of this mixture is yellow nails with cow prints. One part of this nail is easy to create at home, but the second one, cow prints, is difficult to create at home. So, you need to visit your nail tech for better results. 
I am not a fan of this nail look as I hate the color yellow. And I'm not a fan of stiletto nails as I feel it disturbs my daily routine. But I adore cow print, so maybe if the cow print was done with a different color. And nail shape, I would have opted for this set. But hey girls, if you like yellow, cow print, and stiletto-shaped nails. Please opt for this nail set and let me know your experience. 
Frequently Asked Questions
Question: What is the Most Popular Nail Trend?
Answer: To learn about trendy nails, you need to go through the above nail ideas list again. But here is some basic info about nail trends. Nails with gold lining, rhinestone, pearls, and a mixture of two or more colors are very popular now. 
Question: What Nail Shape Best Suits Everyone?
Answer: Well, it depends on the size of the fingers and palms. Generally, almond nails are best and look beautiful on everyone.
Question: Are Ombre Nails in Trend?
Answer: Yes, ombre nails are in trend now. People are highly motivated to blend color gradients from dark to light or vice versa.
My Top Picks
Conclusion
And there you have it, ladies! I have completed my list of trendy nail ideas. I tried to include trendy nail ideas that everyone would like and will want to try out. Let me know in the comments what you think about nail trends. And which of the ideas mentioned above was your favorite. I recommend you get the Long Acrylic Nails with Rhinestones and Pearls. 
This nail set is perfect for special events or occasions. Because you can get different styles and designs in one nail set. And the color of the nail set makes the nails stand out and look gorgeous! Don't forget to let me know how your experience with these nail ideas was, girls. Have fun! And be trendy this season!
Continue reading:
Sage Green Nail Ideas and Inspiration: 14 Soothing Sage Green Nail Designs
Light Pink Nails Inspiration and Ideas: Big Barbie and Y2K Vibes