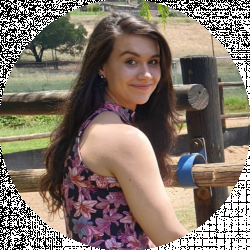 Latest posts by Christine Kent
(see all)
Are you looking for exceptional ideas to illuminate your nails this season? With new and exciting patterns? For that, you need to find some creative inspiration first. I love creating distinctive designs for my nails every season. This year I got some candy ideas to sugar coat my nails with layers of sweetness. Although I am not a candy lover. The beautifully featured colorful candy canes are something I can't resist adoring. 
It has been a long time since I tasted the yummiest candy cane, but still, I can feel the mellowness of it on my taste buds. This year on my birthday, New Year's eve, and Christmas. Candy cane nail art will be the best choice to make for me. I discovered some Candy Cane Nails Inspiration and Ideas. That offers various ways to inspire you.
Bottom Line Upfront 
The red stripes and peppermint candy canes are popular choices among people. They are known as one of the finest sweets, especially during Christmas. Some people give a religious narrative to these confectionaries. For some, it is just a source of sweetness. I would love to design my nails this year with the unique designs I discovered for this delicacy.
So far, my favorite is Royal Red Candy Cane Nails which looks classy and incredibly gorgeous. The red shade adds passion and rage, whereas glitter enhances the elegance of the artwork. Dip your tips in sweet candy canes this season. By taking inspiration from these creative candy cane nail art.
Selection Criteria
I chose the candy cane nails mentioned in this article according to the following criteria: 
Candy cane nails that are suited for any occasion. Whether it is for Christmas, the winter season, or a birthday.

Candy cane nails that are perfect for parties.

Candy cane nails that are easy to achieve at home.

Candy cane nails with tricky designs that you will need the help of a nail tech.

Candy cane nails that are simple but classy.

Over-the-top candy cane nails that will steal the show.
1.
Snowflake Candy Cane Nails
This snowflake with the candy cane nail design shows us an exact picture of joy and happiness. The incredible combination of red and white shades for the snowflake and stripe design on a red background. Looks super gorgeous with the dotted french tips. And the glittery red gel nail adds a spark to the whole nail art.
It is perfect for a festive look and easily achievable at home. Apply a layer of red glitter nail polish to your nails. And draw a snowflake art and white strips on them with the help of fine art brushes. Layer them with a shiny top coat for a finishing look, and get ready to be outshined. I love this nail set as it gets me in a sweet and Christmassy mood. I will definitely be trying out this set for Christmas this year. 
2.
Sweater Green Candy Cane Nails
Nail art is often used to lift the mood with a celebratory hue. This year, the green candy cane nails will look perfect for Christmas eve. The vibrant green color with a soft white mix gives a branded stance. The nail art shows a white sweater pattern on a ring finger. With straight green nails and candy cane art on other tips. 
This is a nail set you will need to visit a salon for because the sweater detail on the ring finger is a bit tricky. Even though I'm not a fan of green, I love this set. As the green and white look so good together. And the sweater and candy cane design create vibes of sweetness and comfort. When I look at this nail set, it reminds me of a cold Christmas morning. Where we all sit in our ugly Christmas sweaters in front of the fireplace. And watch how the snowflakes fall outside. Jip, it is such a calm and comforting feeling. 
3.
Sweet French Tips Candy Cane Nails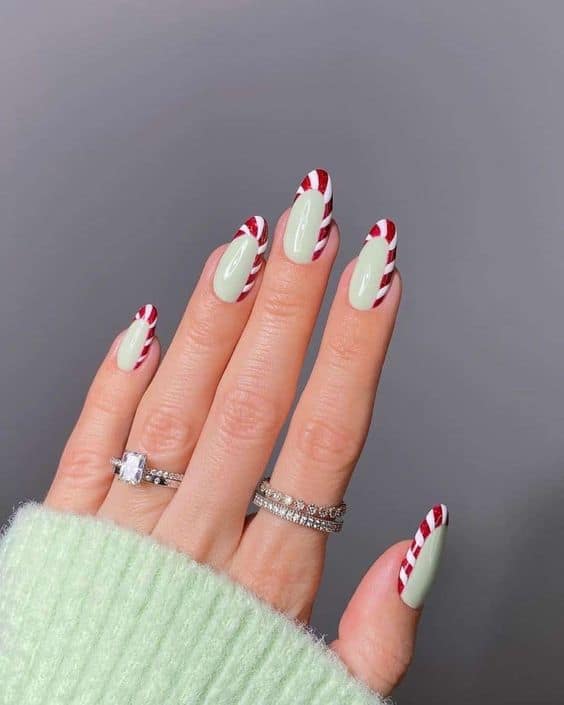 This cute nail art carrying candy cane french tips on a pepper green background looks lovely. The perfectly manicured hands and oval-shaped nails are ideal for this tip design. The art is tricky but not difficult to create. If you are a master of skill, you can quickly get this look by following the proper technique. 
Layer up your nails with peppermint shade. And then, with the help of a dotting tool or fine art brushes. Make a white cane shape on the tips and draw stripes in red color on it. Add a funky pop to your nails this season. With these efficiently crafted candy cane ombre nail art designs.
I find this nail design extremely cute. And it is a nail set that I wouldn't mind wearing every single day and not just on the holidays. I love the shape and color of the nail. As the oval shape elongates your fingers, and the color is just subtle and calming. What makes this nail set even better is that it is so subtle it will practically match most of your outfits. 
4.
Signature Candy Cane Nails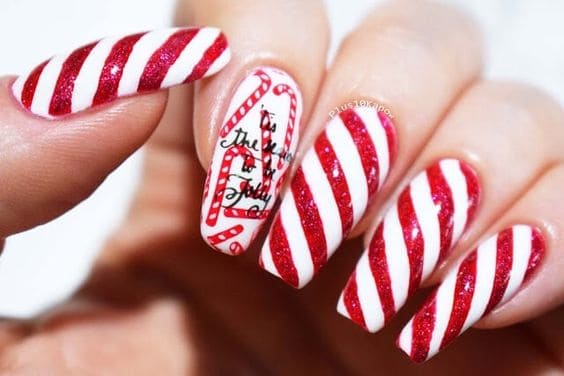 The signature candy cane nails have become a festive addition to any holiday outfit. They are not only great for the winter season. But they also work competently with other wardrobe colors. I love the beautiful shiny combination of bright red with a white shade. That has flawlessly made the entire art look stunning. 
I would love to get this signature look on Christmas eve, which I can smoothly create at home. The nails are created by painting a base coat of white nail polish and adding a layer of red polish. The next step is to use an art brush dipped in the white shade to make the candy cane stripes. Finally, you apply the top coat, and you're done! It is as easy as that. Now you can get in a celebrating mood with this cute candy cane nail set. Celebrate Christmas the right way!
5.
Red Aquatic Candy Cane Nails
What I like most about this nail art is the transition in colors. This genuine piece of art reminds me of the mesmerizing view of the moving sea sand in the blue oceanic waves. The most eye-catching trait of this nail design is the beautiful fusion of red and white colors. Giving these nails an elegant shine. 
The nails have classy candy cane art on one tip, sparkly glitter, and a red marble design on the others. The red shade will make your nails stand out. While the white stripes will give you that festive look with a touch of glamor. The gold glitter on these nails adds an elegant touch while still being fun and lively at the same time. These nails would be great for any occasion.
6.
Festive Christmas Candy Cane Nails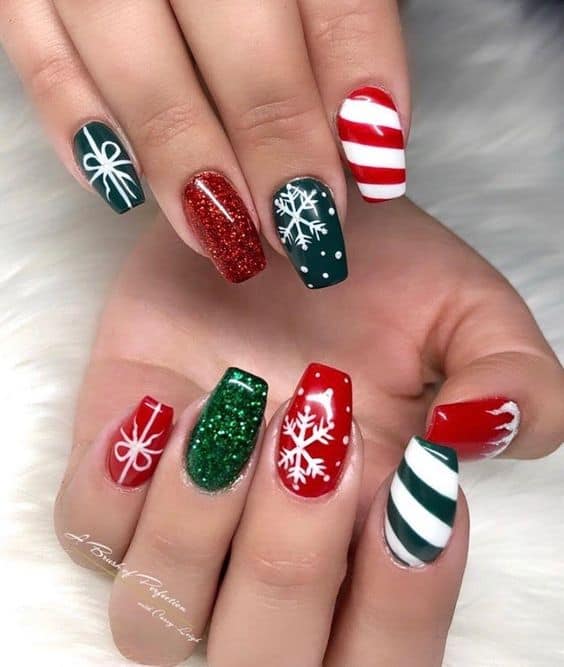 If you like the traditional and cheerful Christmas nail designs. You're all set to enjoy this season with this beautiful nail art. These Christmas-themed candy cane nail designs are very creative and fun-loving. This insane festive nail art comprises of many designs: 
Snowflake designs are created from green, red, and white colors. 

Sparkling glitter nails for a shiny atmosphere.

Candy cane nail art for some savoriness. 

Present bows to tie the entire stunning look in a single shot. 
Although I find this nail to look interesting, cute, and Christmassy. It is not something I would go for as it is a bit too busy. And I'm someone who prefers subtle and neutral nail designs. 
7.
Holotaco Candy Cane Nails
Nail designs are a great way to show off your style. And these candy canes are perfect for sprinkling these candied sweets on your nails. This art is named after a nail polish brand known as Holotaco. Very easy to apply and dries quickly. So that you don't need to worry about smudging them when you're trying to get them done. 
Begin the art by applying a base coat on your nails, followed by a layer of white shade. Apply red glitter nail polish on a transparent stamping plate of candy cane patterns. And punch them on your white-shaded nail tips. Finish a look with the shiny top coat to make them glossy and durable. 
I love this nail set as it is easy to create and looks great. I would just opt for the candy cane designs on one or two nails. And not all of them because I like to keep my nails simple and not over the top. 
8.
Winter Candy Cane Nail Art
This soft and simple nail art has all my heart. I love this pretty dotted layout, which will look perfect in winter. You may find this art boring because of the plain white shade. But for me, it is the most incredible candy cane art I have ever encountered.
The red candy cane picture on a white background shade is the perfect combination. The art is simple and can be efficiently assembled in the comfort of your home. The candy cane nail polish is readily available; grab it and apply. Use a dotting tool to craft silver polka dots and draw candy canes with a red shade. This adorable nail art is a perfect choice to get some chilly vibes. 
9.
Juicy Red Candy Cane Nails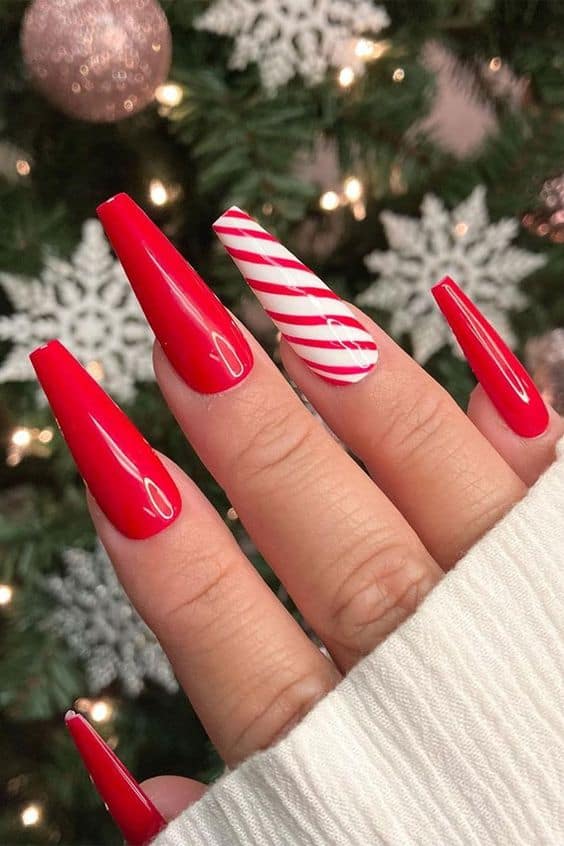 You may not see the sugar dripping from this nail art. Still, the flawlessly created candy cane art on these long nails. Has made these nails look fascinating and wonderful. The candy cane stripes are perfectly crafted with native red and white shades. In contrast, these bare red nails are made with a base coat of red polish. And then a shiny top coat over it for a gradient effect, making this design an utterly show-stopping look. 
If I want to feel like a bad a** who wants to take over the world, I can assure you that I will opt for this nail set. I will just opt for a shorter length. Because there is no way that I'm getting my work done with these long babies. 
10.
Santa Candy Cane Nails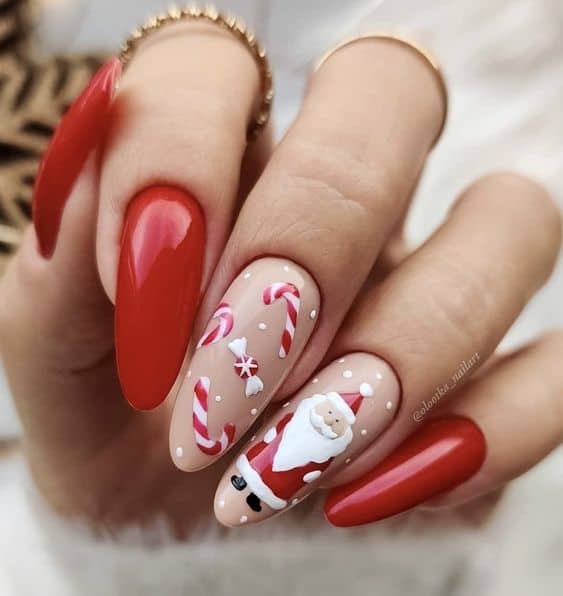 From snowflakes to Santa, many festive manicure inspirations are always available to choose the best nail art for this holiday season. To fully get into the festive mood, it's time to look for an appealing look. To make your Christmas season more special. Girls, take time to make your nails look precisely fit for the perfect occasion. 
The sweet candy cane delicacies and the Santa Claus on nude shade tips are flawlessly drawn. With thin art brushes and gel nail polish. The other nails are beautifully painted with a hot red shade. You can make your Christmas celebration more interesting. By making your hands elegant and beautiful. With these simple and soft multi-art patterns. 
I'm heading to my nail girl to achieve this adorable set. I want the designs to come out as Santa Clause, not just a white and red blob. These nails are so cute that I will wear them for Christmas and New Year. And if I'm feeling in a silly goofy mood, maybe after that too. 
11.
Mint & Pink Candy Cane Nails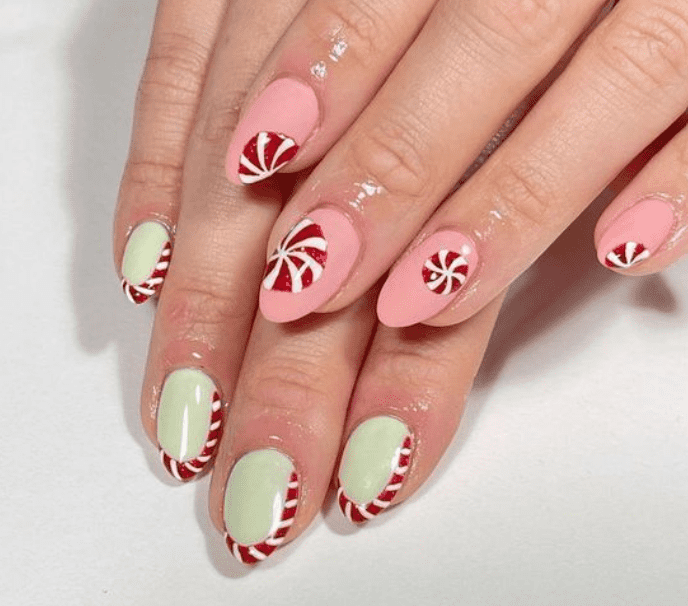 It is a lovely pattern for your nails. This nail design is not just unique. But it also makes a great addition to your holiday party. A simple way of adding a twist of the candy cane art on your nail tips. The french tips are flawlessly drawn with a few simple lines along the ends of oval-shaped nails. With the excellent peppermint base, making the entire art look pretty enough to steal the show. 
The graceful, spiral-shaped red candy cane nail art. Makes a touching gift for the holiday season. These small spiral candy canes look adorable in a soft nude pink shade. This art could be a fun and easy way to dress up your nails. Create this sweet treat to make a statement for the upcoming festive holiday. 
I love how each hand has a different color and design. This is a nail set I would definitely opt for as I like to be different when it comes to my nails. It gets a big fat Santa yes from me!
12.
Funky Sparkling Candy Cane Nails
I have been doing nail art for so long, and I have never seen any art that does not contain glitter in it. Glitter-detailed nails never go old, no matter what season you are in. You can incorporate all these pretty elements together in the comfort of your home through your remarkable skills. But if you find it hard to create. Hire a professional to decorate your nails with all these sparkly, classy, and cheerful nail designs. 
I love the added mistletoe and gingerbread man nail art. There is nothing that describes Christmas better than kisses and cookies!
13.
Royal Red Candy Cane Nails
An art that deserves to be loved to the next level and gets on my favorite list. Where there is royalty, there will be class. If your tips beg for a bit of attention and textures, this nail art will be a perfect choice. With a bit of knowledge, some practice, and these ideas, your nails will be the talk of the town:
The art has a glittery candy cane stripping design.

A slight touch of red and silver spirals on the matte nude shade.

A shiny silver snowflake art on matte red nail polish close to the cuticle area.

And lastly, a classic look finished with the iconic red matte hue. 
I think this nail set screams class and elegance. It is a conversational piece! Best to apply anytime, anywhere. And I will be more than happy to wear this set to a fancy Christmas dinner party. 
14.
Winter Light Moss Candy Cane Nails
Sweet candy cane art in a light moss green shade looks calming and soothing. Long square-shaped nails are ideal for this pretty look. The tiny candy canes are delicately assembled on the excellent minty background. It is easy to create and can be worn anytime you want.
I remember everyone praising this beautiful art piece at my birthday party. I crafted these sweet candy cane delicacies on my tips at home. You can also get this cute look if you are an expert in nail art. Start by layering up your nails with a light moss green shade. And then, on a white candy cane-shaped floor, draw red stripes on it. Finish the art with the shiny top coat, and prepare to rock your party. 
15.
Fruity Swirls Candy Cane Nails
This art reminds me of melted marshmallows on a hot vanilla latte. The melted swirls on pink base coats illustrate an exact picture of a candy cane. I love the idea of designing these candy canes in a unique style in this nail art. The color hybrid is the best, giving tutti frutti sundae vibes. 
The creative nail design is worth trying. And can easily be achieved if you have every item readily available. Begin by painting your tips with a pink base coat. Then with the help of an art brush and red nail shade, draw these swirls in different patterns. Seal the art with a shiny top coat for a better glossy look. And ta-da, you have this cute nail look. Don't you think pink and red go great together? They are like soulmates but in colors. 
Frequently Asked Questions
Question: Why do People Mostly Prefer Light Moss Green Base Coats for Candy Cane Nails?
Answer: Traditionally, candy canes are designed with white and red stripes with peppermint flavor. To give a touch of this traditional flavor, candy cane nail art is mainly painted with this shade as a base coat. Although they also come in a variety of other flavors, it is most commonly used. 
Question: Does Candy Cane Nail Art Look Good with Gleaming Ornaments?
Answer: The traditional red and white candy canes look lovely with every kind of ornament. The sprinkled glitter or Swarovski Crystal ornament enhances the beauty of every nail art. 
Question: What are the Other Options of Art to Include on the Nails with Candy Cane Design? Especially for Christmas Occasions?
Answer: You can incorporate joyous snowflakes and a cute Santa Claus. And even a Christmas tree to make your art look more noticeable. 
Top Picks
Conclusion
To all the nail art lovers, these inspirational candy cane nail ideas are something you should consider applying at least once. Try coloring your nails with your favorite sweet treat this season. Maybe match your scarf to the sweets you have in your pocket. The beautiful assortment of these nail designs is for every season and everyone, from a simple, classy look to shiny glitter tips. Accomplish your favorite look for any occasion like Christmas, birthday, or the new year. 
What was your favorite candy cane nail idea mentioned in this article? My favorite nail idea is the Royal Red Candy Cane Nails. As it looks so elegant, sophisticated, and fashionable. Perfect for those fancy Christmas parties. Share your sweet experience with me so that I can give you further inspirational ideas in the future. Have fun, girl, and stay sweet!
Continue reading:
Christmas Nails Inspiration and Ideas
Red and Gold Nails Inspiration and Ideas: Bring Out Your Inner Goddess With these Red Nail Ideas