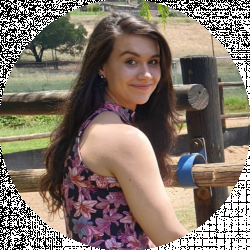 Latest posts by Christine Kent
(see all)
Summer has come, and it's time to whip out those gorgeous swimming suits and bikinis! To complete that perfect summer/beach look, your nails gotta match your swimsuits and bikinis, right? 
Summer is my favorite season of the year because it allows me to get bright and fun acrylic nail designs. And guess what, ladies? Today I have some fun summer acrylic nails inspiration and ideas to share with you so that you can make your summer memorable. So let's dive right into these hot nail ideas. 
Bottom Line Up Front
Are you looking for the perfect nail design for this summer? You have come to the right place, girl. Today I will share with you my favorite summer acrylic nails inspirations and ideas.
My favorite summer acrylic nail idea in this article is the Pink Butterfly Summer Nails. As I love having my pink moment during the summer, and I'm just obsessed with butterflies. It's the perfect nail set to wear to a picnic or even as your everyday nails. Let us have a look at the other fun summer nail ideas. 
Top Picks
Selection Criteria
I chose the summer nail ideas mentioned in this article according to the following criteria:
Summer nails that are perfect for clubs, parties, or festivals.

Summer nails that are perfect for vacation.

Summer nails that are Y2K inspired.

Summer nails that are cute and classy.

Summer nails that are bright and eye-catching.

Summer nails with cute designs.
Summer Neon French Tip Nail Designs
Summer is the perfect season for those wild parties at the beach and incredible music festivals. These festivities are incredibly colorful. And what is the best way to attend these festivities? Well, being colorful as well. 
These Neon acrylic French nails will be perfect for the occasion. As they will add a pop of color to any outfit, you decide to wear. The design's base color is a translucent nude acrylic, which fades into a sideways French tip of different neon colors. Neon blue, purple, orange, and yellow are used to form the sideways French tip on each nail. Each nail also includes a single rhinestone. 
I think this nail design is perfect for the ladies who want to show their wild side. But want to be classy at the same time. It is definitely a nail set that I would love to wear to a club or festival. 
Colorful Summer Flame Ombre Nail Design
Summer is all about wearing fun and bright colors. And Neon colors are the way to go if you want something bright and eye-catching. But girls, if you want a summer nail design that is bright, fun, and flaming hot. Then this nail design is for you.
The design uses green, pink, yellow, purple, white, and nude acrylic colors. The nude is used to paint the base of the nail design. The colorful neon colors are then used as the tips of the design using an ombre technique. Using white gel, the shapes of flames are painted over the nails. It's then painted over with the colored nail gel, so the flames blend in.
I think this design is perfect for long nails, because I feel that the beauty of the shape of the flames will not be noticed if it is applied to shorter nails. Again I think this nail set is perfect for parties and music festivals. 
Summer is also the perfect season to take a vacation to flowery provinces. And the perfect nail design to pair with your beautiful dresses is this bright floral nail design. The design uses bright red, pink, orange, sheer nude, and yellow acrylics.
The pink is used to paint the middle fingernails. The red is used to paint the index fingernails, and the orange is used to paint the little fingernails. A translucent pink is then painted over the ring fingernails. Small flowers are painted over the ring fingernails. Using a dotting tool and red, yellow, and pink nail gel. 
The color combination is quite interesting, but somehow it works. I think the design is cute, and I love how bright and fun the nails look. The design will be perfect for summer picnics. Also, summer luncheons with friends or family.
Colorful Summer French Tip Nail Design
The design is so cool and interesting. But it is also classy and very chic. The acrylic colors in the nail design bring the summer vibes.
This nail design uses purple, blue, orange, red, white, pink, and nude acrylic colors. The nail design is incorporated into a French manicure technique. The nude is used as the base color of the nail design. The purple is painted on the tip of the middle fingernail. The orange is painted on the index finger. Red is painted on the ring finger, and blue is painted on the little fingernail. 
The colorful tips are then outlined using white gel to make the colors pop out even more. We can also see some pink, light purple, and blue that work together with the white to make each nail stand out. 
I personally think this nail design is perfect for those who want to wear colorful nails. But still want to keep it subtle and chic. I would totally wear this nail set as my everyday nails. As I feel like it's a fun way to bring some color into your outfits. It can also add some fun to your office wear. 
Summer Lava Ombre Nail Design
What is the hottest thing to wear during the hottest season? That's right, this lava nail design. This gorgeous lava nail design is aesthetic. And absolutely perfect for the hottest season of the year!
This nail set uses red, orange, and nude acrylic colors. The red color on the index finger and ring fingernails just fades beautifully into the nude part. As if they just dipped their fingernails into the scorching hot lava. 
The orange is also done in the same manner on the little fingernail. Red and orange are combined on the middle fingernail with a swirly design. As if to imitate the swirling lava inside a volcano. And to make the colors pop out even more, the design uses nude as the base color.
If you are planning to go to Hawaii, I think this nail set will be the perfect nail set to get. Since that beautiful island is also known for its volcanoes. And I think this nail design would blend perfectly with the Hawaiian vibes. So sign me up for this HOT nail design!
Summer Yellow and Nude French Stiletto Nail Design
This nail design is absolutely gorgeous. It's probably one of my personal favorites on this list. I love sparkly nail designs. And this particular nail design has gorgeous sparkles on them.
This nail design uses neon yellow and nude acrylics. Some neon rhinestones and some gorgeous Swarovski gems, and finer glitter detail are also added to the look.
The nail set uses the nude as the base color of the overall design. The French tips are drawn using the yellow neon nail gel, only outlining the shape of the tips. The French manicure design is only applied to the thumb, middle, and little fingernails. Some yellow glitter is also applied over the French tip design.
Rhinestones are added at the top of the index fingernail. The ring fingernail is filled with gorgeous sparkly glitter, Swarovski's, and neon rhinestones.
I think this is a nail design you can wear to any occasion. The neon yellow does not appear flashy. But it looks classy and sophisticated. This nail design can also suit any season of the year. Is it a nail set that I would wear? Unfortunately not.
It's way too long, I'm not a fan of yellow, and the stiletto nail shape is just not for me because I will poke my eye out! But I still think it's a stylish design. Just not something I would wear. 
Hawaiian Summer French Manicure Nail Design
If you are looking for something that just yells Hawaiian and summer. Look no further since I think I found exactly the nail design you have been looking for.
This nail set uses translucent nude, pink, red, neon yellow, blue, and black acrylic colors. The French manicure nail design is incorporated on the thumb, index finger, and little fingernails. Using the translucent nude as the base color of the design. And the neon yellow as the tips that are carefully painted in a V-technique.
A colorful ombre is then painted on the middle fingernail using pink, red, yellow, and blue acrylic colors. As if to depict the setting sun on a Hawaiian beach.
And the words "Aloha" and "Hawaii" are then written on the nail using black nail gel. Another colorful ombre is painted on the ring fingernail. Using the colors pink, red, and yellow acrylics, imitating the setting sun of Hawaii. Using black nail gel, some birds and a coconut tree are then painted over the ombre design.
I love how the colors remind me of the Reggae culture that I was so fond of during my high school years. Not to mention Reggae music just fits the summer vibe so well. This nail set is the perfect nail set to get for a beach party. I'm definitely opting for this nail set for my vacation. Can't wait!
Y2K Summer Vibe French Manicure Nail Design
Lately, Y2K aesthetic designs have been trendy. And I can't really blame it because of how gorgeous this aesthetic is. It's so bright, fun, colorful, and wild. Making Y2K the perfect aesthetic to feel that summer vibe with.
This nail design uses different bright acrylic colors and nudes to serve as the base color. The nailset is made up of different designs, like some smiley faces and colorful flames. The smiley faces are painted on the little and middle fingernails. The flames are then painted on the index finger and ring fingernails. 
I think the design is cute and would absolutely fit the summer vibe check because of how funky and fun it looks. This is the perfect nail set to get for your summer vacation. Come on, girls, go get matching designs with your friends. And do summer the right way. #Havefun!
Baby Yellow Summer Floral French Manicure Nails
If you don't want those fun and funky nail designs and prefer the floral and subtle nail designs to celebrate summer. Then this acrylic nail design would be perfect for you.
This nail look uses pastel yellow and nude acrylic colors. The French manicure is painted on the middle and ring fingernails with a nude acrylic base color. And the baby yellow as the tips. Yellow flowers are painted over the nude acrylic base color on the thumb, index finger, and little fingernails. Using a thin nail brush and a dotting tool. 
I know that there are people who prefer to go to the countryside. To spend their summer vacation with flowers and nature, rather than go to parties and the beach.
That is why I added this design to the list. Also, it is a design I would totally wear. Even though I hate the color yellow, this baby yellow stole my heart, and I'm a sucker for floral designs. So this nail set gets a big yes from me. Just think how cute this set will look with white summer dresses. #Perfection. 
Babygirl, you need your pink moment during the summer. And this is your chance to get this gorgeous pink butterfly set. The baby pink gives the nail look a subtle and elegant look. And the butterfly design on the ring finger just brings the pizazz. It's easy to create as you just need to paint all of your nails with acrylic baby pink. And then add a colorful butterfly sticker to your ring finger nail. 
You can also hand paint the butterfly if you are feeling creative. I love this nail set as I'm obsessed with the color pink and have loved butterflies since I was a little girl. So this is the perfect nail set for me to get.
The nail set is so minimalist and subtle, I won't have issues pairing it with outfits. And the best part is that I can wear it as my everyday nails to the office. It's the perfect length, color, shape, and design. So what more can I ask for? I'm definitely getting this nail set next. 
Funky Summer Watermelon Nails
What is a hot summer's day without a watermelon? A boring day for sure! So why not incorporate a watermelon design on your acrylic nails? And make summer extra fun and refreshing this year? We can see the watermelon design on the thumb and middle fingernails. The color red is used for the flesh part of the watermelon.
Green and white are used to form the skin of the watermelon. Black seed designs are also added near the cuticle area. The index and little fingernails are in plain green. The ring finger has a white base color and a little watermelon man with black shades on it.
I think this nail set is super cool and funky. It's sure to make you stand out and grab everyone's attention. And I also think that this nail set is a great conversation starter. You know, "Oh, I see you like watermelon."
"Ahh, how did you know?" 
"Your nails." 
"Haha, oh yes, silly me." So get this watermelon nail set and get those conversations rolling this summer. 
White Acrylic Summer Nails
Yes, it is summer, but this doesn't mean you must wear bright-colored nail sets the entire season. You can also opt for something plain and minimalistic, like this nail set over here. I love painting my nails in white.
There is just something about white acrylic nails that make you feel stylish, sexy, and sophisticated. Jip the triple S's. I also love how it makes my skin appear tanner and how it literally matches any outfit I decide to wear. 
I also love the shape of this nail set. As I know, it will elongate my fingers which is something I really need! And the glossy top coat just adds some charm to the entire design. So this design gets a big yes. It's a nail set I would wear every day and to any occasion. 
Summer Black and Yellow Nail Design
This nail set makes me want to sing "Black and Yellow" by Wiz Khalifa from the top of my lungs. Although I can't stand the color yellow, I kind of like this nail set. It's fun and bright and will definitely steal the show, girl. 
All the nails are covered in bright yellow acrylic as their base color, with some black gel brushstrokes on the middle and ring finger nail. It's definitely a nail set that I would wear to the club or a festival. You are going to see my nails coming around the corner before you see me. But hey, I'm not mad about it. I'm going to look bright and beautiful. 
Pink Summer Nails with Floral Detail
We all wanted to be Barbie when we were little girls, am I right? And now is your chance to be Barbie this summer with this gorgeous pink nail set.
The nail set kind of gives me Barbie Fairytopia vibes because of the color and the gorgeous flower beads. And girl, this nail set is so easy to achieve that you can create it in the comfort of your own home! The design includes gorgeous hot pink acrylic as the base color on all the nails. And some white flower beads are added to one side of the nail near the cuticle. 
I would absolutely love to get this nail set because who doesn't want to feel like Barbie the entire summer? The nail set is cute, pretty, and chic. It will look extra cute with my pink bikini, white sandals, and my beach hat. #Adorable. 
Frequently Asked Questions
Question: What Nail Designs are in this Summer?
Answer: The following nail designs are in this summer. Gradient nails, ombre French tips, artsy tips, neutral nails, minimalist nails, animal print, and lots more. But you can take any nail design and make it summer-appropriate.
Question: What are the Summer Nail Colors for 2022?
Answer: The nail colors that are trendy this season are pinks, Lavender, neutrals, blues, coral, and citrus.
Question: Are Short or Long Nails Better Suited for Summer?
Answer: It all depends on your preference and what design you are going for. But both short and long nails look stunning in the summer. Here's a tip: a short nail will be better suited if you are looking for comfort and convenience. If you are looking to be bold, make a statement, and get extra cute designs with a lot of detail, longer nails will be your baby. But again, it all is up to you and your liking.
Conclusion
It is already the middle of the summer season. And it is still not too late to hit the beach or to attend that music festival you've been meaning to go to. You can still catch the last train to your favorite province for a nature-filled summer vacation.
And to complete your perfect summer vacation wear that perfect summer-inspired acrylic nails. I have compiled all the nail designs on the list with many factors in mind. I understand that people have different ways of spending their summer.
I truly hope this list has helped you decide which summer acrylic nail set to go for. What was your favorite summer nail idea mentioned in this article? Mine was definitely the Pink Butterfly Summer Nails. As I feel the color is perfect for summer and the butterflies just bring the summer magic.
So book that appointment with your nail tech before you hit the beach. Or take that long-awaited nature-filled vacation you have wanted to go on. Some of the designs in this article are also easy to achieve at home if you feel up to it. Have fun and enjoy the rest of your summer, girls!
Continue reading:
Neon Nails Inspiration and Ideas: Bring Some Color to Your Life
Blue Acrylic Nails Inspiration and Ideas
Blue Ombre Nails Inspiration and Ideas: Get Creative With Your Nails This Summer