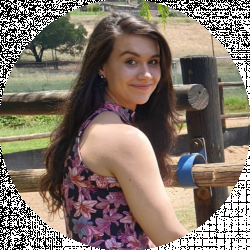 Latest posts by Christine Kent
(see all)
Elegance, class, and sophistication- are qualities that never fail to inspire others. Roses are deeply associated with these qualities, along with affection and love. Roses can be worn on any occasion, from formal meetings and night-outs to weddings. And of course, on Valentine's Day. So girls, let's start creating breathtaking rose nail designs. As their versatility can never spoil your event.
Roses are my favorite flower, so I love adding them as a design on my nails. Because I can have the beauty on my nails for 2 to 3 weeks without worrying about them dying. And today, I bring you some classic rose nails inspiration and ideas that will put you in nail paradise. So let us get to it, ladies!
Bottom Line Up Front
Girls are always obsessed with roses as they are a symbol of love. They also smell amazing and look beautiful. And adding them to your nails makes things exciting! Rose nail art looks good in all seasons, from cozy winters to hot summer days.
My dear readers, I suggest you opt for the Red Rose and White French Acrylic Nails. These nails bring a fun twist to the french tip. And can be created on any occasion regardless of season and trend. Let's dive into the article to explore some more eye-catching rose nail ideas.
My Top Picks
My Selection Criteria
I chose the rose nail ideas mentioned in this article according to the following criteria:
Rose nails that are elegant and classy.

Rose nails that are suited for any occasion.

Rose nails are suited for more mature ladies.

Rose nails that are suited for special occasions like date nights or weddings. 

Rose nails are sure to make a statement.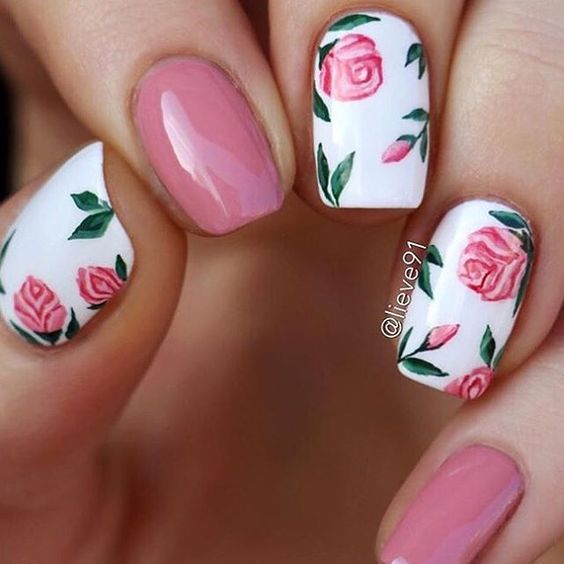 It is impossible to talk about roses without mentioning pink roses. As pink roses are the most obvious choice for girls when it comes to special occasions. Also, the color pink is associated with grace, attitude, happiness, and joy. While green leaves represent life, rebirth, and growth. 
The index and little finger's nail is painted with a pink base color and a glossy topcoat. While the thumb, middle, and ring finger are painted with a white base color. And have gorgeous pink rose detailing. Even though I think this nail design is gorgeous, it is not something I would go for. As I feel that it gives off vibes of a more mature lady.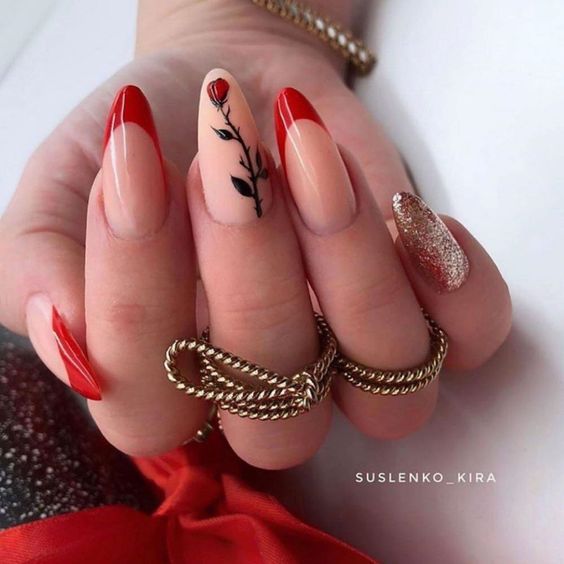 Personally, I don't like to add rose detailing on all my nails. Instead, I love to add one rose on my middle or ring finger. Because from my point of view. You may agree to disagree; too many roses give off weird vibes, and it may cause the design to lose all essence. And that is why I'm in love with this nail set because it has a single rose on the middle finger.
The thumb, index, and ring fingernails have a nude base with a red french tip. While the middle finger has a nude base with a gorgeous red rose design. And lastly, the little finger is covered in golden glitter. 
I think this nail set is sexy, passionate, and seductive. Pair these nails with a black body con dress. And some gold lace-up heels, and I can assure you your partner won't be able to take his eyes off you. If you are a beginner in the nail art world, you will need to visit your nail tech to achieve this look.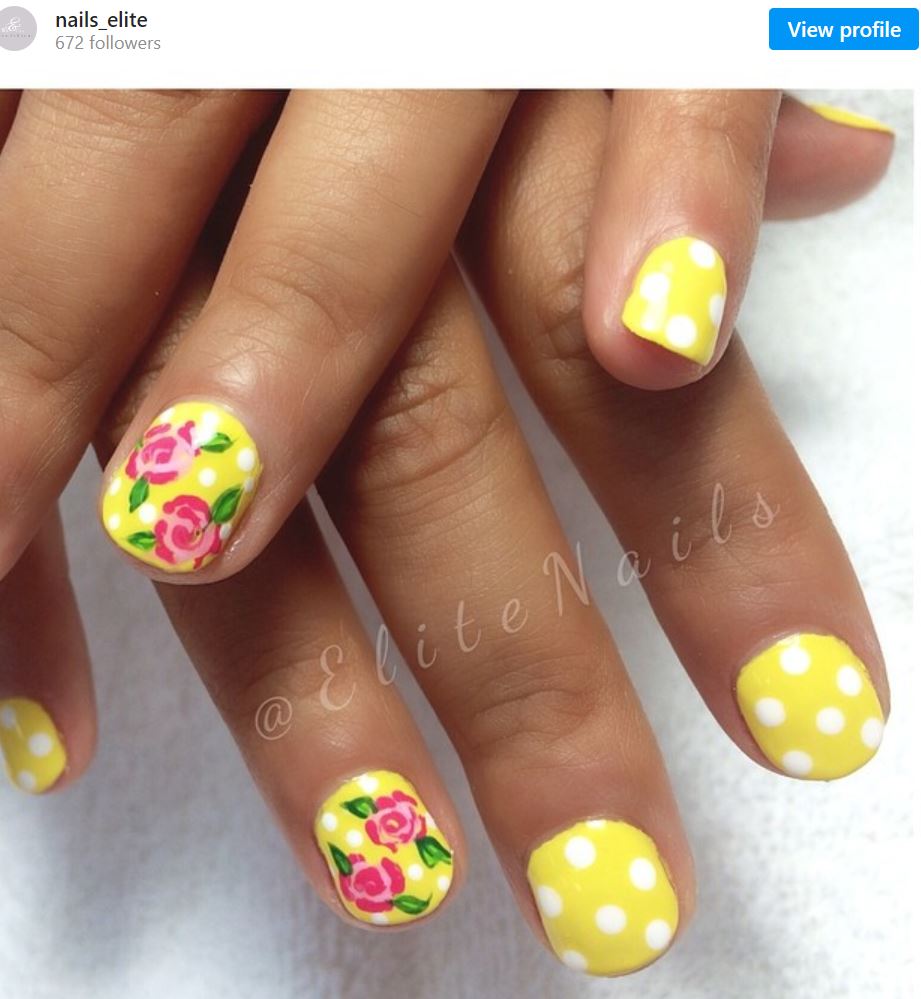 One of the cutest nail designs is polka dots nails. Last month I tried something unique for my niece's birthday bash. I created this nail design with the yellow base, white polka dots, and pink rose detailing. I must say, it was a great experience and I received many compliments. I will wear this nail design again for any informal occasion. But opt for a longer length because the design on the short nails looks a bit weird to me. 
You can select the base color of your choice. I chose yellow to bring in some summer vibes. Then get your dotting tool and add some dots to form the polka dots. And lastly, add your pink rose detailing with green leaves on your ring finger. You can easily create this nail look at home if you have some basic nail art skills. Have fun, girls!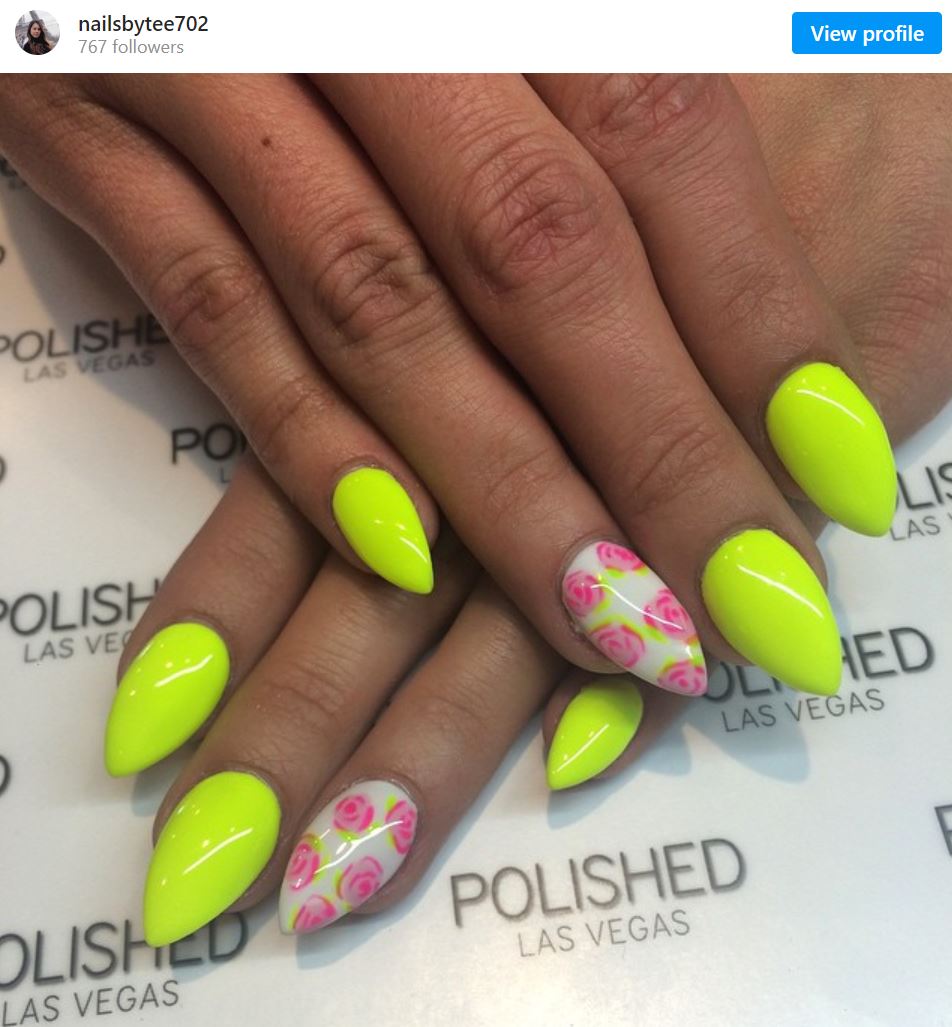 This design is perfect if you are looking for some cool summer rose nail art. That will stand out at your next party. The nails are in a short stiletto shape, and all the nails are painted neon yellow except for the ring finger nail. The ring finger nail has a white base color with pink rose detailing and hints of neon yellow. 
Okay, I must be honest with you guys. I totally hate this nail design! I can't stand neon yellow, and I think the bright yellow takes away the elegance of the roses. But this is just my opinion; if you love this design, please feel free to shine. It is also easy to create in the comfort of your own home. If you have basic nail art skills.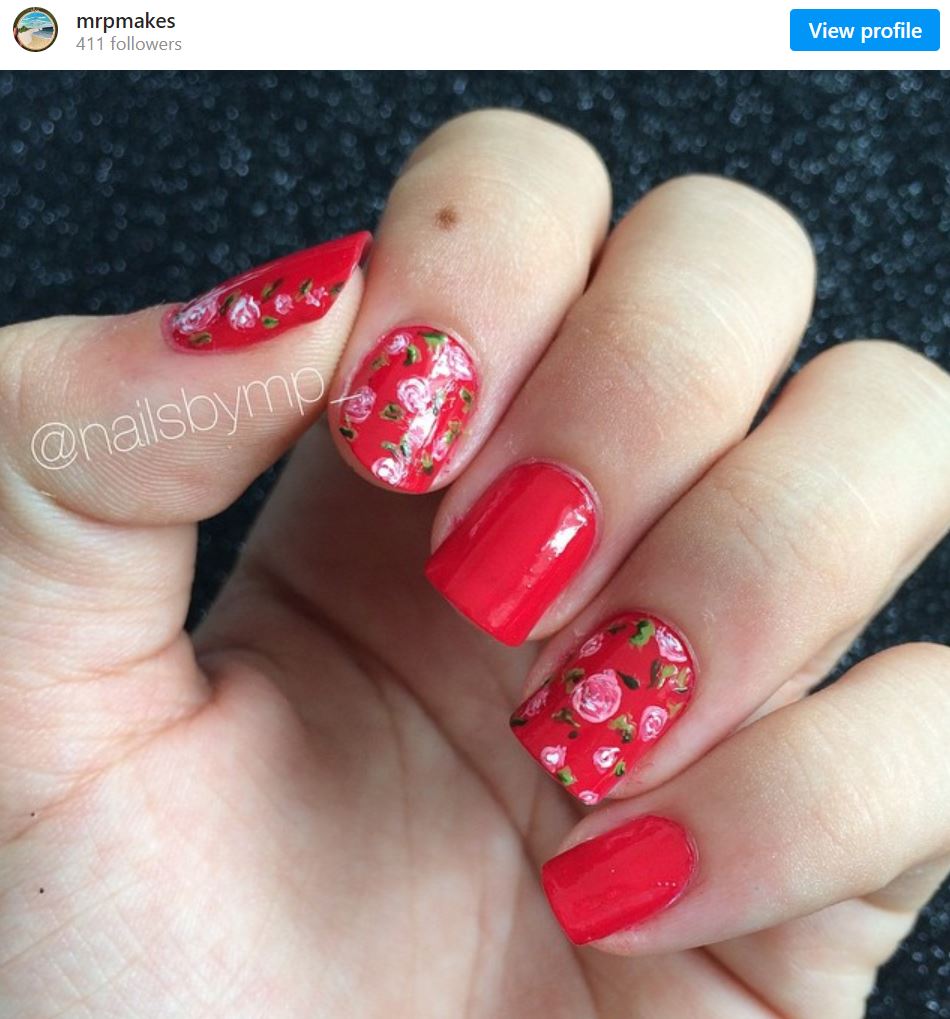 OMG! Red nails with rose detailing? What a killer combination! I am a person who is not comfortable with long nails because I spend hours in front of the computer daily. So long nails will just get in my way. So, this design is perfect for me! Besides, the red color is associated with love, health, life, courage, and bravery. So whenever I feel low and depressed. I opt for this idea as it gives me the energy and power to overcome all circumstances. 
Girls! Start with red nail polish as your base color on your nails. Once dry, create the roses and leaves with acrylic paint and a thin brush. This design is worth trying out and will be perfect for Valentine's day or a romantic getaway.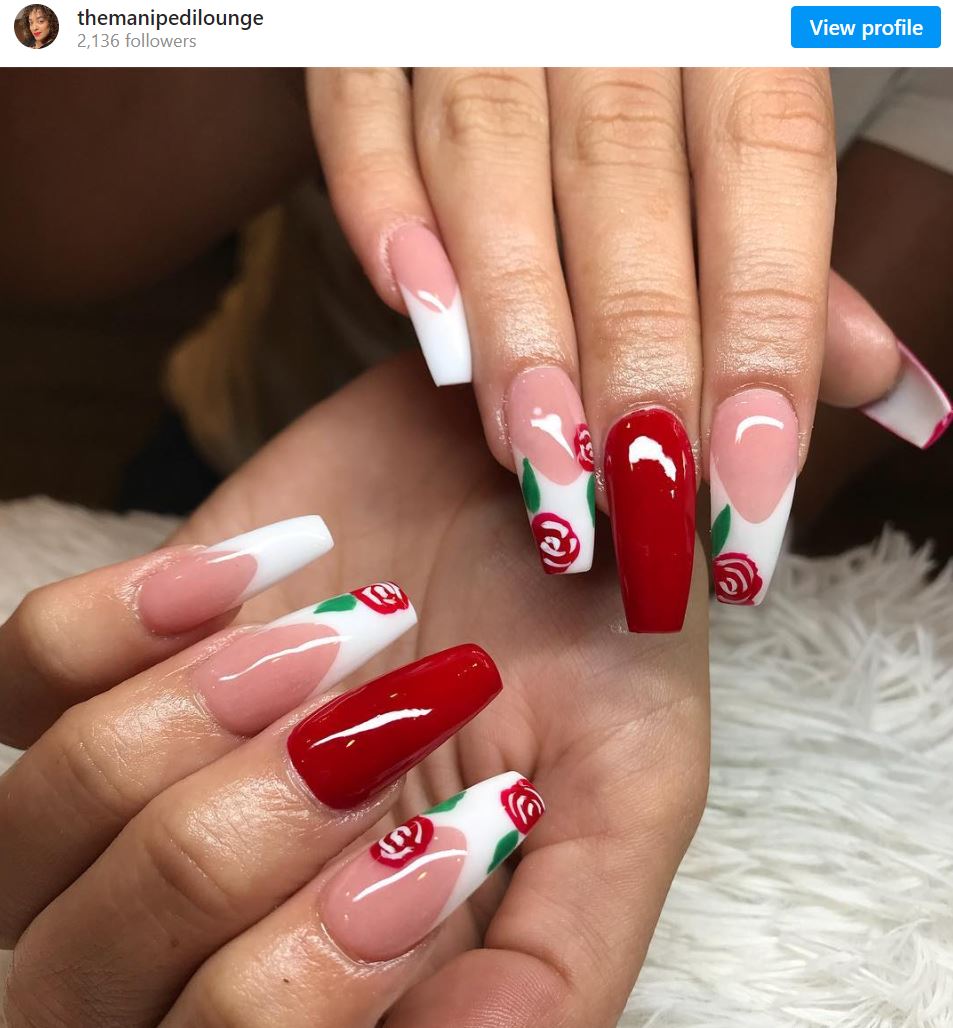 Are you looking for unique nail art? That will match the vibes of your special date that you have planned with your partner? Then, you definitely need to opt for this idea. I went to my nail tech to achieve this look as I wanted it to be perfect for my anniversary date with my husband. My husband held my hand the entire night and complimented me on my beautiful nails. This nail set made me feel sexy and confident. And our evening was out of the world. 
If you want to create this look at home. All you need is the colors nude, white, and red. You will use a gorgeous glossy red as the base color for your middle fingernail. While all the other fingernails have a french tip design with a nude base and white tip. Some red rose detailing is added to the tips of the nails except for the little fingernail. I will definitely opt for this sexy and elegant nail set again. 
People mostly associate rose ideas with pink or red. But I tried to think out of the box and choose rose art with a maroon color. I think this nail set is very elegant and sophisticated. But once again, I feel like this design is more suited for an older woman. And even though I love the combination of maroon and gold and the rose detailing. I don't think it will suit me. But one thing I like about this nail set is the shape and the length, as it makes managing tasks very easy. 
If this is something you like, I suggest you head to your nail salon. The details on the ring and middle finger nail can be complicated to achieve.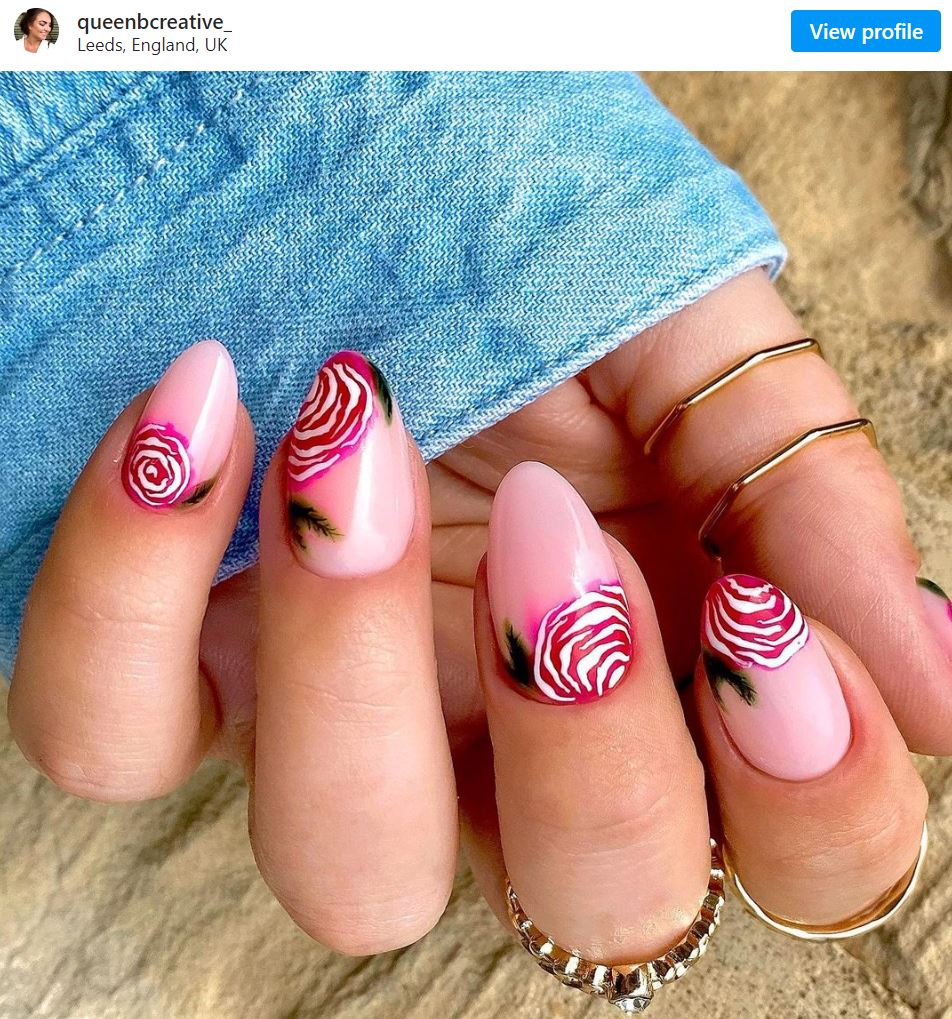 If you are looking for cute, sophisticated, and unique rose ideas in the nail art world. My dear girls, your search ends here. This nail set is cute, simple, yet classy and trendy. 
Girls! It's P-I-N-K, and I would say a big yes to this design without even a second thought. Because it is the perfect length and shape. And the best part is it is subtle but has enough details to make a statement. Even though this rose nail set is not that hard to achieve, I will visit my nail tech to achieve this look. Because I know I might struggle a bit when it comes to creating this 3D-ish rose art. I think this nail set would look fabulous with an all-jean outfit. Some little pink high heels and gold jewelry. #Stylish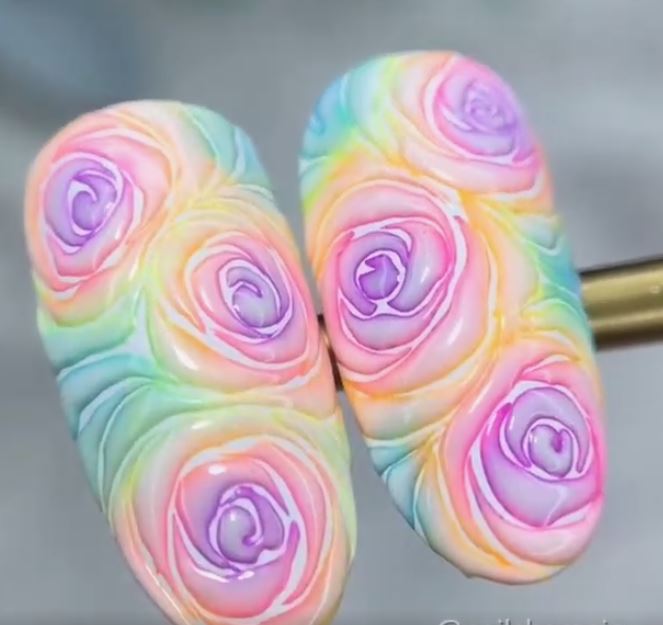 I am not a crazy fan of this colorful rose nail idea. Because a lot of colors on my nails are a bit overwhelming to me. I prefer to have 1 or 2 dominant colors on my nails. But at the same time, the colorful design gives rainbow vibes. Representing hope, freshness, and diversity. Do you want these vibes? Just opt for this nail set. 
But remember that you will need to visit your nail girl to achieve this nail set. Because a lot of fine detailing and skill goes into this nail look. I have mixed feelings about this set. As I don't like many colors on my nails, but at the same time, this nail set looks so beautiful. So I have made a decision. If I were to opt for this nail set, I would get this colorful rose detailing on only one finger. It will be my ring or middle finger. And the rest of my fingernails I will keep plain white.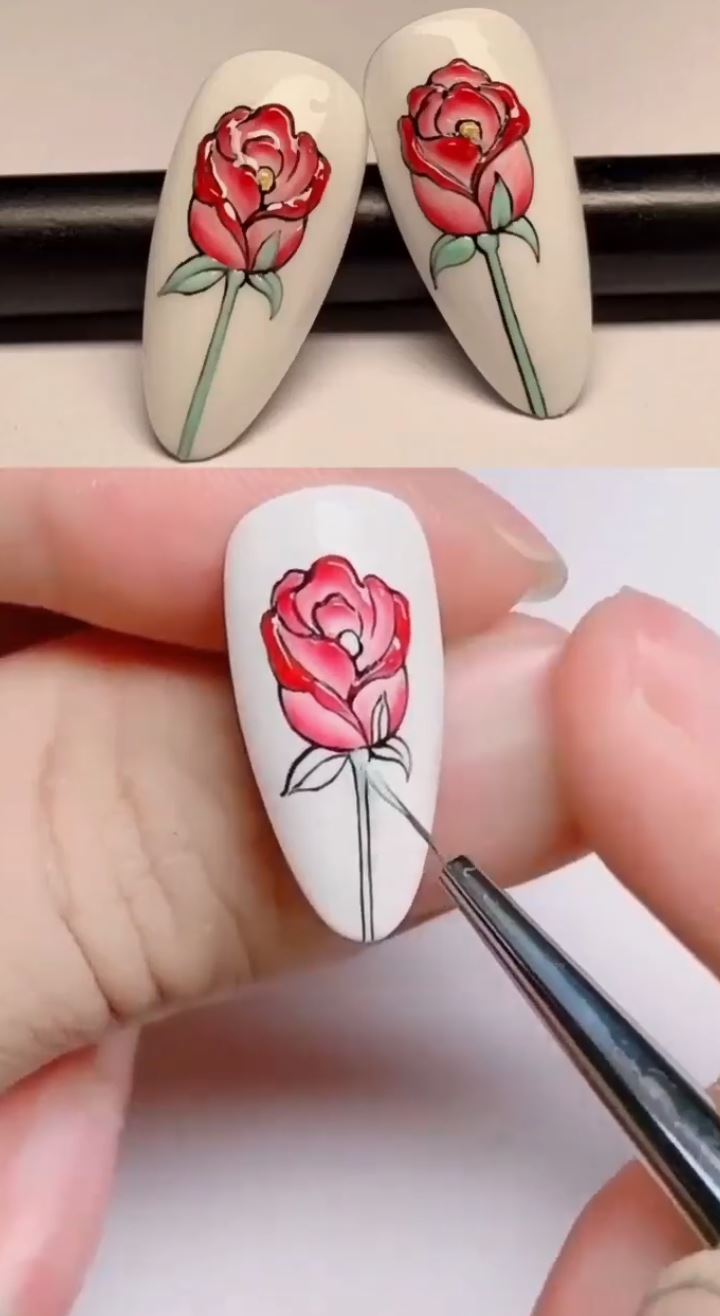 Sometimes I just want a simple nail set but with an artistic design. You know, a plain nude base color with a detailed rose design. Then I opt for this rose art on an oval-shaped nail. Sorry to disappoint you, but I go to my nail tech when I feel in the mood for these artistic designs. Because even though this tutorial makes it look easy, I still can't get the hang of such finely detailed art. 
But hey, if you have a steady hand and feel in a creative mood. Try out this gorgeous design. And let me know your experience. This nail set is suited for any occasion. Whether you are having lunch with a friend or having a special dinner date with that special person. Or even attending a wedding. This nail set will work its magic.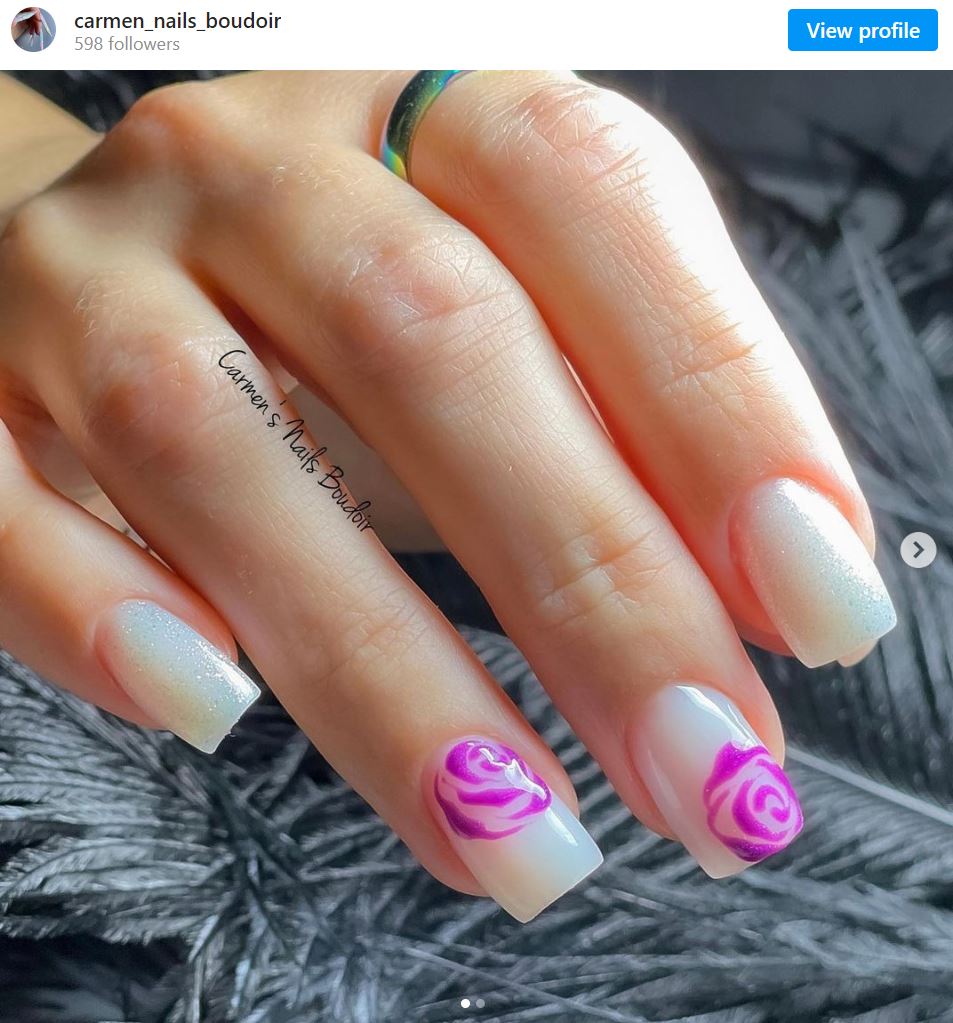 When all educational institutes and agencies transferred to online mode due to the pandemic. I literally became a housewife. Jip, I worked and studied from home. Then, I created this idea as it can be done on short nails. And because I was at home 24/7, I needed a nail set that was easy to manage and wouldn't disturb my daily activities. In addition, the purple rose is associated with success, royalty, and elegance. And these were the vibes we needed in those stressful times. 
Girls! Whenever you want a manicure within minutes without experts, just opt for this idea. Once dry, start with a milky white base, then create rose art with purple gel with thin brushes. P.S- you can create it for your casual out-goings with friends and colleagues. And you can also create it on long acrylic nails. 
Even though the world is almost back to normal again. ( I say almost because I don't think it will ever return to the way it was before Covid). I still opt for this design because it is easy to achieve, looks beautiful, and matches most of my outfits. What more can I ask for?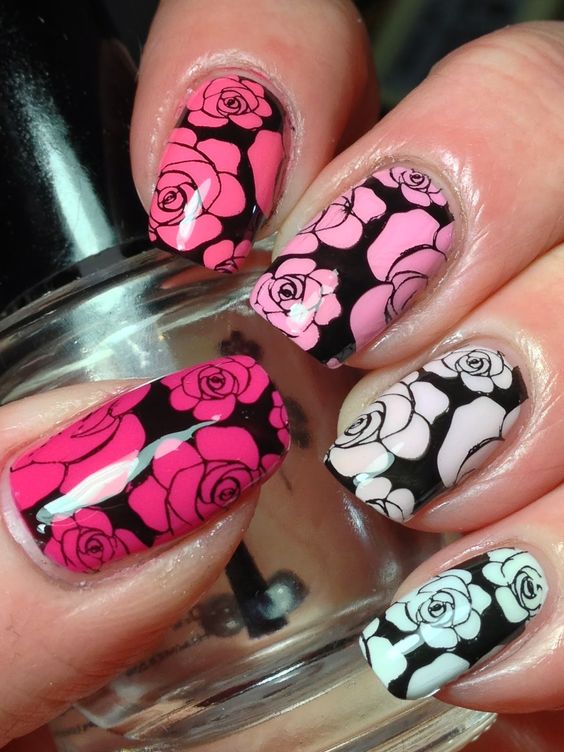 Looking at this rose nail design, it looks very complicated. But girl, I have some great news. It is the easiest nail design to create! All you need is your stamping plates and desired colors, and you can create this gorgeous nail set. In this case, you will need black, white, and different shades of pink. And your rose stamping plate to achieve this look. 
Although I love the idea of this nail set, and it looks very cute. It is not something I would go for. As it reminds me of rose-detailed couches, my grandmother used to have when I was a little girl. It had this velvety texture with these big pink and black roses. Jip, it wasn't my cup of tea from a young age. Or let me rather say a cup of coffee because I hate tea. 
But girls, if this is a nail set you fancy, try it out and have fun with it. I just don't want my grandmother's living room chairs on my fingernails; thank you!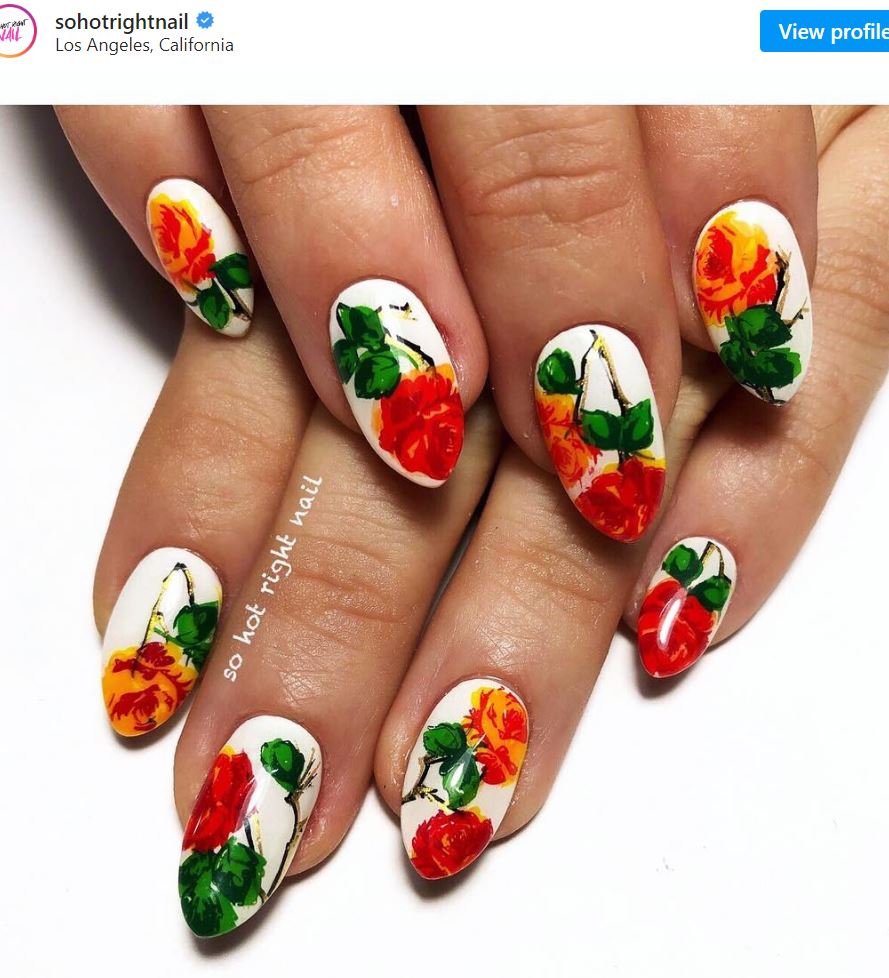 OMG, what a design? Honestly, I can't find the words to express my feelings about this nail design. But I am sure that you will feel the same once you create it. Although this design is not for office meetings or any other formal gathering. I love to head to my nail tech during my summer vacation to get this nail set. The nail design goes well with my pink, white, red, and orange outfits. #Fab.
Moreover, this design contains orange, yellow, and green colors. That is so dominant that you literally convey a message with your manicure. That you are feeling free and out of this world. 
If you want to create this nail set on your own. You can start with a white base and create a rose with all your desired colors per their vibes. Remember! You don't need to follow one structure for the creation of roses. Just smoothly and freely go with the flow. When I head to my nail tech to achieve this set( Because I suck at creating rose details). I usually only get one rose design on one of my fingers because I like to keep things simple and not go over the top. #Thesimplelife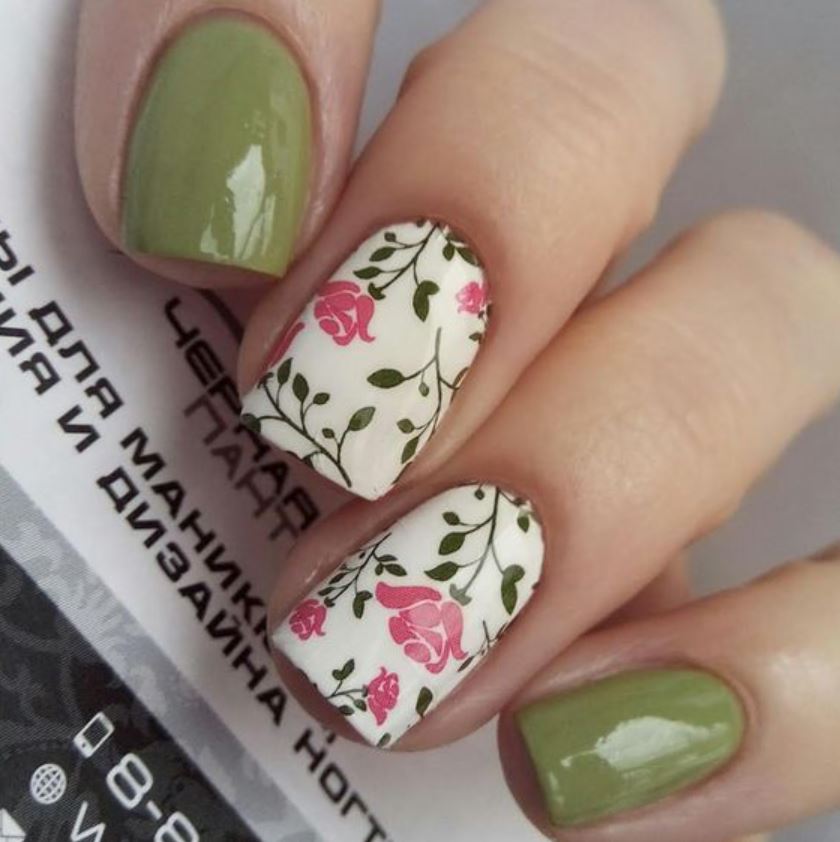 Stickers will quench your thirst if you are looking for a sharp and fine rose idea. And are extra conscious about your nail art. When I am out of budget and can't visit the salon. I opt for this idea because these stickers are budget friendly and give perfect results. Besides this, stickers' patterns look attractive and beautiful as they give fine detailing.
All I have to do is to paint my nails green except for the middle and ring finger. The middle and ring finger is then painted with a white base color. And some detailed, pink rose stickers are added. You can also add stickers on your nails according to your choice. I'm not a fan of green nails, but this nail set with rose stickers looks chic and elegant. And I love that it is easy to achieve and affordable. It is a win-win, girl!
Frequently Asked Questions
Question: What Color of Nails Goes with Pink Rose Art?
Answer: Green, silver, and gold. These three colors are considered the best when it comes to pink roses. But white, red, and neutral colors like gray will also look stunning with pink rose nail art. 
Question: What do you Need to do Before Creating your Gel or Acrylic Rose Nail Art?
Answer: Well, you must do lots of preparations before starting with nail art. But, the most important is to check the instruments, their hygiene, and sharpness. And their appropriation for your rose idea. And then, my dear, you can allow your creativity to run wild. 
Question: Is Rose Art Difficult to Achieve on your Nails? 
Answer: This will depend on the design you want to achieve on your nails. Some simple rose nail art is easy to achieve at home. And then, there are more complicated designs that you will need some skill to achieve. But hey, practice is the key to creating perfect nail designs. And various YouTube nail tutorials will help you become a pro. And easily achieve those complicated rose designs. 
Conclusion
There we go, ladies. We have reached the end of the rose nail ideas and inspiration list. I hope you had just as much fun reading this article as I had writing it. Adding rose designs to your nails brings class and elegance to your nails. 
And here is a little tip for the men or women with ladies in their life. Instead of buying your girl flowers, spoil them by taking them to get a rose nail design. This way, she can look at the roses whenever she wants and always have them on her. The rose design will also last 2 to 3 weeks, depending on how you take care of it. Which is much longer than real roses will last. So just keep this in mind.
What was your favorite rose nail design mentioned in this article? My all-time favorite is the Red Rose and White French Acrylic Nails. Just because of how sexy and sophisticated it looks. And how confident it makes me feel when I'm wearing this set. And, of course, my husband loves it, which makes me love this nail design even more. 
Add those roses to your nails, girls, and have fun. Let me know your experience with these designs. 
Continue reading:
Red Valentines Day Nails Inspiration and Ideas: Fall in Love With Your Nails
Red Nails Inspiration and Ideas: 16 Bombshell Reds That Will Make You Swoon