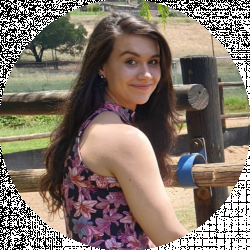 Latest posts by Christine Kent
(see all)
In the past, black was always considered to be an unlucky color. It was seen as sad and dull. Most people would look at someone wearing black and think they are emos or goths, but times have changed.
Today, black is seen as an attractive and elegant color, especially in fashion. Maybe it is because you can pair it with anything, and it will still look good. What if we put black into a French manicure? Now that would be elegant! I must say whoever thought of this had to be a genius. Girls! Today I bring you some of my favorite black tip nails inspiration and Ideas so you can always be on top of your game. So let's get started!
Bottom Line Up Front 
Balck tip nails are classy and elegant and always look professional. My favorite black tip nail design is the Pastel and Black Tip Nail Design. It showcases my personality and matches my style the best. I also love that it is a minimalistic design but with some color added to it. Let us have a look at some other fun black tip nail designs. 
Top Picks
Selection Criteria 
I chose the black tip nail ideas mentioned in this article according to the following criteria:
Stylish and elegant.

Includes ideas perfect for Halloween.

Simple and minimalistic.

Includes spring and summer ideas.

Suited for the office.
I like that this nail design is simple and minimalistic. It has no decorations or art added apart from the black French tip. The design is suitable for any occasion, formal or informal. You can even wear this daily. I would go for a shorter length because there is no way I will be able to type articles and emails with these long nails.
If you are good at creating a French tip nail, this nail design will be easy for you to achieve at home. Girls, if you want to take a break from your over-the-top nails and want a simple nail design, this is for you! This nail set definitely makes me appreciate the simple things in life!
This design gives a French tip a cool and interesting twist. It is also classy and fashionable. I love that the black tip is done on the side of the nails. Two lines are then drawn parallel to each other on the opposite side of the French side tip. The way the design is drawn makes it look like one side of the French tip is filled, and glitter sequences are added. The other side looks as if it is left empty. 
The design is cute, classy, and simple. It would be the perfect nail set for work. The nail's shape, length, and design make it appear sophisticated and professional. This is definitely a nail set I would have worn if I had still worked at a corporate office. But who said I couldn't get this nail set if I work from home? Ladies, this nail set allows you to look stylish but be comfortable simultaneously. These nails will look fabulous with any outfit you decide to wear for the day, even if it is orange overalls. 
I'm getting this nail set for my next date with my husband. I can't wait to tap my nails on the restaurant table and show off my cute nail set. I'm that extra!
Now, remember when I said the black color looks as if it's unlucky? Well, take a look at this gorgeous nail design. The design makes you look as if you have slightly dipped your fingernails in the ashes of your enemy. Ooo, scary! This makes it perfect for Halloween!
The nail set is incorporated in an ombre design, making it look stylish. I personally love these nails, especially the red version of this. The nail design just looks so fierce and wild, yet it still looks so elegant and sophisticated. I would totally wear this to any event I am invited to. 
I know it is not time for Halloween yet. Still, I cannot pass up the opportunity to include this gorgeous seasonal nail design. This nail set would be perfect for my witchy friends. I love that the one hand has white tips and the other hand has black tips. So if you can't decide on black or white tips, get both! 
I'm obsessed with the nail art done on all the fingernails. It reminds me of Spiderman, and Spiderman was my favorite movie growing up. So, of course, I love this nail design and want to get it! 
This is a nail design I would wear to a Halloween party or a themed party. I wouldn't say it is suited for work because it is a bit over the top and can come off as immature. But if you love it and want to get it as your everyday nails, you do, you boo. I'm definitely going to my nail tech to create this look, as I find the art a bit complicated. I also want it to look perfect. 
This nail design is perfect for ladies who are looking for a black tip nail design that is short in length. And simple when it comes to the design. I like that the ring finger nail is plain black, and it brings contrast to the rest of the nail design. 
It is everything I want in a nail design, and I would get this set as my everyday nails. It is short, the perfect shape to elongate my fingers, and it is minimalistic. 
There is no way that I could forget to include a Y2K nail design. It is currently one of the trendy aesthetics most Gen Z's are obsessed with. (I'm part of those Gen Z's). This nail design is cute and very aesthetic, and it also looks classy, fashionable, and elegant.
Y2K is always depicted as something bright and colorful, but this design is quite different. I think it is gorgeous! The black and white make the entire look elegant and sophisticated. I think this design can be worn to any event you are invited to. The smiley face on the index finger is my favorite design in this look. I would replace the checkered print with another smiley design because I'm not the biggest fan of checkered prints. It definitely puts a smile on my face!
I understand that not everyone adores the idea of having long nails. I dislike having super long nails. For those people who love both Y2K and short nails, this design is quite perfect for them.
What I love most about this nail design is that you can get it on your natural nails. No need to pay more for adding tips to your nails. This nail set is short, subtle, and stylish. I would have loved to wear this nail set in my Uni days, and it would look cool with minimal effort. I love the smiley and the lightning strike, as I feel it brings such a positive vibe to the nails. 
I honestly think this nail design would be perfect for Valentine's since the XO means hugs and kisses. But you can still perfectly wear this set if you have been looking for that fierce yet lovable vibe. The little red heart that is added to the design on the ring finger helps to add cuteness and charm to the design.
The design is perfect for those going to the club, informal events, or parties. I would love to get this set for Valentine's day next year as I feel it can be cute and sexy at the same time.
Pastel colors paired with black tip nails? Where can I sign up? I think this nail set is gorgeous! It is perfect for ladies who want something colorful but subtle at the same time. It is definitely a nail set that you can wear to the office. You can wear it anywhere. 
This is a nail set I would get as my everyday nails or even if I'm invited to a fun event. The nude base with black tips represents my calm and shy personality. The pastel colors show that even though I'm shy, I know how to have fun and have a great time. Will this nail set suit your personality? 
Ah, this is actually one of my favorites. I recommend this simply because of how elegant the design is. This is a design you can wear to your wedding, your parent or aunt's wedding, or any formal event you attend. It looks chic and classy, so you won't have a hard time pairing it with different outfits.
It also kind of gives me vintage vibes. I think the line detailing and how the butterfly is drawn make it appear this way. Anything with a butterfly detail on top gets a yes from me. I would love to pair this cute nail set with a silky black satin dress with a lace-up heel. #sosophisticated
This design will suit your taste if you want something interesting and unique. It is not your typical French tip nail design, but still, it is gorgeous, classy, and chic.
I think this design would be suited if you have plans to go to the art museum. I just felt like this nail design would suit the vibe because the design looks like expensive art. I love the silver glitter line detailing added at the top of the black tip. It makes the nail set appear classy and luxurious. The yellow tip on the ring finger looks to me like a pocket, and it looks like someone has put a little flower in the back of their pocket. It kind of gives me country vibes. 
Spring might be over, but the flowers are still blooming. Wear this gorgeous floral black tip design right now since winter is coming! Or, you can reserve this magnificent nail design for you to wear next spring. Yet, if you like, you can wear this gorgeous design daily since you can wear this to picnics or luncheons.
I find this nail set very cute and girly. I love the added flower details with the rhinestones. It is a nail set that you can literally wear on any occasion. I have been feeling down this week, and creating detailed flowery nails always puts me in a happy mood. I will create this nail set when I'm done with this article.
If I can be candid with you guys, I'm not a fan of adding crosses to my nails. I don't know why it is just something about it that feels wrong. This is my opinion, girls, and it does not mean you can't get this set. I think the glitter crosses paired with the rhinestones look very pretty! It is just not a nail set that I would personally get. 
This is a nail set that is suited for any occasion. It is also very easy to achieve as it doesn't have a lot of detail. So go ahead and try this nail look and let me know what you think. 
Is your wedding around the corner, and you are freaking out because you don't have a nail set in mind? Girl, stop stressing. I got you! Most brides get a french tip nail design for their big day. But today, I'm giving you French tip nails with a twist. Instead of the regular French tip nails with a white tip, we are switching things up and going for a V-shape black tip. Talk about elegance!
I love the pretty art on the ring finger! It looks like the flowery detail is melting and dripping down the nail. Rhinestones are added in the middle of the flowery detail and form a line. I think it is necessary to add some kind of sparkle to your look on your wedding day. And the rhinestones are the perfect way to do so. Make your wedding memorable with this stunning nail set. If I could do my wedding day over, I would definitely opt for this nail set!
Frequently Asked Questions
Question: Why is Black Considered an Unlucky Color in the Past?
Answer: Black was considered unlucky as it represents death, darkness, or the absence of light. It was considered to be something evil. Women would wear black dresses whenever they were in mourning.
Question: Why is Black Considered to be Elegant and Classy these Days?
Answer: Because of how strong the color is. The color itself is mysterious and modest at the same time. It is an easy color you can mix and match with any color, and it would still look good. You can never go wrong with wearing black to a fancy or formal event. 
Question: Why is Black an Attractive Color?
Answer: Because of the meaning of the color black. Black has the positive attributes of confidence, intelligence, and sexiness. A woman would be seen as a sensual woman if they ever wore a black dress. That is why there is always a little black dress in every woman's closet. If it is already attractive when worn in clothing, what more if you decide to put it on your nails?
Question: What is the Best Color to Pair Black Nails With?
Answer: Black goes with any color. But my favorite colors to pair with black nails are white, pink, red, and gold. 
Conclusion
Black is an elegant and mysterious color. That is why it is such a popular color in the fashion scene. I love wearing black on my nails, making me feel sexy and confident. 
Black tips, to me, are a french tip with added spice. I can't get enough of it! What was your favorite black tip nail design mentioned in this article? Let me know in the comments below. My favorite black tip nail design is the Pastel and Black Tip Nail Design because I feel like it suits my personality and style the best. 
What are you waiting for? Have fun! Try out my black tip nail ideas, and let me know your experience.
Continue reading:
Red French Tip Nails Inspiration and Ideas: 14 Nail Ideas That Will Boost Your Confidence
Brown French Tip Nails Inspiration and Ideas: the Best Brown French Tip Nails of 2022
Pink French Tip Nail Inspirations and Ideas: A Guide to Awe-Worthy Nails