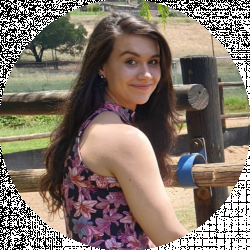 Latest posts by Christine Kent
(see all)
Attractive nails can boost your confidence and make a great impression on others. That is why keeping my nails maintained is so important to me. Having my favorite nail polish on my nails makes me feel like the best version of myself.
I have almost all ranges of nail polishes, from street stalls to the big designer collection. So how can I forget about Chanel nail polishes? It is one of my favorite designer brands. Girls, today I will bring you my Best Chanel Nail Polish Ideas. These Chanel nail polishes will not only give you a confidence boost, but they will make you feel like a million dollars. 
Bottom Line Up Front
$30 designer nail polish? Wow, Chanel really nailed it. Chanel nail polishes are best known for how fast they dry, how long they last, and their glossy appearance. The polishes are expensive for those with a tight budget, but they are worth it. I recommend trying the Chanel Le Vernis Blanc Ecume -927 Nail Polish. You can never go wrong with a white nail. It is like icing on the cake. So without further ado, let's explore the best Chanel nail polish ideas. 
My Top Picks
My Selection Criteria
I chose the Chanel Nail Polishes mentioned in this article according to the following criteria:
Gives off classy and sophisticated vibes.

Perfect for my ladies who love pink. 

It is subtle and neutral.

Suited for formal and fancy events. 

Great for the club or vacation.

Perfect for summer and spring.

Great for fall and winter. 

Great for daily wear.

Suited for the office. 
The Best Chanel Nail Polish Ideas
1.
Chanel Le Vernis Mirage Pastel Purple – 739 Nail Polish
This beauty is the Dessert Dream spring-summer collection of 2020. I know it's a little late to talk about 2020's collection, but it's better late than never. This Chanel polish shows us that something amazing came out of the Covid period.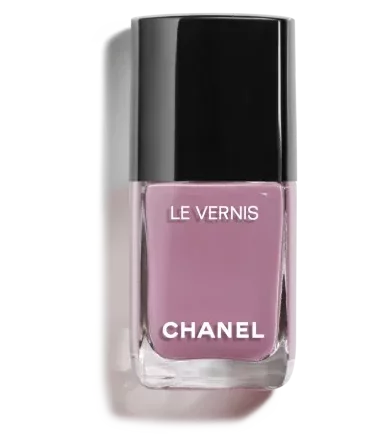 This is my favorite shade of purple. Its ultra-glossy finish gives it a cool and fresh look that is perfect for spring and summer. Pastel purple is associated with royalty, creativity, wisdom, power, and bravery. I think we all need this association in the materialistic world we live in. This purple Chanel polish is so pretty that I can wear it every day without getting tired of it. It gives off classy and sophisticated vibes. I love it!
Pros
This shade is suitable for formal or informal events.

It looks feminine and chic.

Its ultra-glossy finish adds class to the look. 

The polish is long-lasting.

The color makes it the perfect polish for spring or summer.

The polish dries quickly. 
Cons
The pastel purple Chanel Polish might not go with all your colored outfits. 
2.
Chanel Le Vernis Evanescence – 921 Nail Polish
What a shade! Although I have an entire wardrobe full of pink nail polishes, I couldn't resist buying this pink Chanel nail polish. I'm one of those girls that would make everything pink, including the house and the dog. But at least I have a husband that keeps me in line with my pink obsession.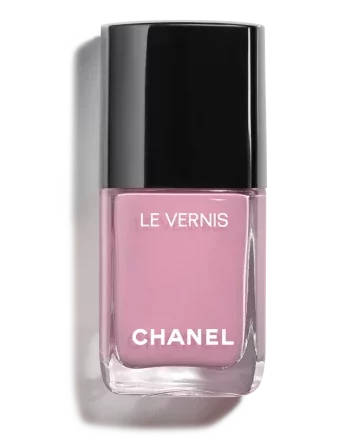 I could wear this shade every day. It allows me to have my little pink moment and satisfies my obsession. I can even wear this shade to the office without offending anyone with my nails.
Pros
It is such a pretty and girly shade.

It is suited for any occasion.

It is classy and elegant.

The polish is long-lasting. 
Cons
Some might feel that the shade is too light.
3.
Chanel Le Vernis Pirate – 08 Nail Polish
I love red! Red looks good on everyone! Just like pink nail polishes, I have an entire shelf dedicated to my red nail polishes. 
One day I was browsing the web when I came off on this gorgeous Chanel Pirate shade. I needed to have it! My husband asked me, "Don't you have enough red nail polishes?" I answered him by saying, "Yes, but it isn't Chanel." That is a good reason to buy one more, don't you think? I love this glossy red shade of Chanel. It is gorgeous, classy, and elegant. It also kind of reminds me of a cherry, yum!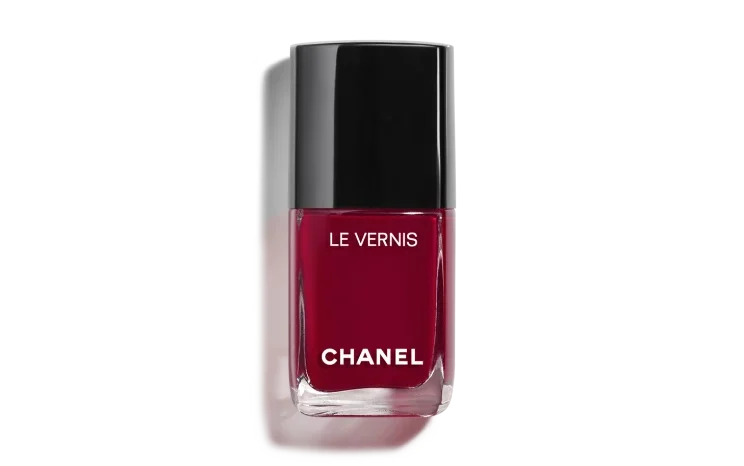 I love doing my nails with this shade when I know I have an important event or meeting coming up. It just gives me that confidence boost and makes me feel in charge. The best part is that it quickly sets, so I can still do my nails even if I'm running late. Bonus! 
Pros
It is long-lasting, so you can wear it for more than a week without worrying about chipping.

It quickly sets, which makes it great if I'm running late.

It is perfect for important events or meetings.

It looks classy, elegant, and attractive.
Cons
Some may feel that the shade is too bold.

Some workplaces may see this shade as unprofessional.
4.
Chanel Le Vernis Impulsion – 957 Nail Polish
I love this shade as it reminds me of chocolate. If you knew me, you would know I'm a chocoholic. I feel like this chocolate brown shade goes with everything. It will always make you look professional and put together, especially when you pair it with black or gray.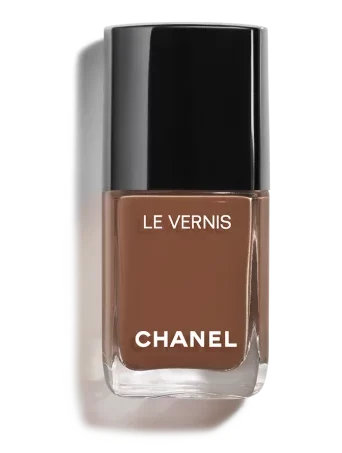 I was more than happy when I found Impulsion 957(chocolate brown) by Chanel. I don't have many brown nail polishes, so this shade was something new to me, and I love it! 
Pros
The nail polish shade is unique compared to other traditional nail colors.

The shade reminds me of chocolates which warms my heart.

The glossy finish gives it a classy look. 

The brown shade looks amazing with my gray and black office wear. 
Cons
I must be honest that I get tired of the shade after one week of wearing it. 
5.
Chanel Le Vernis Originel – 951 Nail Polish 
This shade is perfect for my girls who want to keep their nails subtle and neutral. I love this beige latte shade because it goes with everything. It also reminds me of the iced coffee I get at Starbucks every morning.
If I could choose between bright and bold colored nail polishes or neutral polishes. I would choose neutral polishes without a doubt. It makes my life so much easier because I don't have to worry about my outfits.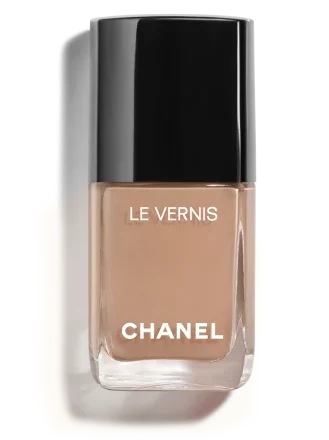 This Original Chanel polish is a shade that I love wearing to the office daily. It is subtle but classy and makes me appear professional.
Pros
It is the perfect shade for a formal office routine because it is subtle.

It is suitable for all skin tones.

It will look good with any color outfit you pair it with.

It is long-lasting.
Cons
For some, the shade might be too plain and boring. 
6.
Chanel Le Vernis Blanc Ecume – 927 Nail Polish
White nail polish is always my go-to when I'm unsure what to do with my nails. It always makes your nails and toenails look well taken care of. I like changing my nail color, but I like to keep my toenails in a white shade. It just makes me feel more confident to wear open-toe shoes.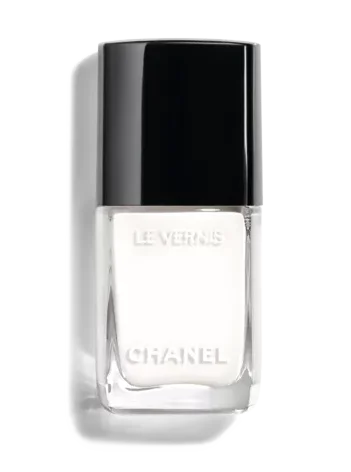 I visited my friend, and she introduced me to this white Chanel shade. I'm never using another white nail polish again. I tried the shade on my toes, and it has been a week and a half later, and my toes still look flawless. It makes me feel gorgeous, sophisticated, and spiritual. The best thing is that Chanel's white nail polish is less streaky than other brands. So if you are a white nail lover, give it a go as no other brand can give these soft hues.
I really hope that Chanel never discontinues this shade because I will cry my eyes out. 
Pros
The shade is suited for every season.

It is less streaky than other white nail polishes.

The shade makes you appear tanner.

It is a shade that will suit everyone.
Cons
Because the shade makes you look tanner, it can sometimes make my feet appear dirty. 
7.
Chanel Le Vernis Sea Sea Green – 935 Nail Polish
This sea green Chanel polish is very pretty. It is the perfect balance between green and blue. It would be ideal for those who can't decide whether they want to paint their nails with blue or green polish. The shade has such a calming effect on me and reminds me of nature.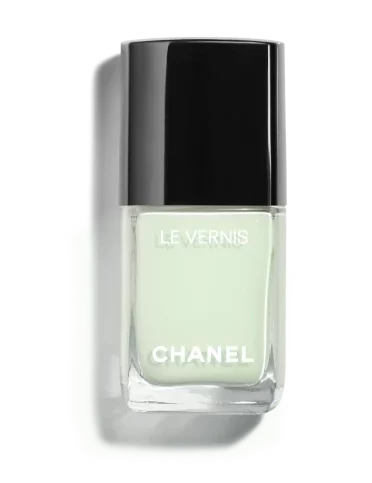 This shade will be perfect if you like neutral and light colors. The shade also gives off a youthful and innocent appearance making it ideal for young girls.
Pros
It is suitable for a pale skin tone.

Perfect for the summer season.

A great nail polish shade for younger girls. 

It is light and subtle.
Cons
For some, the shade might be too light.
8.
Chanel Le Vernis Canotier – 532 Nail Polish
Wow! This golden-champagne shade is the epitome of class and elegance. It is a shade I will wear to a fancy event as I know it will make me appear elegant and sophisticated. This Chanel nail polish will look amazing with red, black, white, and gold formal outfits.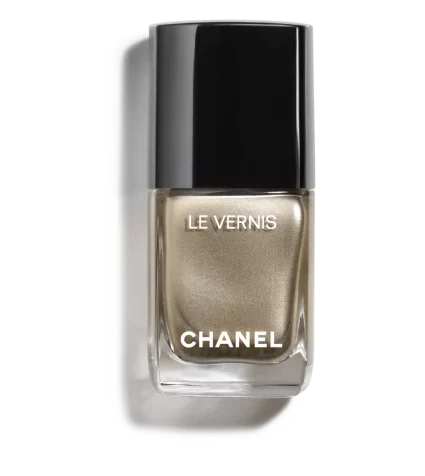 Girls, If you have a fancy or formal event coming up, this is the perfect shade to paint your nails in. It is sure to make you feel like a superstar.
Pros
It is a classy and elegant shade.

It is great for a fancy look.

It makes you appear sophisticated and luxurious.

You will be the center of attention at any event.
Cons
Not the best choice for daily or office wear.

If you don't want to grab attention, this nail shade is not for you.
9.
Chanel Le Vernis Rhythm – 763 Nail Polish 
"This is the rythm of my life, the night, oh yeah." I think this song describes this nail shade perfectly. It will be the rhythm of your life, and it looks like the night. Rhythm is such a stunning shade! Dark blue is associated with authority and knowledge. So I would say this is the perfect nail polish for my boss, babes. The shade will make you appear confident, dominant, and in charge. So ladies, if you have a meeting with your staff or clients, paint your nails this shade. Let your knowledge shine through your voice and your nails.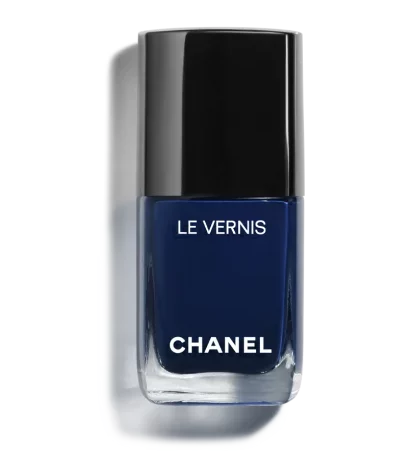 I would love to wear this nail shade when I have presentations to give or meetings to attend. This shade can even work for a date night. I know I will look confident with this shade and feel confident too.
Pros
It is a beautiful shade that reminds me of the night sky.

The shade is perfect for formal events or meetings.

It will make you appear knowledgeable and authoritative.

The shade is pigmented and long-lasting.
Cons
To some, the color might be too bold.

The shade might not be suitable for offices with a strict dress code.
10.
Chanel Le Vernis Cap Corail – 933 Nail Polish
I'm not a fan of orange, but this pinkish-orange shade is stunning! I love how vibrant and bright the shade is. This is a shade that I would love to wear to the club for a girls' night out. It would match that energetic vibe and will look amazing with all the lights. It is also a great polish if you plan to go on a beach vacation. You can even wear it for Halloween if you want to stand out.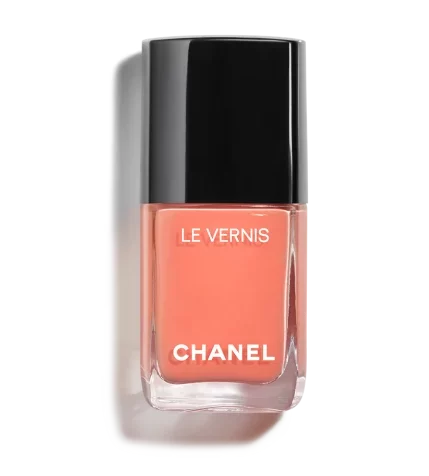 Pros
The shade is bright and energetic.

It is perfect for the club or vacation.

It will make you stand out.

It is a great shade for younger girls/teenagers.
Cons
For some, the shade might be too bright.

Not suited for office wear.
Frequently Asked Questions 
Question: Does Chanel Nail Polish Expire?
Answer: It's a valuable question for all girls. Yes, it expires as all beauty products do. You need to check your product's lifespan continuously. But I have realized that my Chanel nail polishes last longer than my other ones. 
Question: How Many Coats of Nail Polish are too Much?
Answer: Experts recommend up to three or four coats of nail polish for full shade and a finished look. In the case of Chanel nail polishes, you need up to two coats for dark colors to avoid linings.
Question: How Long Does Chanel Nail Polish Last in the Bottle?
Answer: On average, about two years. You need to follow the general instructions on the bottle.
Conclusion
There you have it, girls. I hope you had just as much fun as I did going through all these gorgeous shades. Chanel nail polishes might be expensive, but it is worth it. They have nail shades suited for all ages, so you will surely find the nail polish you are looking for. I have included various shades to try to accommodate everyone's taste. Let me know which Chanel polish is your favorite. 
I have so many favorites on the list, but I would recommend you to try the Chanel Le Vernis Blanc Ecume -927 Nail Polish. White nail polish will never go out of style and is perfect all year round. It also makes you appear stylish and put together. So make sure to try it out. 
Get your favorite Chanel nail polish from the list and add some color to your nails. 
Continue reading:
Ultimate Nail Care Guide: How to Keep Your Nails Healthy
Dip Powder Nail Ideas: Dip Your Nails In Some Fun Colors This Season