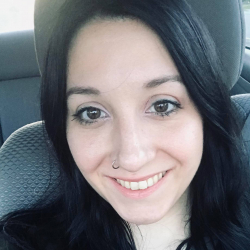 Latest posts by Stephanie Jensen
(see all)
I remember recently, I was searching for the latest nail trends (as I always do). I came across something called Nezuko nails. Nezuko nails? What's that? 
I had to do some more digging. What I found was more surprising than expected. Nezuko is an anime/manga character in Demon Slayer: Kimetsu no Yaiba. Nezuko is a demon in the series, but she has these fierce pointed pink nails. A stylish demon? I think I like Nezuko already, and I haven't even seen the show or read the manga (I haven't kept up with anime or manga since I was a teenager).
Nezuko has long, stiletto nails that are pink in color. This quickly became a trend in the nail world–something I'm sure the makers of the anime/manga didn't expect at all.
Are you interested in getting Nezuko nails? I've been obsessed with this look lately and have been looking all over social media for the best Nezuko nails. Read my Nezuko nails inspiration and ideas guide to see my favorite looks on Instagram!
Bottom Line Up Front
I like the classic Nezuko nails the best. The nails have that lovely pink ombre, though you can paint the full nail a light pink color similar to Nezuko's nails in the show. This look is perfect for those who are cosplaying as the character and for anyone who wants a pretty everyday manicure.
How I Chose These Looks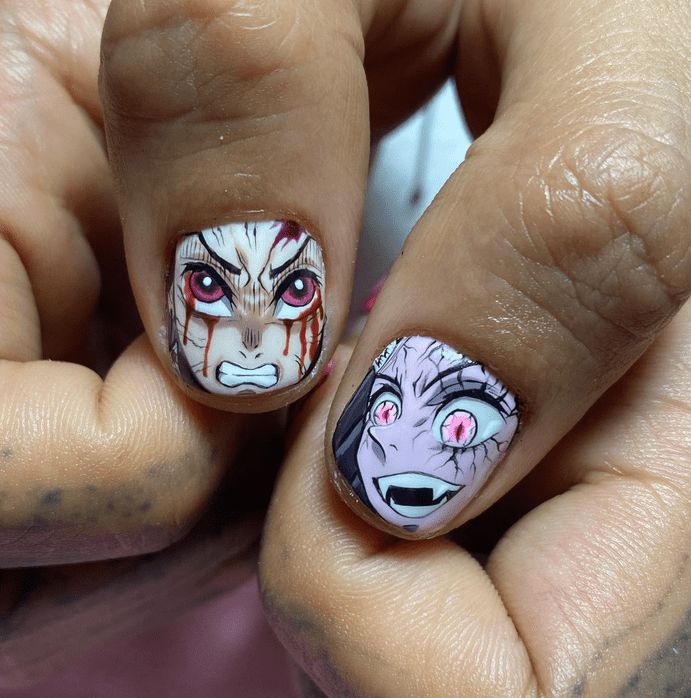 Whether you want to cosplay as Nezuko or you just want the nail look, there are a couple of guidelines I used when choosing these ideas. Here are the most important ones.
Quality
There are two ways to get Nezuko nails: going to a professional or buying press-on nails.
Let's discuss going to a professional first. While some technicians may know what Nezuko nails are, there's a chance they will have no idea what you're talking about. That's why I suggest taking some of these looks I will mention later, and bringing them to your nail technician.
What if you don't have a nail technician? There are many ways to find a great nail professional. I always like to get referrals. If you can't find any, I like to search for local nail salons on Yelp and read reviews.
If you prefer press-on nails, there are numerous pink nails out there. You can also get plain press-on nails and file and paint them yourself. The press-on nails should be long-lasting, made by a reliable brand, and easy to use.
Right Length
Nezuko's nails are long and stiletto-shaped. Too short, and they won't look as fierce. Too long, and they will look pretty strange. Plus, the nails have to be pointed–not square or round. Your nails don't have to be the exact length, but close to it. Before getting your nails done, I suggest looking at pictures and videos of Nezuko so you can get an idea about the right nail length.
Color and Effects
Nezuko's nails are a pretty shade of pale pink that looks pretty matte (though it's hard to tell because of the animation). I've seen some Nezuko nails with a pink ombre and even some artwork inspired by the anime/manga. If you just want Nezuko-inspired nails, you have more room for creativity. But if you're cosplaying as Nezuko, it's important to stay true to the character and get the same color nails that she has.
Screen Accurate (For Cosplay)
If you want to cosplay as the popular anime/manga character, your costume must be as accurate as possible. That means your nails need to look exactly like Nezuko's. You can get either press-on nails or get your nails professionally done, this is based on your personal preference. In addition to getting screen-accurate nails, I suggest keeping quality in mind. This way, your nails don't break or get damaged. Going into a convention with a bad manicure will ruin the appeal of your character.
Budget
Think about how much you want to spend on your Nezuko nails. A professional manicure is more expensive than press-on nails, but I think the results are better. But if you have a limited budget, there are high-quality press-on nails out there. You can find the same pale pink color as Nezoku's nails, or you can find blank ones and paint them yourself.
My Favorite Nezuko Nail Ideas
Are you ready to get the Nezuko nails of your dreams? Here are some of my favorite looks on Instagram.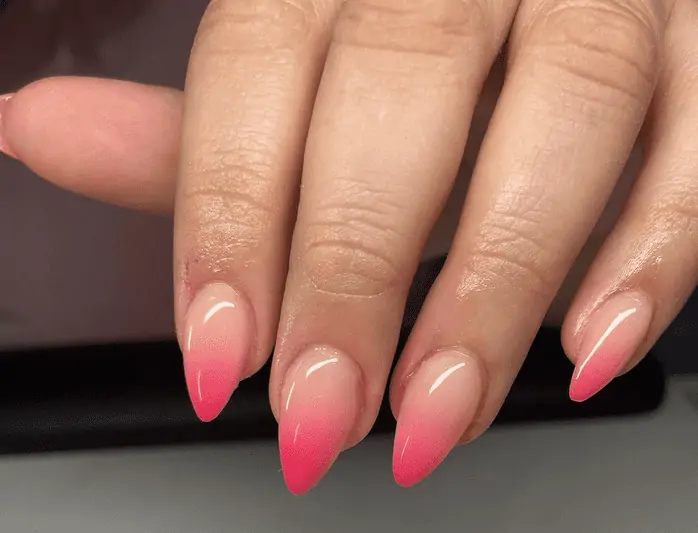 I'm listing this one as the first on this list because these are screen-accurate Nezuko nails. The nails are the perfect length and have that distinctive claw shape. The color is an ombre that starts neutral at the bottom and moves to an intense pink at the tips. The nails have a nice shine to them; even if someone isn't a fan of the anime/manga, they will think this is just a pretty manicure. Credit: @aphoticset.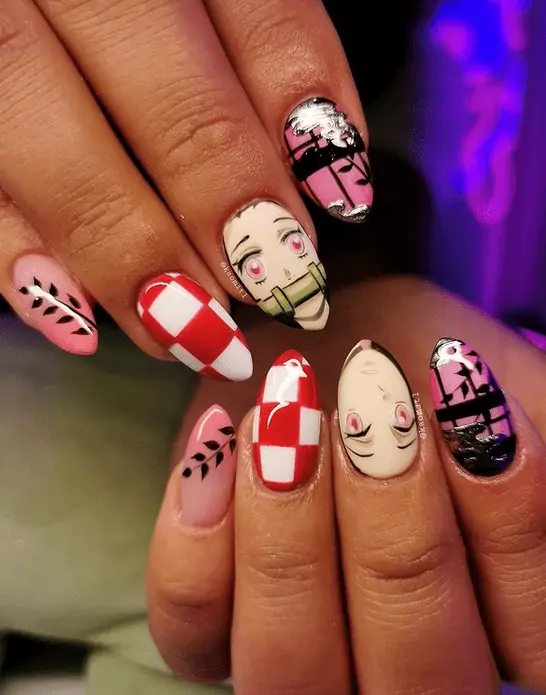 If you truly want to express your love of the show, consider a set like this one. You see images of Nezuko on the middle finger and other artwork inspired by the show. I love how the nails have a shiny finish, it makes the nails look like laminated paintings. If you're unsure where you can find this art, I found a lot of great press-ons on Etsy. Credit: @kaomitl.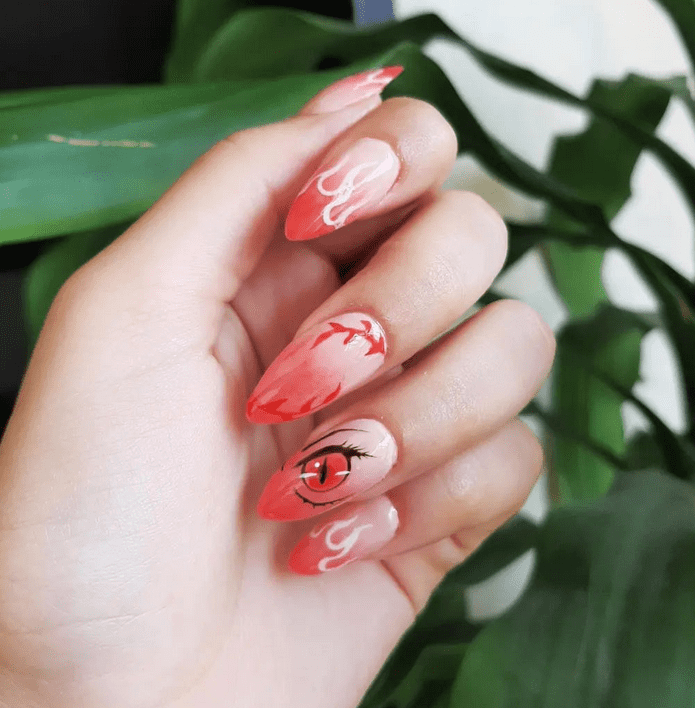 If you love the idea of Nezuko nail art but want something more similar to the character's nails, I suggest doing a look like this. The nails are the same pale pink as Nezuko's nails in the anime/manga, but with the edition of Nezuko's eye, floral, and flame artwork. The pink at the tips is a little warmer than Nezuko's nails in the show, but it's still a beautiful look. Credit: @pipirisnails_studio.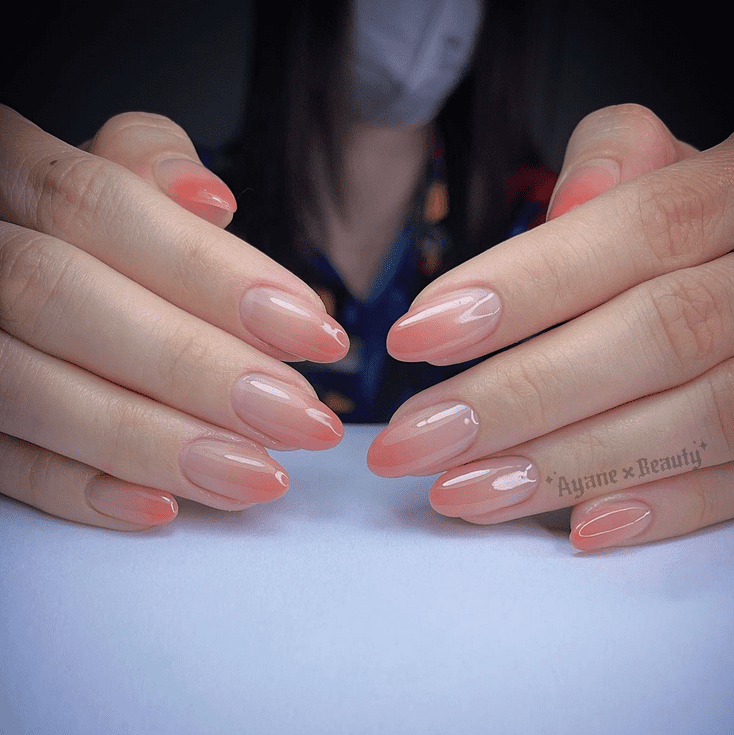 What if you want Nezuko nails but aren't a fan of the color pink? I love how these nails have more of a neutral color than a full pink ombre. The model's nails are blush, but I can also see mauve, taupe, or even a pale orange looking great in this style. This is another good manicure if you're a fan of the show but want a simple manicure inspired by the anime/manga. Credit: @ayanenailartist.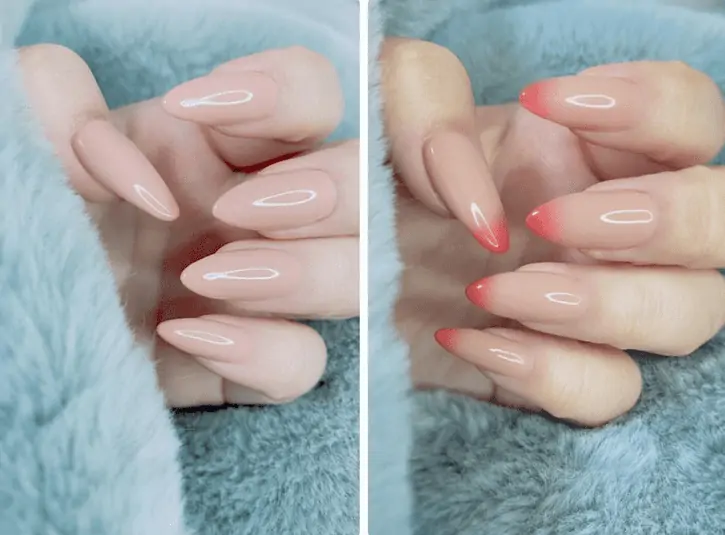 This manicure is different. At first, I thought one hand was pale, and the other was a pink ombre. When I translated the post, I read that the model actually used a temperature-changing nail polish! The polish is nude when it's warm and pink when it's cold. So cool! I didn't know those products existed! Even if you don't have temperature-changing polish, you can pull off one of those looks. I'm in love with the nude polish and may do that look for myself in the future. Credit: @lumos___nail.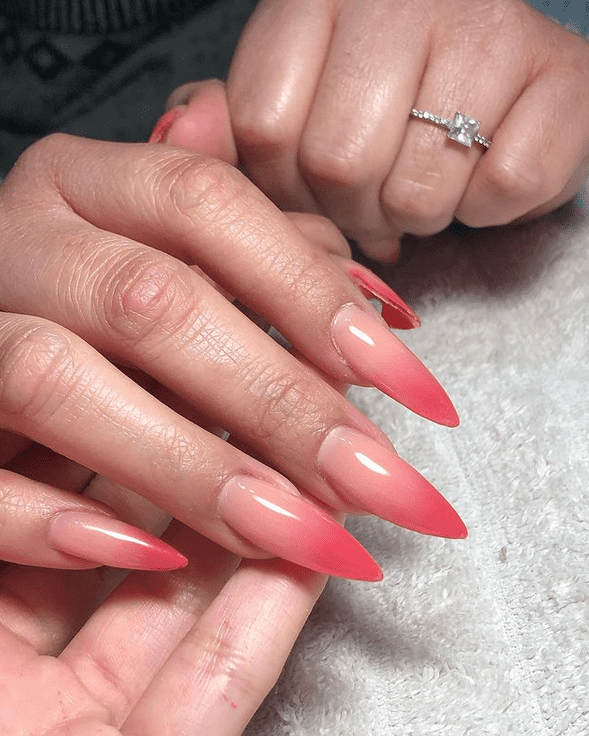 These nails are a little longer than classic Nezuko nails; otherwise, these are classic Nezuko nails. The nails have more pink than the others on this list, and the pink is warmer. I would still consider these Nezuko nails. Your Nezuko nails don't have to be 100% screen-accurate unless you're cosplaying as Nezuko. Credit: @golden.blossom.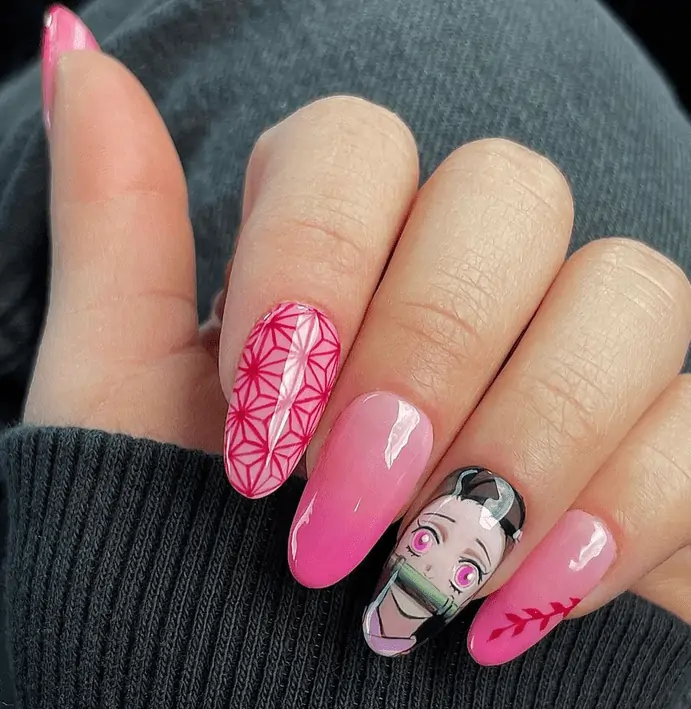 This is another good example of Nezuko art press-on nails, but these nails are rounded as opposed to pointed. One nail features Nezuko in human form, and the rest of the nails are different. One nail is pink, and another has a floral design. I really like the nail with the floral geometric design. Credit: @n.aildaze.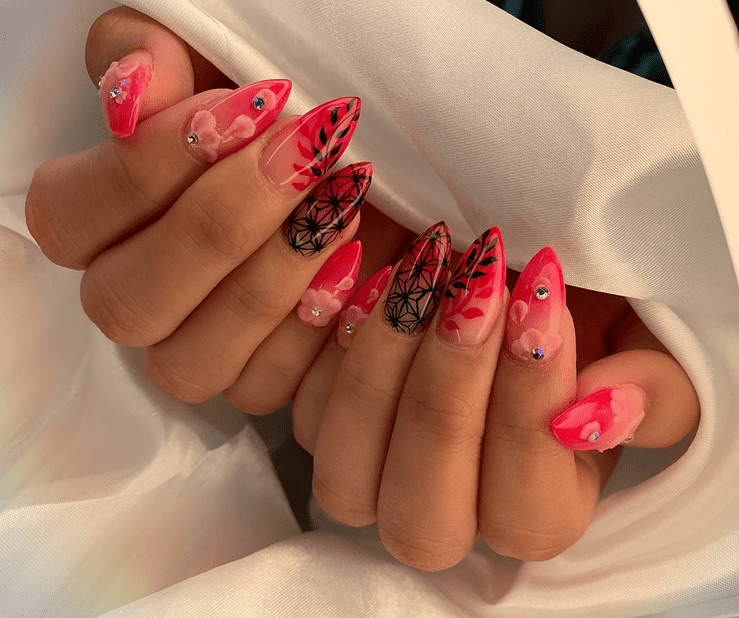 As I said before, I'm not the biggest fan of the color pink. However, I would totally get one of these Nezuko nail variations, specifically this red one. The nails aren't too long and have that distinctive pointed shape. All of the nails have a red ombre with different designs; most have beautiful Japanese floral designs inspired by Nezuko's kimono, but some have that geometric floral design that I love. The gems also add a little touch of glamour to this manicure. Credit: @hello_tsa.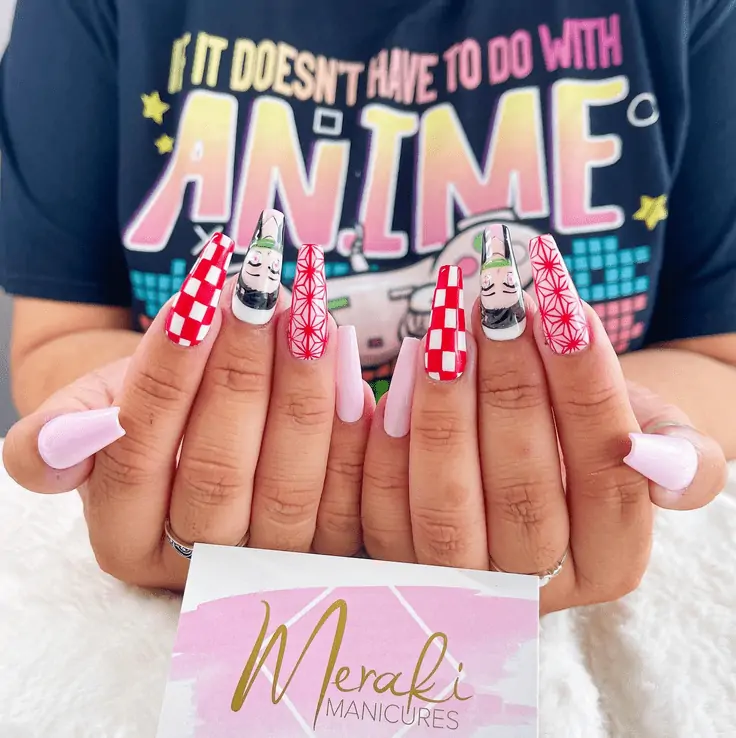 If you want Nezoku nails but prefer the coffin nail shape over the stiletto nail, then I suggest this look. The nails are all beautiful; there's one nail featuring Nezuko in human form with various designs on the other nails. A couple of the nails have a beautiful pale pink. The designs on this manicure are more intricate than some of the other designs, but I still think this is a great look. Credit: @merakimanis.
I'm liking these Nezuko-inspired nails as much as the screen-accurate nails. These nails have the classic pink ombre with no extra designs or embellishments. The way the pink ombre was designed looks more like French tips to me. But these nails are also different because they're longer and very pointed, which makes them look more like claws. Credit: @beautybybero.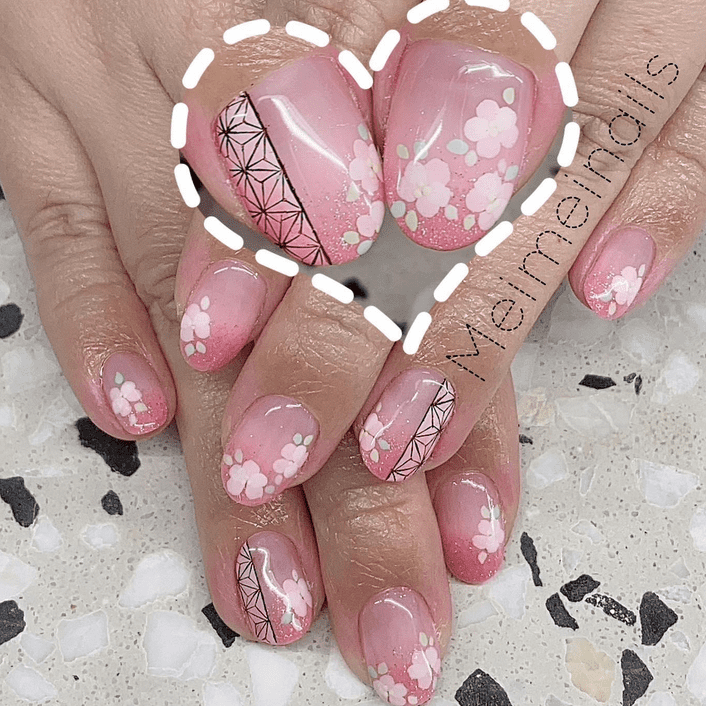 These technically aren't Nezuko nails, but the Japanese floral designs remind me of Nezuko's kimono. I love the combination of flowers with geometric designs. The little glitter accents on the pale pink nails remind me of Nezuko, but a more feminine variation of her nail style. These nails are also short and rounded, so they're more wearable than classic Nezuko nails. Credit: @meimeinails.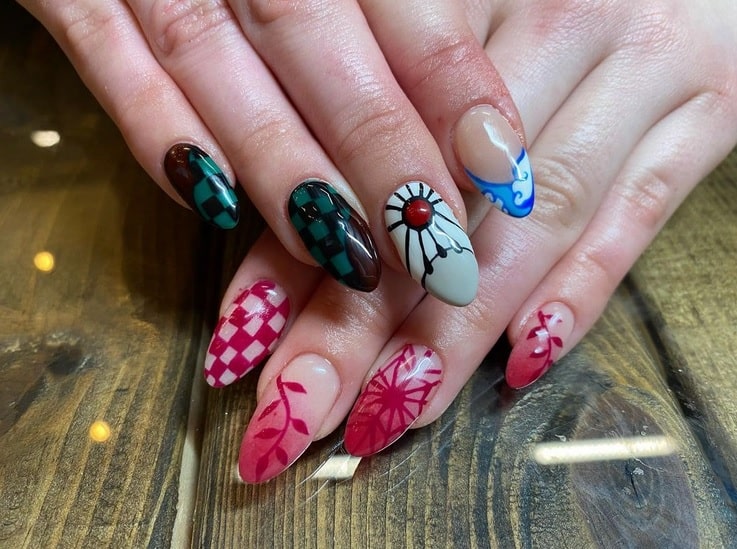 If you want a full anime nail set, I suggest this one. There are Nezuko-inspired nails on one hand; the nails are all pink with floral and checkered designs. But the other hand has various other anime-inspired artwork. The nails are all the same length and shape as Nezuko's nails, so you still get the inspiration from her manicure plus other unique anime-inspired artwork. Credit: @_hairbychloetitus_.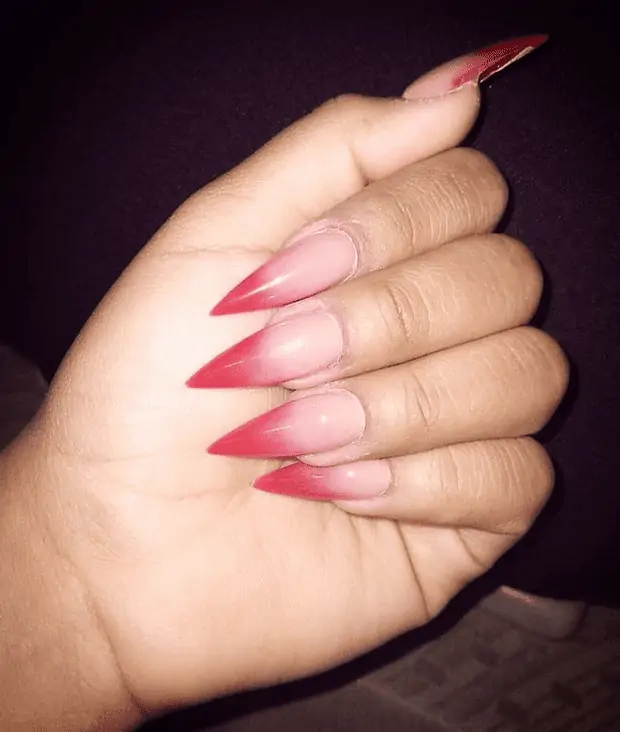 If there's one manicure that can slay demons, it's this one. These nails feature that classic pink ombre, but they look more similar to pink French tips. But the nails are extremely long and sharp, even more so than Nezuko's nails in the anime/manga. Reading the post, the model is a big fan of Demon Slayer: Kimetsu no Yaiba and got these nails for the movie. Credit: @kaia.alberich.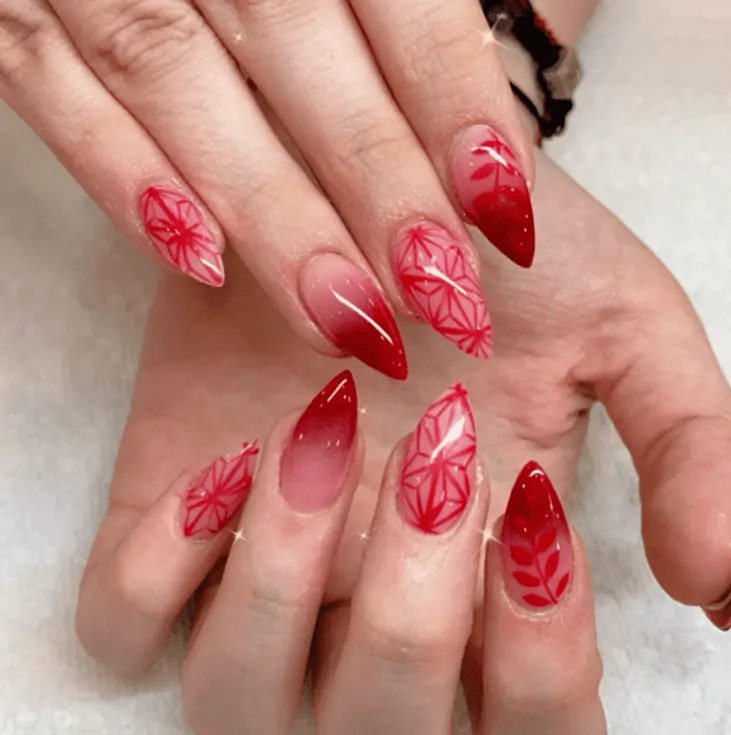 I already mentioned a red Nezuko nail look, but this one has to be my favorite. These nails represent original Nezuko nails, with pointed tips and long-but-not-too-long length. But this blood-red color is so much prettier than pink. The nails are all different; some have a red ombre, others have a geometric design, and there's a floral accent nail. Credit: @nailsbymary517.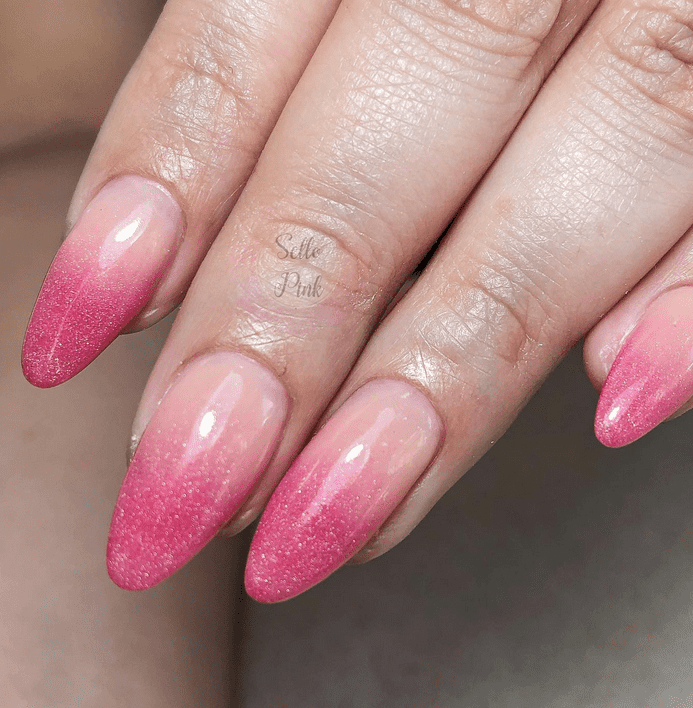 These nails are a more feminine variation of Nezuko nails. Instead of pale pink, these nails are Barbie pink–perfect if you want a girly yet fierce manicure. The nails have an ombre/French tip look. Glitter tops the tips, and the shimmer amplifies the manicure. This is a great look if you want a Nezuko-inspired manicure but want something that can work every day. Credit: @sello.pink.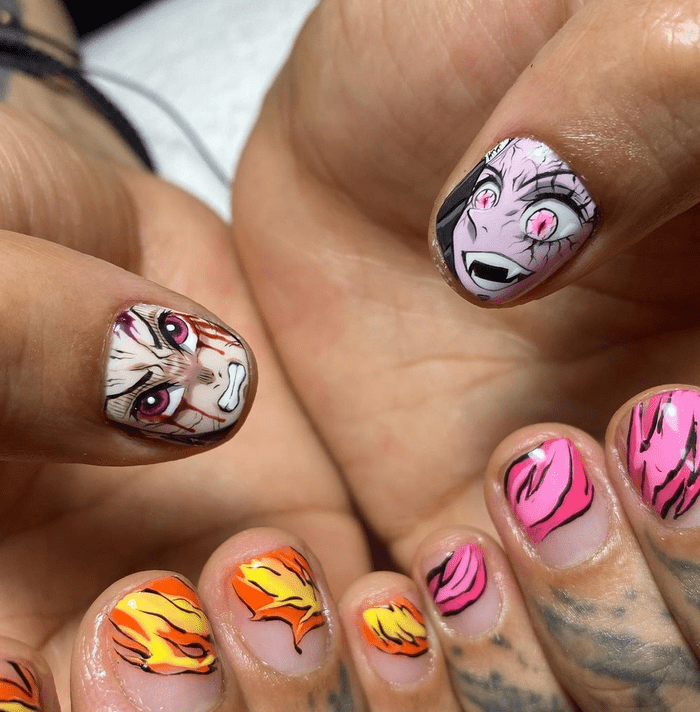 Do you want Demon Slayer nails, not just Nezuko nails? Take a look at this manicure! This manicure shows a couple of the characters on the show with different designs: one in pink and another in orange. There are different images and designs on both hands, so this is great for someone who wants a little bit of everything. Credit: @stefnailss.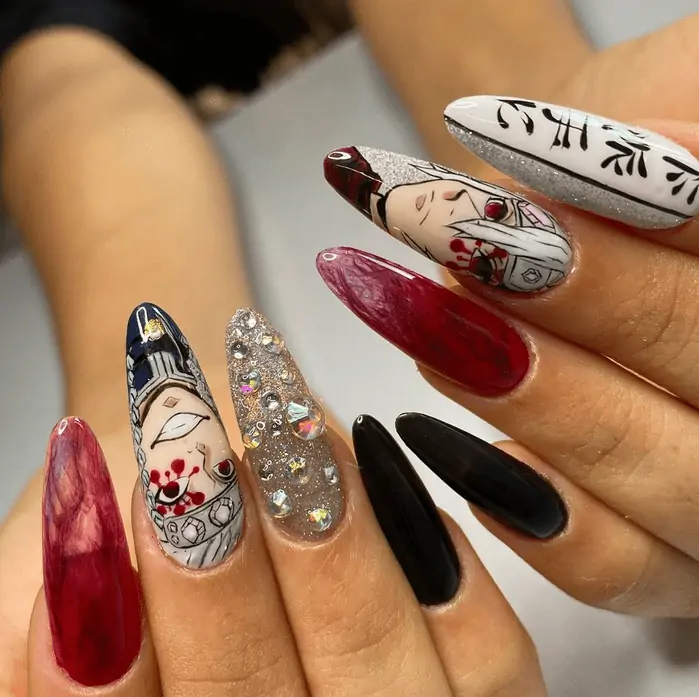 Nezuko is an adorable and feminine character, but she's also a demon. If you prefer the brutal aspects of the anime/manga, I suggest this nail look. These nails don't feature Nezuko but another character from the show. All of the nails are different; one features a blood design, another features Japanese writing, and the pinky nails are full black. Credit: @stefnailss.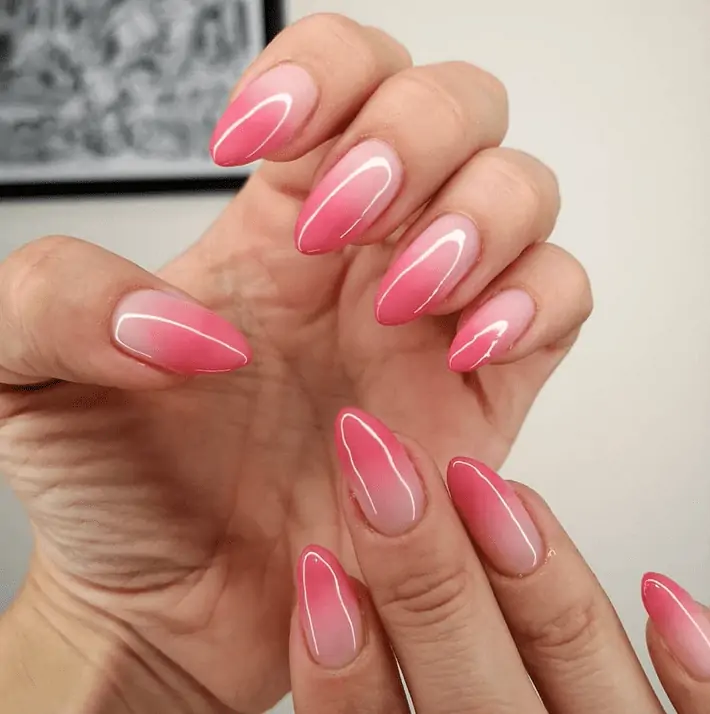 This nail set is another classic version of the Nezuko nail manicure, but the color is more rose-colored than the classic pale pink that I usually see. Like Nezuko's classic nails, these are all pointed and are the perfect length. I also think these nails are slightly rounded than pointed. Credit: @furorinails.makeup.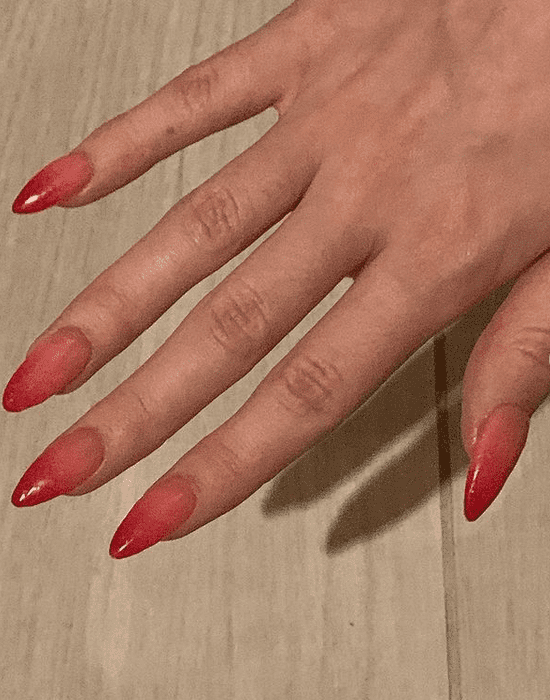 This is another look that I would totally get! The nails feature a red ombre/gradient effect, finished with glitter. Like Nezuko's nails, the nails are long and pointed. This is another manicure to get if you don't want full Nezuko nails or you want to follow this trend but aren't a fan of the anime/manga. Credit: @nails.at.homeee.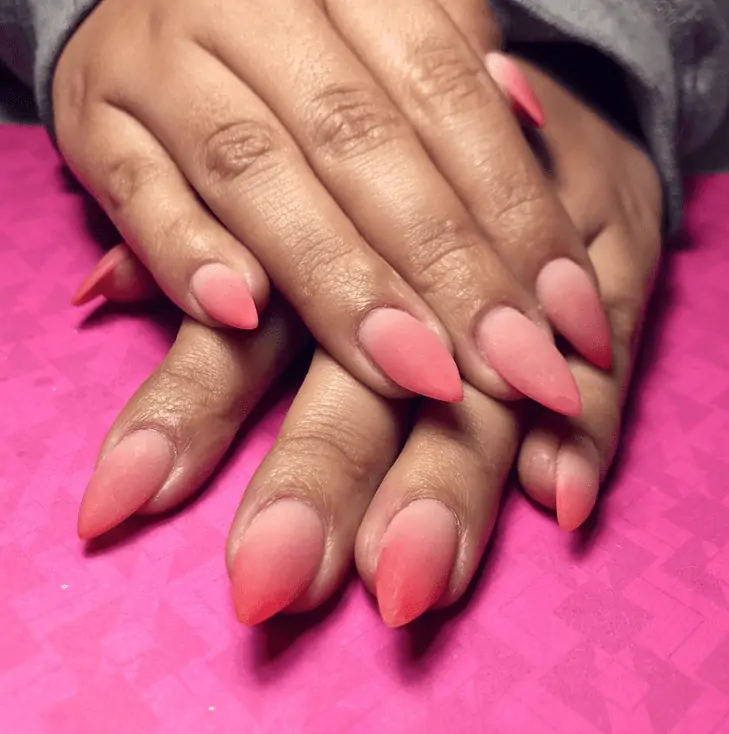 When I look at pictures of Nezuko's character, her nails look matte as opposed to glossy. That's why I really like these nails. They feature the classic pink ombre and are the same length and shape. But the matte effect makes these nails look more natural as if the model here has those same claws. Credit: @by_nash_rivera.
FAQs
Question: Can I do my Own Pink Ombre Nails Like Nezuko?
Answer:
https://www.youtube.com/watch?v=Z8O6baFUMEE
Absolutely! There are a few ways to get this look. This YouTube video explains these different methods, but I think the tutorials with liquid latex are a little inconvenient, especially if you can't get ahold of liquid latex. If you want the pink ombre look that Nezuko has, all you have to do is take pink nail polish and first apply some to the tips of your nails and extend down to about halfway down your nail. The brightest color should be at the tip; when you do a second coat, I would only paint that area.
If you want to combine two colors, such as pink and a neutral color, you'll start by painting your nails with the neutral color. Let that dry and use pink polish on the tips, extending the polish halfway down. Tip a fine-tipped brush (you can just use a cheap makeup brush) in the neutral polish, blending out the line between the pink color and the neutral color.
Question: What is Nezuko's Nail Color?
Answer: Nezuko's nail color on the show is a very light shade of pink, so light that it looks neutral. Believe it or not, Nezuko doesn't have ombre nails in the show. The pink ombre is correlated with the trend.
Question: Can I get Nezuko Nails as a Gel Manicure?
Answer: Absolutely! Just ask your nail technician for a stiletto shape and show them the Nezuko nail look you want. You can also find stiletto-shaped DIY gel nails. You should be able to find pink ones.
Bottom Line
The classic Nezuko manicure is my favorite nail look. This is the best nail look if you're cosplaying as Nezuko since it's screen-accurate. The nails have that long, stiletto look and the subtle pink ombre. You can also paint your nails a light pink color if you want to look more like the character. Even if you're not dressing as the character, the look is pretty and is the perfect everyday manicure. You can easily get these professionally done, and you should be able to find press-ons for that look.
Continue reading:
Anime Nails Inspiration and Ideas: Bring Character to Your Nails
Coffin Baddie Red Acrylic Nails Inspiration: Get the Perfect Bright Red Nail Look